Wham! George & Me – reviewed
Andrew Ridgeley's memoir recounts the familiar stories but lacks insight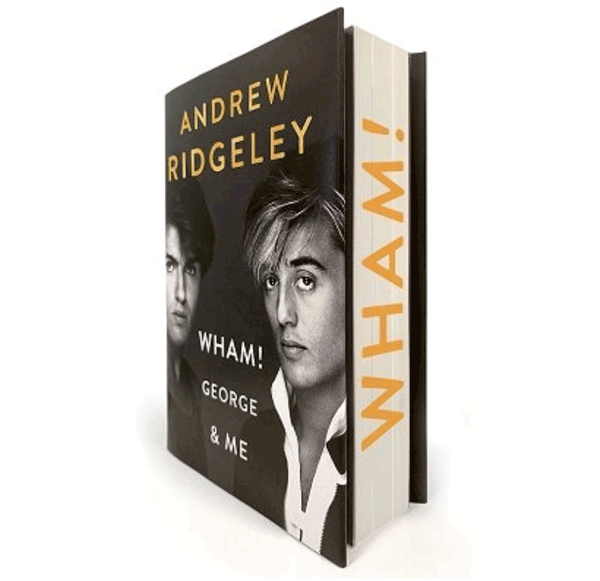 George Michael was clearly a complex character full of contradictions. He was the insecure teenager, worried about his looks, who became a pop star; he was a gifted songwriter who was astonishingly unprofilic; he was a sex symbol who hid his sexuality from all but the inner circle for many years; and he was a generous, kind-hearted person who left his best friend at the altar of pop in order to go off with someone he had become totally obsessed with – himself.

That best friend was of course Andrew Ridgeley and in his new book George, Wham! & Me he tells the story of Wham! from the early days of meeting George at school, to playing The Final Concert in 1986.
The book is a breezy, easy read and is best when Ridgeley is describing the early years of teenage jinks, school, exams and parents. He and George were friends much earlier than I had realised – they went to see Genesis together in Earls Court in 1977, for example – and I think many of us can relate to that feeling of having a best friend at school to hang out with and talk about music and 'the future'.
The disappointing aspect to Wham! George & Me is that the story told is so familiar. George was the self conscious new boy at school – tick; Andrew got him out of his shell and encouraged him to form a band – tick; George played an early version of 'Careless Whisper' in the family restaurant – tick; Wham! perfected early dance routines in their bedroom, before their impressive debut appearance on Top of the Pops – tick; George put shuttlecocks down his shorts on stage – tick… and so on. Andrew inevitably gives slightly more detailed accounts of these episodes, but there is little in the way of deep insight or analysis.
The big questions are never really answered satisfactorily. Starting the band was Andrew's idea, he played piano and guitar and really enjoyed writing the early songs with George ('Wham! Rap (Enjoy What You Do)', 'Careless Whisper' & 'Club Tropicana') so why did he allow George take the reins so easily and cut him out of the creative process? Why start a band and fulfil the teenage dream of being a pop star and then accept so easily this idea that it had a limited lifespan (of just three years in the end).
George seemed to be planning a solo exit after just one album. What kind of commitment is that? Andrew writes "I'd loved making music and sketching out songs with my best friend, but there was a marked difference between the two of us. I was able to craft chord structures, compose melodies and develop lyrical ideas but George was suddenly moving at light speeds. Both of us sensed that if Wham! Was to have a shot at hitting our targets I'd have to step aside." He later says that it was "the right decision for the band" but that he "couldn't help having second thoughts about it later". Those second thoughts aren't properly explored in the book
Club Tropicana was one of three early songs co-written by Andrew
Also, Ridgeley writes that the band's first album Fantastic was "a record of four singles. It's impossible not to admit that the rest was filler". So why has this songwriting genius, that Andrew is stepping aside for, allowed half an album of 'filler' to go on their debut?
The irony is that Ridgeley's book is presumably supposed to paint George in a reasonably positive, affectionate light, but having read it, I ended up liking him less. He comes across as fairly manipulative, using the band that was Andrew's idea as a vehicle for his own solo aspirations almost from the outset. He doesn't like touring ("it quickly became a chore to him") and he's extremely vain, fussing about camera angles in edit suites, worrying about his hair and refusing to sing live on TV (resulting in a lip-sync cock-up on The Tube that Ridgeley describes as "a pratfall entirely of his own making.")
When the end is nigh for Ridgeley in 1986, George refuses to do the farewell world tour that Andrew wants ("we owed it to our fans to say farewell properly" Ridgeley says), insisting it will be just one concert (what became 'The Final' at Wembley Stadium) and he also denies his friend share in an easy $3m pay cheque for doing one advert for Pepsi. Of the latter Andrew writes "there seemed no good reason not to do it, but once again George was thinking beyond Wham! The clip was set to run for about eighteen months and so would have kept Wham! alive in the minds of the public just at the very point he was trying to strike out on his own." (George did a Diet Coke ad as a solo artist in 1989).
When work starts on the second album, Andrew proclaims that "George had the songs to make swift work of the creative process" but let's be honest, he didn't have many of them. Make It Big is an eight-track album, 'Careless Whisper' was already written at that point, and 'If You Were There' is a cover, so George had six songs. It's just that the songs he did have were either very good ('Wake Me Up Before You Go Go', 'Freedom', 'Everything She Wants') or fairly good ('Like A Baby', 'Credit Card Baby', 'Heartbeat'). This is another unexplained contradiction. Michael is the grump who hates touring, and prefers being in the studio and the creative process but he isn't prolific at all and still apparently won't encourage Andrew Ridgeley to write or co-write even a B-side (there were no new songs as B-sides to any of the four Make It Big singles).
Interestingly, David Austin, the person who now has a role managing George's legacy, along with GM's family, gets a mention in the book. He was originally 'David Mortimer' and was in the pre-Wham! band 'The Executive' with George and Andrew. Ridgeley describes him as having a "laddish manner" but concedes he was "an amusing character with a quick wit and a genuine love of music". Austin co-wrote 'Look at Your Hands' on George's first solo album Faith and since George's death is his de facto manager.
If there's one story in the book that illustrates the strange relationship between George Michael and Andrew Ridgeley at the height of Wham!, it's the recording of the Band Aid single 'Do They Know It's Christmas'. Ridgeley ignores correspondence that asks him to attend Sarm West studios in Notting Hill to record a Christmas single ("I dismissed the fax as being of little importance") and so doesn't go along on that Sunday morning on 25 November 1984. George Michael does go but apparently doesn't wonder where his bandmate is, and doesn't think to ring him to tell him to get his arse down there!
Wham! George & Me concludes around 1988 when Ridgeley briefly dabbles with a solo career (the flop Son of Albert album), but signs off with Andrew describing how he found out that George had died on Christmas Day 2016. Of course, it's a moving conclusion and an inevitable end to the story.
George sang as a solo artist at Live Aid
Andrew is viewed by the public and media alike as the lucky sod who 'made it big' without having to do very much. Someone with little talent who escaped a life of toil by just being in the right place at the right time. Maybe. But while he never had to work again, it's pretty obvious that the few years in the spotlight, the success – and then effectively being dumped by the person he encouraged to be a songwriter and musician – came at a mental and emotional cost. Andrew playing a bit part in Live Aid (where Wham! really should have performed) feels close to public humiliation all these years later.
He comes across as a very likeable, but rather lost figure in "Wham! George & Me." You can see all his enthusiasms evaporating as soon as Wham! quickly turns into a vehicle to propel George Michael into the pop stratosphere and he admits "it wasn't the same" once the writing duties were handed over. He becomes someone who is simply floating around in George's orbit trying desperately to grab hold of something to give meaning to his life.
That is the drama and tension that lies between the lines of this chummy narrative and you have to conclude it would require a third party, not a main player, to get under the surface and tell that story properly.
Wham! George & Me is out now via Penguin Random House.
Compare prices and pre-order
Ridgeley, Andrew
Wham!, George Michael and Me