The Great Sausage Roll Swindle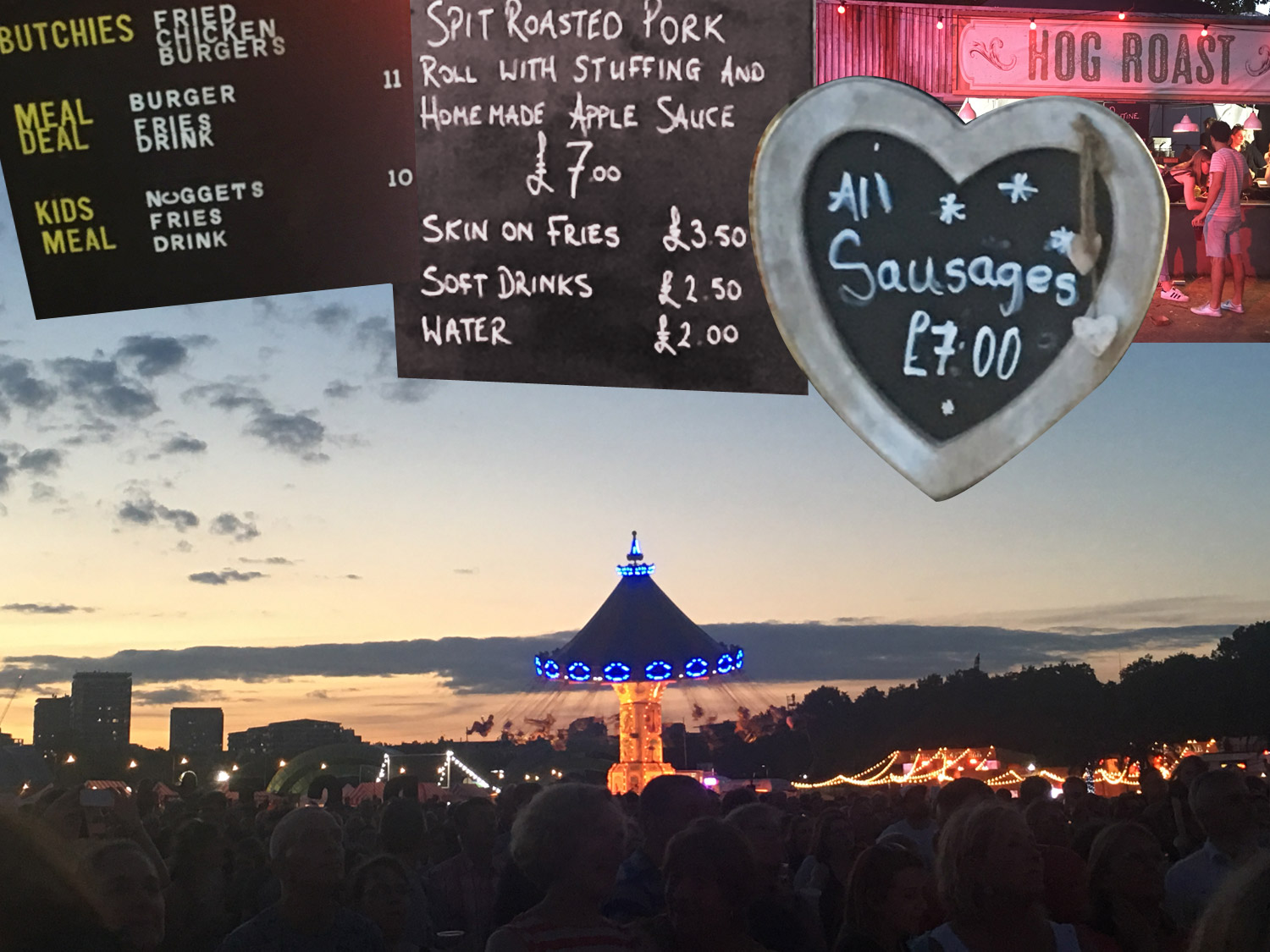 SDE Editor Paul Sinclair reflects on how a day watching music with the family in a public park is engineered by organisers ("Barclaycard presents British Summer Time Hyde Park") to extract as much cash as possible from fans.
On Saturday 8 July, I had a day out with the family at British Summer Time Hyde Park which featured The Killers as the headline act, with support from Tears For Fears and Elbow.
Given that this is hosted in a Royal Park in London, we thought it should be a great family day out and planned to bring a picnic while we chilled out in the sun watching the various acts.

With sandwiches made and sausage rolls and crisps packed, just before we left I checked the official website to double check where the entrance was and was stunned to see that the message that "No food or drink is permitted to be brought into BST Hyde Park (with the exception of water in unopened plastic containers of up to 500ml)"
I was gobsmacked. Call me naive (admittedly I'm not a festival regular) but having paid £220 for four tickets for my wife and two daughters (aged 9 and 14) to watch music IN A PARK I never thought for one minute that we wouldn't be able to bring our own picnic. Even that most commercial of enterprises, Disney World in Florida, let visitors bring in their own food, as does Wimbledon, if you go to watch some tennis.
But despite a sell-out crowd of 65,000, it seems the organisation are not happy with whatever profit they make from – at the very minimum – £3.25m worth of ticket sales (this is for one day, based on the cheapest ticket price of £50 ex VAT). Such is the greed and commercialisation of this and similar events, that they FORCE you to pay inflated prices and stand in hideously long queues for often very average food.
Because we'd already made our picnic, my wife suggested we just take it anyway, and "see what happens". To be fair, at the gate with some emotional blackmail ("not even for the children!?", we cried) and a chat with 'a supervisor' we did manage to bring in a few sandwiches, but clearly that's the exception, not the rule. Also, to highlight the expense of such an event, even having brought in food, we still managed to spend £50 on extra food and drink – £14 for two hotdogs, £30 for five pints of lager (between two of us over 7 hours – qualifying us for almost teetotal status at these events) and a couple of coffees.
But the point remains, why should we not have a choice? If the food on-site is so great and such good value, then surely we might be tempted, regardless. British Summer Time clearly don't have such confidence and thus give you no choice. That's not just good enough. Presumably, they sell sites to vendors at a much higher premium when they can guarantee that customers will be forced to use them. Corporate greed rules over putting the customer first. If they let you bring in food, they'd still make a fortune with the £6-a-pint prices for alcohol. But they want to squeeze even more profit from music fans.
Given that British Summer Time don't mind exercising control over the ticket-buying public, they don't extend that control to their vendors, happily letting them charge high prices for food. Some of the markup would be laughable if it wasn't so obscene. £4 for 'small' chips. £7 for a bratwurst German sausage that I paid €3 for when in Berlin recently. £10 for a 'kids meal' of nuggets, fries and a drink. Why not at least control the prices on-site to give a fairer deal to your customers? e.g. A hot dog can't be more than £5, a bag of chips no more than £2.50 etc. Surely there's enough profit there? The event wouldn't exist without the fans, after all, so why treat them so shoddily?
I tweeted about this on Saturday and from some of your responses it is clear that this practise is now all too common and you are similarly unhappy. The O2 Arena in London doesn't allow you to bring in food, and other venues and festivals are similar, it's not just BST Hyde Park.
What's really annoying is that these organisations make up these 'rules' and we just accept them. Time to vote with our wallets and not buy tickets to events that have this restrictive policy. I'm not going to accept it and I'm not going to attend another BST event for this very reason. Same with the O2 (which I loathe, anyway).
Have you had similar experiences? Would you forego seeing a favourite band on this point of principle? I'd be particularly interested to hear from those in Europe and US to see whether this is a global phenomenon, or just 'rip-off Britain'.
This post was first published on yesterday's weekly SDE newsletter. Thanks to many of you have emailed me with your thoughts. Below are some of your responses. Incidentally, I contacted British Summer Time's representatives for a response but no one got back to me!
---
Kenny: "Good to bring this up. My concern is that no account is made for disabled people or for health and safety issues. These promoters are issued with safety certificates, our councils should be ensuring that provision is made to protect the vulnerable. What would've happened if it had been 28c all day?"
Keith: "Thank God it's not just me. The music biz is now just one BIG rip off TICKETS, FOOD, MERCHANDISE. Never EVER buy beer at a festival I have kids to feed, cannot justify price. Never EVER go to these park concerts just a money maker for the organisers. Sorry to rant, but it's ruined the whole festival experience."
Rod: "Issues like this have troubled me for quite a while now. I am an insulin-dependant diabetic and my blood sugar levels are often 'thrown' by the anticipation and excitement of a concert. I therefore need food supplies with me at a concert and that means appropriate food which certainly isn't anything that the venues have to offer. I recently went to see ELO at Wembley Stadium and was asked to bring a letter from my Doctor confirming that I really was diabetic, hence allowing me to bring in a small quantity of the right sort of food. It's a concert for goodness sake!"
Chris: "There is no sense of family value or inclusion, they just want to maximise profit to an obscene level. It's horrible really. As for the price of refreshments, I am not shocked you were ripped off by crazy prices, but they know they have control and can do what they want. It all makes me very angry!"
David: "I used to have the same gripes as you about festival prices until I got told what the vendors themselves get charged to sell on the day / weekend by the promoters. It's an astronomical price tariff and they aren't going to recoup the costs involved , let alone make a profit if their prices were "High-Street-reasonable" that we are used to paying and become our benchmark."
Ed: "We had the same at Cornbury, I had to trudge back to the car with our stuff, we'd only bought some nice beers and a few snacks as the food is generally good and not too pricey but I was mightily pissed off at not being able to have a choice."
David: "I'm from western Canada and recently went on a trip to follow Depeche Mode around Europe, which we do every tour. In Canada, it's much the same as in London. Insanely inflated food and drinks. $8-$9 for a cup of beer and the food prices, can't even begin to talk about that nonsense. Having been to the O2 and the Olympic Stadium in London to see Depeche on the past 2 tours, the prices weren't a shock to me as this is how it is in my home city of Edmonton, Alberta. However I found it different in other cities like Prague, Zagreb, Budapest and even Berlin. I found drink prices and food much more reasonable. Also ticket prices by the way are inflated in North America and London specifically compared to other countries."
Tito: "This weekend I attended Mad Cool in Madrid with foo fighters etc.This festival allows children but it is not prepared for them. I went by myself. All food and drinks are forbidden except water bottles without cup. Here were a bunch of foodtrucks, hamburgers at 8 euros, hot dogs were like 7, french fries 4 or so..the usual for those events. BBK live in Bilbao is the same, nothing allowed. Your event looks slightly different as it was during the day wasnt it? Here festivals are hardly oriented for families.I think the Vida festival has some stuff for kids. But for example DCODE , in September in Madrid, I remember last year I brought some sandwiches and so without problems.It had an area for children."
Paul: "I am with you 100%. Off the top of my head I can't think of any enterprise which still puts customer satisfaction above aggressive profiteering."
Jim: "I bet you were allowed to bring your own food and drink to Hyde Park when King Crimson and the Stones played there in '69"
Cindy: "I've never been to a show in NYC where they would allow you to bring in food or drinks. It's just a given in NYC that you're never allowed to bring food and drinks into any venue because they want you to buy what's sold on site. I think for Central Park Summerstage you are allowed to bring in a sealed water bottle but not sure about food. All that said, I think in your situation where there were no seats, it was a public park, and you brought your kids, you should have been allowed to bring in food with no problems."
Carl: "Unfortunately this is not new. I recall going to Milton Keynes Bowl to see Bruce Springsteen back in the early/mid 1990s. At Milton Keynes there was one alcoholic drink available: Miller Lite. Not just warm and disgusting but it also had to be bought in multiples of two. There were three of us, so if we wanted a round we had to buy four cups. Then they ran out before the main event. What brilliant planning."
Andrew: "The big outdoor venue over here in the Capital District of New York State is a place called Saratoga Performing Arts Center (SPAC). Tickets are overpriced and (that's right folks!) you can't bring in any drink, any food, any fun and anything. Go thru security at the gate and then stand in huge lines for your overpriced drink, your overpriced food and your eventual visit to the restroom. Consequently, my friends and I do not go to SPAC."
Micheal: "Similar situation with summer festivals in Montreal, and also at the hockey arena where most major acts play their local gigs. Not only do they ban all personal food & drink (including water), but the food options are dismal, limited to the usual range of overpriced and not-so-tasty junk food. Small water bottles are CAN$5. The price gauging for (not-that-good) beer (CAN$14) is such that I rarely bother, preferring to spend those dollars at the merch stand instead. On the flip side, earlier this summer I went with my wife and two kids (12 and 8 years old) to a local family friendly punk rock fest where you could bring a picnic and lounge around in a laid back atmosphere, with premium beers and a variety of food truck options at very reasonable prices. Everything was family-friendly and reasonably priced and the whole family had a great time. Here's to the DIY ethic over corporate greed!"
Matthew: "Absolutely agree re what you're saying. Prices totally shocking but to have no choice makes it 10 times worse. I avoid big events so it doesn't really affect me but would happily sign up to any lobbying! We went to Cambridge folk festival a couple of times and it was great that they allowed you to bring in both food AND drink! What this did was helped us – we had younger kids so would take a packed lunch and pay for our tea from a vendor. Also reduced the number of pints we bought onsite but at least we bought a few."
Richard: "I've just returned from Tom Petty & the Heartbreakers (excellent show) and want to highlight an ever bigger swindle. I tend to pay for food and drink at these events as it's easier than lugging a packed lunch around, but was staggered to find that this year you have to upgrade your tickets to get anywhere near the front – an extra £60 for the "Gold Circle" and a staggering extra £190 for the "Diamond Circle" nearest the stage, and this on top of £70+ for the ticket! In previous years they handed out first come, first served wristbands for the front area free of charge. This is blatant profiteering and simply means that those with money to burn (and no real love for the bands) can wander in and out from the bars as they please, rather than having to "bag" a good spot. It certainly soured what was otherwise a well-organised and enjoyable event."
Simon: "I've just got back from seeing U2 at Twickenham tonight – £12.50 for a (stone cold) burger, fries and a bottle of Pepsi. Wouldn't have been worth half that. Unfortunately those prices seem to be the going rate at many entertainment/sports events. I've paid similar at the Formula 1 at Silverstone, although they do allow you to take your own food and drink which helps keep the expense down somewhat.
Steven: "This has been common practice across most if not all Australian festivals for years, including the high mark ups. I attended the Phil Collins BST this year (and have only just got back to Oz) and didn't bring food or drink of any kind because I have become so used to it and so I guess I now see it as normal (sadly)"
David: "Neil Young played at the Myer Music Bowl in Melbourne several years back during a heat wave. It was 48 CELCIUS, and the security firm was confiscating bottles of water at the gate, actually emptying them onto the lawn, so we would be forced to purchase inflated bottle water. It was actually in breach of O.H.&S regulations, but they got away with it. I have never seen so many heat stressed people in one place."
Dave: "I totally agree with you regarding the ban on bringing your own food into a park gig, or a festival. It seems to be all about the profit, and not about the customers. I imagine that the organisers are on a percentage deal from the food/drink vendors, so the more they sell, the higher their percentage. It absolutely stinks!! My most recent gig was to see Elbow at Cannock Chase as part of the Forest Live tour (Friday 7th July). I did check beforehand, and picnics were allowed. Most people bought some food and drink (no glass or cans allowed on site – fair enough), and the food vendors were still doing a roaring trade, as some people didn't want to bring their own food. The bars also seemed to be busy. The atmosphere was great. Everyone there had a great time, enjoying the surroundings and the band were very entertaining. A great gig all round, and everyone was happy.
There is no need to subject the public to rip off prices and crap quality."
Roy: "I think that were rather naive to expect to be allowed to take in food or drink. These events are a total rip-off in Western Europe. I have just returned from the Exit Festival in Novi Sad Serbia – we don't get charged booking fees for tickets here, either! How readily the British public fell for that one! Tickets were €50 for four days, you can't take food or drink in but there is a great selection of food for all tastes at superb prices –
drinks range from €1.50 for beer to €2 for wine. I agree with your idea of boycotting this nonsense – the only way they will change is if profit falls."
Dan: "Interesting what you say Paul. I've just been to Bilbao BBK festival in Northern Spain to see The Killers (amongst others). I thought I was the only one who thought that prices were a rip-off. Unlike you, I refuse to give the organisers a penny more than they've got from me already for the entry ticket. I spent ZERO, but I was only there for about 3½ hours. Not a terribly long time to avoid placing food & drink in my mouth."
Peter: "It's not just 'rip of Britain', over here in the Netherlands it's the same. As a regular concert visitor the venues like Amsterdam Arena, Ziggo Dome, AFAS live Music Hall, etc. etc. all handle sky high prices on food and beverages. You are not allowed to bring any of your own. Some of these venues let you pay with their own tokens you have to buy, and at the end of the evening the left over tokens are useless. Only Ziggo dome buys them back from you. Prices are sky high, a small drink €3 a large €5. Chips €4, hamburger €6,50, chocolate chip cookie (small size) €4…."
Steven: "I couldn't agree more with you on this, and I'm sure many other SDE readers will feel the same. It's become yet another area of naked profiteering – and even 'respectable' venues such at the Royal Albert Hall have a shameful mark-up on bar prices. I accept vendors need to make a living, but the price points for food and drink at music festivals and venues is too often cynical and exploitative. Compounded by the ever-rising cost of tickets it has, for me, relegated experiencing live music from the regular pleasure it was a decade ago to an occasional treat."
Richard: "I was at BST yesterday watching Tom Petty and the Heartbreakers. I have been a regular concert/festival goer for years now and have seen rip-off practices escalating year after year. First I remember them taking drinks off you at V festival Chelmsford at the gate throwing them into bin bags because virgin cola bought the rights for all cola on site and Carling bought beer rights, because they did it, most events followed. One of the biggest rip offs for me is the ticket prices, when I first started going you had a choice either stand or sit down general admission (so if you wanted to get to front you would have to work your way through the crowds over course of day or get there early and not move). Now they invented the gold circle section in between two barriers where you pay double or sometimes triple for the pleasure (general admission only gets you middle of crowd now)."
Rob: "Was reading your musings on way back from Tom Petty at Hyde Park and have a few comments:
1) It's a clear rip-off forced to make you spend the money at the vendors. Now, I suspect this is a vicious circle. The greedy organisers (greedy for money) rip off the vendors for slots –> who have to charge exorbitant prices to us to recover those costs –> in turn the organisers promise a prison audience to ensure a profit"
Derek: "On the food/drink thing a good example is the O2 Arena – for several years for the ATP Tennis finals they allowed food and drink in (not cans or glass bottles – fair enough). The last time I went they used the old favourite "security" to deem my cheese role and crisps a "security threat" and forced me (and others) to throw good food into a bin (I won't be going to the tennis again)"
Nigel: "This is something that has been annoying me for years! You cannot take anything in and then they fob you off with crap food with limited options (you don't always want a burger but some nice sarnies) and beer that is tasteless all at an extortionate price".
Tony: "Unfortunately here in the USA, what you experienced has been the rule for a number of years. Organizers and sporting venues charge you outrageous prices to purchase tickets to the event itself which include ridiculous tack on fees and then charge 3x to 4x the price you would expect to pay for food and drink. Things have gotten so insane, that the new sports stadiums being built have smaller seating capacities, but are full of luxury restaurants. Now there's an idea that makes sense; let's spend a king's ransom to get into the venue and then go into a way overpriced restaurant and watch the game on TV. The bottom line is as long as people continue to patronize the system, things will remain the same."
Paul: "You mention the O2, and they are the worst in my opinion, since not only do they ban food, but also water. They used to simply take the tops off, but about a year ago, they changed it to a ban – and banning water seems the most outrageous, almost like preventing a basic human right (without wanting to sound too high-handed about it!). They say it is available free at the bars, but carrying a bottle, and not having to queue, doesn't seem unreasonable when you are there for several hours."
Paul: "Yes, you are absolutely right about all of this. But nothing will change whilst we continue to attend these events – it's all about market forces, isn't it? Just don't go to them is my philosophy here. Find other events to attend where the deal is more acceptable and then maybe the promoters of over priced "ransom" events like this will have to change their ways when we all vote with our feet."
Frank: "The same goes for festivals in Belgium. No food or drinks (even water) allowed. Everything needs to be bought on site, that is bad/junk food for very high prices. Totally unacceptable."
Ken: "That's what music is all about these days. Money from music sales just isn't enough. It starts when purchasing tickets at say £80 with booking fees, postage at £3:50 and whatever a facility fee is. Then you have the overcharging for drinks , ice creams, sweets etc. You've probably paid over the odds to park as well. A nice souvenir sweater at £40 or rubbish programme at £15 to round it all off. Music is all about exploitation these days. Everyone trying to get as much as they can from fans."
Paul: "My family had exactly the same scenario at Madness: House of Common last summer. We had gone to great effort to make a family picnic that we planned to consume in one of the billed 'family areas'. Unfortunately they absolutely refused to let us in with food even though we had two relatively young children. Fortunately it was a sunny day and we were able to enjoy our picnic on Clapham Common but it did leave a bitter taste in the mouth. Later in the evening when hungry again we were totally ripped off for what was, as you say, very average food."
Suzanne: "All venues I've been to tell you No food and drink allowed even before security was stepped up this year it's less for them to check and allows people quicker entry to the venue, there's nothing worse than one queue going ahead of the other when someone brings food and beverages in and bottles are deemed to be missiles that someone would chuck at the artists that's why in arenas you have to pour it in a cup (the few spoiled it for the many unfortunately) I totally get what you mean about prices of food and drinks I agree it's overinflated there should be regulations over price but it is London where everything is expensive. The alternative is to roll up a good few hours before and have the picnic before you go in u eat my food before the gates open. I've been to hundreds of shows over 25years and it's always about making money from the punters from the merch to the food sadly."
Jamie: "A great article there Paul. I know your pain on this, i feel more and more strongly about this these days. Not sure if its from getting older a grumpier, or if its more about standing up for what's fair and right. I know its called the music "Business" but these events that are on what i call an "Industrial scale" feel so soulless.You are herded in and out like sheep (and then queuing for the expensive awful food).(My mind always turns to my big locals, the Manchester Arena, and Ethiad Stadium)
I guess they and a lot of people would say you do have a choice to go or not, but i feel that's a cop-out. This is how i presently sum it up…..Their approach is fully based on profit for the few, rather than doing business that's based on our values. We need to somehow keep this debate alive."
What are you're thoughts on this issue? Please leave a comment!