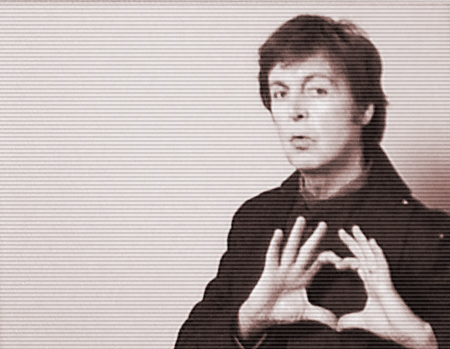 Well, that's it over for another year. I certainly hope you had a good Christmas Day and wish you all the very best for the rest of this festive period and beyond!
The Chart of McCartney
Paul McCartney's new album McCartney III (you may have heard about it…) entered the UK albums charts yesterday at number one. It sold just over 33,000 copies which is decent enough for this day and age. AC/DC hold the record this year, for week one sales, with just under 62,000 for their Power Up, album which gives you some comparison. Like McCartney's album, that was available in various coloured vinyl editions (although not as many) and there was also a picture disc and two different CD editions.

This is Paul McCartney's first UK number one album since Flowers in the Dirt. That album entered the chart at number three, in June 1989, but then rose to the top spot the following week, where it stayed for just seven days (displaced by Prince's Batman soundtrack).
Flowers in the Dirt was Paul's fourth number one album of the 1980s (after McCartney II, Tug of War and Give My Regards To Broad Street). 1970's McCartney is the only album in the McCartney 'trilogy' not to reach number one in the UK. It was number two for three weeks, thwarted by Simon and Garfukel's Bridge Over Troubled Water. By the time Bridge Over Troubled Water finally relented and fell to number two, The Beatles' Let It Be came in and snagged the number one spot! Simon and Garfunkel's final studio outing was a phenomenon in 1970. It went back to number one many times and in total spent almost half the year (actually 24 weeks) at number one. As if that isn't impressive enough, it was the best selling album in the UK in both 1970 and 1971.
#McCartneyIII is number one in the UK! Here's a big thank you and a special Christmas message from Paul ❤️@officialcharts pic.twitter.com/NHAmm3PJEu

— Paul McCartney (@PaulMcCartney) December 25, 2020
If Paul McCartney's team hadn't resorted to what Steven Wilson called "deeply cynical" tactics, with eight or nine coloured vinyl and six different CDs, then he probably wouldn't have achieved the feat of getting to number one, but the record books will not remember the details and will simply show that he was at the toppermost of the poppermost at Christmas in 2020. While, arguably, they took 'things' too extremes, you could argue that they weren't guilty of doing anything that other marketing departments haven't done this year. If you can't beat 'em joint 'em.
Incidentally, Flowers in the Dirt was issued on three formats: cassette, CD and vinyl (a special edition 'Tour Pack' was issued in 1990) and eventually went platinum in Britain with sales of over 300,000 copies.
---
A great record, Mann.
If you are still feeling Christmassy and festive, then let me recommend Aimee Mann's One More Drifter in the Snow. This collection of classic Christmas tunes (plus a couple of original songs) was issued way back in 2006 and is a wonderful antidote to the usual compilations full of festive pop hits. I played it yesterday (a few times) while cooking Christmas dinner. There's something about Mann's voice and the arrangements that just elevates this collection. It's not in print any longer, but it is available on Spotify.
---
How to spent your 'Christmas Money'
If you have a tenner in a card from your Nan, then there's some good albums on CD going cheap at the moment in the UK. For around the £5-7 mark you can pick up some good releases from 2020 including: Paul Weller's On Sunset,  Elvis Costello's Hey Clockface, Sparks' A Steady Drip, Drip, Drip, the Pyschedelic Furs' Made of Rain, Gorillaz Song Machine: Season One – Strange Timez, Liam Gallagher's MTV Unplugged, Travis' 10 Songs, Cat Stevens' Tea for the Tillerman 2, Haim's Women in Music Pt III and more.
---
Finally, a little bit of politics….
As you are probably aware, Britain has a FREE TRADE deal with the EU. This means that EU music fans will be able to buy from UK stores (Amazon, the SDE shop, Rough Trade, Townsend Music etc.) with no tariffs or additional fees applicable when you receive you items. Likewise for those in the UK, you can shop online in Germany, France, Italy, Spain etc. and there will be no tariffs when the goods arrive in the UK. Effectively things stay the same, which is great news for physical music fans who like to shop around either to access great deals or because of limited availability in their territory.