Now 1985: How more 'various artists' compilations diluted the offerings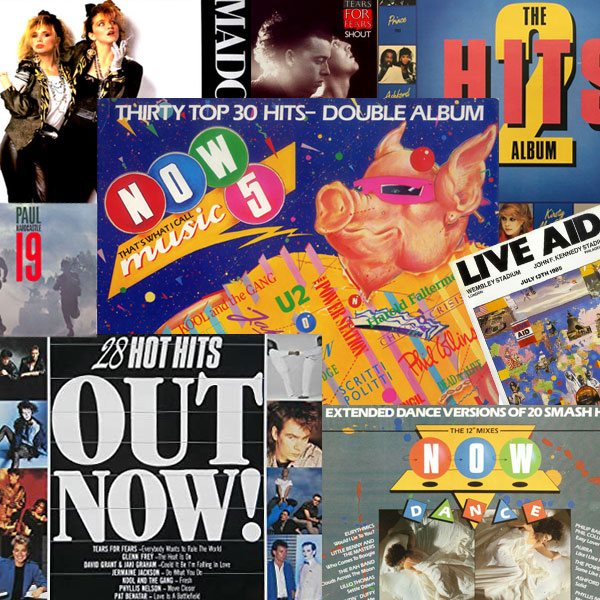 Ian Wade examines the shifting sands in the pop universe in 1985 and why 'Now 5' suffered from a reinvigorated compilation marketplace
Ah, 1985. At this point in history, pop music was in a strange flux. Even within its first few days, it was feeling like a new pop coronation of sorts with Do They Know It's Christmas starting to feel like a final hurrah. Those who held sway were rapidly becoming redundant from their lofty perches.

Even those who dominated the previous years seemingly had 1985 off – the biggest turns of 1984, such as Frankie Goes To Hollywood (released their 'fourth number one' 'Welcome To The Pleasuredome' – as ZTT posters initially heralded it as – and went off to record the most difficult second album of all time), Spandau Ballet (they'd traded their ticket to the world and duly went off around it), Wham! (basically M.I.A. for much of 1985 as attentions turned global until the slightly more grown-up 'I'm Your Man' in November), Thompson Twins (had been all over '83 and '84 like an unseemly rash, but decided to loosen the wheels a bit chart-position-wise), and Duran Duran (well, they basically split in half to do cocaine and form supergroups, bar 'A View To A Kill', and actually navigate the entire year as effectively three bands – Power Station, Arcadia and the Duran Duran day job), were pretty much sitting the year out in comparison to the stranglehold they'd had the previous few years. July's Live Aid put to bed Adam Ant's career, and yet accelerated U2 and Dire Straits, and reboot an almost desperately over-rehearsed Queen's. Suddenly the wild west of the new pop revolution was heading to the flip bin, and charity and billowing issues-based coats were now on the agenda.
It could be argued that 1985 was almost a blank slate, and the key compilations of that year suggest that it was a bit of a drag. This was not so! There were plenty of new names to come along, as well as some not-so-new names having a moment to shine. The security of the pop of before was no longer there and what WAS available was stretched out across too many compilations. The gentlemen's agreement to not enter each other's territory was fine (with exceptions), but it ended up making 1985 look somewhat underwhelming as a result.
In one of our occasional (you mean demented, Ian – SDE Ed.) POP INVESTIGATIONS, we at SuperDeluxeEdition look back at the era and discover what could've been the reasons, what WERE the reasons and take a bowl down memory lane as a jolly bonus.
Incidentally, we're not here to throw shade on anyone who has Now 5 down as their favourite Now by any means, we're just looking at the 'what could've been' during that period. It's a story of Madonna, missed opportunities and MURDER* (*okay, not murder).
Here are our 'findings':
THE HITS ALBUM 2
The SuperDeluxeEdition laboratory held an public inquest into the time when The Hits Album thwarted Now 4 during Christmas 1984, and obviously cocksure at their success, The Hits crew naturally thought a second volume was a no-brainer. And The Hits Album 2 – still a CBS/ WEA entity – had every right to be the cock of the walk at this point in history – 1985 had seen chart-toppers from Dead Or Alive ('You Spin Me Round'), Phil Collins and Phil Bailey ('Easy Lover'), Foreigner ('I Want To Know What Love Is') and the 1984 Jim Diamond wobbler 'I Should Have Known Better'; plus strong releases from Prince ('1999'), Alison Moyet ('That Ole Devil Called Love') and Paul Young ('Everything Must Change'), as well as new kids such as Strawberry Switchblade ('Since Yesterday') and King ('Love and Pride').
What was curious, was the inclusion of the Virgin-released Stephen 'Tin-Tin' Duffy 'Kiss Me' and EMI's Ashford & Simpson's 'Solid'. Now, these last two would have been a shoo-in for a Now, likewise Nik Kershaw's 'Wide Boy', Dazz Band's 'Let It All Blow', Art of Noise's 'Close (To The Edit)' and Commodores' 'Nightshift', all of whom at that time belonged to the EMI/ Polygram stable.
NOW DANCE
Released May 1985, Now Dance was the first Now offshoot, and showcased the extended versions of current hits and a glimpse of what a Now 5 released using the current cycle of Spring, Summer, Christmas schedule that normal Now albums have used since 1988. Lengthy reswizzles of 'Solid', 'Kiss Me', and current smashes such as Phyllis Nelson's 'Move Closer', DeBarge's 'Rhythm Of The Night', Eurythmics' 'Would I Lie To You', Loose Ends' 'Hangin' On A String' and Power Station's 'Some Like It Hot' alongside some other shoo-ins for a conventional volume. It's pretty much half a 'normal' Now album albeit with versions that tend to go on a bit. It did well enough for it to become a regular thing, although the latterday Now Dance issues just tend to be chock-full of radio edits of the current dance hits.
A good and interesting move made during the heyday of the 12-inch remix, Now Dance also allowed some of the dance hits of the period to shine outside of their restricted radio edits. It's not that there hadn't been 12-inch collections before – Warwick's The Hit List Special from 1982 springs to mind, and Street Sounds had been fantastic catering to the dance set –  but this would've been on FIRE had it collected up, say, the Murder Mix of 'You Spin Me Round', the elongated version of Tears For Fears' 'Shout', the Pleasurefix mix of Frankie's 'Welcome To The Pleasuredome' or even the Art Of Noise Close-Up version of 'Close (To The Edit)'.
OUT NOW!
Right, now this is where it gets interesting.
In 1985, Chrysalis issued Out Now! as a response to the compilation coin that was seemingly to be had by all and sundry. They had a strong run of hits in the early part of 1985 – Paul Hardcastle's '19', Pat Benatar's 'Love Is A Battlefield', the launch of Go West with 'We Close Our Eyes' and the fantastic 'Thinking Of You' by The Colourfield.
There was also a noticeable upswing in developments with MCA's fortunes with Glenn Frey's 'The Heat Is On', and releases from the roster by Kim Wilde, The Damned, New Edition, Tom Petty and Nik Kershaw all present. Basically a Now in all but sort-of name, including surefire Now-ers Tears For Fears' 'Everybody Wants To Rule The World' and then-Now regulars Bronski Beat with their Marc Almond-assisted mince-up of 'I Feel Love/ Johnny Remember Me'. It's a fairly solid collection, but appears to cease caring towards the end with the presence of non-hits by Sal Solo, Alvin Stardust, Meat Loaf etc, with the sort of tracks even their own makers would be hard-pushed to recall now. It sold well, probably more due to the cosplay Now Music design helping confusing the marketplace and the various artists-purchasing set.
MADONNA
With this abundance of compilations, it looked as if the music of the year was being spread thin. That further volumes of The Hits Album and Out Now!, as well as Now 6 in November would scoop up a lot of the main hits, there was something missing, and a feeling that only we only got half the picture of the 1985 pop landscape.
Madonna had gone nuclear across 1985 with her brace of singles – official or otherwise – such as 'Material Girl', 'Crazy For You', 'Angel', 'Gambler', 'Dress You Up' – and her first UK number, and still her biggest-selling single here – 'Into The Groove'. It's not that she was compilation-averse, as Hits 3's inclusion of 'Dress You Up' proves and she'd eventually relent and crop up on the U.S. version of Now several years later, but 'Dress You Up' was just crumbs off the table compared to what could've been featured. Madonna's absence is the metaphorical elephant in the compilation room, and the shadow cast large over 1985. The nearest anyone could hope for was any Madonna-adjacent recordings, and, no, Jimmy Nail covering Rose Royce's 'Love Don't Live Here Anymore' (as Madonna had done on Like A Virgin) sung with all the panache of someone trying to remove stubborn grease from an oven hob, wasn't even in a neighbouring orbit of a satisfactory replacement.
NOW 5
Which brings us back round to Now 5 again. A sturdy round-up of some stupendous pop toe-taps – Duran Duran's 'A View To A Kill', Scritti Politti's imperial 'The Word Girl', Marillion's breakthrough 'Kayleigh', Bryan Ferry's suavey smoocher 'Slave To Love', Simple Minds' launch into superstardom 'Don't You Forget (About Me)', U2's brooding 'The Unforgettable Fire' and The Style Council's empowerer 'Walls Come Tumbling Down' are up among the highlights end of it. On the downer side, the only chart-topper present is the *is quite careful here* not great 'Frankie' by Sister Sledge, and while the CD reissue of Now 5 marks the debut on CD of The Commentators' 'N-N-Nineteen' novelty nonsense, it didn't make up for the absence of the real thing (although Paul Hardcastle was actually shadow-ly involved with it, fact fans).
There are also the tracks that one is glad to hear again, such as 'Turn It Up' by the Conway Brothers, 'History' by Mai Tai or 'Magic Touch' by Loose Ends. Introductions to Simply Red, Steve Arrington and Fine Young Cannibals and Now veterans Phil Collins and Howard Jones, as well as the US number one that was Paul Young's 'Every Time You Go Away' and gloopy old erection section staple 'Cherish' by Kool & The Gang. Keen-eyed viewers will have been alerted to the absence of David Bowie and Pat Metheny's 'This Is Not America' from the reissue, and despite a bit of digging, we're not entirely sure why it is absent, as Dave's gear has already popped up on a Now. There's also what appears to be a regular issue with some timings not being the same as the original release, but really the stupendous work the Now team do with these reissues, personally that little matter can be overlooked.
Then there's also the small issue of Now 5's eye-watering sleeve art. Now had been using their pig-based artwork in varying degrees, but here, sprawled all across the front, was an unflattering image of a cheery porcine with a ghastly shirt on, decorated with the names of the contents. It wasn't pretty. 1985 had many fashion crimes, but a shirt with Mai Tai and Marillion on it was possibly the one that topped the lot. Thankfully, by Now 6, the pig was taken out to live on a farm, and the iconic series settled into a more stylised branding exercise. It could just be that the state of Now 5 amplified a crisis in pop and while by no means terrible, wasn't the most vintage selection on offer. Still, it went double platinum, so it was a formula that was proving to be a winning one.
It's very much the epitome of seriousness. The new conformity that both Live and Band, um, Aids had ushered in. Suits, mullets, musicianship and MEANING brushing aside artifice, silliness, joy and frivol. Suddenly the incoming inhabitants of Smash Hits were (love and) priding themselves on their ability to actually play instruments, rather than blow an advance on buying greyhounds or sponsoring racehorses. That the year ended with 'Do They Know It's Christmas' back in the chart again, what was once more a role call from a different time of those who had since split, evaporated, gone off the rails, decided to take themselves a bit too seriously or simply fell down the dumper, it gave off the whiff that 1985 was just a lobby from one part of the decade to the next.
CONCLUSION
The tribal nature of licensing and militant label loyalties, and the immediate need to cash in on the newly reinvigorated compilation market, paints 1985 unfairly as a rough old year (and believe me, it's a riot of wonder compared to 1986). Once you sift through the content and edit some of it into a more digestible form, ignore the minefield of charity singalongs and maybe invite tracks like, say, Grace Jones' 'Slave To The Rhythm', Propaganda's 'Duel', The Cure's 'Inbetween Days', The Smiths' 'How Soon Is Now' – even Elaine Paige & Barbara Dickson's 'I Know Him So Well', possibly the only other number one not repped on any of these albums –into the mix, it really wasn't so bad after all. In the meantime, we can only continue to applaud – but not at 8pm on a specific day, let's not go too far – the latest development in the Now series' commitment to reissues and celebrating its legacy.
Poscript
AS A BIT OF FUN, I thought it would be interesting to concoct what would be a Now 5 had it come out in May 1985 rather than wait until August. Taking into consideration an alternate universe where Out Now! didn't happen, and selecting a few numbers that missed out on being on a compilation in general – Duran Duran's The Wild Boys, Tears For Fears' 'Shout', Frankie's 'Welcome to the Pleasuredome' – and seeing as it's rightful home was on a Virgin/EMI release, Stephen Tin Tin Duffy's 'Kiss Me' among several others. I've called it a Now 4.5 and you can access the Spotify of it here.
The two-CD set of Now 5 is released today, on 8 May 2020
Compare prices and pre-order
Various Artists
Now 5 - 2CD set
You might also like…
Compare prices and pre-order
Various Artists
Now 2 - 2CD set
CD 1
1. A View to Kill – Duran Duran
2. The Word Girl – Scritti Politti
3. Axel F – Harold Faltermeyer
4. Johnny Come Home – Fine Young Cannibals
5. In Too Deep – Dead Or Alive
6. Icing On the Cake – Stephen 'Tin Tin' Duffy
7. Cherish – Kool & the Gang
8. Every Time You Go Away – Paul Young
9. Kayleigh – Marillion
10. Slave to Love – Bryan Ferry
11. This Is Not America – David Bowie & Pat Metheny Group
12. Don't You (Forget About Me) – Simple Minds
13. Get It On (Bang a Gong) – The Power Station
14. Black Man Ray – China Crisis
15. One More Night – Phil Collins
CD 2
1. Frankie – Sister Sledge
2. History – Mai Tai
3. Money's Too Tight (To Mention) – Simple Red
4. Feel So Real – Steve Arrington
5. Round and Round – Jaki Graham
6. Turn It Up – Conway Brothers
7. Magic Touch – Loose Ends
8. N-n-nineteen Not Out – The Commentators
9. The Unforgettable Fire – U2
10. Walls Come Tumbling Down – The Style Council
11. Walking On Sunshine – Katrina and The Waves
12. Out in the Fields – Gary Moore With Phil Lynott
13. The Shadow of Love – The Damned
14. Life in One Day – Howard Jones
15. Love Don't Live Here Anymore – Jimmy Nail