Saturday Deluxe / 12 September 2020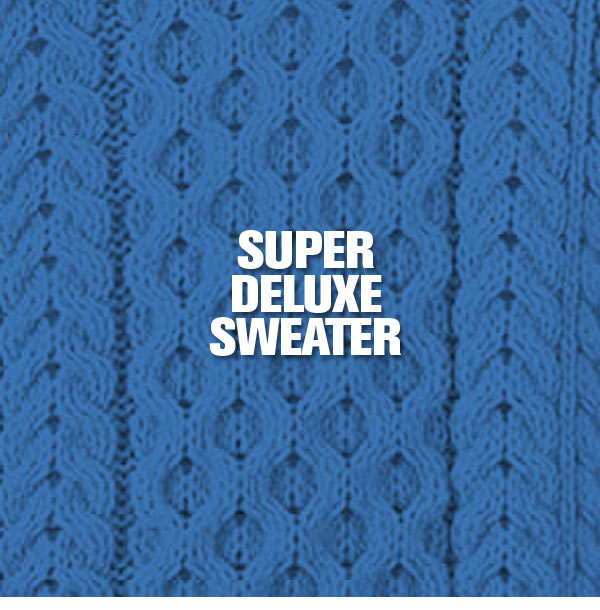 1. INT. GENTLEMEN'S OUTFITTERS – DAY
A man breezes into a clothes shop purposefully and approaches a sales assistant who is busy arranging some product on the shop floor. The assistant stops what he's doing, smiles, and turns his attention to the customer.

SALES ASSISTANT
Morning Sir. How can I be of assistance?
CUSTOMER
I'd like to enquire about the McKenzie jumper that I saw online.
SALES ASSISTANT
Ah, yes. Good choice, sir. It has been re-produced to mark the 50th anniversary of the first McKenzie sweater, originally worn by traditional fishermen in Scotland.
CUSTOMER
Indeed. It looks almost as good as the original – my Dad had one when I was…
SALES ASSISTANT 
Better!
CUSTOMER
I'm sorry?
SALES ASSISTANT 
It's better than the original. They've used the same highland wool, but the 'McKenzie 50' has been knitted by hand, at half the speed, by artisan, er, knitters and look [digs out a piece of paper from a nearby drawer] it comes with this certificate which has what I've just told you written on it. Because it takes longer, it naturally costs more to produce, hence it's priced at the premium end of the market. Also, the packaging is top-notch. The garment is folded in a special way to preserve its integrity and minimise creasing. It's known in the industry as a 'gate fold'.
CUSTOMER
Right. How does taking longer to knit it, make it better?
SALES ASSISTANT 
The stitching is more precise, and controlled. Such attention to detail creates a product that elevates the sweater wearing experience. It has a tremendous old-school warmth to it.
CUSTOMER
[small chuckle]
I should hope so – it is a jumper…
SALES ASSISTANT 
[unamused]
I was talking about the spirit of the item, rather than its physical qualities. Are you interested?
CUSTOMER
Yes, I'll take a blue one please – large.
SALES ASSISTANT
I'm afraid I can't offer you a blue one
CUSTOMER
Oh… none left in my size?
SALES ASSISTANT
It's not that, it's just that these are strictly supplied to customers in random colours: cream, blue or green. We can't guarantee any specific hue.
CUSTOMER
So how do I know which colour I'm getting?
SALES ASSISTANT
You don't
CUSTOMER
What do you mean? I'm not going to buy a jumper without knowing what colour it is!
SALES ASSISTANT
The cream ones are produced in far fewer numbers and are therefore rather sought after. Imagine getting one of those? You'd be one of only a select few to own it!
CUSTOMER
I don't want a cream jumper…I want a blue one.
SALES ASSISTANT
[confidentially]
Listen. To be honest, you didn't stand much a chance of getting a cream one anyway. I'm sure it will be fine… you'll probably end up with one you're after.
CUSTOMER
'Probably'!? Why can't I just pay for the colour I want?
SALES ASSISTANT
[looks down at the sales blurb and starts reading]
The producers of the McKenzie 50 sweater are keen to jump-start and redefine the shopping experience. They say this 'surprise' element puts the 'ping' back in shopping, by adding an excitement, if you will a frisson, to the purchasing process. If you do end up with the colour you want you will actually be happier than you would have been if you'd know what the colour was all along. It's quite clever, if you think about it.
CUSTOMER
[weary]
And if I don't get the colour I want?
SALES ASSISTANT
You could always buy more than one? Increase your chances. If you buy three you're bound to get a blue one!
CUSTOMER
[sighs]
Go on then.
The transaction takes place and the buyer leaves the shop. The sales assistant pauses for a moment, approaches a full length mirror, licks a finger and presses a loose hair on his head back into position. Strolling over the the shop window, he is surprised to see the customer he just served, standing outside, with his back to him. He has his bag with the three jumpers in one hand, and his other hand is pressing a mobile phone to his ear. The sales assistant can just about hear him remonstrating with someone – probably a wife or girlfriend – and catches the words "…well, what else was I supposed to do?".
SALES ASSISTANT
Sucker.
---
Parlophone release David Bowie's The Metrobolist on 6 November. Read more here.