Saturday Deluxe / 14 November 2020
Neil Young backtracks on previous deluxe Archives II position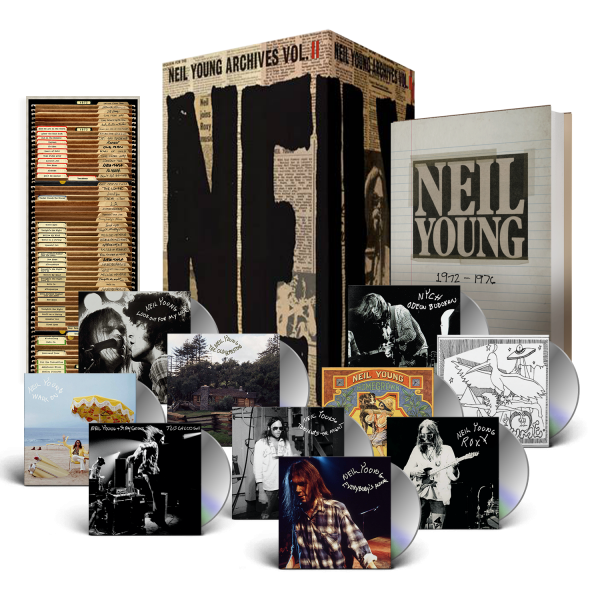 Things are quite confusing with Neil Young and his Archives II box set. As you may know, this 10CD deluxe set was announced as a 3,000 limited edition and sold out almost immediately. Neil Young and Reprise Records were surprised, but a few weeks ago the Canadian singer-songwriter said that "we don't feel that offering more of a product sold as a limited edition is a good thing to do" and the plan was that a cheaper and less deluxe 'retail' version would be produced in a smaller box, with a smaller book and that would have to do.

The retail version is indeed happening, but so is a second run of the deluxe edition, totally contradicting that earlier statement. In a post yesterday on Neil's site, he said that "a deluxe edition with subtle art differences" would be released and that "those who got the first limited one, will have a letter of authenticity sent to them". Those art differences appear to include the 'II' in 'Archives II" being in red and not black.
The new deluxe will be issued at the same time as the cheaper retail version, on 5 March 2021. The deluxe is exclusive to Neil Young's Greedy Hand store, while the retail version will be available everywhere (although at the moment it's only on Amazon in the USA). The deluxe version is $250, while the retail is $160.
Incidentally, in response to a reader on his 'letters to the editor' section of his website Neil acknowledges that "the price is too high" for the After The Goldrush vinyl box set, but then adds "there is a reason Reprise does that. There are in a business".
---

Deals galore
It has been a great week for deals, after a fairly quiet period of late. This week has seen Paul McCartney's deluxe of Flaming Pie dramatically reduced on Amazon in the US and incredibly, four days later, the price of $118 is still available!
Also his old band's 1968 album, in super deluxe form, is still just €60 in France, which is about £55. That's also an incredible price because The White Album super deluxe is the best Fab Four box set so far, featuring the new stereo remix, the brilliant 'Esher Demos' disc, THREE further CDs of sessions and the blu-ray with the 5.1 mix, the hi-res stereo mix and the original mono mix. And you get the amazing book.
Also, in America we've had the 3-for-2 deal, which, if you shop carefully, offers some great savings.
---

Costello: Lack of Armed Forces CD box 'wasn't my decision"
Elvis Costello was taking to Janice Long yesterday evening for a Rough Trade webinar-type event and while the main point of discussion was his new album, Hey Clockface, he did mention the Armed Forces vinyl box. Without any prompting, he mentioned that fact that some people weren't happy that it was only available on vinyl and was generally a little bit defensive. For example, he did say that not putting it out on CD "wasn't my decision" but in general, while not slagging off the format in quite the same way he had on the interview highlighted by SDE a few weeks back , his general vibe was the same. Incidentally, there will be an SDEtv unboxing video of The Complete Armed Forces box set at the beginning of next week, so stay tuned for that!