Saturday Deluxe / 2 January 2021
Hey, streamers! Leave our charts alone.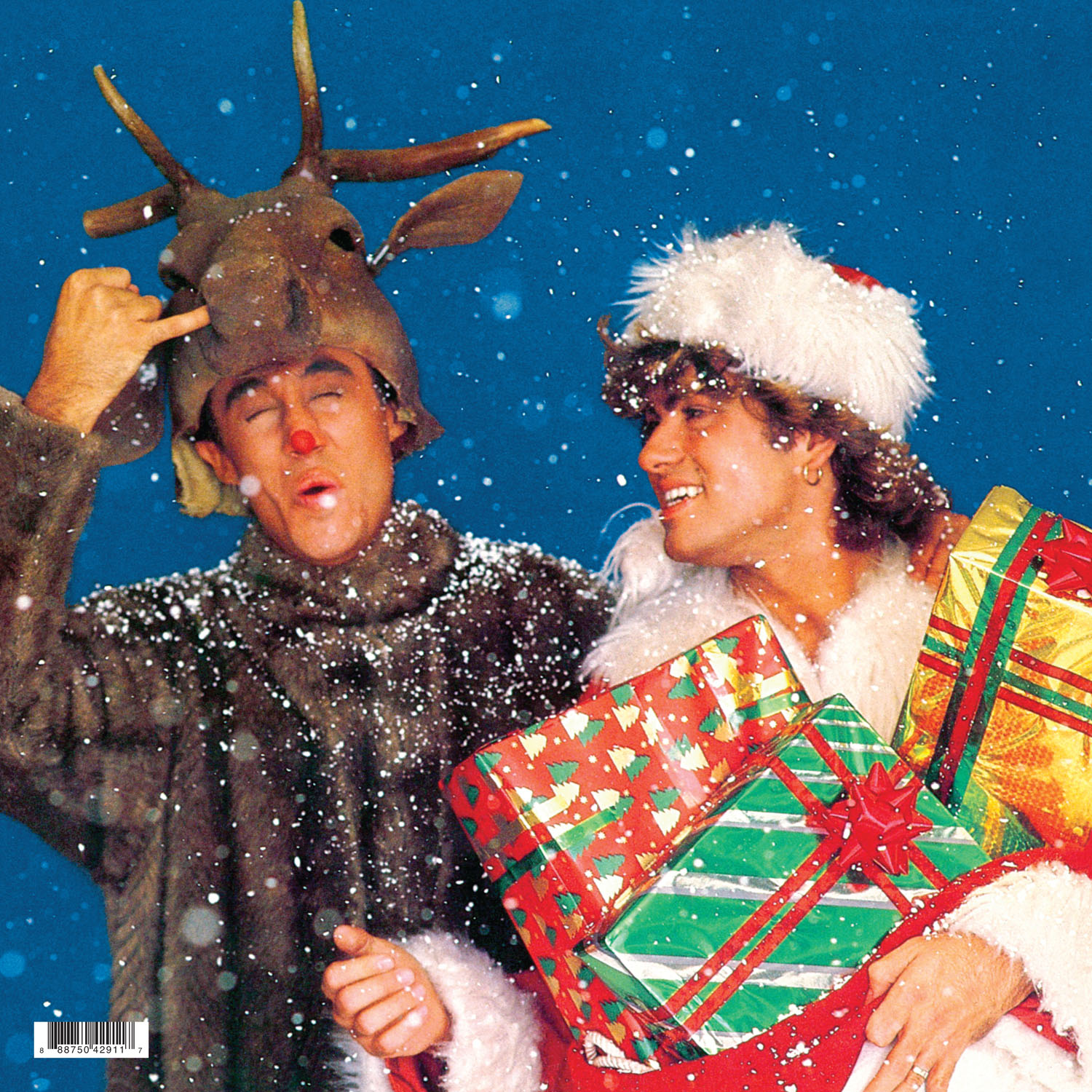 Wham!'s 1984 single 'Last Christmas' is this week's UK number one. This was confirmed yesterday evening, and since the song is the most famous 'number two' (and the biggest selling) of all time in this country, the general mood was one of 'finally!'
However, at the risk of being called a humbug, I'm rather conflicted by this and feel that a combination of the current chart rules ("reviewed on an ongoing basis by the Official Charts Company in partnership with the music industry") and passive consumer behaviour has, effectively, rewritten chart history. Let me explain…

'Last Christmas' is a brilliant single and is one of the 'classic' festive songs. That was obvious the moment it was released in 1984. Wham! / George Michael had already enjoyed three UK number ones that year ('Wake Me Up Before You Go Go', 'Careless Whisper' and 'Freedom') and it seemed a certainty that 'Last Christmas' would follow. Then Band Aid's 'Do They Know It's Christmas?' happened and 'Last Christmas' was famously held at number two for five weeks, as 1984 turned into 1985. It sold over a million copies. This is clear cut. There are no nuances, no grey areas, no questionable interpretation of what a 'sale' is. A million people actively went into a shop and paid for a physical single. The end.
I am delighted, somewhat amazed & profoundly pleased that WHAM!'s iconic Christmas classic Last Christmas has finally achieved the accolade of becoming a No 1. It's a fitting tribute 2 George's songwriting genius and 1 of which he would've been immensely proud & utterly thrilled.

— Andrew Ridgeley (@ajridgeley) January 1, 2021
Most pop fans of a certain age remember this very well. It's part of the folklore of 1984 and part of Wham!'s history. Many bands have this. The 'what ifs'. The 'could haves', 'should haves'. The Beatles' 1967 single 'Penny Lane'/'Strawberry Fields Forever' (arguably the greatest 45 of all time) deserved to be number one, but Engelbert Humperdinck's 'Please Release Me' kept it off the top spot. This one blip stopped the Fab Four having 18 CONSECUTIVE UK number ones. Ultravox's 1981 single 'Vienna' should have been number one as well, but Joe Dolce had other ideas.
Life isn't fair. We know that. These things happen and such quirky events become the pop quiz questions of tomorrow. But as I said earlier, this is history being rewritten. Today, when I look at Wham's single discography in Wikipedia is now shows a clean sweep of number ones from 'Wake Me Up Before You Go Go' onwards. Really?
'Come on', I hear you cry. Plenty of singles have been re-released and and done well. Queen's 'Bohemian Rhapsody' got to number one again in 1991 after Freddie Mercury died. Jackie Wilson's 'Reet Petite' reached the top spot in 1986 having peaked at number six way back in 1957. What's the problem?
The problem is that 'Last Christmas' hasn't been reissued. There wasn't even one of those 'campaigns' to try and get it to number one this year. The problem is that the Official Chart Company (OCC) and the music industry's definition of a 'sale' is so weak and meaningless that it creates hit singles – number ones – just because we as a nation decide collectively to listen to a song a bit more than we normally would.
'Last Christmas' was streamed 9.2m times last week which sounds like a lot – to be fair, it is a lot – but how is listening to a song a 'sale'? It's not. The OCC recognise this and so have determined that a song should be streamed 100* times before it becomes a sale. Hang on, if one stream isn't a sale, why are 100 streams a sale? Don't know. It's just a rule someone invented.
These are paid streams by the way (people who pay £10 a month for Spotify, for example). For unpaid streams to count as a 'sale' it requires 600 streams. You only have to listen to the song for over 30 seconds and that is considered a 'stream'. So if 100 people who have a paid subscription to Spotify all listen to 35 seconds of 'Last Christmas' you have one sale. That, apparently, has equal value to one person getting on the bus, going into town and buying the seven-inch single in a picture sleeve.
We are told that 9.2m streams equated to sales of 40,149 for 'Last Christmas'. It pipped Mariah Carey's 'All I Want For Christmas Is You' to number one by just 714 sales, apparently. Almost the entire UK top 10 is made up of Christmas classics like Band Aid, Shakin' Stevens, the Pogues featuring Kirsty MacColl… which makes it blindingly obvious that this week's UK singles chart is defined entirely by people putting a Christmas playlist on their streaming service of choice as they opened their presents or prepared a festive meal. Everyone does that, but should that be allowed to mess around with the charts and re-write chart history?
If you do the 'math', you will see that approximately two-thirds of those 9.2m streams must have been unpaid. Not only are those people not paying 79p for the seven-inch single of 'Last Christmas', they don't even want to pay £10 a month for an unlimited amount of music, that includes 'Last Christmas'!
To put it another way, the rules that currently determine the singles chart allow people who don't buy physical singles, don't buy downloads, and don't actively contribute one single penny towards the streaming that they listen to, to create s significant amount of 'sales'. Around one quarter of the 'sales' (roughly 10,000, equivalent to 6m streams) that have now taken 'Last Christmas' to number one, are from these non-contributors. That is nothing short of a joke.
Converting streams into sales may have been reasonable when the singles chart was made up of a combination of physical sales, digital downloads and streams, but now that the singles chart is close to being 100 percent streams, there is a problem. It works in a vacuum, as a measure of the popularity of contemporary releases when compared against each other (e.g. how is Taylor Swift's new single doing against Billie Eilish's) but it is not fit for purpose when measuring old songs against past chart performance.
The truth of the matter is that while many hundreds of thousands of people actively wanted to buy 'Last Christmas' in late 1984, only 1,555 people wanted to do that at the end of 2020. How do we know this? It's because that's exactly how many digital downloads of 'Last Christmas' were bought last week (yep, people still do that, it seems). Those figures were published by Music Week, along with the streams. That is the only true, comparable measure. The will of fifteen hundred people have overruled the will of a million people. History is re-written.
Arguably, this very specific issue that only rears its head at Christmas time, but nonetheless, the industry should rethink the rules and perhaps exclude 'old songs' from the contemporary UK singles charts. I have a fondness for pop chart history and I don't like to see it messed with. How many campaigns are we going to see to 'right wrongs' and to get old songs to number one?
Loads of people love listening to 'Last Christmas' – which is understandable because it's a great song – but there is something wrong when music industry rules convert passive listening habits (playlists in the background) into chart 'sales' that supersede the highly engaged fans of yesteryear who actually put their money where there mouth was and bought the single and created history.
'Last Christmas' selling well over a million copies and only getting to number two back in the day has, over time, become a badge of honour. Selling just 1555 units and being declared the UK's number one (and supposedly 'surpassing' the previous achievement) is surely quite the opposite. An embarrassing state of affairs.
---
*Update: Thanks for those who pointed out that with 'old songs' (actually "after 3 consecutive weeks of decline") something called the Accelerated Chart Ratios (ACR) kicks in, which requires 200 paid or 1200 unpaid for one single 'sale'. So this would have been the case for 'Last Christmas', although the total streams quoted is correct and I don't think the general thrust of the argument is affected by this.