Saturday Deluxe / 26 January 2019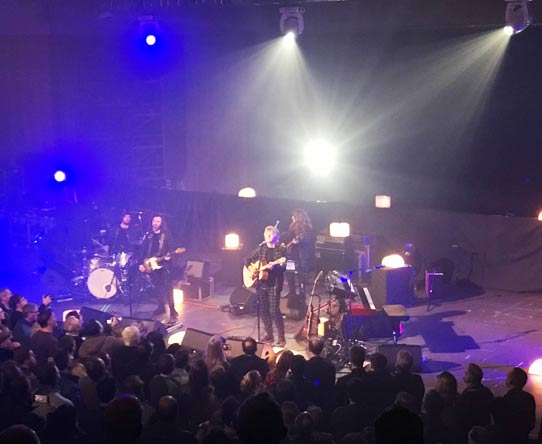 Neil and Liam Finn live
Busy week as ever here at SDE and I was delighted to attend my first gig of the year as Neil and Liam Finn played a show in East London.

It was a real family affair, with Neil's wife Sharon on bass duties and his other son Elroy on drums. The setlist pulled songs from all over the place, including some from Neil and Liam's Lightsleeper album (issued last year), a sprinkling of Split Enz tracks (including 'I Got You'), some Liam solo songs, a Pajama Club number ('Golden Child') and of course some well chosen Crowded House classics.
Liam is an incredible musician, happily switching from guitar to drums when required, and, like his dad, is a beautiful singer. The harmonies between father and son were absolutely sublime, magical at times, and Neil is undoubtedly proud of Liam's musical and singing skills. The only question marks are in songwriting and I'll admit to being unfamiliar with both Liam's songs and the songs he has written with this dad. I was probably not alone in that and in fact Neil himself acknowledged at the end that lots of songs wouldn't necessarily be that familiar to large parts of the audience.
But this didn't really matter, because every few songs one would come along that you knew really well, including 'Four Seasons In One Day,' 'Distant Sun,' 'Pineapple Head,' 'Fall at Your Feet' and inevitably, a rousing 'Don't Dream It's Over' at the end. At one stage, there was literal screaming with delight from a small group of the audience right at the front, when Neil, at the piano, teased us with a short burst of 'World Where You Live'.
The evening was just so much fun, with lots of banter and in-family joshing (although Sharon didn't really join in, leaving it to the boys) and despite some technical glitches rendering one of the electric guitars useless for a long period, everything sounded great and appropriately intimate.
If anyone thought Neil was going to let superstardom as the new frontman of Fleetwood Mac go to his head, here's the proof that it hasn't. One imagines touring with Liam and his family in this manner, playing quite small venues, is the polar opposite to the industry, politics and scale of playing with the Mac at Wembley Stadium! There is clearly room in his life for both.
Having not seen him play live since Crowded House's Together Alone tour in 1993, the evening was a reminder that Neil's incredible talents have not only endured but, luckily for his sons, are also hardwired into his genes. I will now look forward to exploring Lightsleeper further.
Check out the full show setlist here, and you can order Lightsleeper below.
Compare prices and pre-order
Neil & Liam Finn
Lightsleeper - CD