SDE's best reissues of 2020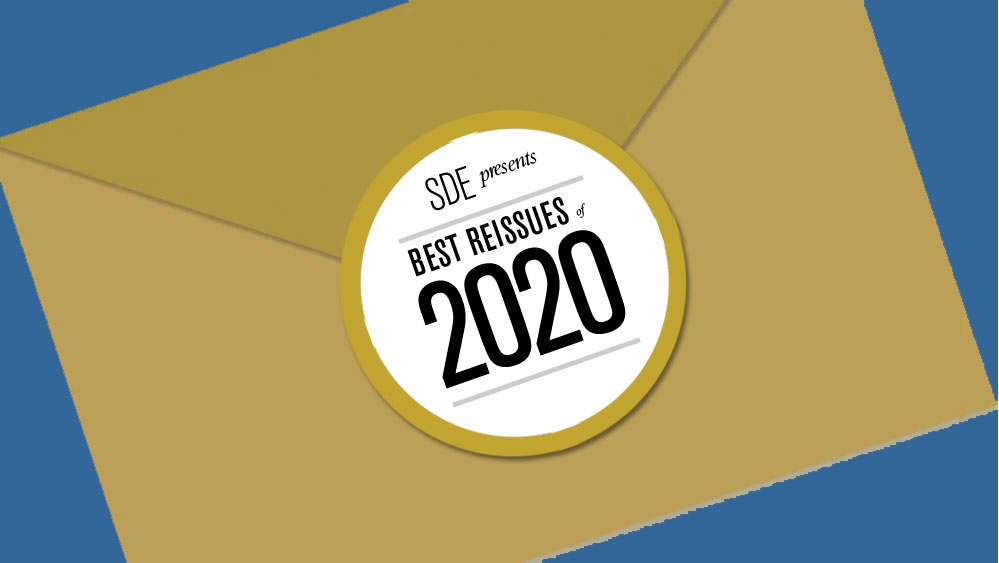 Keen though we all are to move on from 2020, allow SDE to take moment to look back at some of the best reissues and box sets from this year…




Tears For Fears / The Seeds of Love (4CD+blu-ray box set – UMC)
It's curiously appropriate that the reissue of Tears For Fears' 1989 album took four or five years to reach fruition, echoing the drawn out process of the original recording sessions over 30 years ago.
The 4CD+blu-ray super deluxe edition started by bringing together remastered album and a (comprehensive) collection of B-sides, remixes and edits before moving into another gear for the final three discs, all of which offer entirely unreleased audio.
While rumours of a 'scrapped album' proved unfounded, the box set reveals all sorts of interesting diversions and challenges during recording. For example, it's pretty clear that someone wanted 'Year of the Knife' to be a single but despite endless attempts to whip it into shape for the pop charts, that never happened. We FINALLY get a taste of the legendary 'Langer/Winstanley' sessions, only to collectively conclude that TFF were probably right to follow their gut instinct and go it alone. Best of all, we are offered the role of 'fly on the wall' as the Tears For Fears (really just Orzabal by this point) worked a band of expensive session musicians very hard in London's Townhouse studios – with a certain Oleta Adams on piano and vocals to inject that all important soulful authenticity.
The icing on the cake is a lossless Steven Wilson 5.1 surround mix on blu-ray (which took the best part of a year to bring together) and an extensive 'in their own words' booklet with new interviews with virtually everyone, and you have a fine examination of the creation of the memorable eight-track album.
Watch the SDEtv unboxing video
---

Prince / Sign O' The Times (8CD+DVD & 13LP+DVD box sets – Warner Music)
In reality, a photo finish with The Seeds of Love. The Tears For Fears box set only pips the Sign O' The Times super deluxe edition(s) to the post thanks to its wallet-friendly price tag and that Steven Wilson surround sound mix. Make no mistake, this Prince set was undoubtedly a major highlight of 2020, from a reissue point of view.
It's hard to beat (and indeed will the Estate ever better?) what is probably the purple one's FINEST ALBUM, massively expanded to a dizzying eight CDs or 13 vinyl records. The Sign O' The Times CD and vinyl box sets offer SO MUCH audio content it's bordering on ridiculous. It's the audio equivalent of continuing to stuff your face at a restaurant, when you know you should probably hold back. In this instance, Michael Howe is your maître d' and recommends you start with the remastered album, move on to every conceivable seven-inch edit, 12-inch mix and B-side and then finish with three CDs (or six vinyl records) of unheard 'vault' material – with many unreleased tracks, alternates, unheard remixes and an early version 'I Could Never Take The Place Of Your Man' that Prince conceived when he was still in the womb, by all accounts (slight exaggeration).
It's an absolute audio feast. An superb over indulgence. We become Monty Python's 'Mr Creosote' with headphones. Just when you think you've really had enough, the set tempts you with the 'waffer thin mint' of an unreleased concert on CD and DVD. Do we need this much? Probably not. Do we want it? But of course! Phew, I'm stuffed.
Watch the SDEtv unboxing video
---

Ultravox / Vienna (5CD+DVD deluxe edition – Chrysalis)
The Seeds of Love, Sign O' The Times and the Vienna box sets were the Federer, Nadal and Djokovic of 2020 album reissues. There were in a league of their own, for single album box sets.
Chrysalis opted for a large format approach for their 5CD+DVD package of Ultravox's 1980 album which shows off the original artwork to great effect, but it's the content that really impresses. This box brings together the original album, a new Steven Wilson stereo remix, a CD of rarities (12-inch mixes, live cuts, B-sides, single versions), a disc of cassette rehearsals and live performance at St. Albans and on top of that a Steven Wilson 5.1 mix on DVD.
Some fans expressed disappointment with a fairly light contribution from Midge Ure in the otherwise decent large-format booklet and the SDE's preference is always for a blu-ray over a DVD when it comes to surround sound mixes, but no matter, this was excellent value at just over £50 and the box set successfully documented all aspects of this celebrated album.
Watch the SDEtv unboxing video 
---

The Divine Comedy / Venus, Cupid, Folly & Time (24CD box set – Divine Comedy Records)
SDE described this 24CD Divine Comedy set as 'flawless' back in October, when the unboxing video was published, and that opinion has not changed. Curating generous two-CD sets of all the albums is a task in itself but it's the presentation and attention to detail that really lifts this package and it remains one of the very best career-spanning packages we've ever seen.
Every double-CD album comes in a Japanese-style high quality gatefold wallet, with inner sleeves and a booklet with new notes from Neil Hannon. This then slots into an outer slipcase featuring new cover art illustration. These slipcases are the genius element that makes this package so visually appealing, since they cleverly bring the albums together while maintaining their individuality (they all slot into a rigid box). A 100-page book of lyrics completes a package which is the new yardstick by which others will be judged.
Watch the SDEtv unboxing video
---

Richard & Linda Thompson / Hard Luck Stories (8CD box set – UMC)
Andrew Batt – who put together the 2018 Bobbie Gentry The Girl From Chickasaw County box – is credited with the 'concept, compilation and tape research' (as well as the mastering) for this Richard and Linda Thompson box set, so expectations were high.
The eight-CD collection didn't disappoint, with remastered albums and a generous selection of largely previously unreleased bonus tracks. This was all exquisitely presented in a 10-inch package which comprised two folios of CDs and a 74-page hardcover book (with excellent sleevenotes by Patrick Humphries and Mick Houghton).
While the product was undoubtedly excellent, it's a shame that UMC's manufacturing and/or QC processes rather spoiled the party with some fans grumbling about CDs not 'ripping' (and in some cases not playing) properly. It was widespread enough for the label to eventually offer replacement discs, but the "hand-packing error" explanation raised an eyebrow or two and the problems took ages to sort out.
It was a disappointing situation for both fans and for the team that had put this fine set together. By the time the dust settled, Hard Luck Stories was all but out-of-print.
Read more about Hard Luck Stories
---

Lou Reed / New York  (3CD+DVD+2LP deluxe edition – Rhino Records)
I was always hoping Warner Music would get around to reissuing Lou Reed's 1989 album and the deluxe of New York really surpassed expectations.
If you can forgive Rhino for doing their usual thing of including vinyl with their CD deluxe editions (I know some people can't) then there was so much here to enjoy. The album is of course remastered, and the DVD includes The New York Album concert performance which was previously only available on VHS or Japanese laserdisc. This was Lou ahead of his time performing the album in full and in sequence to a Canadian audience.
But what really impresses is the thought that has gone into the content. Some deluxe editions give you a concert on DVD then repeat the audio on a CD. Not here. CD 2 is the full album as performed live on the same tour, but is made up of completely different performances, none of them are from the Canadian show on the DVD. Also, the non-New York encore performances ('Walk on the Wild Side', 'Sweet Jane') are escorted to the 'odds and sods' disc (CD 3). This was a good move and preserves the integrity of New York as a live performance.
That same disc (CD 3) also offers 'work tape' and 'rough mix' versions of many of the songs. This provides and intimacy not really expected and 'puts you in the room' with Lou and guitarist/songwriter Mike Rathke as they work through the material.
The vinyl is included as a 2LP set (for the first time) and the new liner notes written by David Fricke are great. A truly excellent overview of a great album by a much missed artist.
Watch the SDEtv unboxing video
---

Thin Lizzy / Rock Legends (6CD+DVD box set – UMC)
We are of course all familiar with some unreleased tracks being included with archival reissue box sets – it's now par for the course and all but expected. But the Thin Lizzy Rock Legends set impressed by the sheer volume of material that was never before available.
74 of the 99 tracks across the six CDs had never been released before making this a veritable treasure trove of unheard demos, session tracks and live material. Even the disc of familiar hits at the beginning made a point of including rare radio versions, to make sure fans got the maximum out of this seven-disc celebration.
This package was also enormous and came with a big book of tour programmes, a volume of lyrics and more. It's no surprise that this superb box sold very well and is now out-of-print.