SDE's Record Store Day 2019 preview
It's that time of year again. Next month music fans will congregate in queues, early in the morning, outside of independent record shops, with their dog-eared lists in hand, hoping to secure one of the many special releases that are created for Record Store Day. Other fans may stay at home and wander in to town later in the day to 'see what's left', while some will do the early shift, only to rush home after making their purchases to get 'em up on eBay as quickly as possible! Hey, nobody said it was perfect, but this year's selection looks the best in quite a while, so enjoy SDE's preview of RSD '19; our pick of the best of the special releases….


a-ha / Hunting High And Low:The Early Alternate Mixes
The alternate mixes from CD 4 of a-ha's 2015 super deluxe. First time on vinyl. Interesting enough, although I do feel as if we need to move on from Hunting High and Low and 'Take On Me'. Weird, but I'd never noticed that dog (RIP).
Art of Noise / Daft as a Brush (4 x 12-inch box)
BMG are certainly making the most of the fact that the clock is ticking with regards to their ability to release ZTT material (Universal have bought the catalogue and are waiting in the wings). This record store day sees THREE box sets each which contain four 12-inch vinyl records. The other two sets are 808 State and Propaganda. 20 tracks on this Art of Noise set are 'previously unreleased on vinyl'. I hope the box is stronger (physically) than last year's flimsy Frankie box.
Bananarama / Remixed Volume 1 (blue vinyl 12-inch)
This limited-edition RSD release exclusively features Ewan Pearson's  remix of 'Aie A Mwana', Tom Moulton' s classic disco mix of ' Cruel Summer' plus on the flip-side two Leo Zero remixes of ' Venus'.
Bingo Hand Job / Live at the Borderline 1991 (2LP vinyl)
R.E.M.'s appearance at London's tiny Borderline club (as 'Bingo Hand Job') in 1991 has become legendary. Craft Recordings put out this first official release as a 2LP set for Record Store Day. Looks to be a satisfying hand job.
Blancmange / Living on the Ceiling (blue vinyl 12-inch)
Blancmange's 'Living On The Ceiling' has been remastered and is exclusively on limited edition blue vinyl for RSD 2019. Also features a previously unreleased Richard Norris remix plus a rare, extended version of the track.
Bob Dylan / Blood on the Tracks  test pressing (vinyl LP)
An exact replica of the test pressing of Bob Dylan's Blood On The Tracks containing unique mixes from the New York session.
Culture Club / Runaway Train
Exclusive shaped ten-inch vinyl including exclusive track 'Runaway Train' featuring the legendary Glady Knight. It's Boy George-shaped, obviously.
Bronski Beat 12″ picture disc
This isn't quite as cool as the SDE exclusive Bronski Beat 'Smalltown Boy' CD single (see this post) but still quite exciting. A seven-inch shaped picture disc was issued back in the day, but not a 12-inch one. As well as the extended mix of 'Smalltown Boy' you get a few modern remixes, including one of 'Why?'
Charlatans / Everything Changed 7″ box set
Charlatans' seven-inch box. 15 x clear vinyl. Prepare thy wallet because this could be expensive.
David Bowie / Pin Ups (vinyl picture disc)
Picture disc of David Bowie's 1973 album Pin Ups. The reverse features a Mick Rock treatment of a Pin Ups era session shot.
World of David Bowie (vinyl LP)
This March 1970 compilation was the one that introduced a generation to 'early' David Bowie. after the success of the Phillips-released single Space Oddity. It featured 'Let Me Sleep Beside You', 'Karma Man' and 'In The Heat Of The Morning' and slightly weirder tracks like 'Uncle Arthur' and 'Little Bombardier'.
David Bowie & Marlene Dietrich / Just a Gigolo (seven-inch)
Just A Gigolo is  1978 West German movie about a Prussian officer (David Bowie) who works as a gigolo in a brothel run by the Baroness (Marlene Dietrich) after he returns home from the great war. Bowie contributed a piece of music to the film; his so-called "Revolutionary Song", played by a band called The Rebels. The seven-inch includes this and the 1928 title song Just a Gigolo, performed by Marlene Dietrich. It was her last film appearance and last song she recorded during her lifetime. 7,500 copies on coloured vinyl.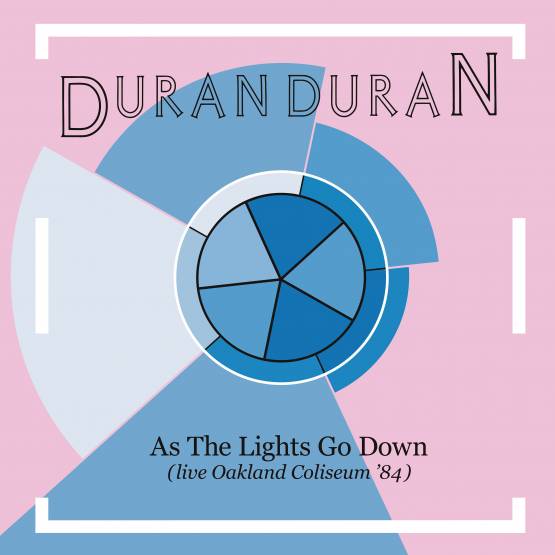 Duran Duran / As The Lights Go Down Live '84
Duran Duran at their absolute peak. The audio here is arguably one of the best things they ever did, and so this double vinyl is going to be in high demand. Read more about this release here.
Elastica / BBC Sessions (white vinyl)
First time on vinyl for Elastica's BBC Sessions. A white vinyl pressing with a poster.
Elton John with Ray Cooper / Live From Moscow 1979 (2LP vinyl)
2019 is the 40th anniversary of Elton John's historic first tour of Russia – he was the first Western rock star to ever perform in the country.  The show in Moscow on 28th May 1979 also features Ray Cooper and was broadcast on BBC radio in the UK. This special 2LP release for Record Store Day 2019 is taken from the original broadcast masters. Remastered by Bob Ludwig at Gateway Mastering and cut at Abbey Road.
Fleetwood Mac / Alternate
Predictable, but welcome. As with Tusk, Mirage and Tango in the Night, Rhino take the 'alternate' version of the Fleetwood Mac album from the super deluxe and issue on vinyl for record store day.
Grandmaster Flash & The Furious Five / The Message (blue vinyl)
Expanded edition of Grandmaster Flash & The Furious Five' s 1982 debut studio album features bonus tracks and instrumentals pressed on 180g Sugar Hill Blue vinyl.
Heaven 17 / Bigger Than America (orange vinyl)
Two weeks after the Play To Win box set is released Heaven 17's 1996 album is issued on vinyl for the first time. This is pressed on translucent orange vinyl.
Japan: Life in Tokyo / Quiet Life (10-inch red vinyl)
Japan double A-side featuring 'Life In Tokyo' and 'Quiet Life' (ostensibly to mark the 40th anniversary of Life In Tokyo and the Quiet Life album). This is quite good though because it's a four-track and includes 'Life In Tokyo' part I and II and the UK 7″ and extended mix of 'Quiet Life'.
John Lennon / Imagine: The Raw Studio Mixes (black vinyl)
There were none of the so-called 'Raw Studio Mixes' of tracks from John Lennon's Imagine on the 2LP vinyl set, so this vinyl release for Record Store Day is sees them debut on the format. These mixes "capture the exact moment John and The Plastic Ono Band recorded each song raw and live on the soundstage located at the centre of Ascot Sound Studios at John & Yoko's home in Tittenhurst."
Madness / One Step Beyond (shaped picture disc)
Madness' first top ten hit features on this shaped picture disc. Also includes both the Italian and the Spanish version of the song.
Madonna / True Blue (super club mix) blue vinyl
Personally, I'd prefer to have this on CD, but nevertheless this replica of the Japanese pressing of Madonna' s True Blue Super Club Mix is still welcome. Includes an 'OBI' strip. Tracks are 'True Blue (The Color Mix),' 'Everybody (Dub Version),' 'Papa Don' t Preach (Extended Remix),' 'Everybody (Extended Version),' 'Live To Tell (Instrumental).'
Madonna / La Isla Bonita (super mix) green vinyl
The second of two Madonna releases. This  Japan-only EP replica includes 'La Isla Bonita (Extended remix)', 'Open Your Heart (Extended Version),' 'Gambler,' 'Crazy for You' and 'La Isla Bonita" (Instrumental)'.
Mansun / Legacy (red vinyl 12-inch)
Both parts of Mansun's Legacy EP appear on this red vinyl 12-inch. Eight songs in total with an OBI-wrap sleeve similar to the original seven-inch packaging.
Lou Reed / Ecstasy 2LP vinyl
Heavyweight 2LP reissue of Lou Reed's 18th studio album. This was originally issued in 2000 and would be his last solo studio album.
Morrissey / Lover-to-be (red vinyl 7″)
This track is taken from the deluxe edition of Morrissey's last album Low In High School. The red vinyl seven-inch also includes an unreleased track, 'I Thought You Were Dead'.
Roy Budd / Get Carter Original Motion Picture Soundtrack (coloured vinyl)
"You're a big man, but you're in bad shape. For me, this is a full-time job, now behave yourself!" Get Carter remains one of Michael Caine's best films and Roy Budd's superb soundtrack is an important part of it. 1500 limited edition on coloured vinyl.
Peter Gabriel / Rated PG (vinyl picture disc)
Yes, apparently that is the artwork. This Peter Gabriel compilation of film music looks really good, because it includes new and previously unreleased versions, otherwise unavailable songs and a brand new track. It includes a new version of 'This Is Party Man' from Virtuosity, a new edit of 'Taboo' from Natural Born Killers and the film version of 'In Your Eyes' which is previously unreleased. Check out the full track listing here. Pity it's a picture disc, but hopefully they'll be a download code, at least.
Pink Floyd / A Saucerful of Secrets (mono vinyl)
Pink Floyd's second studio album, remastered from the original mono analogue tapes.
The Police / Message in a Bottle (7″ double-pack)
This Police double-pack utilises the original green UK sleeve for front and incorporating blue US 'poster' sleeve inside the gatefold. It features the original single and B-side on the first seven-inch while the second includes the rather dubious 'Message In A Bottle' Classic Rock Mix and, more interestingly, a previously unreleased instrumental version of 'Message In A Bottle'. Disc one is 'bottle' green vinyl (geddit?) while disc two is blue.
Prefab Sprout / Steve McQueen Acoustic (black vinyl)
The bonus album from the 2006 deluxe edition of Prefab Sprout's 1985 album. New to vinyl. Good cover!
Prince: His Majesty's Pop Life / The Purple Mix Club
Like with Madonna, Warners are doing a Japanese vinyl replica for Prince. This 1985 release has a great track listing: 'Pop Life (Fresh Dance Mix),' 'America (Album Version),' 'Raspberry Beret (New Mix),' 'Paisley Park (Remix),' 'Let' s Go Crazy (Special Dance Mix),' 'Little Red Corvette (Dance Mix),' '1999 (Album Version),' 'I Would Die 4 U (Extended Version),' 'Erotic City ("Make Love Not War Erotic City Come Alive") (Long Version), and 'When Doves Cry (Album Version).'
Prince / The Versace Experience (cassette)
There are two labels reissuing Prince now, Warners and Sony/Legacy. This cassette release is from the latter and is "in anticipation of the release of The Gold Experience". It recreates the gift issued to attendees of Versace's collection at Fashion Week in Paris during the summer of 1995. It features remixed versions of 'P. Control,' 'Gold' and 'Eye Hate U' as well as rare and commercially unreleased selections by The New Power Generation and Prince' s jazz-fusion project Madhouse. I don't know if there's also a download code.
Propaganda / The Eight Testaments of Propaganda (4 x 12-inch box)
This Propaganda box features 24 tracks across four discs, including "rare and previously unreleased mixes" (pinch of salt possibly required). Includes two tracks previously unreleased, and 13 tracks previously unreleased on vinyl. The entire set is remastered from the original master tapes.
Queen / Bohemian Rhapsody (seven-inch coloured vinyl)
This limited edition seven-inch features ' Bohemian Rhapsody' with original B-side ' I' m In Love With My Car'.
Queen / Bohemian Rhapsody (2LP picture disc vinyl)
This is the recent soundtrack album for Queen's now Oscar-winning Bohemian Rhapsody film. As you can see, this is a 2LP picture disc set.
The Rolling Stones / Big Hits [high tide and green grass] (green vinyl)
Reissue of the 1966 Rolling Stones 'best of'. The original 14-track album on heavyweight green vinyl. Mono edition cut by Sean Magee at Abbey Road Studios, London.
Roxy Music Remixes (2 x 12-inch vinyl)
These remixes are but they were commissioned and unused (for good reason?) for the super deluxe Roxy Music reissue. I'm prepared to keep an open mind, but a read of the track listing makes your heart sink: 1 Ladytron (Idjut Boys Flange Bath Version), 2HB (Leftside Wobble Beatless Mix), Ladytron (Idjut Boys Golden Shrine Mix), Ladytron (Idjut Boys Golden Shrine Vocal Dub), Chance Meeting (Johnson Somerset Mix), Ladytron (Man Power Mix), Ladytron (Idjut Boys Golden Shrine Dub).
Suede / Head Music 20th anniversary 3LP coloured vinyl
Exclusively for Record Store Day, Demon Records issue a 3LP vinyl expanded edition of Suede' s fourth album. The extra third LP features ten non-album, b-sides. This is likely to get a wider release on black vinyl (and CD) later in the year.
Supergrass: Pumping On Your Stereo / Mary 10-inch vinyl picture disc
The first and third singles from Supergrass' third self-titled album are brought together for this 10-inch picture disc.
Toyah / In The Court of the Crimson Queen (purple vinyl)
Toyah's 2008 album is really rather good and with her songwriting partner and producer Simon Darlow she has remixed it and added new instrumentation to the songs. It also features a new track 'Dance in the Hurricane.'
U2 / The Europa EP (12-inch single)
U2's The Europa EP features the previously unreleased opening from the recent eXPERIENCE + iNNOCENCE European Tour – Charlie Chaplin' s final speech from the movie The Great Dictator, underscored with a unique musical mash up of ' Love Is All We Have Left' with 1993 classic ' Zooropa' – which leads into a ' live' performance of 'New Year's Day' from Dublin in November 2018. The flip-side has two Euro-tinged remixes: the St. Francis Hotel's mix of 'New Year' s Day' and Jon Pleased Wimmin's Euromantic mix of 'Love Is All We Have Left.'
Wendy Carlos / Kubrick (die-cut seven-inch vinyl)
Wendy Carlos created the main themes (both are based on classical pieces) to Stanley Kubrick's The Shining and A Clockwork Orange. The tracks are 'March from A Clockwork Orange' (an arrangement of Beethoven's Symphony No. 9 in D Minor (fourth movement) the main theme from The Shining which Carlos created with her collaborator and friend Rachel Elkind. The starting point for this was the Dies Irae from Hector Berlioz's Requiem (Op5). This seven-inch vinyl is pressed on transparent orange vinyl and comes in a die-cut sleeve.