SDE's Self-Isolation Playlist #2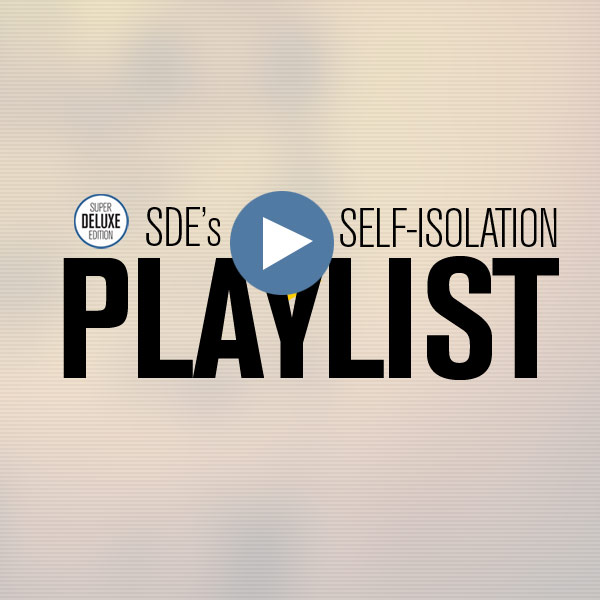 Let music help you through…
Rediscover some great music in your collection as we all stay indoors to protect ourselves and others. This time around as well as music, there's some suggestions as to what you might watch, too. Stay safe, everyone…


The Allman Brothers Band / Brothers and Sisters (SACD)
I'm not a massive Allman Brothers Band fan to be honest, but this album is great. I have the 4CD super deluxe from 2013 somewhere but closer to hand was the MoFi SACD which I picked up in Berlin a few years back when I was doing my SDE Berlin Diary trip. It's all great, but of course 'Jessica' always makes me smile given that for a long time I only knew it as the 'theme from Top Gear'!
---
Tori Amos / The Beekeeper (CD+DVD deluxe)
I'm a big fan of Tori Amos, but she's released so many albums and some of them are rather long, such as 2005's The Beekeeper which contains 19 songs! It's a pity because there's so much great music on this record but you do have to persevere to get to it (the running time is 79 mins). Highlights include 'Sweet the Sting', 'Jamaica Inn', 'General Joy', 'Mother Revolution' and 'Witness' (although 'The Power of Orange Knickers', which is a duet with Damien Rice, deserves a mention).  There is nothing bad at all on this album, it's just that you really can have too much of a good thing. Epic in the US put together a very nice deluxe edition which actually includes a 20th track (Garlands) on the included DVD. The package even comes with 'The Beekeeper Mix' a little packet of wildflower seeds for your garden. Stick that in your pipe and smoke it Spotify!
---
Public Service Broadcasting / The Race For Space (CD)
This passed me by on release in 2015, but came to my attention last year with all the celebrations around the 50th anniversary of the moon landing. Inspiring and moving in equal measure, it perfectly fuses actual audio from the 1960s (including JFK speeches and Houston control centre activity etc.) with beats, driving guitar rock, funky horns and some EDM-style synths. 'Fire In The Cockpit' mournfully remembers the disaster of Apollo 1 (where all three crew members perished in a cabin fire during a launch rehearsal) and 'Go!' (the undoubted highlight) is a joyous celebration of the moment of 'powered descent' resulting in Neil Armstrong taking the historical step onto the lunar surface.
---
Robert Palmer / Ridin' High (CD)
In 1992 Robert Palmer showed everyone how you really do an 'orchestral' album. Brilliantly arranged by Clare Fischer (who had worked with Prince, of course), Ridin' High combines well known classics ('Love Me Or Leave Me', 'Witchcraft' and 'Goody Goody') with a few excellent Palmer originals, including the wonderful 'Aeroplane'. I have great memories of seeing him do this at the Royal Albert Hall in winter 1992. Terrible loss when he died little over ten years later.
---
What to watch:
Looking for something decent to watch, here's a few things I'd recommend
Mindhorn – (BBC iPlayer)
An extremely silly but very funny film starring Julian Barratt (of The Mighty Boosh fame) with some sterling support from Steve Coogan and Simon Farnaby (Horrible Histories). The plot revolves around a 1980s fictional detective called Bruce Mindhorn who has the power to literally 'see' the truth with his cybernetic eye. 25 years later washed up actor Richard Thorncroft is called back into action to play Mindhorn when an escaped lunatic wanted for murder will only cooperate with the police if he can speak to Mindhorn. I said it was silly. This trailer will give you a feel for what to expect (spot the cameo from Kenneth Branagh).
---
OJ: Made in America (BBC iPlayer)
Ezra Edelman's outstanding 2016 documentary won an Academy Award and runs for over 9 hours (across five 90 minute episodes). A stunning piece of work that traces rise and fall of O.J. Simpson set framed against a narrative of modern America and Los Angeles. I've watched the whole thing before, but very tempted to watch it all again, such is the quality on offer. Part 1 is up on iPlayer right now with the subsequent episodes to follow.
Mindhunter (Netflix)
Brilliant series set in the 1970s which sees FBI agents Holden Ford and Bill Tench around as they teach other cops about criminal psychology and criminal profiling. There are two series so far with many episodes directed by David Fincher, to give you an idea of the quality on offer. Annoyingly the third series is currently on hold due to Fincher's commitments elsewhere.