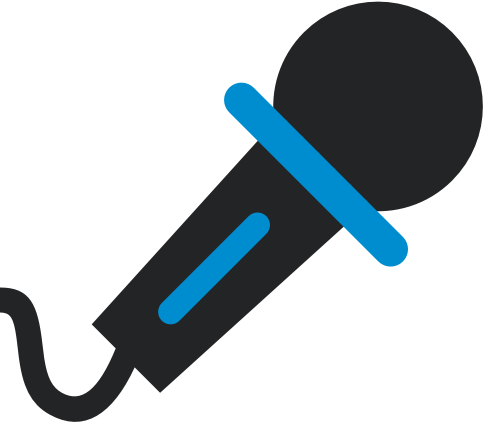 Interview
Exclusive: Andy Mackay on Roxy Music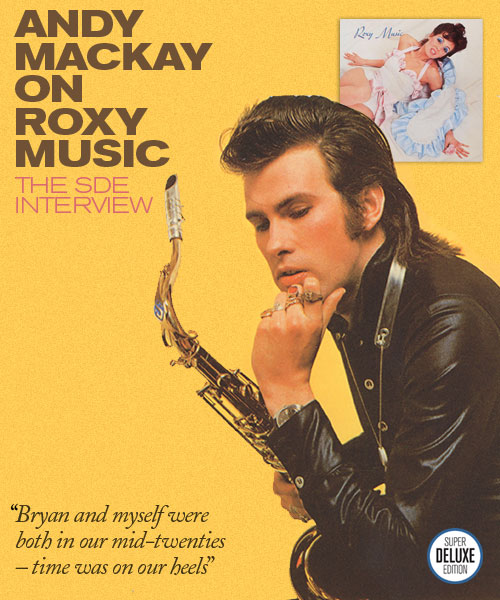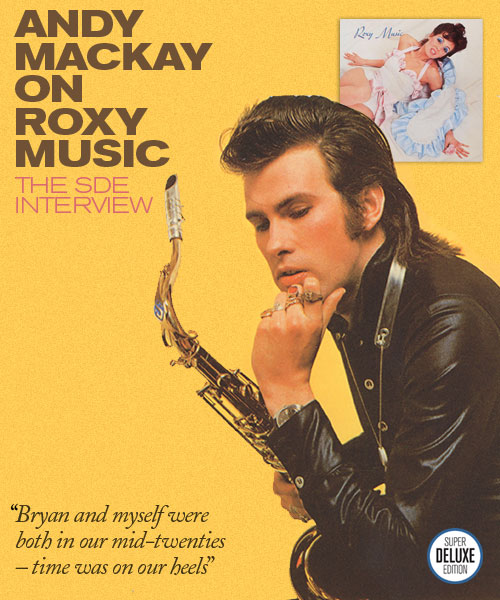 Multi-instrumentalist Andy Mackay who plays oboe and sax for Roxy Music talks to SDE about the early days of the band, living with Bryan Ferry and recording the 1972 debut album that was reissued just last week as a 45th anniversary super deluxe edition box set. "I don't think we were ready" he tells SDE Editor, Paul Sinclair….

SuperDeluxeEdition: How involved were you in the 'Roxy Music' reissue, in terms of going back, listening to the old tapes, etc?
Andy MacKay: It's taken years and years. Universal, who, you know, have become our record label – after all the weird changes that record companies go through – they proposed it for, I would guess, the 40th anniversary, which would have been in 2012, and I think it then rolled on a bit, so it's now ended up the 45th anniversary. But I mean, there's a lot to do… there's a lot of research, obviously, into music outtakes and the Peel Sessions, and our original early pre-recorded demo tape and so on. Plus, a lot of photo research, a lot of archive material that hasn't been seen before at all. And commissioning the book which in the end Richard Williams has written, which is brilliant. So, yeah, I don't think it really needed to take four years, but a lot of work went into it.
SDE: Was there any reluctance from any of the parties… you know, in terms of digging out the demos and stuff like that?
Andy MacKay: No, on the contrary, I think there was a great deal of enthusiasm for that. I think Bryan … Bryan is always very, very meticulous about artwork and related things. I think that partly, you know, he was looking at various things that were being produced and he'd had a look at them and sent them back, and made some comments, and we'd made comments and so on. You know, I think it just began to take a long time, but I haven't been directly involved, since the initial discussions when we agreed on everything and agreed on the general format. At one stage, I offered to write the booklet, but then thought the better of it, because 1) it was going to be needing too much time; too much of a labour of love, and 2) it's always difficult when you're that close to the situation to be objective.
---
SDE: And you could be accused of favouring yourself…
Andy MacKay: Yeah.. or the opposite, actually. I think when you're in that position you tend probably to sort of overcompensate… but, anyway, Richard's thing is brilliant.
SDE: One of the big deals about the box, in terms of the actual audio content, is those original demos, you made reference to. What do you remember about recording those demos?  Can you give a little flavour of what that was like?
AM: I remember it very clearly. It was all done on a quarter-inch reel-to-reel tape machine which was a Revox, as I remember. And we did some recording, I think, round at Bryan's flat, which is where we used to rehearse, and then we went over to Eno's flat Camberwell and…. I can't remember what mics we used – he must have had a couple of mics – I mean Eno was slightly more into recording, and we sort of crammed into his room and I'm pretty sure that's where we recorded most of it. And then Bryan arranged to get an acetate cut, because the only way that you could take music around to record labels – or any other interested parties – was really with an acetate; I mean you could have taken a reel-to-reel tape, but it was much easier to just have a disc that you could put on their record player and they could hear it, so that was the format it ended up in. Obviously, most of it would have been live, in the sense of several of us playing together, but Eno had a way of overdubbing by, I think, covering up the erase head on the Revox. You could then overdub; only a few times because you lost quality each time you did one, but, you know, I must say when I heard it I thought it was quite impressive really.
---
SDE: That's what I thought. Inevitably, they're a little bit rough around the edges, but the sonic ambition… it's all there isn't it on those tapes?
AM: What's interesting to me is that the kind of drumming and guitar playing, which was Dexter Lloyd and David O'List respectively, were quite noodley and sort of quiet and fiddly. And interestingly, by the time we got Paul and Phil, the Roxy sound was much stronger. It had got that rock and roll element which I always thought was absolutely crucial to our continued success. We weren't a bunch of natural rockers – as much as we loved rock and roll – and the oboe, and the kind of sax that I'd been playing was not particularly rock and roll, and I was moving into that. And Graham Simpson wasn't really a rock and roll bass player. So, you know, it's quite interesting – the early things do have much more of that prog-rocky, kind of slightly jazzy kind of edge to them, whereas the Roxy Music album we made it was much heavier, and that was, I think, the crucial thing that tipped us a cross from just being sort of an art school experimental band to being a proper pop group at times, you know.
SDE: So, none of the demos were done in the house in Battersea then?  I thought some of them might have been done there
AM:  I don't think they were. And to be honest, and my memory is not absolutely 100 percent; we worked in three different places – plus the odd audition which we did through a church hall or something – but the house in Battersea, I mean certainly Bryan was doing song writing, we had his piano there, but that was sort of towards the end of that period. The early stuff was done in Kensington High Street, in Bryan and Suzy's flat, and then in Camberwell at Eno's flat. I got a Revox much later, I think it was probably after we'd done the album and I had some money, or a small amount of money, I managed to get one. But I seem to remember that's where it was, but someone might contradict me so I mean I'm not absolutely certain.
SDE: And you shared that house in Battersea with Bryan, didn't you, for a while?
AM: Yes.
SDE: What was it like living with Bryan Ferry?
AM: Oh great, I mean Bryan and I, you know, were the best of friends. We had a huge amount of interests in common, you know, art, and films, literature, you know, general style and design, and we had mutual friends, you know, from our university days, through our respective universities, and, you know, we enjoyed being young men about town really. The house in Battersea was actually…  I mean, now, they're hugely comfortable kind of little houses in a fashionable part of London, but it was quite a mixed area, it was basically a working-class street with sort of terraced houses.
SDE: Looking back, the timeline looks rather quick, doesn't it?  Because you've got the demos done in around May '71, and then the first gig was late '71, and then the album came out in the summer of '72.
AM: Yeah.
SDE: Did it actually feel like that at the time?
AM: Yeah, no, I mean it was, it was quick. I first met Bryan in the winter of '70 an we started working almost right away.  We did get on with the demos, and then the series of gigs that we did…I'm sure someone would have a record of where they were, and how many there were, but I seem to remember there was about 30 maybe, and, you know, all of them within striking distance of London. We did get a van, but also some of them we did with … I borrowed my dad's car, and then later my brother's Mini which we took the seats out so we could put the equipment in, so it was… it was quite hard work. And some of us were [still] working. Bryan had actually stopped working by then and was sort of full time engaged in trying to, you know, get the band project going.  I was still teaching then.
SDE: So, were you doing that full time, the teaching?
AM: I was a full time supply teacher, so I did have holidays off and you know, I did a term here and a term there. But, yeah, we worked up until the winter of '71 and then we got the Peel Show, from doing some gigs in London either The Greyhound, or The Hobbit's Garden, I never remember which it was – both of them were in South London, Wimbledon. But the Peel Show was obviously critical in getting us from one stage to another. I mean we could have gone on as a sort of unsigned, unknown band doing a few gigs, which I mean the gigs were pretty variable, I mean, people didn't know what to expect. Technically, we had quite a lot of problems – we were ambitious – but musically, I think they were quite good. The Peel Show was the thing that gave us a ticket to go and say, look you know, we are, in effect, a real band.
And I mean, I was teaching at Holland Park Comprehensive in the early part of '72, and I hate to say it, but I just walked out at half-term. I always felt very bad about it and later wrote to the Music Department there, and they were incredibly nice about it, and said 'good luck, we really hope it all goes well'. That would have been around February, I guess.
SDE: Did you ever tell your students about your ambitions and what you were doing?
AM: Oh, I did, yeah, they thought it was very funny. I mean after the John Peel show I got a little bit more credit, you know, they sort of thought that I was serious, but they … well, Holland Park's a funny school because, you know, you've got a mixture of sort of older quite sort of savvy kids, and, you know, it's a comprehensive so it was mixed girls and boys from Shepherd's Bush, and Holland Park, and wherever.  So, yeah, they would tease me and say that I would never be as famous as Marc Bolan [laughs].  But it was a quick timeline… slightly under a year from me meeting Bryan and Graham and us actually getting into the studio.
---
SDE: But you were all proficient musicians… was there any sense of, you know, "are we ready?"
AM: That's interesting. I mean I don't think we were ready, actually, in terms of performing. I mean after we were signed, we were pushed really into playing some quite big gigs… the famous one at The Lincoln Festival which was, our first sort of big showcase. We weren't really ready for that. As it happens the weather was terrible and it was raining and so, you know, the stage got wet and it was very cold, and we didn't have the stage experience to kind of project ourselves properly. That was true for most of 1972.  And I mean our UK and European dates got quite good because the audience were very enthusiastic and quite quickly knew the material. But when we went to America at the end of '72 it was a near disaster – we simply weren't ready to play the kind of venues we were booked into.
SDE: The early live experience and the Peel Show in particular, that must have been crucial when you finally got into the studio to record the album, in terms of the experience that gave you.
AM: Yeah, particularly in terms of the sax and oboe parts, which I'd kind of worked out. Obviously we could do a lot more in Command Studios than we could at the BBC … the Peel Show is just a live performance. I think you could have a very small amount of overdubbing if you need to, and you can, possibly do two takes if one of them goes wrong, but there's not time for much more. But they always sounded good. The BBC engineers were very solid, and John Walters had very good ears and, you know, made it work very well.
SDE: There was obviously quite a few personnel changes in that early period. Was that simply just the sign of a band finding its feet?
AM: Yes… it was finding the people who worked. I mean, it's quite well known, I mean Eno came in in a very kind of general role, not specifically as a musician, but, you know, to kind of help with the effects on the synthesizer, the VCS 3 that we were using, and to do some backing singing and little keyboard melodies and things. So, he kind of created his role. We auditioned for a guitarist with an ad in the Melody Maker, one of whom was Phil [Manzanera] who was shortlisted as our favourite. And then Bryan thought that having a 'name' player – and David O'List was kind of, you know, a reasonable name having been in The Nice… they were a successful band at that time – was a good idea, because it was all part of the sales and promo kind of concept that he had.
We auditioned for drummers but didn't initially find a drummer that really suited us. They all tended to be either too heavy or too light, and either jazzy or kind of over rocky. So, we ended up with this character Dexter Lloyd who people can read about who is actually a classical percussionist.
And then when we decided that it just wasn't worked with O'List, Phil very emphatically was sort of poised in the wings [laughs] with his guitar and, you know, was able to step straight in, and had kept in touch with us, and had arranged a gig for us, and things. And then we auditioned again for drummers and, you know, took on Paul, which again, was absolutely crucial in making Roxy work, and, you know, a more proggy kind of rhythm section… I don't think it would have worked at all. So, from going into the studio, the band was set – that was the sound.  That hasn't changed fundamentally till … right through.
SDE: And the album sessions themselves were two weeks, or something like that?
AM: It was about two and a half weeks I think. It seemed a reasonable amount of time, to be honest, having done everything [previously] in a morning, or an afternoon. And it was a proper studio – it was well-equipped. Because we'd rehearsed the material so much, we could get the songs down fairly quickly and then we had a chance to experiment with overdubs and tape effects and various other things. I remember it as being a very enjoyable time.
SDE: The booklet suggests that there wasn't too many extra takes and that there wasn't loads of overdubbing, but the boxset does have a fairly generous selection of outtakes.
AM: Yeah. I mean the way we worked – the way most people worked in the studio in those days – was to get down a rhythm track. So you spent quite a lot of time getting a drum sound, and recording drums and bass which even if we were all playing, you would be concentrating on recording the drum and bass. And then keyboards, vocals, sax, and guitar would all be overdubbed so that gave you more freedom to play around a bit and to obviously put on more than one part and to double-track etc. So the first few days were largely spent in getting a good drum sound and recording drums, and then the last few days were mixing. So, in between, yeah… we had quite a bit of time to try out different ways of doing the lead parts.
SDE: And how was it working with [King Crimson member and 'Roxy Music' producer] Pete Sinfield then? Was he the right man at the right time, for what you needed to do?
AM: Difficult to say. I mean I like Pete a lot, and he was a very creative person. He didn't really know what we wanted or what we were doing. Obviously, Bryan was – we were all – quite big fans of the In the Court of the Crimson King album. We were very intrigued by the mellotron and, you know, various other things on that – it sounded like a brilliantly produced album. And more importantly EG Management, who were essentially funding the recording, needed a safe pair of hands, they didn't really think that they could let us go in the studio with just an engineer. So, Pete was there as someone who'd been in a studio, who could sort of say, 'yes guys, that was great, I think we should keep that, come and have a listen', which is an important role, you know, I mean otherwise you can go on forever, never kind of deciding on something and never finishing. I wouldn't say that he added anything particularly to the sound… I mean he didn't come up with any new sound ideas, but he did a very good job of just keeping it all together.
SDE: In the interview [in the book that comes with the deluxe set] Bryan makes a suggestion that he has slight reservations about his singing and the sort of manner of delivery. Obviously, he went on to re-record some of the tracks on this record as part of his own solo stuff.  Do you get the feeling that he was slightly dissatisfied with some of the final production or arrangements in any way?
AM: No, I don't actually. I mean, we knew what Bryan sang like. I was always aware that it was… his vocal approach was kind of interesting. I think his voice sounds exceptionally good on that album. And, you know, I believe he had a tonsil operation between the first and second albums, and the kind of higher range of his voice just very slightly went, I think. Things like Sea Breezes I think his voice is exceptional… I don't remember feeling any dissatisfaction with what we were doing.
SDE: And of course, Graham [Simpson] left shortly after the album was recorded. Were those sessions a worry in terms of Graham's mental state?
AM: It was obviously a very big worry for Bryan who was, you know, an old friend of Graham's and he has always acknowledged how how important Graham was to him to get to the stage of moving on and actually trying to put the band together and trying to write songs. And, you know, Graham was in a fragile state during that album. I don't know whether one could have dealt with it differently. I mean, we kind of coaxed him into playing – he did some incredible playing – but he really wasn't ready or able to do live stuff after that, so it became a problem.
SDE: Obviously, it's a debut album. It's a very specific thing, recording your first record. Does it ever get better than that?  So, for the subsequent records, was it ever as much fun and as exciting as it was for the debut?
AM: Well, there was plenty more fun. Although you said that the timescale of Roxy was like a year or so, it's worth remembering that Bryan and myself were both approaching our mid-twenties. We'd actually been involved in, trying to get music projects together, trying to join a band, trying to put a band together, trying to write [for quite a while] so we needed to get on with it – we felt that time was on our heels.  And so that experience did help us, I think.
SDE: The boxset has a 5.1 surround sound mix that Steven Wilson has created. Is that something that excites you, the idea of hearing the album in that way?
AM: Do you know, it scarcely interests me at all. I guess because I don't have surround sound set up and never have had. I like the quality of having speakers that you like the sound of, and I really like having vinyl – I hate mp3 sound, and I hate headphones – but I'm not a kind of 'hi-fi' – as it used to be called – person. I wouldn't worry about that.  I mean, I think it's quite nice if you're sitting in a record company office and someone plays it to you, and hope that there are people who like it, but, you know, it's not something that is hugely important to me.
SDE: Do you still buy physical music; do you buy vinyl records, boxsets, that kind of thing?
AM: Yeah, yeah, I buy records from time to time. I've got a 20-year old son, who's a musician who over the last few years has been very keen on vinyl and music, and I hear a lot of new music with him. Yeah… I haven't bought a CD for a while, I think I probably have started, if I really want something probably just going and buying a download. But I don't listen to a huge amount of music… like quite a lot of musicians.  I try not to listen to any more music than I could hear live, that's my general kind of principle. So, I hate that thing of having music on all day. Classical music as well. I mean, I love classical music and I either like to go to a concert, or I have to sit down and have enough time to listen to an entire symphony…. rather than have it on in the background.
---
SDE: Someone told me that the actual album remaster on this boxset is one that was done a while ago, back in 1999. I don't know if you're aware of that fact, and if you are, I'm interested in why it hasn't been remastered…
AM: Again, I'm not really hugely involved in that. I mean, I'm very pleased that, Bryan and Phil, did a lot of listening. I'm always sent copies of things, and I always listen to them, but only occasionally would I comment on something I thought, you know, wasn't an improvement. Remastering and things… I'm more of a punter when it comes to listening – I mean I know when it sounds good, and I know when it doesn't sound so good. But, you know, in between I think I'm just happy if it's not bad, you know, if it sort of sounds reasonable.
SDE: Is this the first of a series of reissues, do you know if there are plans to…
AM: I believe so, yeah, I think the plan is to … certainly to do For Your Pleasure which, I think, a certain amount has been done already. Whether they're actually going to go through all of the albums, I'm not quite sure. I suppose to some extent they'll see how things go. And also, Roxy's status has slipped a bit over the last few years, you know… it's very difficult to know where we stand in the ranks of bands, because..
SDE: Why do you say the status has slipped a bit?
AM: I think because we haven't produced a new album for a long time, you know. I mean there was an album started in 2006 and… it didn't get finished, essentially. I mean we did some backing tracks, and we did some song writing, and then Bryan didn't feel he could adequately work on those songs and write good lyrics or get them done, and reverted to a couple of his other solo projects and then did the Olympia album, which used some of his material that we were working on with the projected Roxy album. So there's still, in a way, some unfinished business, so it would be very nice to get back in the studio and possibly work on that. I mean it's something that has been mentioned, but …
SDE: The obvious question, is whether that is likely to happen in the near to medium term future?
AM: Well, I'd be happy to do it. I mean, you know, I think Bryan has been very busy with solo touring which he enjoys doing, and that's fine, you know… he can do that. So, yeah, it's a question mark. But I think that generally because, Roxy haven't toured since 2011, and we haven't done an album since 1982… it's difficult. I mean if it was simply historical and we weren't working at all, or hadn't worked at all, then I don't know where we would sit, but we would be in a sort of arty area. I don't know quite what genre we're given on download sites and things. But I think also things have just been a bit quiet. You know, I think that this re-release will sort of remind people and also encourage them to sort of, you know, look at the whole oeuvre for the 11 years or 12 years or whatever that we were making records.
---
SDE: As you said, it is the 45th anniversary. Do you listen to the record much? How do you rate it? Can you look back and judge it properly?
AM: No, not entirely, it's quite difficult. I think it sounds really interesting, and, you know, I'm sometimes astonished at our boldness, which was partly the lack of experience. We were, in the best sense, amateurs. I remember it very clearly, perhaps more clearly than some of the later albums.  And I actually live very near Piccadilly, where we recorded it, and now I walk past the site of Command Studios –it's been demolished now unfortunately  – I walk past it and I remember very clearly what it felt like going into the studio and playing.
We loved what we were doing and we were able to take risks that later we wouldn't have taken. I think that you can hear that when you listen to the post-Eno Roxy records, when Eddie Jobson was in there; there's a sort of cautiousness and a feeling that there's a certain way of doing things that you ought to do them that we just didn't bother about [beforehand]. And, you know, Bryan's song writing became a bit more conventional and more sort of tailored. So, you know … that's obviously a good or a bad thing – it depends on your point of view. No one can ever remake their first project whether it's a book of poetry or a painting… there's always something special about that.
---
Thanks to Andy Mackay who was talking to Paul Sinclair for SuperDeluxeEdition. Click here for the SDE Phil Manzanera interview.
---
---
The Roxy Music super deluxe edition is out now.
Compare prices and pre-order
Roxy Music
Roxy Music - four disc super deluxe
DISC ONE
THE ALBUM
Re-Make/Re-Model
Ladytron
If There Is Something
Virginia Plain
2 H.B.
The Bob (Medley)
Chance Meeting
Would You Believe?
Sea Breezes
Bitters End
DISC TWO
DEMOS & OUT-TAKES
EARLY DEMOS April/May 71
Ladytron
2 HB
Chance Meeting
The Bob (Medley)
ALBUM OUT-TAKES
Instrumental
Re-Make/Re-Model
Ladytron
If There Is Something
2 H.B.
The Bob (Medley)
Chance Meeting
Sea Breezes
Bitters End
Virginia Plain
DISC THREE (disc two on the 2CD deluxe)
THE BBC SESSIONS
THE PEEL SESSIONS 4/1/72
If There Is Something
The Bob (Medley)
Would You Believe?
Sea Breezes
Re-Make/Re-Model
THE PEEL SESSIONS 25/5/72
2 HB
Ladytron
Chance Meeting
THE PEEL SESSIONS 25/5/72
Virginia Plain
If There Is Something
BBC IN CONCERT 3/8/72
The Bob (Medley)
Sea Breezes
Virginia Plain
Chance Meeting
Re-Make/Re-Model
DVD
The full album remixed in 5.1 by Steven Wilson
VIDEOS
Re-Make/Re-Model – The Royal College Of Art, 6/6/72
Ladytron – The Old Grey Whistle Test, 20/6/72
Virginia Plain – Top Of The Pops, 24/8/72
Re-Make/Re-Model – Full House, 25/11/72
Ladytron Full House, 25/11/72
French TV, Bataclan, Paris, 26/11/72:
Would You Believe
If There Is Something
Sea Breezes
Virginia Plain