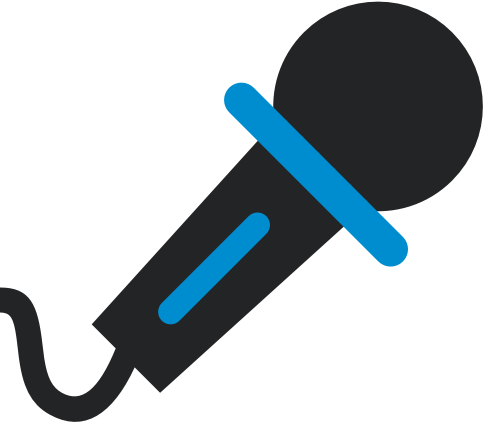 Interview
Paul Waaktaar-Savoy on acoustic a-ha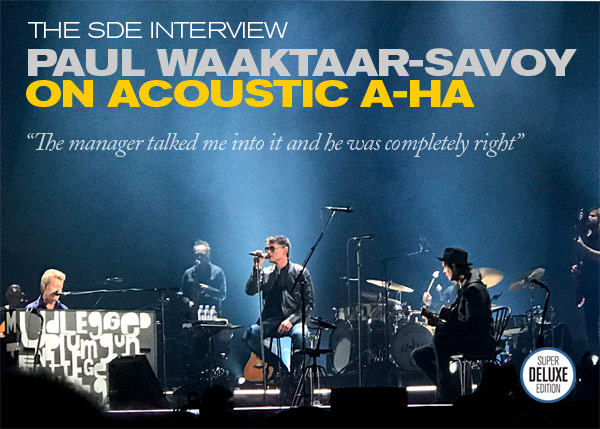 SDE went backstage last month before a-ha's end-of-tour MTV Unplugged Concert at London's O2 Arena and caught up with Paul Waaktaar-Savoy. The a-ha songwriter and guitarist was in relaxed form as we sat and chatted about the release of the MTV Unplugged: Summer Solstice album and the tour itself. Read the full interview, below:

SuperDeluxeEdition: How have you been enjoying the tour?
Paul Waaktaar-Savoy: Pretty cool…
SDE: The last time we spoke, you were preparing for the MTV Unplugged album… how do you think that turned out?
PWS: It was good… you know, you knock out an arrangement… Lars [Horntveth] did all the preliminary stuff… It was a different kind of bag. Nice to hear the songs in a different way. And it was fun not to have this lengthy [process] – just two or three weeks and that was it. That was how the album turned out. Not like two years of banging the walls [laughs].
SDE: Were there any songs that you thought worked particularly well with the acoustic-style arrangements?
PWS: Obviously, the ones with the biggest contrast… [although] I don't know really. I think you have to check it out and see for yourselves. I think we've brought them on further from the original recordings up at the place [Giske Harbour Hall in Norway] because that was such a small audience and it was a little bit… people almost sitting on your lap as you're playing. So, I feel like some of the vocals, and maybe some of the playing,  is perhaps a little too timid – I probably prefer the way it sounds now [on tour]. See if you agree…
SDE: That's interesting, because you did also create a new version of Take On Me, after the album. A slight variation of the arrangement…
PWS: It's more like we do it now…
SDE: Right… so what was the thinking behind the re-arrangement? 
PWS: It's a little different, it's a little cleaner… there's a little more picking, to keep the motor running. I guess the [record] company always wanted to release that song… for the 500th time [laughs] to see if we can get a little more out of it!
SDE: Do you ever look back on all the big hits from the beginning –  contrasting with the acoustic album that you've just done – and regret the 'eighties'-ness of the sound, the thickness of the production. It's very much locked into a time and a place, whereas the new arrangements, you could argue that it frees up some of the songs…
PWS: …Yes, it does
SDE: So, do you ever look back and think, it's a pity we just happened to be in that space and time?
PWS: I think it's great to do what we do now… that's why we do a lot of touring. You're supporting your catalogue. And every review says the same thing, you're hearing the songs in a different way. Nobody thought you could do Take On Me without all that stuff. And we knew that song was just like all the others. In a way, you can do it however you want.
SDE: I guess the songs would have been written like that at the beginning?
PWS: Yeah…we never used machines or synths to do stuff like that, you know 'here's a sound – I'm going to write a song based on that'. I think I only did that once, at that was for The Swing Of Things and that was a big timpani thing [Paul sings the 'dom, dom, dom-dom, dom-dom, dom-dom' intro] and that became that song. That normally doesn't happen…
SDE: And of course, playing live, every time you do a tour, you have an opportunity to re-arrange or re-present the material
PWS: But also like… with Savoy [Paul's 'other' band with wife Lauren, who was sitting next to us during the interview] we did a-ha's Sycamore Leaves, so that's another idea. There's stuff we missed… I'd love to have another go at that, in some other place.
SDE: What about the collaborations on the MTV Unplugged album? How did working with Alison Moyet and Ian MacCulloch come about?
PWS: We just tried to pick artists that sort of… going back to the beginning Echo and The Bunnymen was the first show I got into and Yazoo was the first band we checked out, as we landed in London. That would have been around the time of Upstairs at Eric's. 
SDE: When we were discussing it last year, I was saying it could be a challenge putting on an acoustic show in a big arena like this [the O2]. What have the challenges been?
PWS: Yeah… I was the one saying "we have to do theatres. We have to do acoustically nice places…", but the manager talked me into it and he was completely right. Because I have to say, I thought people in the back rows might talk or yabber all evening, but it's been totally quiet and even from the stage it feels quite intimate. And I think we've been better this time, with the stage lighting and set-up. I think in the past we've thrown too much at it… too many colours, too much [going on]. This time we've set a limit… you can only use this many colours, you can only do this… so it feels classier to me.
SDE: But weren't you tempted to throw in any 'secret' or club-type dates in any of the cities you've been playing in, or wouldn't the logistics allow that?
PWS: No, because if you've got an arena thing and you throw a couple of theatres in, then it's such a nightmare, because you get half a light show and it looks totally stupid – it's not designed for it. So that's why this time we booked the tour so far ahead, so we could get an easy travel route and [ensure] all the places could hold the production.
SDE: And what has the MTV album and this tour done to a-ha as a unit? Are you reinvigorated and in a different place to where you were at the end of the Cast In Steel album?
PWS: Yes, I think so. It was nice to do it pretty basic. No producers, just really the three of us. I think we rediscovered that once we get past the emails and that whole bit, we can still work together…
SDE: That was the point you made to me last year… how it's not that enjoyable working with people when they are on the other side of the Atlantic.
PWS: Yes, it tires you. But now I go on stage and sit down and don't play a note for the first minute or two. I've never done that before!
SDE: You've got some 'electric' dates coming up in the summer…
PWS: Lots. Three or four months of that…and I want to redo the whole show. We're going to bring the strings and everything. It will still be a full-on electric show with sequencers and stuff, but I really want to strip it down to nothing and build it up again. It will be totally redone and we will bring everything we learnt from these shows, because I think Morten is doing a great job and part of that is because I think we've left so much more space for him.
SDE: And after that tour finishes, what can you say about the future of a-ha? Will there be another studio album, or is it likely to go quiet for a few years?
PWS: I expect a lot of touring. Apart from that we haven't made any plans. I've got plans of my own, with other stuff, but that's about it.
SDE: What about reissue plans. Minor Earth Major Sky and Lifelines… I think they are basically done, aren't they… just waiting to be released at some point?
PWS: Yeah… it might be some sort of legal hitch there, because that's the time when we changed the contracts. I think it's done but [is waiting for] whatever deal [to be signed].
SDE: And do you think they'll be any more larger deluxe editions, like the Hunting High And Low reissue with the big book, or are things likely to remain as smaller two or three disc sets?
PWS: Yes, I think so… I don't know what we could fill a big book with. They'd be a lot of pictures [laughs]… I don' t know.
SDE: The second album is certainly deserving of the super deluxe treatment… 
PWS: Well one vinyl book that's coming out is the unreleased Bridges album… [Bridges, is Paul and Magne's earlier band. The second unreleased album was to be called Poem]
SDE: That's interesting!
Paul: Yeah…so that's going to be a big to do, for a while.
SDE: Is that planned for this year?
Paul: Yes, that's planned for this year. We got the 16-track tape and I mixed it and we've got tons of cool pictures, and old reviews and it actually sounds pretty good. And it's got old songs… the early version of Scoundrel Days on it, the first version of Soft Rains Of April and a lot of other stuff that are actually very… I'd re-record them now, if I could.
SDE: Will you keep it just as the album as it was, or will there be any bonus material?
Paul: Well, it's all a bonus! It never came out… because the money we were supposed to use to mix that album… we went to London to become pop stars. It's never been mixed it's all just sitting there on a multi-track.
---
Thanks to Paul Waaktaar-Savoy who was talking to Paul Sinclair for SuperDeluxeEdition. a-ha's MTV Unplugged: Summer Solstice is out now. The band's Electric Summer European tour starts in June. You can check out list of dates here.

Paul and Paul. Photo by Lauren Savoy
2CD+ Blu-ray (or 2CD+DVD) Edition
Disc: 1
1. This Is Our Home (Live From MTV Unplugged, Giske / 2017)
2. Lifelines (Live From MTV Unplugged, Giske / 2017)
3. I've Been Losing You (Live From MTV Unplugged, Giske / 2017)
4. Analogue (All I Want) (Live From MTV Unplugged, Giske / 2017)
5. The Sun Always Shines On TV (Live From MTV Unplugged, Giske / 2017)
6. A Break In The Clouds (Live From MTV Unplugged, Giske / 2017)
7. Foot Of The Mountain (Live From MTV Unplugged, Giske / 2017)
8. Stay On These Roads (Live From MTV Unplugged, Giske / 2017)
9. This Alone Is Love (Live From MTV Unplugged, Giske / 2017)
10. Over The Treetops (Live From MTV Unplugged, Giske / 2017)
11. Forever Not Yours (Live From MTV Unplugged, Giske / 2017)
Disc: 2
1. Sox Of The Fox (Live From MTV Unplugged, Giske / 2017)
2. Scoundrel Days (Live From MTV Unplugged, Giske / 2017)
3. The Killing Moon (Live From MTV Unplugged, Giske / 2017)
4. Summer Moved On (Live From MTV Unplugged, Giske / 2017)
5. Memorial Beach (Live From MTV Unplugged, Giske / 2017)
6. Living A Boy's Adventure Tale (Live From MTV Unplugged, Giske / 2017)
7. Manhattan Skyline (Live From MTV Unplugged, Giske / 2017)
8. The Living Daylights (Live From MTV Unplugged, Giske / 2017)
9. Hunting High And Low (Live From MTV Unplugged, Giske / 2017)
10. Take On Me (Live From MTV Unplugged, Giske / 2017)
Disc: 3
1. This Is Our Home (Live From MTV Unplugged, Giske / 2017)
2. Lifelines (Live From MTV Unplugged, Giske / 2017)
3. I've Been Losing You (Live From MTV Unplugged, Giske / 2017)
4. Analogue (All I Want) (Live From MTV Unplugged, Giske / 2017)
5. The Sun Always Shines On TV (Live From MTV Unplugged, Giske / 2017)
6. A Break In The Clouds (Live From MTV Unplugged, Giske / 2017)
7. Foot Of The Mountain (Live From MTV Unplugged, Giske / 2017)
8. Stay On These Roads (Live From MTV Unplugged, Giske / 2017)
9. This Alone Is Love (Live From MTV Unplugged, Giske / 2017)
10. Over The Treetops (Live From MTV Unplugged, Giske / 2017)
11. Forever Not Yours (Live From MTV Unplugged, Giske / 2017)
12. Sox Of The Fox (Live From MTV Unplugged, Giske / 2017)
13. Scoundrel Days (Live From MTV Unplugged, Giske / 2017)
14. The Killing Moon (Live From MTV Unplugged, Giske / 2017)
15. Summer Moved On (Live From MTV Unplugged, Giske / 2017)
16. Memorial Beach (Live From MTV Unplugged, Giske / 2017)
17. Living A Boy's Adventure Tale (Live From MTV Unplugged, Giske / 2017)
18. Manhattan Skyline (Live From MTV Unplugged, Giske / 2017)
19. The Living Daylights (Live From MTV Unplugged, Giske / 2017)
20. Hunting High And Low (Live From MTV Unplugged, Giske / 2017)
21. Take On Me (Live From MTV Unplugged, Giske / 2017)
22. Menu / a-ha / MTV Unplugged – Summer Solstice
23. Friendship
24. Songs
25. Project
2CD Edition
Disc: 1
1. This Is Our Home (Live From MTV Unplugged, Giske / 2017)
2. Lifelines (Live From MTV Unplugged, Giske / 2017)
3. I've Been Losing You (Live From MTV Unplugged, Giske / 2017)
4. Analogue (All I Want) (Live From MTV Unplugged, Giske / 2017)
5. The Sun Always Shines On TV (Live From MTV Unplugged, Giske / 2017)
6. A Break In The Clouds (Live From MTV Unplugged, Giske / 2017)
7. Foot Of The Mountain (Live From MTV Unplugged, Giske / 2017)
8. Stay On These Roads (Live From MTV Unplugged, Giske / 2017)
9. This Alone Is Love (Live From MTV Unplugged, Giske / 2017)
10. Over The Treetops (Live From MTV Unplugged, Giske / 2017)
11. Forever Not Yours (Live From MTV Unplugged, Giske / 2017)
Disc: 2
1. Sox Of The Fox (Live From MTV Unplugged, Giske / 2017)
2. Scoundrel Days (Live From MTV Unplugged, Giske / 2017)
3. The Killing Moon (Live From MTV Unplugged, Giske / 2017)
4. Summer Moved On (Live From MTV Unplugged, Giske / 2017)
5. Memorial Beach (Live From MTV Unplugged, Giske / 2017)
6. Living A Boy's Adventure Tale (Live From MTV Unplugged, Giske / 2017)
7. Manhattan Skyline (Live From MTV Unplugged, Giske / 2017)
8. The Living Daylights (Live From MTV Unplugged, Giske / 2017)
9. Hunting High And Low (Live From MTV Unplugged, Giske / 2017)
10. Take On Me (Live From MTV Unplugged, Giske / 2017)
3LP vinyl edition
LP 1
1. This Is Our Home (Live From MTV Unplugged, Giske / 2017)
2. Lifelines (Live From MTV Unplugged, Giske / 2017)
3. I've Been Losing You (Live From MTV Unplugged, Giske / 2017)
4. Analogue (All I Want) (Live From MTV Unplugged, Giske / 2017 / LP Edit)
5. The Sun Always Shines On TV (Live From MTV Unplugged, Giske / 2017 / LP Edit)
6. A Break In The Clouds (Live From MTV Unplugged, Giske / 2017)
7. Foot Of The Mountain (Live From MTV Unplugged, Giske / 2017 / LP Edit)
LP 2
1. Stay On These Roads (Live From MTV Unplugged, Giske / 2017 / LP Edit)
2. This Alone Is Love (Live From MTV Unplugged, Giske / 2017)
3. Over The Treetops (Live From MTV Unplugged, Giske / 2017)
4. Forever Not Yours (Live From MTV Unplugged, Giske / 2017 / LP Edit)
5. Sox Of The Fox (Live From MTV Unplugged, Giske / 2017 / LP Edit)
6. Scoundrel Days (Live From MTV Unplugged, Giske / 2017)
7. The Killing Moon (Live From MTV Unplugged, Giske / 2017 / LP Edit)
LP 3
1. Summer Moved On (Live From MTV Unplugged, Giske / 2017 / LP Edit)
2. Memorial Beach (Live From MTV Unplugged, Giske / 2017 / LP Edit)
3. Living A Boy's Adventure Tale (Live From MTV Unplugged, Giske / 2017)
4. Manhattan Skyline (Live From MTV Unplugged, Giske / 2017 / LP Edit)
5. The Living Daylights (Live From MTV Unplugged, Giske / 2017 / LP Edit)
6. Hunting High And Low (Live From MTV Unplugged, Giske / 2017)
7. Take On Me (Live From MTV Unplugged, Giske / 2017)