 News
10cc / 20 Years: 1972-1992
14CD box set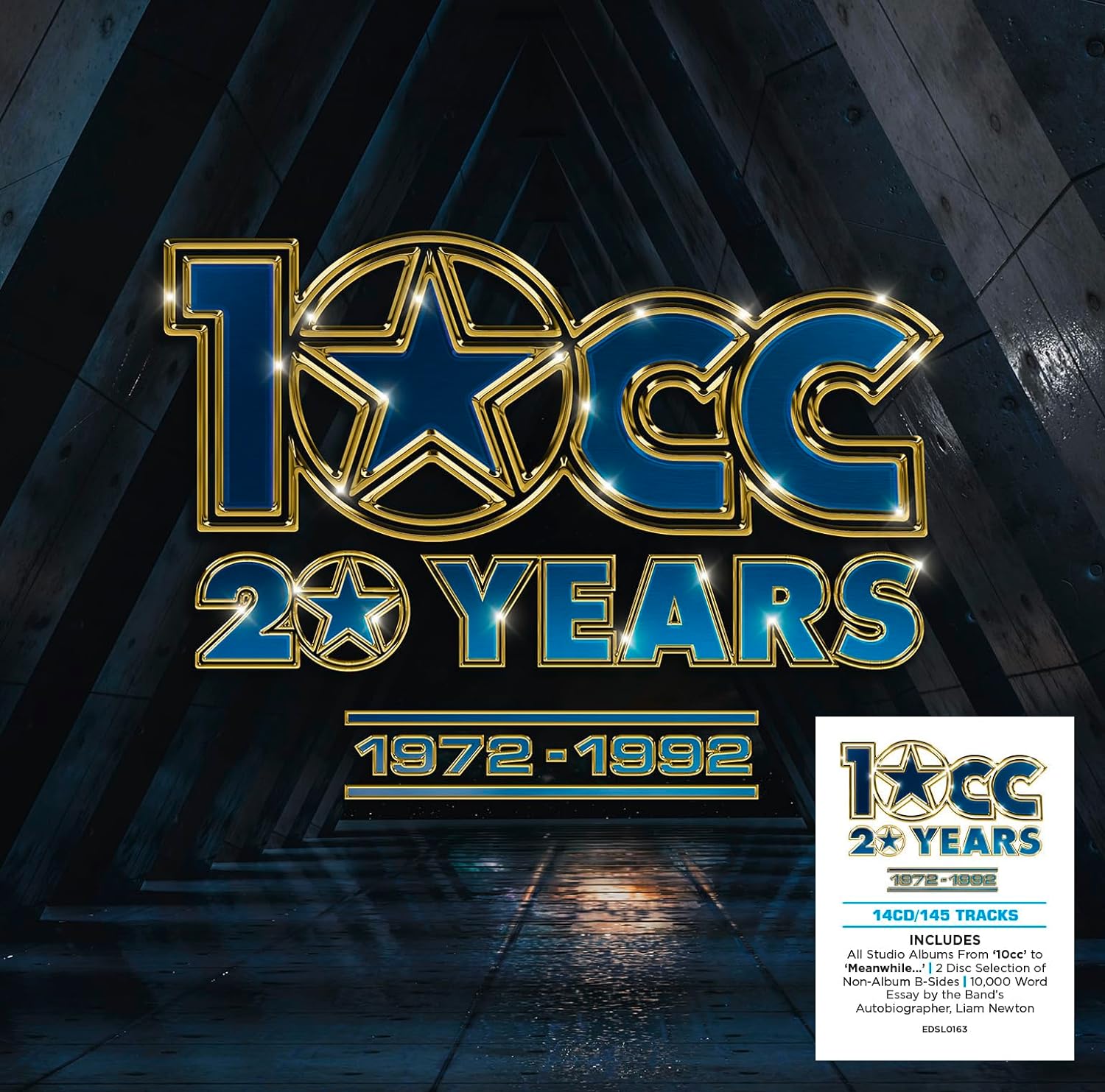 Edsel will release a new 10cc box set early next year called 20 Years 1972-1992.
The 14CD package features all the band's studio albums, with the exception of 1995's Mirror Mirror, and includes Live and Let Live, the double live album from 1977, and two additional CDs of non-album tracks and alternate/singles mixes. In total, 20 Years offers 145 tracks.
The band initially consisted of Graham Gouldman, Eric Stewart, Kevin Godley And Lol Creme and enjoyed commercial success during this period with ten top 10 singles and an impressive three number ones ('Rubber Bullets', 'I'm Not In Love' and 'Dreadlock Holiday'). They also scored five consecutive top 10 albums ('Sheet Music', 'The Original Soundtrack', 'How Dare You!', 'Deceptive Bends' and 'Bloody Tourists').
Godley and Creme departed in 1976 but Steward and Gouldman carried on with various line-ups. The band ultimately disbanded towards the end of 1983 but continues as a touring band today with Graham Gouldman as the only fully-fledged original member. An 18-date world tour starts in March next year.
This box includes a 10,000 word essay on the band penned by Liam Newton, author of the band's official biography, The Worst Band in the World.
20 Years 1972-1992 will be released on 26 January 2024 via Edsel.
Compare prices and pre-order
Tracklisting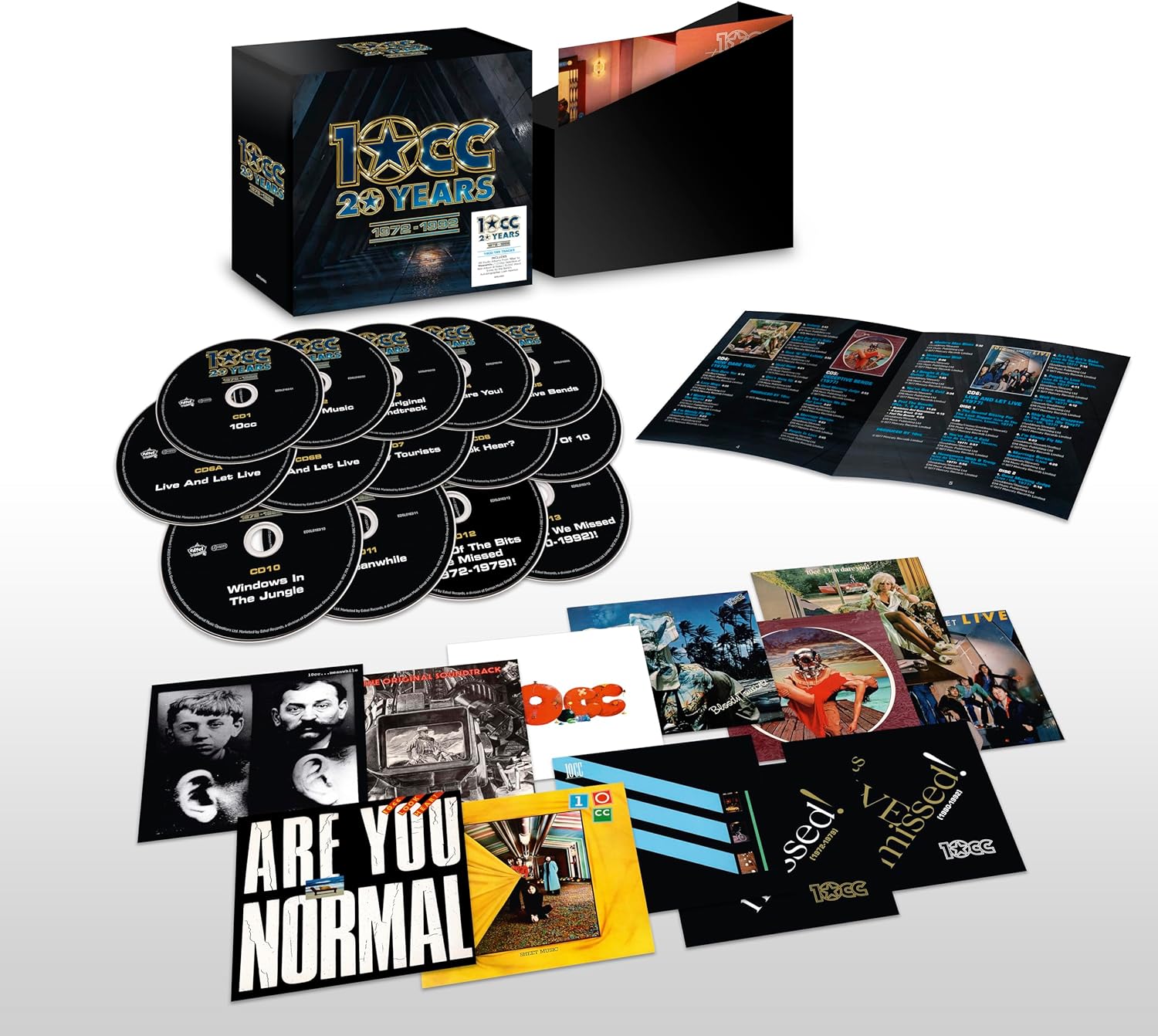 Ten Years: 1972-1982 10cc
/
CD 1: 10cc (1973)

1Johnny, Don't Do It
Sand In My Face
Donna
The Dean And I
Headline Hustler
Speed Kills
Rubber Bullets
The Hospital Song
Ships Don't Disappear In The Night (Do They?)
Fresh Air For My Mama

CD 2: SHEET MUSIC (1974)

The Wall Street Shuffle
The Worst Band In The World
Hotel
Old Wild Men
Clockwork Creep
Silly Love
Somewhere In Hollywood
Baron Samedi
The Sacro-Iliac
Oh Effendi

CD 3: THE ORIGINAL SOUNDTRACK (1975)

1. Une Nuit A Paris
Part 1 – One Night In Paris/Part 2 – Same Night In Paris/Part 3 – Later The Same Night In Paris
I'm Not In Love
Blackmail
The Second Sitting For The Last Supper
Brand New Day
Flying Junk
Life Is A Minestrone
The Film Of My Love

CD 4: HOW DARE YOU! (1976)

How Dare You
Lazy Ways
I Wanna Rule The World
I'm Mandy Fly Me
Iceberg
Art For Art's Sake
Rock 'N' Roll Lullaby
Head Room
Don't Hang Up

CD 5: DECEPTIVE BENDS (1977)

Good Morning Judge
The Things We Do For Love
Marriage Bureau Rendezvous
People In Love
Modern Man Blues
Honeymoon With A B Troop
I Bought A Flat Guitar Tutor
You've Got A Cold
Feel The Benefit:
I) Reminisce And Speculate, Ii) A Latin Break, Iii) Feel The Benefit

CD 6: LIVE AND LET LIVE (1977)

Disc 1

The Second Sitting For The Last Supper
You've Got A Cold
Honeymoon With B Troop
Art For Art's Sake
People In Love
Wall Street Shuffle
Ship's Don't Disappear In The Night (Do They?)
I'm Mandy Fly Me
Marriage Bureau Rendezvous

CD 7: LIVE AND LET LIVE (1977)

Disc 2

Good Morning Judge
Feel The Benefit
The Things We Do For Love
Waterfall
I'm Not In Love
Modern Man Blues

CD 8: BLOODY TOURISTS (1978)

Dreadlock Holiday
For You And I
Take These Chains
Shock On The Tube (Don't Want Love)
Last Night
The Anonymous Alcoholic
Reds In My Bed
Lifeline
Tokyo
Old Mister Time
From Rochdale To Ocho Rios
Everything You Wanted To Know About!!! (Exclamation Marks)

CD 9: LOOK HEAR? (1980)

 One-Two-Five
Welcome To The World
How'm I Ever Gonna Say Goodbye
Don't Send We Back
I Took You Home
It Doesn't Matter At All
Dressed To Kill
Lovers Anonymous
I Hate To Eat Alone
Strange Lover
L.A. Inflatable

CD 10: TEN OUT OF 10 (1981)

Don't Ask
Overdraft In Overdrive
Don't Turn Me Away
Memories
Notell Hotel
Les Nouveaux Riches
Action Man In Motown Suit
Listen With Your Eyes
Lying Here With You
Survivor

CD 11: WINDOWS IN THE JUNGLE (1983)

24 Hours
Feel The Love (Oomachasaooma)
Yes I Am
Americana Panorama
City Lights
Food For Thought
Working Girls
Taxi Taxi

CD 12: …MEANWHILE (1992)

Woman In Love
Wonderland
Fill Her Up
Something Special
Welcome To Paradise
The Stars Didn't Show
Green Eyed Monster
Charity Begins At Home
Shine A Light In The Dark
Don't Break The Promises

CD 13: SOME OF THE BITS WE MISSED (1972-1979)!

Hot Sun Rock
4% Of Something
Bee In My Bonnet
Waterfall
Gismo My Way
18 Carat Man Of Means
The Worst Band In The World [Radio Version]
Channel Swimmer
Good News
I'm Not In Love [Single Edit]
Get It While You Can
Hot To Trot
Don't Squeeze Me Like Toothpaste
I'm So Laid Back, I'm Laid Out
Nothing Can Move Me

CD 14: MORE BITS WE MISSED (1980-1992)!

One-Two-Five [Single Version]
Only Child
Les Nouveaux Riches [Single Mix]
Tomorrow's World Today
Run Away
The Power Of Love
You're Coming Home Again
We've Heard It All Before
Memories [U.S. Mix]
Feel The Love (Oomachasaooma) [Edit]
She Gives Me Pain
24 Hours [Edit]
The Secret Life Of Henry
Don't
Lost In Love
Man With A Mission
Woman In Love [Radio Edit]
Welcome To Paradise [7″ Edit]