 News
2012 Reissue wish list / Day 2 / Paul McCartney: Tug Of War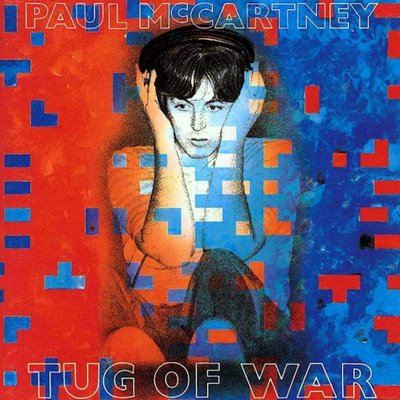 Much had changed for Paul McCartney in late 1980, as he set about recording what would be only his third solo album since The Beatles' split in 1970 (Ram was credited to Paul and Linda).

He had released himself from the formality and confines of a 'rock band' when in the summer of 1979 he recorded McCartney II entirely alone. If that was not enough to spell the end of Wings, he had decided to work with Beatles' producer George Martin for the first time since 1973 (when they worked on Bond theme Live and Let Die). Some have suggested that band members were not enamoured with the light-pop/rock direction much of the material was taking when rehearsed in 1980, and the lack of appetite to work together may have become mutual. Denny Laine is the only Wings member who would eventually contribute a little to what would become Tug of War (he gets a "thanx Denny" in the liner notes for his troubles).
The band officially disbanded in April 1981, and this heralded the beginning of a decade of session musicians playing on McCartney records, as well as Macca himself stepping down from his normal producer role to let others take the reins.
With all these seismic changes, the murder of John Lennon in December 1980 would add to the feeling that a new era beckoned and the death of John inevitably had a massive impact on Paul.
The shock is there for all to see, when, upon leaving an early Tug of War recording session in central London, on the day the news broke, he was caught leaving, by some TV news reporters.
Not wishing to lift the lid on his grief he inadvertently appears to shrug his shoulders at events, with his infamous "it's a drag" comment.
The loss of his old writing partner would result in one of the most direct, open and honest songs Paul has ever written, Here Today. Echoing Yesterday with the acoustic guitar/string quartet arrangement, this moving tribute featured on Tug Of War and was largely forgotten until Paul added it to his live set for the Back In the US tour in 2002.
Other highlights from the album include singles Take It Away (another autobiographical song dressed up in a third person narrative), Tug of War and superb album tracks such as the piano-led Wanderlust and the whimsical The Pound is Sinking.
http://www.youtube.com/watch?v=zIfPIfuTFXA
Ebony and Ivory is the best known song on the record, left to play us out at the end. A massive selling, transatlantic no.1, it is now hard to find anyone who has a good word to say about this single. The earnest simplicity and cheesy keyboard sounds do put the song at odds with much of Tug of War, but in the craftsman-like melody and the Macca-Stevie Wonder combination there is much to admire. The sentiment may be rather naïve and simplistic but no more so than, say, Give Peace A Chance.
While Ebony and Ivory was a solo Macca composition, the two men enjoyed working together enough to co-write another Tug Of War track What's That You're Doing?
Regarded by many as more Wonder than McCartney, this is nevertheless a rousing and funky track with plenty of gusto. Stevie Wonder in particular does some fantastic scat-like ad lib singing during the extended outro.
With Ram due to be reissued around April 2012, why not schedule Tug Of War for a 30th Anniversary reissue in September or October 2012? The album has a high profile and was certainly a 'hit' and regarded by many as a bit of a comeback for Paul, with the professional production and superstar guests (In addition to Stevie Wonder, Ringo plays on some tracks, and Carl Perkins drops in to duet on Get It).
It is worth pointing out that when Paul remastered his back catalogue in 1993 – "The Paul McCartney Collection" – Tug of War was one of the few albums not to receive any bonus tracks. Apart from a (poor) remastering job, nothing new was offered, making a 2012 reissue even more appealing. If we assume Paul continues the deluxe 'book' editions seen on all of the Paul McCartney archive reissues thus far, then we could hope for something like this:
CD 1 – Tug Of War remastered
CD 2 – Officially released b-sides and extra tracks. This would include Ebony and Ivory (solo version), I'll Give You A Ring (Take It Away b-side) and Rainclouds (Ebony and Ivory b-side) – all unreleased on CD. There are no 12″ remixes but Tug Of War single mix has a clean intro (previously issued on Wingspan). This CD could be a little on the light side, but of possible inclusion is The McCartney Interview, an interview album which got an extremely limited vinyl release in 1981. Additionally, 1984 single, We All Stand Together (Rupert and the Frog Song) was recorded during this period so both the a-side and b-side ("Humming Version") could be included here.
CD 3 – What most McCartney fans would love to hear is the 'Rude Studio' demos. These are demos recorded by Paul in his home studio in Scotland. Demos exist for many of the Tug of War tracks along with songs that didn't make the cut. For example a song called Hear Me Lover was eventually integrated into The Pound Is Sinking. Early versions of No Values (released on Give My Regards to Broad Street, 1984) also exist along with Wings' rehearsals and alternate versions of some songs. Many tracks that ended up on 1983's Pipes of Peace were also demo'd during this time, but it is likely that – assuming Paul is willing to release the demos in the first place – he would hold these back for a Pipes of Peace reissue.
DVD – All the promo videos (there's 2 versions of Ebony and Ivory) plus TV interviews of the time, new documentaries, and any relevant home archive and live footage that Paul may have in his collection!
ALBUM: Tug of War by Paul McCartney
ANNIVERSARY: 30th
WHY REISSUE?: No previous expanded reissue, lots of demos in the archive, b-sides of the period unreleased on CD
Tomorrow> Day 3> INXS: Welcome To Wherever You Are