 News
a-ha's 'East of the Sun West of the Moon' reissued on purple vinyl
First vinyl release in 30 years • Ltd purple vinyl for National Album Day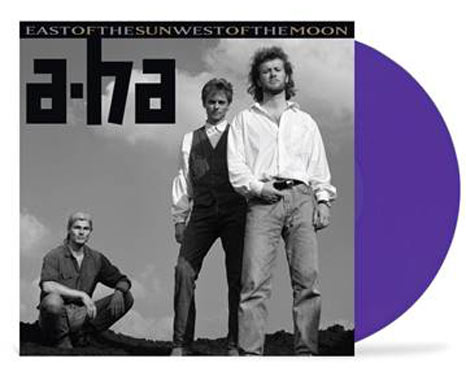 a-ha's fourth album, East of the Sun West of the Moon will be issued on vinyl, for the first time in 30 years, next month. The limited edition 180g purple vinyl pressing is for National Album Day.

Originally released 30 years ago (in October 1990), and named after a traditional Norwegian fairy-tale, East of the Sun West of the Moon was co-produced by Ian Stanley and Chris Neil and the album introduced a more 'mature' sound, as acoustic guitars were added into the mix and the piano replaced the keyboard/ synthesiser of previous records.

The lead single 'Crying In The Rain' was a sizeable hit (#13 in Britain), even if follow up 45s 'I Call Your Name' and 'Early Morning' failed to crack the UK top 40.



Paul Waaktaar-Savoy says of East of the Sun West of the Moon ''We put together a band with Norwegian musicians, and did full takes on all the songs. It was something completely different, it was a much more human expression. You can listen to it several times and find nuances, 'cause it ain't a machine spitting it out.''

When the album was reissued in 2015, there was no vinyl edition, so this release marks the first vinyl reissue and presumably the first vinyl edition to feature remastered sound.

East of the Sun West of the Moon pressed on purple vinyl is released on 9 October 2020 for National Album Day, via Warner Records. It is available via the SDE shop using this link, or the button below.
<![CDATA[
/**/
]]>
LP1
Side A:
Crying in the Rain

Early Morning

I Call Your Name

Slender Frame

East of the Sun
Side B:
Sycamore Leaves

Waiting for Her

Cold River

The Way We Talk

Rolling Thunder

(Seemingly) Nonstop July