 News
Ace of Base / Beautiful Life: The Singles
26CD box set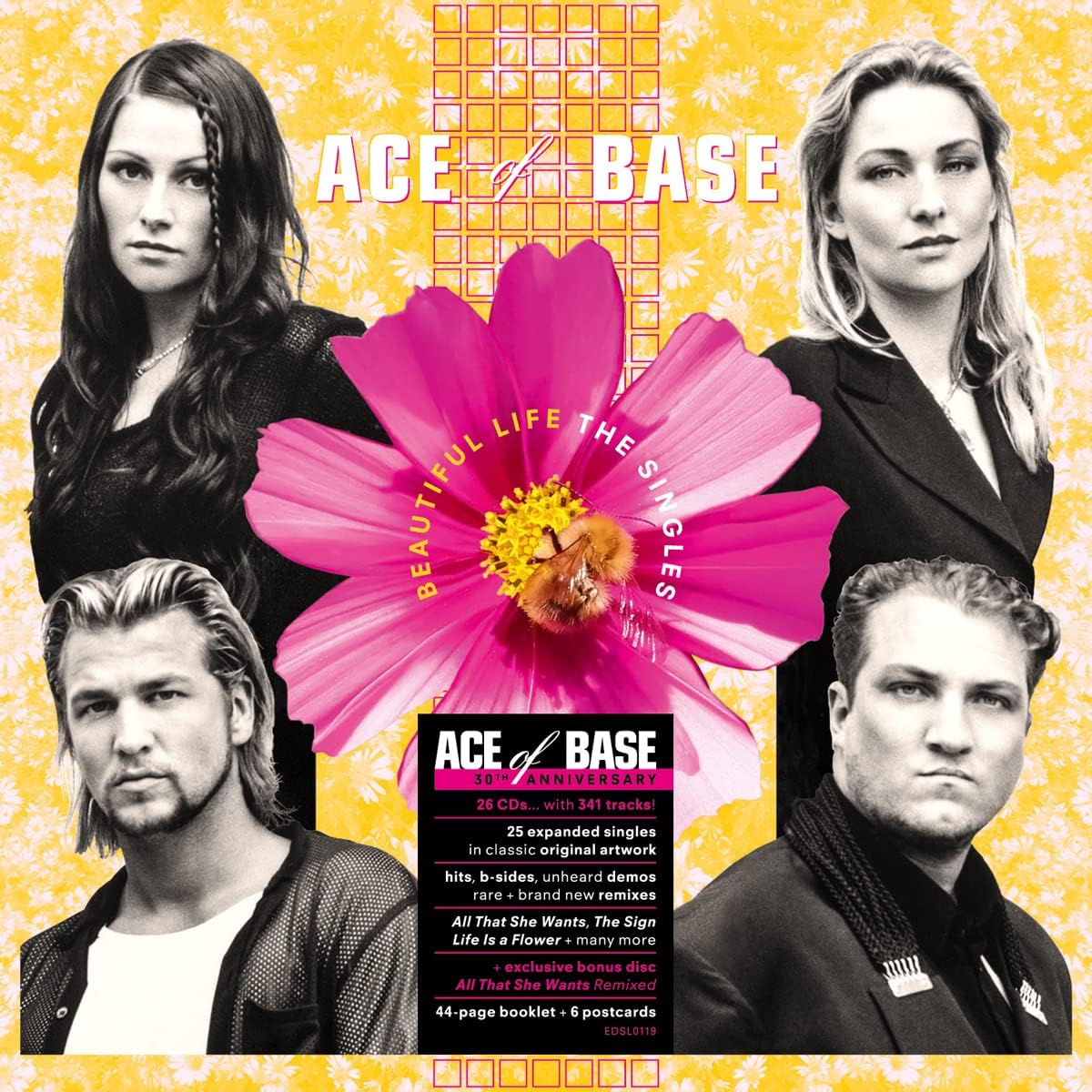 A new Ace of Base CD singles box set will be released in March.
Beautiful Life: The Singles features 26 CDs featuring a phenomenal 341 tracks including hits such as 'All That She Wants' [UK # 1, US # 2], 'The Sign' [UK #2, US # 1], 'Don't Turn Around' [UK # 5, US # 4], 'Life Is A Flower' [UK # 5], 'Cruel Summer' [UK # 5, US # 10] and many more.
Each CD features hits, B-sides and masses of remixes. In fact there are around 50 previously unreleased mixes in this set which comes with a 44-page booklet of lyrics, discography, photos and band history.
Beautiful Life: The Singles will be released on 28 April 2023 (was 31 March) via Demon Music.

Compare prices and pre-order
Ace Of Base
Beautiful Life The Singles - 26CD box
Tracklisting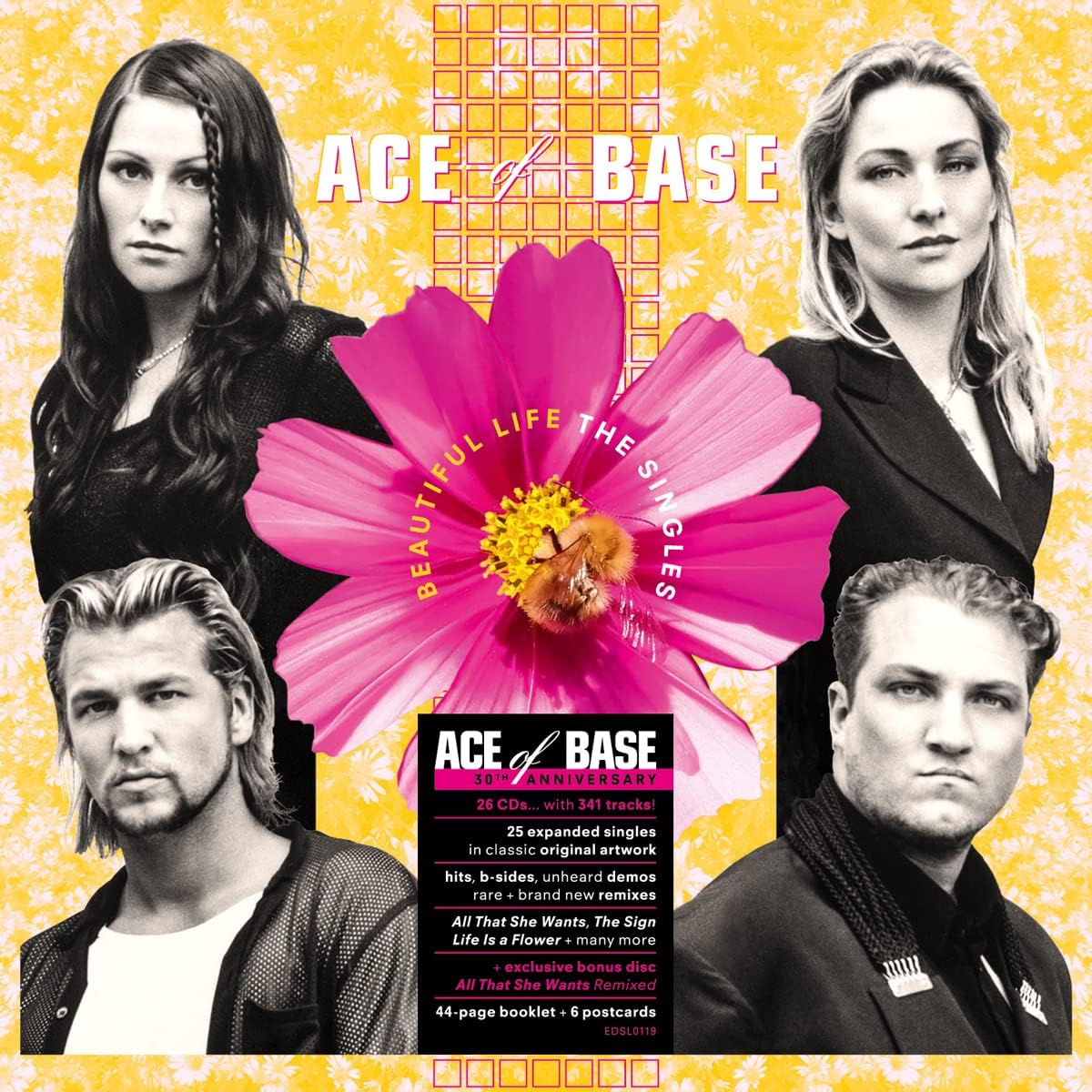 Beautiful Life: The Singles Ace of Base
/
CD 1: Wheel of Fortune

Wheel of Fortune [7″ Mix]
My Mind [Dance Mix]
Wheel of Fortune [12″ Mix]
Wheel of Fortune [Club Mix]
Wheel of Fortune [Original Club Mix]
Wheel of Fortune [Original Demo]
Wheel of Fortune [2009]
Wheel of Fortune [2009 Club Mix]
Wheel of Fortune [2009 Radio Edit]
Wheel of Fortune [Singlewave Remix]
Wheel of Fortune [Singlewave Instrumental]
Wheel of Fortune [Instrumental]

CD 2: All That She Wants

All That She Wants
Fashion Party [Dance Mix]
All That She Wants [Bhangra Version]
All That She Wants [12" Version]
All That She Wants [Madness Version]
All That She Wants [Madness Dub]
All That She Wants [12" Bhangra Intro]
All That She Wants [Extended Single/Dub]
Mr. Ace [Demo 1991]
All That She Wants [Instrumental]

CD 3: Happy Nation

Happy Nation [Radio Edit]
Happy Nation [7" Gold Zone Edit]
Happy Nation [12" Version]
Happy Nation [Gold Zone Club Mix]
Happy Nation [Moody Gold Mix]
Happy Nation [Gold Dub Edit]
Happy Nation [Album Version]
Happy Nation [Dzintars Leja Remix]
Happy Nation [AgentsSmith Dark Dub Remix]
Happy Nation [Fred & Mykos Radio Remix]
Happy Nation [Fred & Mykos Remix]
Happy Nation [Fred & Mykos Dub Mix]
Happy Nation [Trace Adam Remix]
Happy Nation [Trace Adam Instrumental]
Happy Nation [Instrumental]

CD 4: Waiting For The Magic

Waiting for Magic [Radio Edit]
Waiting for Magic [Total Remix 7"]
Waiting for Magic [Total Remix 12"]
Waiting for Magic [Total Remix Instrumental]
Waiting for Magic [Original Version]
Waiting for Magic [Singlewave's Awakening Mix]
Waiting for Magic [Singlewave's Awakening
Club Mix]
Waiting for Magic [Singlewave's Awakening
Instrumental]
Waiting for Magic [Singlewave's Awakening
Club Instrumental]

CD 5: The Sign

The Sign
Young and Proud
The Sign [Long Version]
The Sign [Dub Version]
The Sign [The Remix]
The Sign [Ultimix]
The Sign [Luke Mornay SOS Mix]
The Sign [Luke Mornay SOS Extended Mix]
The Sign [Luke Mornay SOS Instrumental]
The Sign [Luke Mornay SOS Extended Instrumental]
The Sign [Project K Acid–Base Remix]
The Sign [Project K Acid–Base 12" Remix]
The Sign [Project K Acid–Base Instrumental]
The Sign [Luca Debonaire & Xenia Ghali Radio Edit]
The Sign [Luca Debonaire & Xenia Ghali Club Mix]
The Sign [Instrumental]

CD 6: Don't Turn Around

Don't Turn Around [7" Aswad Mix]
Dancer in a Daydream
Don't Turn Around [Album Version]
Don't Turn Around [Stretch Version]
Don't Turn Around [12" Aswad Mix]
Don't Turn Around [Groove Mix Extended]
Don't Turn Around [Radio Groove Mix]
Don't Turn Around [Turned Out Eurodub]
Don't Turn Around [New Version]
Don't Turn Around [Luke Mornay Vintage Mix]
Don't Turn Around [Luke Mornay Vintage 12" Mix]
Don't Turn Around [Luke Mornay Vintage Instrumental]
Dancer in a Daydream [Trace Adam Remix]
Dancer in a Daydream [Singlewave's Mirage Mix]
Dancer in a Daydream [Mike & Jonas's RoboDisco Dub]
Dancer in a Daydream [Mike Ross Disco Experience]

CD 7: Living in Danger

Living in Danger [Single Edit a.k.a. Single Remix]
Living in Danger [Album Version (Edit)]
Living in Danger [New Buddha Version]
Living in Danger [Old School Mix]
Living in Danger [Old School Mix (Short Version)]
Living in Danger [D-House Mix (Short Version)]
Living in Danger [D-House Instrumental]
Living in Danger [Principle Mix]
Living in Danger [Principle Mix (Edit)]
Living In Danger [Silk Mix]
Living in Danger [For The Big Clubs Mix]
Living in Danger [Armand's Bubble Dub]
Living in Danger [New Edit]
Living in Danger [T.O.E.C. Version]
Living in Danger [Original Demo]
Living in Danger [Instrumental]

CD 8: Lucky Love

Lucky Love
Lucky Love [Acoustic Version]
Lucky Love [Raggasol Version]
Lucky Love [Extended Original Version]
Lucky Love [Amadin Remix]
Lucky Love [Frankie Knuckles Edit]
Lucky Love [Frankie Knuckles Classic Instrumental]
Lucky Love [Vission Lorimer Edit]
Lucky Love [Vission Lorimer Funkdified Mix]
Lucky Love [Lenny B's Club Mix]
Lucky Love [Lenny B's Unreleased Mix]
Lucky Love [Armand's British Nites Remix]
Lucky Love [Sean Diaz Remix]
Lucky Love [Matt Pop 2023 Remix]
Lucky Love [Matt Pop 2023 Club Mix]
Lucky Love [Matt Pop 2023 Instrumental]

CD 9: Beautiful Life

Beautiful Life
Beautiful Life [12" Extended Version]
Beautiful Life [Vission Lorimer Radio Edit]
Beautiful Life [Humpty Vission Lorimer Anthem Edit]
Beautiful Life [Vission Lorimer Club Mix]
Beautiful Life [Junior's Circuit Bump Edit]
Beautiful Life [Junior's Circuit Bump Mix]
Beautiful Life [Junior's Circuit Bump Dub]
Beautiful Life [Lenny B's Edit]
Beautiful Life [Lenny B's House Of Joy Club Mix]
Beautiful Life [Uno Clio Mix]
Beautiful Life [Uno Clio Downtown Mix]
Beautiful Life [Cheiron 12" Re-Edit]
Beautiful Life [Instrumental]

CD 10: Never Gonna Say I'm Sorry

Never Gonna Say I'm Sorry
Never Gonna Say I'm Sorry [Long Version]
Never Gonna Say I'm Sorry [Rock Version]
Never Gonna Say I'm Sorry [Sweetbox Radio Edit]
Never Gonna Say I'm Sorry [Sweetbox Funky Mix]
Never Gonna Say I'm Sorry [Sweetbox Instrumental]
Never Gonna Say I'm Sorry [Lenny B's Radio Mix]
Never Gonna Say I'm Sorry [Lenny B's Club Mix]
Never Gonna Say I'm Sorry [Lenny B's Organ-ic
House Mix]
Never Gonna Say I'm Sorry [Lenny B's Club
Instrumental]
Never Gonna Say I'm Sorry [Turbine Mix]
Never Gonna Say I'm Sorry [Turbine Dub]
Never Gonna Say I'm Sorry [Singlewave Radio Mix]
Never Gonna Say I'm Sorry [Singlewave Remix]

CD 11: My Déjà Vu

My Déjà Vu [Luke Mornay Radio Remix]
My Déjà Vu [Album Version]
Angel Eyes
My Déjà Vu [Luke Mornay En Coeur Club Mix]
My Déjà Vu [Luke Mornay Encore Dub]
My Déjà Vu [Luke Mornay Radio Instrumental]
My Déjà Vu [Luke Mornay Instrumental]
My Déjà Vu [Original Extended Version]
My Déjà Vu [Alternative Mix]
My Déjà Vu [Alternative 12" Mix]
My Déjà Vu [Alternative Instrumental]
My Déjà Vu [Original Album Version]
My Déjà Vu [Album Instrumental]
Angel Eyes [Instrumental]

CD 12: Life is a Flower

Life Is a Flower
No Good Lover
Life Is a Flower [Extended Version]
Life Is a Flower [Reggae Version]
Life Is a Flower [SoulPoets Night Club Mix]
Life Is a Flower [SoulPoetsInstrumental]
Life Is a Flower [Sweetbox Mix]
Life Is a Flower [Absolom Remix]
Life Is a Flower [Absolom Short Edit]
Life Is a Flower [Milk Long Edit]
Life Is a Flower [Milk UHT Radio Mix]
Life Is a Flower [Milk Long Instrumental]
Life Is a Flower [Milk UHT Instrumental]
Life Is a Flower [Alternative Edit]
No Good Lover [Alternative Mix]
Life Is a Flower [Instrumental]
No Good Lover [Alternative Instrumental]

CD 13: Cruel Summer

Cruel Summer [Cutfather & Joe Mix]
Cruel Summer [Big Bonus Mix]
Cruel Summer [Radio Version]
Cruel Summer [Hartmann & Langhoff Short Mix]
Cruel Summer [SoulPoets House Bust Mix]
Cruel Summer [KLM Club Mix]
Cruel Summer [KLM Dub 1]
Cruel Summer [KLM Short Dub 2]
Cruel Summer [KLM Beats]
Cruel Summer [Hani Radio Mix]
Cruel Summer [Hani Dub]
Cruel Summer [Garage Mix Vocal Up]
Cruel Summer [Dub]
Cruel Summer [Radio Mix – Mix Out Ending]
Cruel Summer [Acappella]
Cruel Summer [Instrumental]

CD 14: Whenever You're Near Me

Whenever You're Near Me
He Decides [Charles Fisher Mix]
Donnie [Ole Evenrude Version]
Whenever You're Near Me [Strobe's Radio Remix]
Whenever You're Near Me [Strobe's Lollipop Mix]
Whenever You're Near Me [Strobe's Subway Mix]
Whenever You're Near Me [DJ Strobe's Unreleased
Club Mix]
Whenever You're Near Me [Strobe's Instrumental]
Whenever You're Near Me [Nikolas & Sibley Dance
Radio Edit]
Whenever You're Near Me [Nikolas & Sibley
Dance Mix]
Whenever You're Near Me [Giuseppe D's
Radio Remix]
Whenever You're Near Me [Giuseppe D's
Extended Remix]
Whenever You're Near Me [Instrumental]
Donnie [Ole Evenrude Instrumental]

CD 15: Travel to Romantis

Travel to Romantis
Tokyo Girl
Travel to Romantis [Wolf Mix]
Travel to Romantis [Larossi Mix]
Travel to Romantis [Larossi Extended Mix]
Travel to Romantis [Larossi Instrumental]
Travel to Romantis [Love To Infinity Mix]
Travel to Romantis [Love To Infinity Master Mix]
Travel to Romantis [Love to Infinity Indian Tonic Mix]
Travel to Romantis [Love to Infinity Instrumental]
Travel to Romantis [Love to Infinity Indian Tonic
Instrumental]
Travel to Romantis [Radio Edit Faded Version]
End of This World [Original Demo for 'Tokyo Girl']
Tokyo Girl [Mike Ross 2023 Remix]
Travel to Romantis [Instrumental]
Tokyo Girl [Instrumental]

CD 16: Always Have, Always Will

Always Have, Always Will
Mercy, Mercy
Love for Sale
Captain Nemo
Always Have, Always Will [Matt Pop 2020 Radio
Remix]
Always Have, Always Will [Matt Pop 2020 Remix]
Always Have, Always Will [Matt Pop 2020
Instrumental]
Always Have, Always Will [Edit]
Killer on the Rampage [Original Demo for 'Always
Have, Always Will']
Captain Nemo [Demo Version]
Always Have, Always Will [Instrumental]

CD 17: Everytime It Rains

Everytime It Rains [Radio Edit]
Into the Night of Blue
Everytime It Rains [Metro Club Mix]
Everytime It Rains [Metro Radio Mix]
Everytime It Rains [Metro Radio Edit]
Everytime It Rains [Soul Poets Club Mix]
Everytime It Rains [TKC Radio Edit]
Everytime It Rains [That Kid Chris 2000 Club Mix]
Everytime It Rains [That Kid Chris Dub]
Everytime It Rains [Karmadelic Radio Mix]
Everytime It Rains [Karmadelic Club Mix]
Everytime It Rains [C&J Dub / Beats & Pieces]
Everytime It Rains [Original Demo]
Everytime It Rains [Instrumental]

CD 18: Cecilia

Cecilia [Ole Evenrude Radio Mix]
Cecilia [Ole Evenrude Mix]
Cecilia [Ole Evenrude Extended Mix]
Cecilia [In Da Nite]
Cecilia [In Da Nite Extended]
Cecilia [L&J Slow Down]
Cecilia [Album Version]
Cecilia [Ole Evenrude Instrumental]

CD 19: C'est la vie (Always 21)

C'est la vie (Always 21)
Megamix [Short Version]
C'est la vie (Always 21) [Remix]
C'est la vie (Always 21) [Shaft Radio Edit]
C'est la vie (Always 21) [Shaft Club Mix]
C'est la vie (Always 21) [Shaft Dub Mix]
C'est la vie (Always 21) [Sleazesisters Anthem Mix]
C'est la vie (Always 21) [Sleazesisters Instrumental]
C'est la vie (Always 21) [Tuff Twins Mix]
C'est la vie (Always 21) [Tuff Twins Instrumental]
C'est la vie (Always 21) [Skeewiff's Full Biffter]
C'est la vie (Always 21) [Skeewiff's Fancy Dub]
C'est la vie (Always 21) [Demo Version]
Megamix [Long Version]

CD 20: Love in December

Love in December [Radio Edit]
Ace of Clubs [Project K MegaRemix]
Love in December [Alternative Disco Version]
Love in December [Album Version]
Love in December [Original Demo]
Ace of Clubs [Project K MegaRemix Instrumental]

CD 21: Hallo Hallo

Hallo Hallo [Radio Version]
Hallo Hallo [Hitvision Radio Edit]
Hallo Hallo [Album Version]
Hallo Hallo [Dub]
Hallo Hallo [XTM Full Remix]
Hallo Hallo [XTM Dub Remix]
Hallo Hallo [XTM Radio Remix]
Hallo Hallo [Trinity Productions Version]
Hallo Hallo [1998 Version]
Hallo Hallo [C&J Master Mix]
Hallo Hallo [C&J Instrumental]
Hallo Hallo [C&J Dub / Beats & Pieces]
Hallo Hallo [Alternative Version]
Hallo Hallo [Alternative Instrumental]

CD 22: Beautiful Morning

Beautiful Morning
Remember the Words [Original Version]
Beautiful Morning [Groove Radio Edit]
Beautiful Morning [Extended Version]
Beautiful Morning [Spanish Fly Radio Edit]
Beautiful Morning [Spanish Fly Club Version]
Beautiful Morning [Alternative Version]
Beautiful Morning [Instrumental]
Beautiful Morning [Groove Instrumental]
Beautiful Morning [Extended Instrumental]
Remember the Words [Original Instrumental]

CD 23: The Juvenile

The Juvenile [Project K Soundtrack]
The Juvenile [Album Version]
What's the Name of the Game
Hey Darling [Alternative Mix]
The Juvenile [Project K Director's Cut]
The Juvenile [Project K Delinquent Dub]
The Juvenile [Project K Orchestrappella]
The Juvenile [Project K Instrumental]
What's the Name of the Game [Original Version]
The Juvenile [Album Instrumental]

CD 24: Unspeakable

Unspeakable
Don't Stop
Unspeakable [Junk & Function M12 Radio Mix]
Unspeakable [Junk & Function M12 Club Mix]
Unspeakable [Fairlite Radio Mix]
Unspeakable [Fairlite Dub Mix]
Unspeakable [Fairlite Instrumental]
Unspeakable [Filur Radio Mix]
Unspeakable [Filur Club Remix]
Unspeakable [Filur Dub Mix]
Unspeakable [Choir Version]
Unspeakable [Instrumental]

CD 25: Would You Believe

Would You Believe [Matt Pop 2023 Radio Mix]
Would You Believe [Project K's Night at 54 Remix]
Would You Believe [Album Version]
Would You Believe [Matt Pop 2023 Extended Version]
Would You Believe [Matt Pop 2023 Instrumental]
Would You Believe [Matt Pop 2023 Extended Instrumental]
Would You Believe [Project K's All Night at 54 Mix]
Would You Believe [Project K's Danceteria Dub]
Would You Believe [Project K's Night at 54
Orchestrappella]
Would You Believe [Project K's Night at 54
Instrumental]
Would You Believe [Alternative Version]

CD 26: All The She Wants

All That She Wants [Project K Acid–Base Remix]
All That She Wants [SNBRN x KLATCH]
All That She Wants [Moombahteam Remix]
All That She Wants [Mowlo Remix]
All That She Wants [A Spitzenklasse Remix]
All That She Wants [Wideboys Stadium Vocal]
All That She Wants [Funkstar De Luxe Club Remix]
All That She Wants [Funkstar De Luxe Cook N Curry
Remix Extended]
All That She Wants [We Are Legends Remix]
All That She Wants [Bali Bandits Remix Extended]
All That She Wants [Joeysuki Remix]
All That She Wants [Andalo Remix Extended]
All That She Wants [House of Titans Remix]
All That She Wants [Marc MacRowland Remix]
All That She Wants [Project K Acid–Base 12" Remix]