 News
All the FACs / Factory Records box sets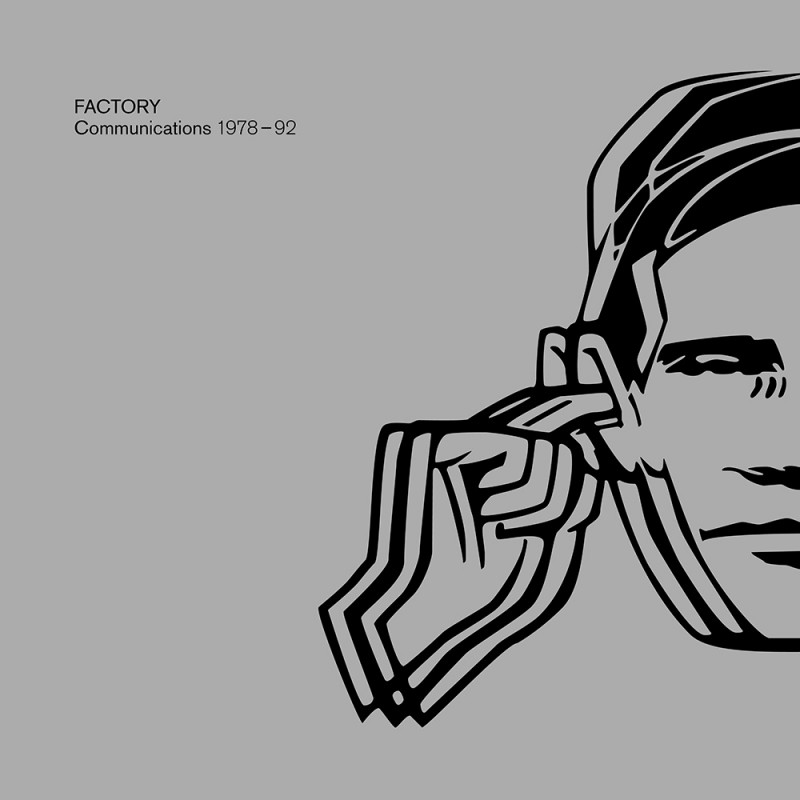 Factory Records is to be celebrated with two new box sets.
The Manchester-based label Factory Records celebrates 40(ish) years with a pair of new box sets covering its entire catalogue.

The two boxes, titled Use Hearing Protection: Factory Records 1978-1979 and Factory: Communications 1978-92 cover the label's 15 year output from its beginnings as some sort of Warholian wonky art project begun by Tony Wilson, via the success heights of New Order and Happy Mondays through to it's baggy, bankruptcy-forced ending.
Executively produced by Oli and Isobel Wilson (Tony's children), Use Hearing Protection: Factory Records 1978-1979 (The first 10 numbered records and objects), contains facsimile editions of the first ten numbered Factory items: four vinyl records, three posters, a short film, a bit of Factory stationery and an egg-timer design.
The early history of the label is also detailed in a 60 page book with text by James Nice, photos by Kevin Cummins and archival interviews with Tony Wilson, Rob Gretton, Joy Division and more.
The four vinyl records are the 'The Factory Sample EP' (Fac 2) which was a 2×7 inch set with tracks from Joy Division, Durutti Column, John Dowie and Cabaret Voltaire; 'All Night Party' by A Certain Ratio (Fac 5), 'Electricity' by Orchestral Manoeuvres in the Dark (Fac 6) and the Unknown Pleasures album by Joy Division (Fact 10).
Also included are a white label 12" single by The Tiller Boys (originally intended as Fac 3 but ultimately not released), and a never before heard and now restored across two CDs audio interview with Joy Division, Tony Wilson and Rob Gretton conducted in August 1979 by journalist Mary Harron. Also newly restored is the 8mm short No City Fun (Fac 9), presented here on DVD and featuring music by Joy Division.
The set's recreated posters (Facs 1, 3 and 4) date from May, October and December 1978, stationery (Fac 7) and an A4 print of a design for the, um, Menstrual Abacus aka The Factory Egg Timer was given the catalogue number of Fac 8. The box is limited to 4000 copies worldwide.
The second box set Factory: Communications 1978-1992, focuses on the actual record label, with 63 tracks spread over eight newly remastered vinyl albums. It's effectively a new vinyl edition of the 2009 four-CD box set that Jon Savage put together, which featured notes from Paul Morley.
Alongside the obvious key numbers and hits by New Order, Happy Mondays, Joy Division, The Durutti Column and Electronic, the lesser likes of Crispy Ambulance, Royal Family and the Poor, Quando Quango, Marcel King and Cath Carroll. While not definitive, you get a good overview of a label that had space for both X-O-Dus and the England football team.
Black vinyl is the standard version, but a silver-coloured vinyl edition is limited to 500 copies and is exclusive to the Rhino store. There's no mention of whether the original CD box will be reissued, or any news of download codes, as yet.
The Use Hearing Protection box appears to be completely exclusive to the Rhino store, so you can find that here.
As a bonus, an expanded exhibition, with the Use Hearing Protection, FAC 1-50 objects at its core is being developed by the Science and Industry Museum in Manchester. This exhibition is due to open July 2020. So that's something to look forward to.
Use Hearing Protection: Factory Records 1978-1979 is released 11 October 2019, Factory: Communications 1978-1992 follows on 29 November 2019 (was 8 Nov).
Compare prices and pre-order
Various Artists
Factory Communications 1978-1992 8LP vinyl
USE HEARING PROTECTION: FACTORY RECORDS 1978-1979
The first 10 numbered records and objects
ITEMS:
FAC 1
Poster 63cm x 84cm – May/June 1978
FAC 2
'The Factory Sample' 2×7" compilation EP in plastic-sealed paper sleeve – January 1979
Joy Division: 'Digital'
Joy Division: 'Glass'
Durutti Column: 'No Communication'
Durutti Column: 'Thin Ice'
John Dowie: 'Acne'
John Dowie: 'Idiot'
John Dowie: 'Hitler's Liver'
Cabaret Voltaire: 'Baader-Meinhof'
Cabaret Voltaire: 'Sex in Secret'
FAC 3
Poster 63cm x 44.5cm – October 1978
FAC 4
Poster 63cm x 44.5cm – December 1978
FAC 5
A Certain Ratio
'All Night Party' / 'Thin Boys' 7" single, May 1979
FAC 6
Orchestral Manoeuvres in the Dark
'Electricity/Almost' 7" single, May 1979
FAC 7
Stationary – 1979
FAC 8
Menstrual Abacus aka The Factory Egg Timer – presented on A4 Print
FAC 9
'No City Fun' aka The Factory Flick, 8mm film- March 1979
Presented on DVD
FACT 10
Joy Division
'Unknown Pleasures' 12" album, June 1979
BONUS ITEMS:
Bonus 12" single
Tiller Boys
'Big Noise from the Jungle' / 'Slaves and Pyramids' / 'What Me Worry?'
2xCD (spoken word)
Joy Division and Tony Wilson interviewed by Mary Harron (1979)
FACTORY COMMUNICATIONS: 1978-92
8 X VINYL BOX
TRACKLIST:
Side 1 (1978-79)
Joy Division – Digital
Cabaret Voltaire – Baader Meinhof
A Certain Ratio – All Night Party
OMD – Electricity
Joy Division – She's Lost Control
The Distractions – Time Goes By So Slow
Side 2 (1979-80)
Joy Division – Transmission
The Durutti Column – Sketch For Summer
X-O-Dus – English Black Boys
Joy Division – Love Will Tear Us Apart
A Certain Ratio – Shack Up
Side 3 (1980-81)
Section 25 – Girls Don't Count
Crawling Chaos – Sex Machine
A Certain Ratio – Flight
The Names – Nightshift
Side 4 (1981)
New Order – Ceremony (original version)
Minny Pops – Dolphin's Spurt
John Dowie – It's Hard To Be An Egg
Crispy Ambulance – Deaf
Section 25 – Dirty Disco
Side 5 (1981)
New Order – Everything's Gone Green
Tunnelvision – Watching The Hydroplanes
The Durutti Column – Messidor
A Certain Ratio – Knife Slits Water (LP version)
Side 6 (1982)
Royal Family and the Poor – Art on 45
Swamp Children – Taste What's Rhythm
New Order – Temptation
Side 7 (1982-83)
52nd Street – Cool As Ice
New Order – Blue Monday
Side 8 (1982-84)
Cabaret Voltaire – Yashar (John Robie remix)
Quando Quango – Love Tempo
The Wake – Talk About the Past
Side 9 (1983-84)
New Order – Confusion
Marcel King – Reach For Love
Section 25 – Looking From A Hilltop (Megamix)
Side 10 (1984-85)
Stockholm Monsters – All At Once
Life – Tell Me
The Durutti Column – Without Mercy (Duet)
James – Hymn From A Village
Kalima – Trickery
Side 11 (1985-87)
A Certain Ratio – Sounds Like Something Dirty
Quando Quango – Genius
Happy Mondays – Freaky Dancin'
Miaow – When It All Comes Down
Side 12 (1987)
The Railway Children – Brighter
Biting Tongues – Compressor
New Order – True Faith
Happy Mondays – 24 Hour Party People
Side 13 (1988-89)
New Order – Fine Time
Happy Mondays – W.F.L. (Think About the Future)
Revenge – Seven Reasons
Side 14 (1989-90)
Happy Mondays – Hallelujah (Club mix)
Electronic – Getting Away With It
Happy Mondays – Step On
Northside – Shall We Take A Trip
Side 15 (1990-91)
England New Order – World In Motion
Happy Mondays – Kinky Afro
The Durutti Column – Home
Electronic – Get The Message (DNA remix)
Side 16 (1991-92)
Northside – Take 5
Cath Carroll – Moves Like You (remix)
The Other Two – Tasty Fish
Happy Mondays – Sunshine and Love (Lionrock remix)