 News
Average White Band / Anthology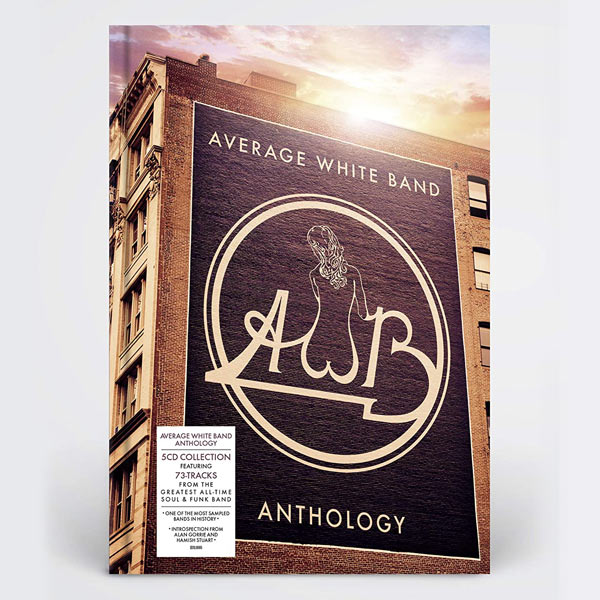 Five CD deluxe package to be released in June
Edsel will issue Anthology in June, a five-CD Average White Band deluxe set that follows their career from the beginning in the early 1970s to their final album for Arista in 1982.

This collection has been curated by AWB, with each disc themed, with the first concentrating on classics, working through Jazz/Funk/Soul/Blues genres and ending up with rarities at the end, such as seven-inch and 12-inch versions and live recordings.
In total, Anthology delivers 73 tracks across the five CDs and comes in 'mediabook' packaging with notes from Alan Gorrie and Hamish Stuart.
This deluxe set will be released on 3 July 2020 (was 12).
Compare prices and pre-order
Average White Band
Anthology - 5CD deluxe set
CD 1: The Classics
1. Pick Up The Pieces
2. Cut The Cake
3. Show Your Hand
4. Work To Do
5. Queen Of My Soul
6. A Star In The Ghetto – with Ben E. King
7. Atlantic Avenue
8. Keepin' It To Myself
9. Twilight Zone
10. Whatcha' Gonna Do For Me
11. Walk On By
12. Feel No Fret
13. School Boy Crush
14. Put It Where You Want It
15. Let's Go 'Round Again
CD 2: Sampled [Jazz, Blues & Funk]
1. The Jugglers
2. Got The Love
3. Groovin' The Night Away
4. Sweet & Sour
5. I'm The One
6. Reach Out
7. Your Love Is A Miracle
8. Person To Person 3
9. Daddy's All Gone
10. When Will You Be Mine
11. Big City Lights
12. T.L.C
13. Back In '67
14. Stop The Rain
CD 3: Sampled [ Soul & Funk] 
1. Overture
2. If I Ever Lose This Heaven
3. Get It Up For Love
4. I Just Can't Give You Up
5. How Sweet Can You Get
6. Nothing You Can Do
7. A Love Of Your Own
8. Love Your Life
9. Would You Stay
10. For You, For Love
11. Isn't It Strange
12. Love Gives, Love Takes Away
13. Digging Deeper (Finale)
CD 4: 7″, 12″ & Early Versions
1. How Can You Go Home
2. Work To Do [7″ Edit]
3. Cut The Cake [7″" Edit]
4. Queen Of My Soul [7″" Edit]
5. Get It Up For Love [7″" Edit] – with Ben E. King
6. A Star In The Ghetto [7″" Edit] – with Ben E. King
7. Your Love Is A Miracle [7″" Edit]
8. Feel No Fret [7″" Edit]
9. For You, For Love [7″" Edit]
10. Shine
11. Walk On By [12″" Version]
12. Let's Go Round Again [12″" Version]
13. The Jugglers [First Version]
14. How Sweet Can You Get [First Version]
15. Back In '67 [First Version]
16. Reach Out [First Version]
17. Pick Up The Pieces [Early Version]
CD 5: Rarities & Live Recordings
1. This World Has Music
2. McEwan's Export
3. In The Beginning
4. White Water Dreams
5. It Didn't Take Me A Minute
6. Wasn't I Your Friend
7. Miss Sun
8. Kiss Me
9. Love Won't Get In The Way
10. Growing Pains
11. I'm Gonna Make You Love Me [Live]
12. Pick Up The Pieces [Live]
13. I Heard It Through The Grapevine [Live]