 News
Bangles: Gold / 3CD set with remixes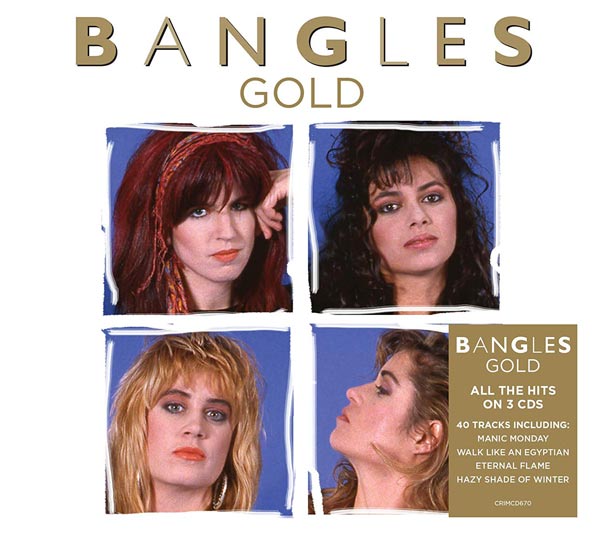 Bangles Gold is a comprehensive three-CD hits collection that not only offers a great bonus disc of remixes, but does so at a 'no brainer' price.

This 40-track collection includes all the hits, such as 'Manic Monday', 'Walk Like An Egyptian', 'Hazy Shade of Winter', 'In Your Room', and 'Eternal Flame' but also comes with a very attractive third CD filled with period extended remixes of all the good stuff!
In addition to the extended dance mix of 'Walk Like An Egyptian', this disc also includes the rare 'A Cappella Mix' (from the second remix 12-inch in the UK and CD single) and the 'Dub Mix' (from the original 12-inch). This remix disc finishes with the 'Bangles Hit Mix', a five-song megamix originally issued on the second 12-inch of 'Following' (the fifth single from the Different Light album).
Bangles Gold is out on 2 October 2020 (was 17 April) (via Crimson) and is just £5.99. A vinyl edition is also available.
Compare prices and pre-order
Compare prices and pre-order
Bangles
Bangles: Gold [VINYL]
CD 1
1. MANIC MONDAY
2. WALK LIKE AN EGYPTIAN
3. IN YOUR ROOM
4. GOING DOWN TO LIVERPOOL
5. WALKING DOWN YOUR STREET
6. WATCHING THE SKY
7. I'LL SET YOU FREE
8. I GOT NOTHING
9. WHAT I MEANT TO SAY
10. COMPLICATED GIRL
11. LIVE
12. MORE THAN MEETS THE EYE
13. IN A DIFFERENT LIGHT
14. LET IT GO
15. NOT LIKE YOU
CD 2
1. ETERNAL FLAME
2. HAZY SHADE OF WINTER
3. IF SHE KNEW WHAT SHE WANTS
4. FOLLOWING
5. HERO TAKES A FALL
6. BE WITH YOU
7. EVERYTHING I WANTED
8. WAITING FOR YOU
9. MAKE A PLAY FOR HER NOW
10. SEPTEMBER GURLS
11. DOVER BEACH
12. SOMETHING TO BELIEVE IN
13. STANDING IN THE HALLWAY
14. SOME DREAMS COME TRUE
15. CRASH AND BURN
CD 3
1. MANIC MONDAY [EXTENDED REMIX]
2. WALK LIKE AN EGYPTIAN [EXTENDED DANCE MIX]
3. IF SHE KNEW WHAT SHE WANTS [EXTENDED REMIX]
4. WALKING DOWN YOUR STREET (EXTENDED REMIX)
5. WALK LIKE AN EGYPTIAN [A CAPPELLA MIX]
6. HAZY SHADE OF WINTER [PURPLE HAZE MIX]
7. WALKING DOWN YOUR STREET / JAMES [LIVE MEDLEY]
8. IN YOUR ROOM [12″ REMIX]
9. WALK LIKE AN EGYPTIAN [DUB MIX]
10. BANGLES HITS MIX