 News
Black Sabbath / Technical Ecstasy super deluxe
4CD and 5LP box sets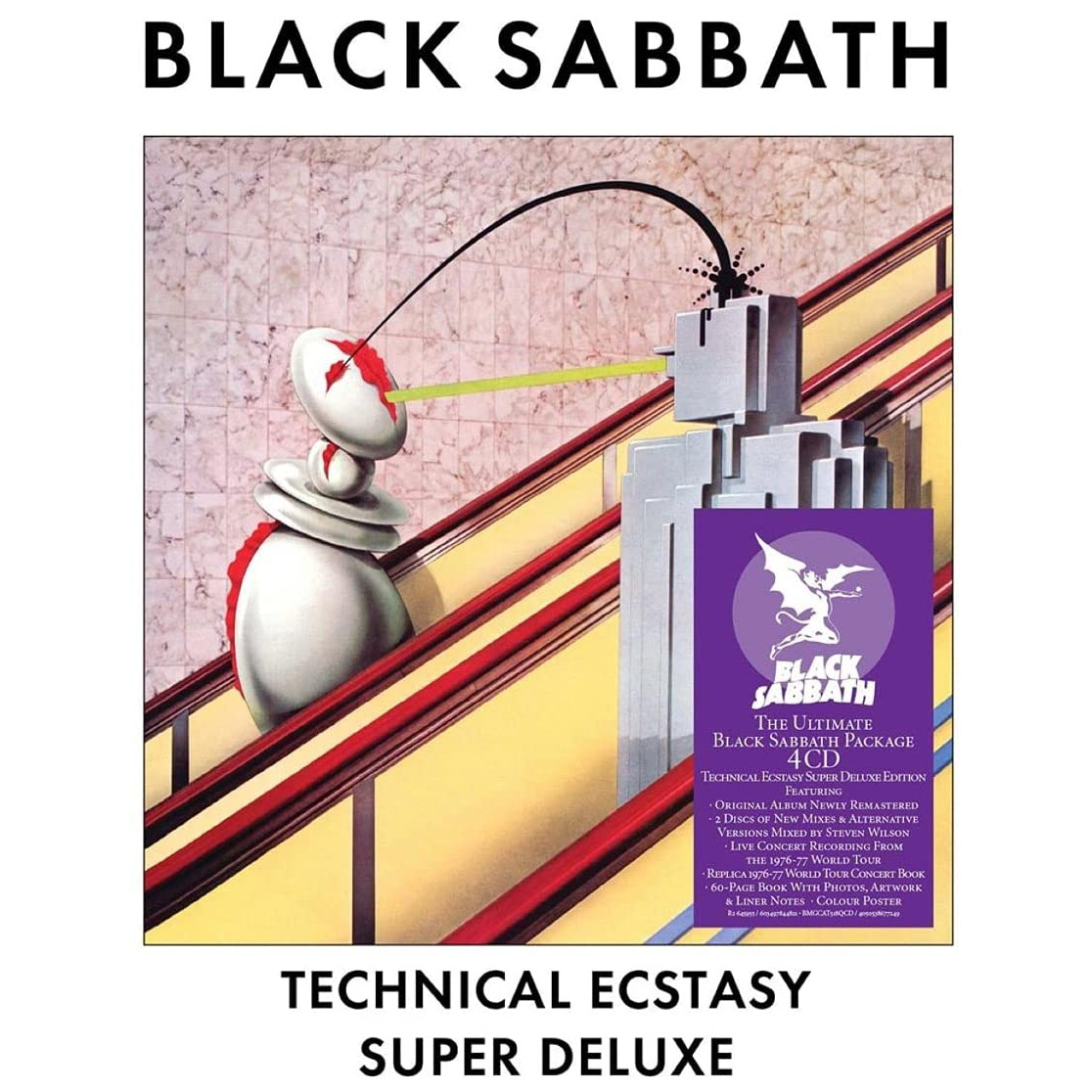 Black Sabbath's seventh studio album, Technical Ecstasy, will be reissued as vinyl and CD super deluxe edition box sets in October.
The 1976 long-player saw the band embrace a new sound, incorporating keyboards and synthesizers. Recording took place in Criteria Studios in Miami (the Eagles were making Hotel California in the same studios, at the same time) and Tony Iommi was left, relunctantly, to produce the album.
The reissue comes as 4CD and 5LP super deluxe editions. They offer a newly remastered version of the original album mix, along with a brand new Steven Wilson stereo mix. SW's remix doesn't include the Bill Ward penned-and-sung 'It's Alright', which is included in its original single mono mix. One presumes they couldn't locate the multi-track from this song.
The third disc in the CD box offers unheard outtakes and alternate mixes (also remixed by Wilson) while the final CD provides 10 previously unreleased live tracks from concert recordings from the 1976-77 world tour.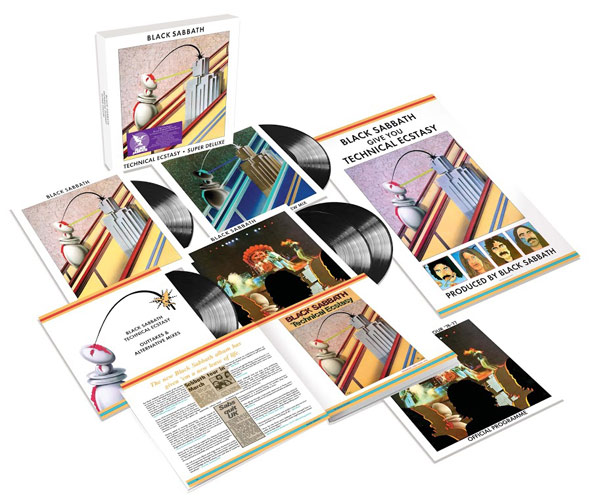 The content is identical across vinyl and CD boxes. The only difference with the vinyl set is that the live disc requires two LPs, hence that's a five-LP set compared to the CD's four.
The CD box comes with a 60-page book and poster. The vinyl edition has a 40-page book, again with the poster. The extras sounds good, but the prices seem extraordinarily high, at least in the UK, something which I'm sure will be reflected in the SDE reader rating, above.
Technical Ecstasy will be reissued on 1 October 2021.
Compare prices and pre-order
Black Sabbath
Technical Ecstasy 4CD deluxe
Compare prices and pre-order
Black Sabbath
Technical Ecstasy 5LP vinyl deluxe
An opportunity for SDE members to give initial feedback to the record label, and the wider world, about how they view the offering!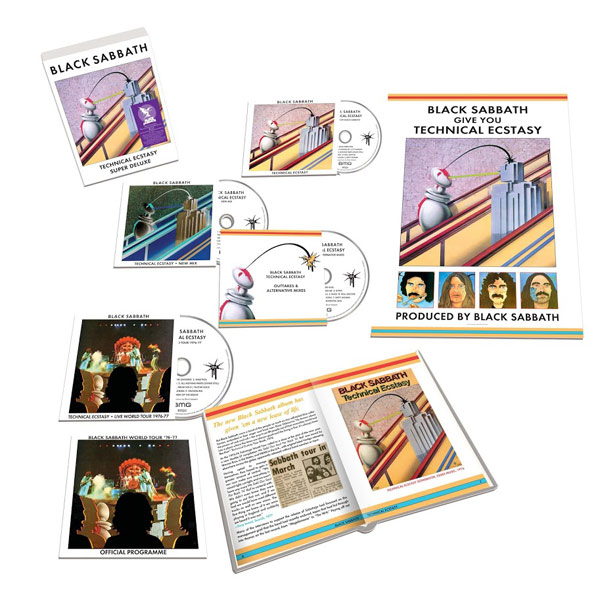 Tracklisting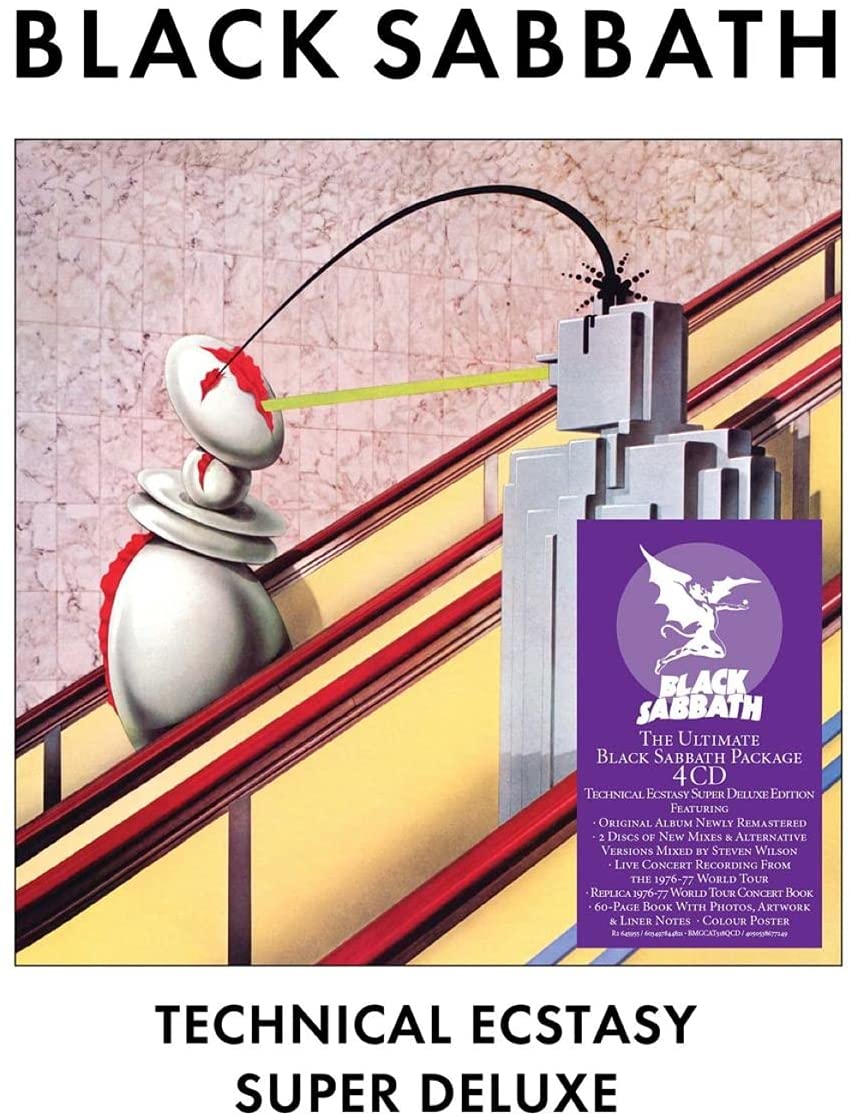 Technical Ecstasy Black Sabbath
/
4CD super deluxe edition
CD 1 / LP 1: Original Album 1976 (2021 Remaster)

"Back Street Kids"
"You Won't Change Me"
"It's Alright"
"Gypsy"
"All Moving Parts (Stand Still)"
"Rock 'n' Roll Doctor"
"She's Gone"
"Dirty Women"

CD2 / LP 2: New Steven Wilson Mix

"Back Street Kids"
"You Won't Change"
"It's Alright" *
"Gypsy"
"All Moving Parts (Stand Still)"
"Rock 'n' Roll Doctor"
"She's Gone"
"Dirty Women"

*Mono single version, not SW remix

CD 3 / LP 3: Outtakes & Alternative Mixes

"Back Street Kids" – Alternative Mix *
"You Won't Change Me" – Alternative Mix *
"Gypsy" – Alternative Mix *
"All Moving Parts (Stand Still)" – Alternative Mix *
"Rock 'n' Roll Doctor" – Alternative Mix *
"She's Gone" – Outtake Version *
"Dirty Women" – Alternative Mix *
"She's Gone" – Instrumental Mix *

*previously unreleased

CD4 / LP4 & 5 : Live World Tour 1976-77

"Symptom Of The Universe" *
"War Pigs" *
"Gypsy" *
"Black Sabbath" *
"All Moving Parts (Stand Still)" *
"Dirty Women" *
Drum Solo / Guitar Solo *
"Electric Funeral" *
"Snowblind" *
"Children Of The Grave" *

*previously unreleased