 News
Bob Dylan's 'Time Out Of Mind' is the next release in the SDE Surround Series
Exclusive Blu-ray Audio features Dolby Atmos Mix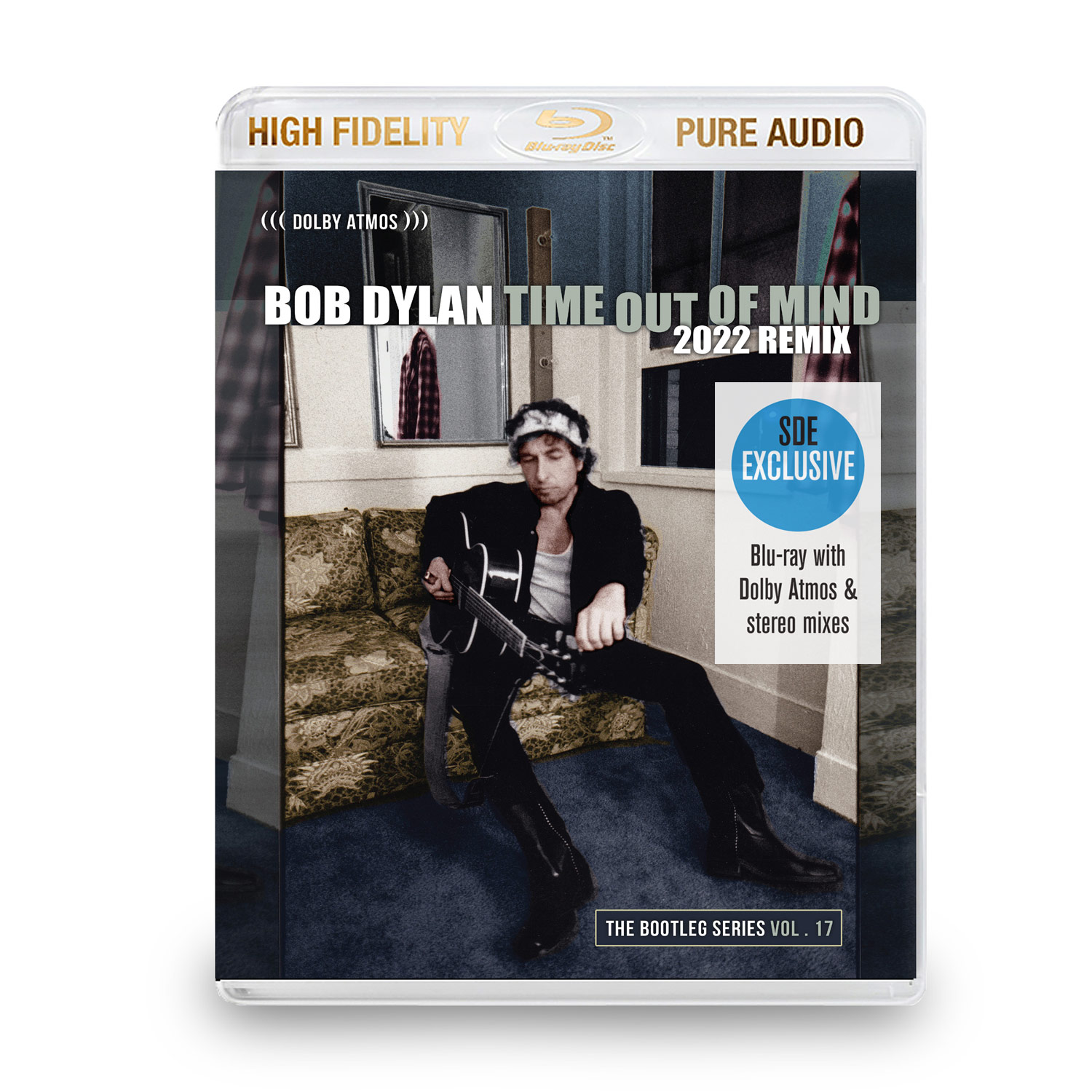 SDE-exclusive Blu-ray Audio with Dolby Atmos Mix (quick buy link)
In collaboration with Sony Music, SDE is pleased to announce an exclusive physical release of the Dolby Atmos Mix of Bob Dylan's acclaimed 1997 album Time Out Of Mind.
Dylan's "mid-career masterpiece" turned 25 last year and amongst its 11 tracks are songs like 'Love Sick', 'Cold Irons Bound', 'Can't Wait', 'Not Dark Yet' which became concert staples and fan favourites. One composition, 'Make You Feel My Love', found a place in the Great American Songbook, having been covered by artists such as Billy Joel, Garth Brooks, Neil Diamond, and Adele. Time Out Of Mind won three Grammys in 1998 including the coveted Album of the Year award. The Irish Times even ranked the album as Dylan's best, in 2021!
Time Out Of Mind has recently been remixed and reissued on CD and vinyl as Fragments: Time Out Of Mind Sessions (1996-1997), Vol. 17 in Dylan's long-running Bootleg Series. All formats feature the 2022 Remix of Time Out Of Mind by Michael Brauer, whose work on the Dylan catalog goes back two decades. The remix offers somewhat cleaner Dylan vocals (original producer Daniel Lanois had layered various effects on them), while still staying true to the signature sound of Time Out of Mind.
With Fernando Reyes, Brauer also created the Dolby Atmos Mix of the 2022 Remix – the first ever Atmos Mix for Dylan – for a full spatial audio immersive experience. Until now, has only been available on streaming. That changes in April with the release of this special limited edition Blu-ray audio version of Time Out Of Mind which is an SDE global exclusive and is therefore only available via theSDEshop.
Two audio streams will be available on this disc:
Time Out Of Mind (2022 Remix) – Dolby Atmos mix
Time Out Of Mind (2022 Remix) – 96/24 hi-res stereo
This Bob Dylan Blu-ray Audio (another first) is #8 in the ongoing SDE Surround Series and will be packaged similarly to previous editions and ships with a free, collectible SDE Surround Series slipcase.
Here's the now traditional reminder as to why this product is highly recommended:
It's the only way to enjoy the Dolby Atmos mix of the album via a physical product
You don't need to sign-up to a streaming service such as Tidal or Apple Music to hear the spatial audio mix
The Atmos Mix on the Blu-ray is not compressed due to streaming bandwidth restrictions
You own the product, you are not renting it from a digital service provider
The Blu-ray audio is an excellent format for music and you don't want to see it die off
Supporting SDE with these initiatives leads to similar collaborations with labels/artists and we are keen to bring your more in the near future!
Be aware, this is a limited edition product. It will be available for 14 days only. The pre-order opportunity will close on 24 February. Do not miss out on this spatial audio mix of this classic album and secure your pre-order now by ordering at theSDEshop, either directly via this link or using the special SDE shop buy button ('add to cart') below. We ship worldwide (the tracked service to USA is £8, for example).
The Time Out Of Mind (2022 Remix) SDE-exclusive Blu-ray Audio will be released on 12 May 2023 (was 28 April) and is a collaboration between SDE and Sony Music.
Customer reviews for previous releases in the SDE Surround Series
"Quite amazing", "Hauntingly beautiful" – Brian Eno's FOREVERANDEVERNOMORE
"Absolutely sublime" – xPropaganda's The Heart Is Strange
"The best way to hear this album" – Shakespears Sister's Hormonally Yours
"Outstanding. Totally immersive" – Tears For Fears' The Tipping Point
TECHNICAL NOTES: This blu-ray audio requires a blu-ray player. Decoding the Dolby Atmos mix requires a Dolby Atmos-certified soundbar or a Dolby Atmos-compatible AV Receiver/Amp. The Dolby Atmos mix will 'fold down' to 5.1 or stereo if a Dolby Atmos decoder is not detected.
EU SHIPPING NOTES: If you are ordering from the EU please be aware that that goods may be subject to import VAT when they arrive from the UK. The prices the SDE shop charge you do not include VAT
Tracklisting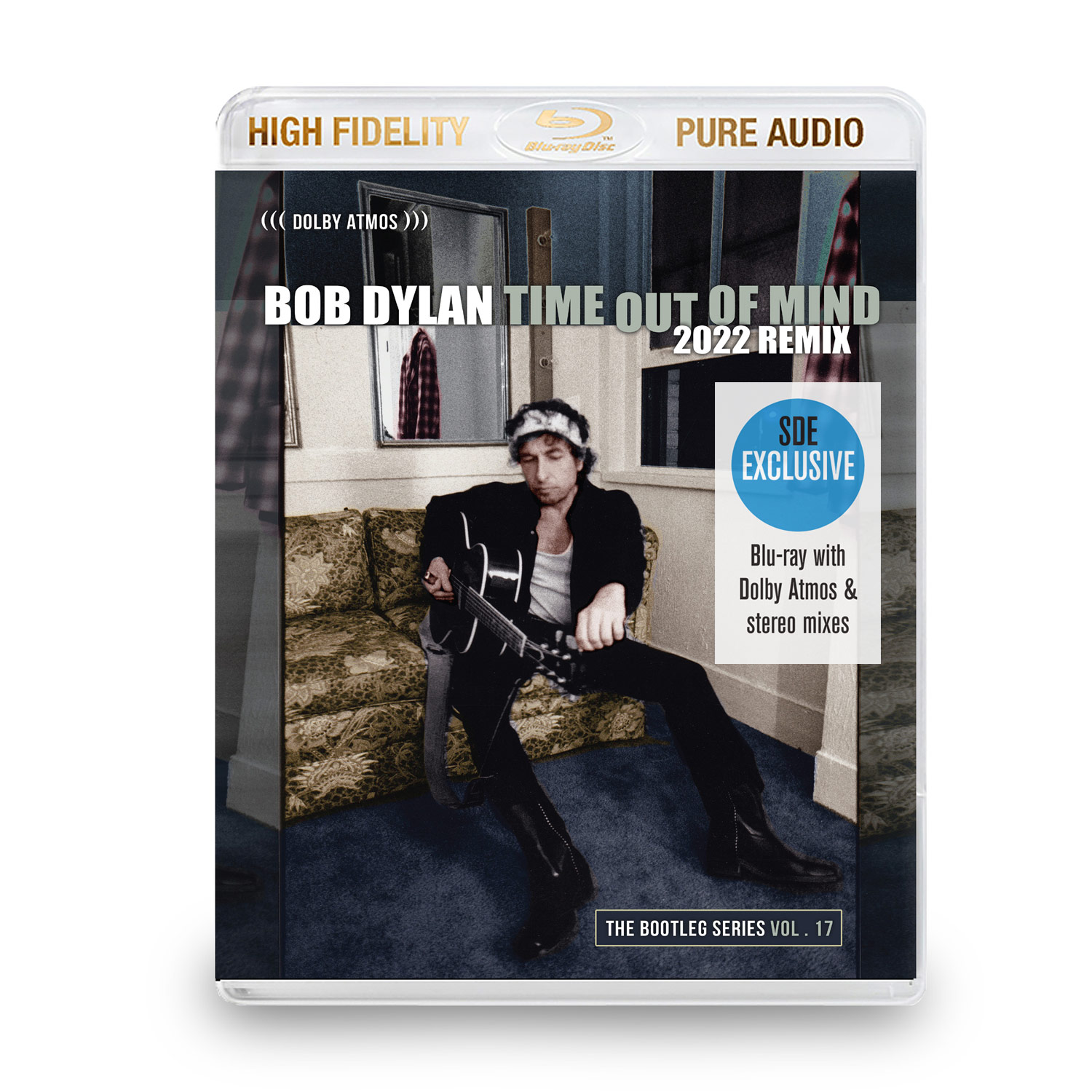 Time Out Of Mind (2022 Remix) Bob Dylan
/
Dolby Atmos and 96/24 Hi-res Stereo versions of Time Out Of Mind (2022 Remix)

Love Sick
Dirt Road Blues
Standing in the Doorway
Million Miles
Tryin' to Get to Heaven
'Til I Fell in Love with You
Not Dark Yet
Cold Irons Bound
Make You Feel My Love
Can't Wait
Highlands
The SDE Surround Series so far is:
#1 Tears For Fears: The Tipping Point
#2 xPropaganda: The Heart Is Strange
#3 Gilbert O'Sullivan: Driven
#4 Shakespears Sister: Hormonally Yours
#5 Brian Eno: FOREVERANDEVERNOMORE
#6 Orbital: Optical Delusion
#6.5 Various Arists: Concert For George
#7 Ten Years After: A Space In Time