 News
Breaking Bad / 10th anniversary limited edition coloured vinyl box set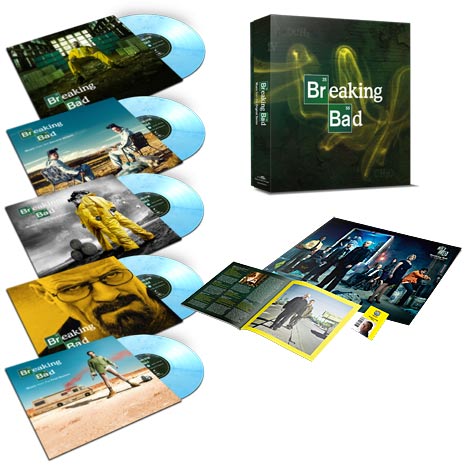 Music On Vinyl will issue a very limited 10th anniversary Breaking Bad vinyl box set that will, for the first time, feature the songs from the TV series and not the score. These are pressed on five coloured vinyl records, one representing each season.

Each 10-inch record is 'Albuquerque Crystal Coloured' vinyl (which is transparent with a hint of turquoise). The jackets are representative of each of the five series and these are presented in a lift-off-lid box with the Breaking Bad logo on the front with special drip-off varnish. Additionally the box comes with an exclusive Breaking Bad poster  and a 'Pollos Hermanos' plastic ID badge.
The label state that this is a one-off run with only around 4k for the world. As well as the great music from the likes of Badfinger, Calexico, Far East Movement and America the records feature snippets of dialogue fromWalter, Jesse, Skyler, Mike, Gus, Saul and many more. Secure a copy by pre-ordering from the SDE shop by using this link, or the button below. The box will ship on 23 November 2018.
Side A
Dave Porter – Breaking Bad Main Title Theme (Extended)
Rodrigo y Gabriela – Tamacun
Working For a Nuclear Free City – Dead Fingers Talking
Glen Phillips –  The Hole
WALT JR. – BAND AIDS (dialogue)
Darondo – Didn't I
Side B
Mick Harvey – Out Of Time Man
The In Crowd – Mango Walk
Ticklah – Nine Years
Fujiya & Miyagi – Uh
SKINNY PETE – SPELLING (dialogue)
The Silver Seas – Catch Yer Own Train
Side C
The Walkmen – Red Moon
MARIE SCHRADER – SUPERMARKET (dialogue)
The Be Good Tanyas – Waiting Around To Die
Los Cuates de Sinaloa – Negro Y Azul: The Ballad Of Heisenberg
Calexico – Banderilla
Side D
Far East Movement – Holla Hey
The Black Seeds – One By One
Blue Mink – Good Morning Freedom
WALTER WHITE – PLANS (dialogue)
Yellowman – Zungguzungguguzungguzeng
Side E
GUSTAVO FRING – $3 MILLION (dialogue)
Chuy Flores – Pollos Hermanos Veneno
Los Zafiros – He Venido
Vince Guaraldi & Bola Sete – Ginza Samba
Teddybears feat. Eve – Rocket Scientist
Side F
Prince Fatty – Shimmy Shimmy Ya
Son of Dave – Shake A Bone
The Association – Windy
SAUL GOODMAN – PRICING (dialogue)
Quartetto Cetra – Crapa Pelada
America – A Horse With No Name
Side G
Alexander – Truth
Ana Tijoux – 1977
SKYLER WHITE – QUICKEN (dialogue)
Bang Data – Bang Data
Fever Ray – If I Had a Heart
Side H
JESSE PINKMAN – HOSPITAL (dialogue)
Apparat – Goodbye
Thee Oh Sees – Tidal Wave
SAUL GOODMAN – SLOPPY SECONDS (dialogue)
Taalbi Brothers – Freestyle
Side I
Whitey – Stay On The Outside
MIKE EHRMANTRAUT – JESSE JAMES (dialogue)
The Peddlers – On A Clear Day You Can See Forever
Knife Party – Bonfire
Side J
Tommy James & The Shondells – Crystal Blue Persuasion
The Limeliters – Take My True Love By The Hand
HANK SCHRADER – ASAC SCHRADER (dialogue)
Marty Robbins – El Paso
Badfinger – Baby Blue