 News
Brian Eno / Apollo: Atmospheres & Soundtracks extended edition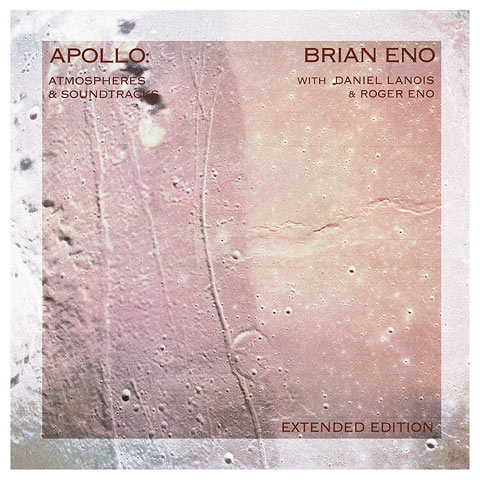 Original album remastered plus a whole disc of new music
Brian Eno's 1983 album Apollo: Atmospheres & Soundtracks has been remastered and expanded for a special 'extended edition' due in July

The album was written, produced and performed by Brian Eno together with his brother Roger and Daniel Lanois. The music was originally recorded in 1983 for the feature-length documentary, For All Mankind, directed by American journalist, film director and screenwriter, Al Reinert.
In celebration of the 50th Anniversary of the Apollo 11 moon landing, this remastered, extended edition of the album is available as a 2LP vinyl set or a two-CD deluxe hardcover book package. It features the original album remastered by Abbey Road's Miles Showell as well as a while disc of new music: an album comprising 11 new instrumental compositions reimagining the soundtrack to For All Mankind. According to the label, the 11 new tracks on this Apollo extended edition "find Brian Eno, Daniel Lanois and Roger Eno working collectively for the first time since the original album in 1983." Lanois contributed 3 compositions – 'Capsule,' 'Last Step From The Surface' and 'Fine-grained' while Roger Eno's are 'Waking Up,' 'Under The Moon' and 'Strange Quiet.'
The vinyl comes in a gatefold sleeve and includes a download.There are actually two CD editions: a limited and numbered deluxe with hardcover book and the standard 2CD. Both vinyl and CD editions are released on 19 July 2019. These can be pre-ordered from the SDE shop.
Compare prices and pre-order
Brian Eno
apollo - 2LP vinyl
Compare prices and pre-order
Brian Eno
apollo - limited 2CD deluxe hardcover book edition
Compare prices and pre-order
Brian Eno
apollo - standard 2CD
CD/LP 1
01. Under Stars ( 4:29 )
02. The Secret Place ( 3:31 )
03. Matta ( 4:20 )
04. Signals ( 2:47 )
05. An Ending (Ascent) ( 4:24 )
06. Under Stars II ( 3:23 )
07. Drift ( 3:05 )
08. Silver Morning ( 2:40 )
09. Deep Blue Day ( 3:58 )
10. Weightless ( 4:35 )
11. Always Returning ( 4:04 )
12. Stars ( 8:02 )
CD/LP 2
01. The End Of A Thin Cord ( 4:08 )
02. Capsule ( 3:13 )
03. At The Foot Of A Ladder ( 3:35 )
04. Waking Up ( 2:29 )
05. Clear Desert Night ( 3:11 )
06. Over The Canaries ( 4:41 )
07. Last Step From The Surface ( 3:58 )
08. Fine-grained ( 3:34 )
09. Under The Moon ( 3:10 )
10. Strange Quiet ( 4:09 )
11. Like I Was A Spectator ( 4:23 )