 News
Bronski Beat / The Age of Consent CD and vinyl reissues
2CD deluxe • Vinyl picture disc • PINK gatefold vinyl • exclusives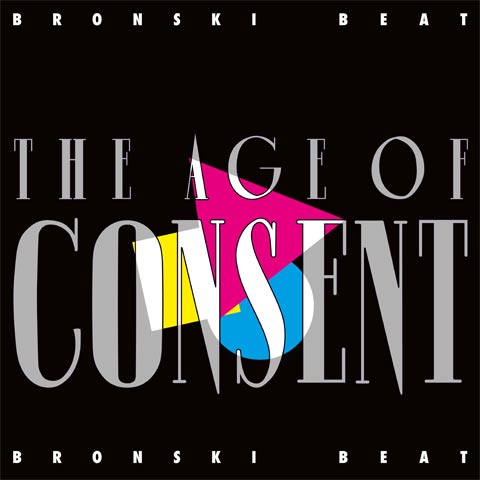 London Records have announced a remastered and expanded reissue of Bronski Beat's 1984 album The Age Of Consent and will issue the album on three physical formats.

A two-CD deluxe edition offers the original ten-track album appended with four bonus 12-inch remixes. A second CD features material from the London Records' archive including radio sessions and unreleased material such as the unheard demo 'The Other Side Of The Tracks'. This disc is completed with some new remixes.


A 12-inch picture disc of the album is also being made available and limited to just 1000 units, along with a gatefold PINK vinyl edition. The latter comes with both CDs from the deluxe (packaged in simply wallets) while the former includes an MP3 download of the same audio.

The artwork for the album has been fully restored. With the original files long since lost, the record label London turned to Bruce Gill, whose father created the original designs, and along with his Dad redrew the album text and worked on a new layout for CD, vinyl and picture disc. Also, Jimmy Somerville, producer Mike Thorne and Paul Flynn all contribute to new sleeve notes.



Most excitingly, London Records have collaborated with SDE and produced a extremely limited CD single edition of the original 12-inch single of 'Smalltown Boy'! This 2-track single features the original near nine-minute mix of the song and the 'Infatuation/Memories' B-side (which isn't on the new deluxe edition of The Age Of Consent).

A FREE CD single of the Smalltown Boy 12-inch while stocks last

Only 200 of these are being made available and anyone who pre-orders any edition of the new The Age Of Consent from the SDE shop, gets a FREE copy. Obviously, all Bronski Beat pre-orders on the SDE shop are only available only while stocks last!! Sorry, THIS HAS NOW SOLD OUT!

The Age Of Consent is reissued on 26 October 2018.

Although the SDE shop has sadly sold out of its allocation – and the exclusive 'Smalltown Boy' CD single – fear not, because you can still buy all of these physical formats of The Age Of Consent (2CD deluxe, PINK vinyl and vinyl picture disc) from the official Bronski Beat shop.In fact they have another great CD single offer- Why?, available free with all orders.

Shop for The Age Of Consent reissue at the official Bronski Beat shop


CD1: Remastered Album and Bonus Tracks
Why? (Remastered)

It Ain't Necessarily So (Remastered)

Screaming (Remastered)

No More War (Remastered)

Love & Money (Remastered)

Smalltown Boy (Remastered)

Heatwave (Remastered)

Junk (Remastered)

Need A Man Blues (Remastered)

I Feel Love/Johnny Remember Me (Remastered)
Bonus Tracks
Why? (12" Version)

Smalltown Boy (12" Version)

It Ain't Necessarily So (12" Version)

I Feel Love/Johnny Remember Me (12" Version)
CD2: Rare And Unreleased Tracks
It Ain't Necessarily So (Kid Jensen BBC Session)

Memories (Kid Jensen BBC Session)

Crazy Maraquitta (Kid Jensen BBC Session)

Why? (Kid Jensen BBC Session)

No More War (Demo)

Up and Down (Instrumental demo)

Heatwave (Demo)

Ultra Clone (Instrumental Demo)

Junk (Demo)

The Other Side Of The Tracks (Demo)

I Feel Love/Johnny Remember Me (Rough Mix) 
Bonus Tracks
Smalltown Boy (Reprise 2014)

Why? (Live at Stella Polaris)

Smalltown Boy (Arnaud Rebotini Remix)

Why? (Wax Wings Remix)

Smalltown Boy (KDA Pink Triangle Remix)
EXCLUSIVE Smalltown Boy CD single
Smalltown Boy (12" Version)

Infatuation / Memories
The Age of Consent / PINK vinyl LP or Vinyl picture disc

Side one
Why? (Remastered)

It Ain't Necessarily So (Remastered)

Screaming (Remastered)

No More War (Remastered)

Love & Money (Remastered)
Side two
Smalltown Boy (Remastered)

Heatwave (Remastered)

Junk (Remastered)

Need A Man Blues (Remastered)

I Feel Love/Johnny Remember Me (Remastered)