 News
Bruce Cockburn / True North 50th anniversary vinyl box set
Limited 5LP vinyl box • coloured vinyl • signed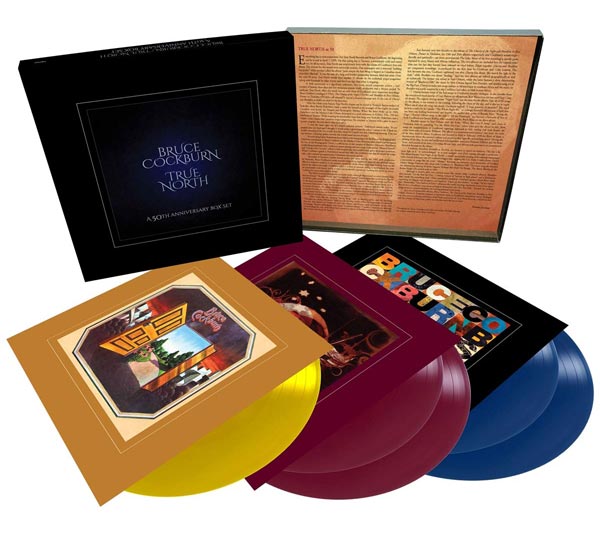 Canadian singer-songwriter Bruce Cockburn celebrates his 50 years in music with a limited edition vinyl box set – signed by the man himself.

The box set is being issued by independent label True North (who've released Cockburn's albums from the very beginning). It contains just three albums (all remastered by Bruce's long-time producer Colin Linden) and they are the self-titled debut Bruce Cockburn (1970), The Charity of Night (1997) and Breakfast in New Orleans, Dinner in Timbuktu (1999). The last two have never been issued on vinyl before.

The five records (two of the albums are doubles) are pressed on 180g coloured vinyl and come in original artwork sleeves adapted from the original designs by Michael Wrycraft.

The box is individually numbered box and signed and the label say "a limited number will be produced" although decline to say specify the exact number.

The set will be released on 25 September 2020. It's a sizeable investment, even if the box itself is relatively small, in terms of the number of albums included. For those interested, do check out that Amazon France pre-order price!


Compare prices and pre-order
Bruce Cockburn
True North - A 50th Anniversary Box Set (5LP) [VINYL]
Bruce Cockburn
(yellow vinyl)
1. Going to the Country
2. Thoughts on a Rainy Afternoon
3. Together Alone
4. The Bicycle Trip
5. The Thirteenth Mountain
6. Musical Friends
7. Change Your Mind
8. Man of a Thousand Faces
9. Spring Song
10. Keep It Open
The Charity of Night
2LP purple vinyl
LP 1
1. Night Train
2. Get Up Jonah
3. Pacing the Cage
4. Mistress of Storms
5. The Whole Night Sky
6. The Coming Rains
LP 2
1. Birmingham Shadows
2. The Mines of Mozambique
3. Live on My Mind
4. The Charity of Night
5. Strange Waters
Breakfast in New Orleans, Dinner in Timbuktu
2LP blue vinyl
LP 1
1. When You Give It Away
2. Mango
3. Last Night of the World
4. Isn't That What Friends Are For?
5. Down to the Delta
6. The Embers of Eden
LP 2
1. Blueberry Hill
2. Let the Bad Air Out
3. Look How Far
4. Deep Lake
5. Use Me While You Can