 News
Bruce Springsteen / vinyl reissues
Two studio albums, one compilation and two live sets • No box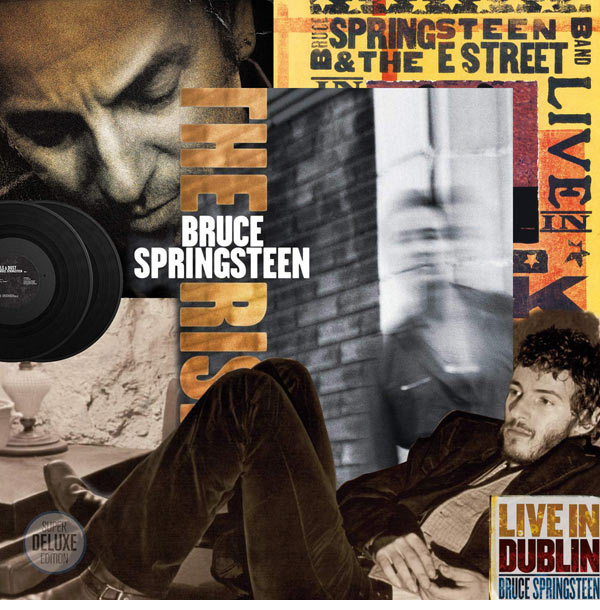 Sony's Legacy Recordings will reissue five Bruce Springsteen albums on vinyl next month. These albums were mostly originally released early in the new millennium and the selection includes the two studio albums The Rising (2002) and Devils & Dust (2005).

The other albums are 18 Tracks (1999) which offers highlights from the Tracks box set including rarities like the original 'Born In The U.S.A.' demo and some exclusive songs; the Live in New York City album (2001) which chronicles Bruce Springsteen and The E Street Band's much-anticipated reunion tour, recorded over two nights at Madison Square Garden in the summer of 2000, and Live in Dublin (2007).

Apart from Live in Dublin, all these records have been out on vinyl before but the print runs were so small in those days (relatively) that these have been unavailable for many years and all regularly command three-figure sums on discogs and the like. So these reissues should be very welcome.



Sony say that each album "has been transferred from the original source masters, allowing for the highest quality pressings possible". One presumes this has been done by Bob Ludwig and Springsteen's longtime engineer Toby Scott (who did all the previous reissues) but there is no mention of the much touted "Plangent Process playback system" or even the word 'remaster'.

It's also interesting to note that the record label haven't bothered with a box set this time around. The Album Collection Vol. 2,  came out as a box with the individual releases following six months later. Like that set there are also no CDs editions which contain these new transfers (although the Vol 2 batch were issued in Japan on the format).

All five albums are reissued on 21 February 2020.


The Rising 2LP
Side 1
1. Lonesome Day
2. Into the Fire
3. Waitin' On A Sunny Day
4. Nothing Man
Side 2
1. Countin' On a Miracle
2. Empty Sky
3. Worlds Apart
4. Let's Be Friends (Skin to Skin)
Side 3
1. Further On (Up the Road)
2. The Fuse
3. Mary's Place
Side 4
1. You're Missing
2. The Rising
3. Paradise
4. My City of Ruins
Devils & Dust 2LP vinyl
Side 1
1. Devils & Dust
2. All The Way Home
3. Reno
Side 2
1. Long Time Comin'
2. Black Cowboys
3. Maria's Bed
Side 3
1. Silver Palomino
2. Jesus Was an Only Son – The Song
3. Leah
Side 4
1. The Hitter
2. All I'm Thinkin' About
3. Matamoros Banks
18 Tracks 2LP vinyl
Side 1
1. Growin' Up
2. Seaside Bar Song
3. Rendezvous
4. Hearts Of Stone
5. Where The Bands Are
Side 2
1. Loose End
2. I Wanna Be With You
3. Born In the U.S.A.
4. My Love Will Not Let You Down
5. Lion's Den
Side 3
1. Pink Cadillac
2. Janey Don't You Lose Heart
3. Sad Eyes
4. Part Man, Part Monkey
5. Trouble River
Side 4
1. Brothers Under The Bridge
2. The Fever
3. The Promise
Live in New York City 3LP vinyl
Side 1
1. My Love Will Not Let You Down
2. Prove It All Night
3. Two Hearts
4. Atlantic City
Side 2
1. Mansion On the Hill
2. The River
3. Youngstown
Side 3
1. Murder Incorporated
2. Badlands
3. Out In the Street
4. Born to Run
Side 4
1. Tenth Avenue Freeze-Out
2. Land of Hope and Dreams
Side 5
1. American Skin (41 Shots)
2. Lost In the Flood
3. Born In the U.S.A.
4. Don't Look Back
Side 6
1. Jungleland
2. Ramrod
3. If I Should Fall Behind
Live in Dublin – 3LP vinyl
Side 1
1. Atlantic City
2. Old Dan Tucker
3. Eyes on the Prize
4. Jesse James
Side 2
1. Further On (Up the Road)
2. O Mary Don't You Weep
3. Erie Canal
4. If I Should Fall Behind
Side 3
1. My Oklahoma Home
2. Highway Patrolman
3. Mrs. McGrath
4. How Can a Poor Man Stand Such Times and Live
Side 4
1. Jacob's Ladder
2. Long Time Comin'
3. Open All Night
Side 5
1. Pay Me My Money Down
2. Growin' Up
3. When the Saints Go Marching In
4. This Little Light of Mine
5. American Land
Side 6
1. Blinded By The Light – The Song
2. Love of the Common People
3. We Shall Overcome