 News
Caught Beneath The Landslide: The Other Side of Britpop and the '90s
Lost tracks, hard to find versions, B-sides, remixes & more • 4CD or 2LP packages • 500-only limited editions with Kevin Cummins signed print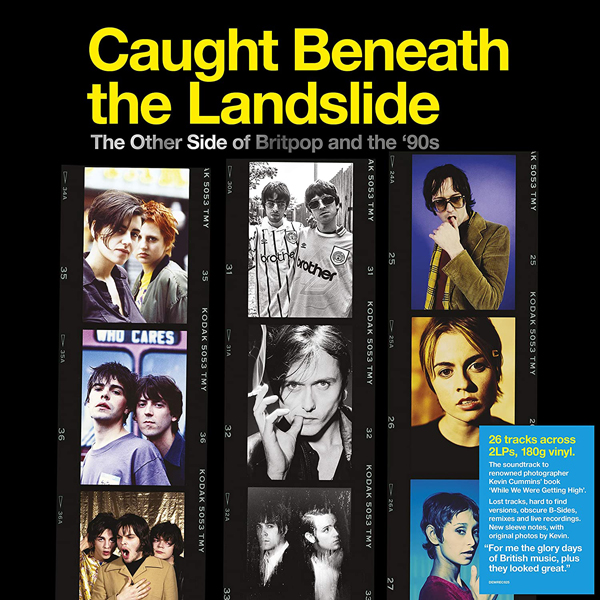 Demon Music will issue a new Britpop-era compilation curated by legendary music photographer Kevin Cummins called Caught Beneath The Landslide: The Other Side of Britpop and the '90s.

Available as a four-CD set or a 2LP vinyl package, Caught Beneath The Landslide offers classic tracks, lost gems, live and alternate versions, B-sides and single edits from the Britpop era. Acts include Oasis, Blur, Pulp, Suede, Elastica, Radiohead, Lush, Supergrass, Menswear, Gene, The Auteurs, The Charlatans, Echobelly, Ash and Sleeper.

Kevin Cummins was chief photographer at the NME for more than a decade and was witness to – and documented the musical and cultural phenomenon in the first half of the '90s, that was variously tagged 'Britpop' or 'Cool Britannia'.
His photo-book While We Were Getting High: Britpop and the '90s, was published last year and now Kevin has compiled this companion collection. The four-CD package contains 71 tracks, which the 2LP vinyl set offers 26.
In-depth sleeve notes explore the bands, their influences and features contributions from producer Stephen Street, DJ Steve Lamacq, Johnny Dean (Menswear), Math Priest (Dodgy), Kevin Miles and Matt James (Gene) and Jaime Harding (Marion) and contain original photos from Kevin's collection
Kevin Cummins says: "It was always my ambition to have a companion album to the book, a chance to enjoy the music of that era, music as timeless as the images. When I was selecting photos for my book, I took to Twitter to ask fans if certain bands could be considered part of the genre. Several musicians joined in to deny they were ever part of Britpop. The Manics were never considered part of the genre, nor Primal Scream, and much as I would have like to include them I chose not to. So it pleases me that we can feature both bands and many more in this collection, with its broader take on Indie music in '90s Britain."
The Amazon-exclusive 4CD set with signed print is now sold out, but Rough Trade in the UK have an exclusive 2LP black vinyl edition also with signed print (it's also available in the USA). This is also limited to 500, like the CD set. There is also a clear vinyl indies-only exclusive (also available at Rough Trade)
Caught Beneath The Landslide: The Other Side of Britpop and the '90s is out on 4 June 2021 (was 30 April).
Compare prices and pre-order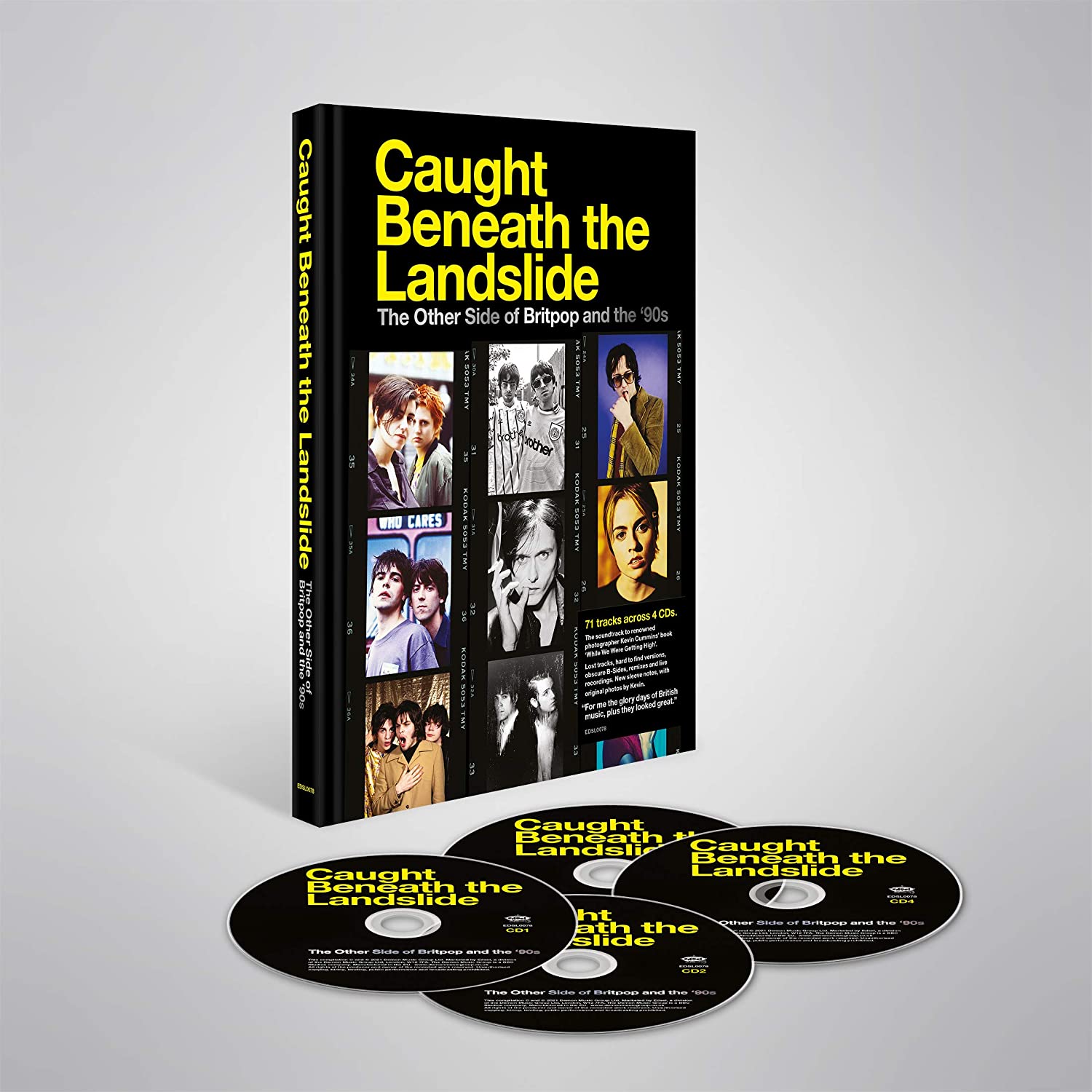 Various Artists
Caught Beneath The Landslide - standard 4CD set
Compare prices and pre-order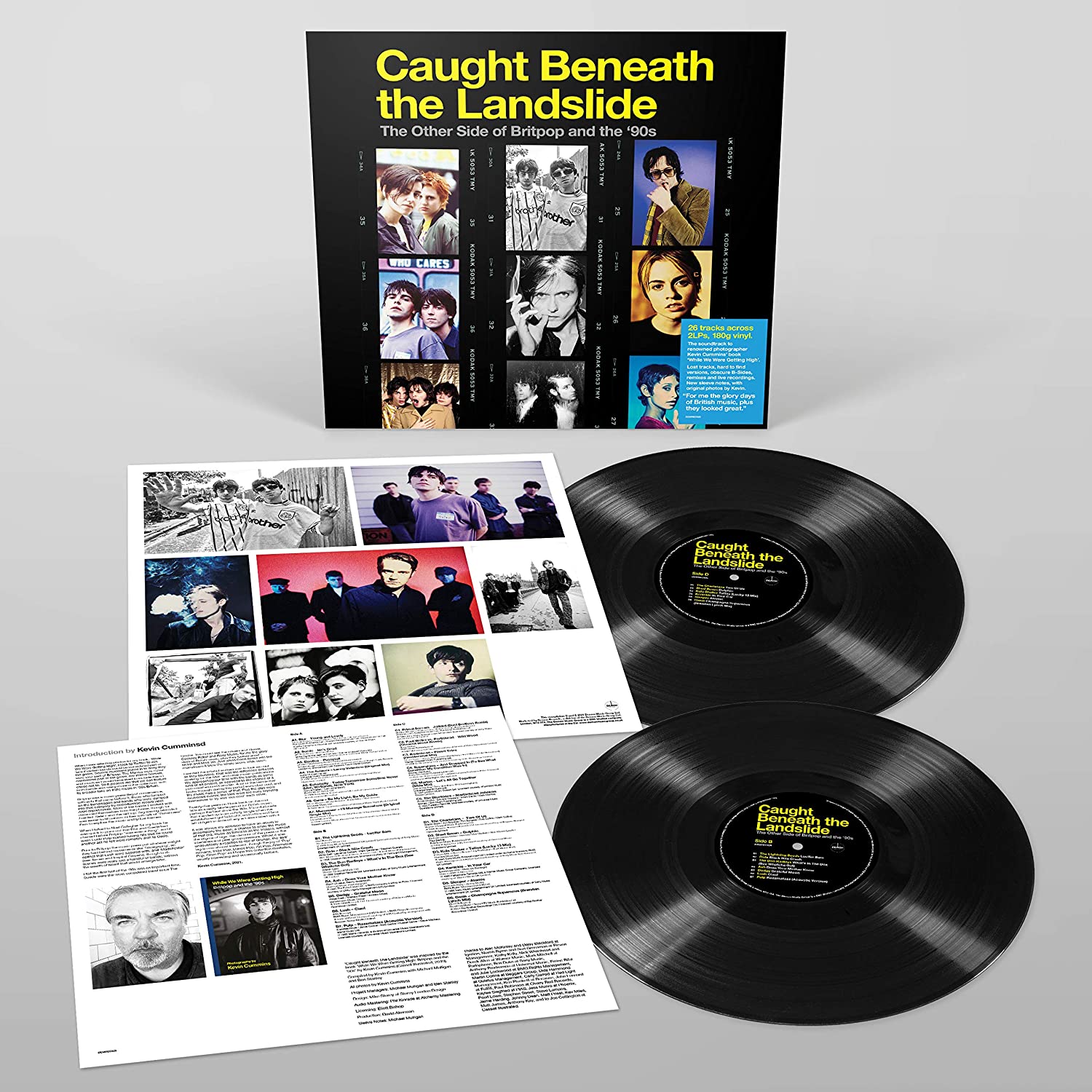 Various Artists
Caught Beneath The Landslide - 2LP black vinyl
Caught Beneath The Landslide 4CD set
CD 1
1. Blur – Young And Lovely / 2. Suede – He's Dead / 3. Huggy Bear – Her Jazz / 4. Cornershop – England's Dreaming / 5. The Fall – Lost In Music / 6. New Order – Regret (New Order Mix) / 7. James – Sometimes / 8. Elastica – Pussycat / 9. The Auteurs – Lenny Valentino (Original Mix) / 10. Saint Etienne – Pale Movie (Lemonentry Mix) / 11. Inspiral Carpets featuring Mark E. Smith – 'I Want You' / 12. Terrorvision – The Model / 13. S*M*A*S*H – Barrabas(Piloted) / 14. Shed Seven – Dolphin / 15. Catatonia – Whale / 16. Echobelly – Today, Tomorrow, Sometime, Never (Live, Wetlands, New York) / 17. Gene – Be My Light, Be My Guide / 18. Manic Street Preachers – The Drowners(Live)
CD2
1. Primal Scream – Jailbird (Dust Brothers Remix) / 2. Paul Weller vs. Portishead – Wild Wood (Sheared Wood Remix) / 3. Radiohead – Planet Telex (Hexidecimal Mix) / 4. The Cardigans – The Boys Are Back In Town / 5. Menswear – I'll Manage Somehow (Original Single Mix) / 6. Powder – 20th Century Gods / 7. The Lightning Seeds – Lucifer Sam / 8. Pulp – Razzmatazz (Acoustic Version) / 9. Duffy – London Girls / 11. Heavy Stereo 'Sleep Freak' / 12. Supergrass – Just Dropped In (To See What Condition My Condition Was In) / 13. Feeder – Rush (Live) / 15. Northern Uproar – Rollercoaster / 16. The Wannadies – Lee Remick / 17. Kula Shaker – Tattva (Lucky 13 Mix)
CD3
1. Marion – Let's All Go Together (Slide Mix) / 2. Dodgy – Grateful Moon / 3. Ride – Black NiteCrash / 4. Fluffy – Husband / 5. Lush – Ciao! / 6. Electrafixion – Sister Pain (Acoustic) / 7. Out Of My Hair – Safe Boy / 8. Spacehog – In The Meantime / 9. Space – Neighbourhood / 10. Whipping Boy – Fiction (Live – The Furnace In Dublin) / 11. Plastic Fantastic – Complimentary Electron / 12. Longpigs – On And On / 13. Dubstar – Elevator Song / 14. Jocasta – The Land Of Do As You Please / 15. Sleeper – Atomic / 16. Ash – Does Your Mother Know / 17. Ocean Colour Scene – Travellers Tune (Original Version) / 18. The Supernaturals – Smile
CD4
1. Super Furry Animals – Something For The Weekend (Rockfield Version) / 2. Silver Sun – There Will Never Be Another Me / 3. The Boo Radleys – What's In The Box (See Whatcha Got) / 4. The Bluetones – Marblehead Johnson / 5. The Charlatans – The Two Of Us / 6. Me Me Me- Hanging Around / 7. Shampoo – Cars / 8. Babybird- You're Gorgeous Too / 9. Salad – I Want You / 10. Bis – Wee Love / 11. Kenickie- In Your Car / 12. Speedy – Boy Wonder / 13. Reef – YerOld (Young Version) / 14. Electronic – All That I Need / 15. 60Ft Dolls – Pretty Horses / 16. These Animal Men – Wichita Lineman / 17. The Aloof – One Night Stand (7" Version) / 18. Oasis – Champagne Supernova (Brendan Lynch Mix)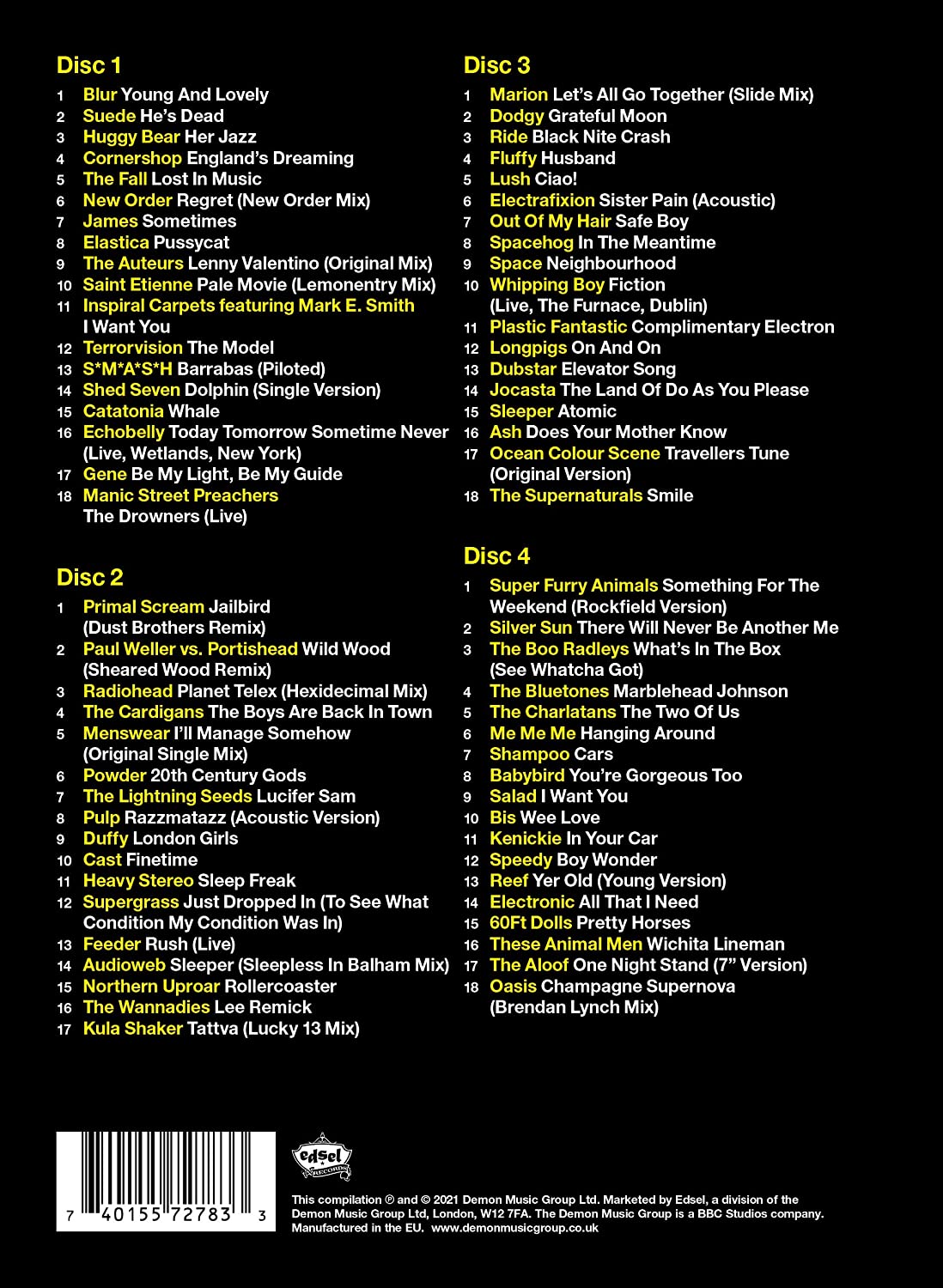 Caught Beneath The Landslide 2LP vinyl