 News
Chris Rea / Era 1: Rarities 1978-1984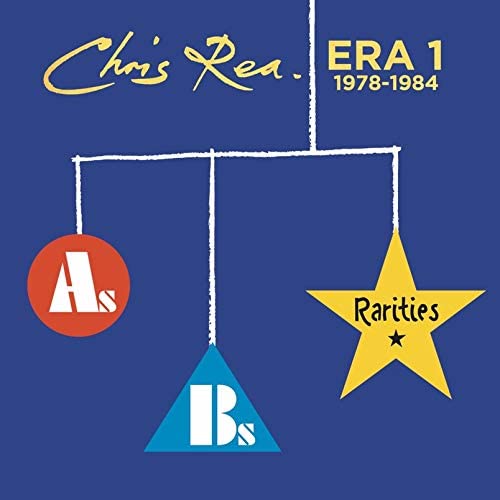 3CD early years package
ERA 1 (As, Bs and Rarities 1978-1984) is a new Chris Rea rarities compilation that brings together his early work in a triple-CD package.

The set starts with an edited version of Rea's first big hit 'Fool (If You Think It's Over)' from his 1978 debut solo album Whatever Happened to Benny Santini? and then works its way through B-sides, foreign language variants and different mixes.
Chris Rea issued six studio album during this period including 1984's Wired To The Moon from which the artwork for this new compilation is derived.
It's worth pointing out that CD 2 of this set features last year's Rhino-exclusive One Fine Day album in its entirety. So if you are kicking yourself for not having acquired that, then this is good news.
ERA 1 (As, Bs and Rarities 1978 – 1984) will be released on 20 November 2020 (was 6 November). A series of 2CD 'Rea-issues' were released last year.
Compare prices and pre-order
Chris Rea
Era 1 rarities - 3CD set
CD 1
1-Fool (If You Think It's Over)
2-Midnight Love
3-Voy A Volverme Loco (Fool If You Think It's Over) (Spanish Language Version)
4-Whatever Happened To Benny Santini?
5-Three Angels
6- Diamonds
7-Cleveland Calling
8-Raincoat And A Rose
9-No Qualifications
10-Tennis
11-If You Really Love Me
12-Dancing Girls
13-Friends Across The Water
14-Ya No Te Veo Nunca Mas (Since I Don't See You Anymore)
(Spanish Language Version)
15-Loving You
16-Let Me Be The One
17- Diamonds (12" version) 
CD 2
1-Do You Still Dream
(Original recording of song. First issued on 'One Fine Day' LP in 2019)

2-Loving You
(Original recording of song. First issued on 'One Fine Day' LP in 2019)

3-One Fine Day
(Original recording of the song (in 1981). First issued on Soft Top, Hard Shoulder single in 1993

4-One Sweet And Tender Touch
(Original recording of the song (in 1981). First issued on Que Sera single 1988

5-If I Ever Break Free
(Original recording of the song (in 1981). First issued on 'One Fine Day' LP in 2019.

6-Sierra Sierra
(Original recording of song (in 1981). First issued on 'One Fine Day' LP in 2019.

7-Members Only
(Original recording of song (in 1981). First issued on 'One Fine Day' LP in 2019.

8-Let Me Be The One
(Original recording of the song (in 1981). First issued on 'One Fine Day' LP in 2019.

9-One Night With You
(Original recording of the song (in 1981). First issued on 'One Fine Day' LP in 2019.

10-Every Beat Of My Heart

11-Don't Look

12-Let It Loose

13-Urban Samurai

14- Let It Loose(special extended remix)

15-Sierra Sierra (5.38)

16-I Can Hear Your Heartbeat

17-From Love To Love

18-I Can Hear Your Heartbeat (special extended mix)
CD 3
1-Love's Strange Ways
2-Smile
3-I Don't Know What It Is But I Love It
4-Mystery Man
5-I Don't Know What It Is But I Love It
6-Bombollini (6.10)
7-True Love (3.40)
8- Touche D'Amour (special remix)
9-Ace Of Hearts (special remix)
10-Excerpts from 'I Can Hear Your Heartbeat' recorded live at the Montreux Jazz Festival
11-Auf Immer Und Ewig
12- Bitter Sweet
13- Touche D'Amour (instrumental)
14-Touche d'amour (Special extended remix)
15-Ace Of Hearts (special remix)
16-Special Edition 12" Medley
(Let It Loose/I Can Hear Your Heartbeat/I Don't Know What It Is But I Love It)