 News
Chris Rea / The Rea-issues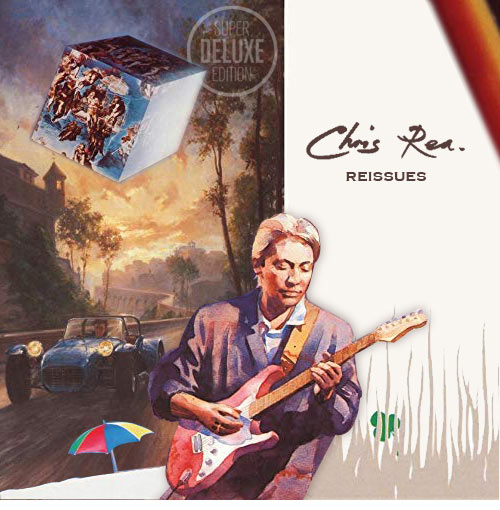 Cheery Yorkshire bluesman's hit albums set for 2CD deluxe reissues
Chris Rea's eighties and early nineties gear has been expanded and remastered for release this October.

The albums – Shamrock Diaries (1985), On the Beach (1986), Dancing With Strangers (1987), The Road to Hell (1989) and Auberge (1991) span Rea's commercial peak and are to be reissued as deluxe double CD sets. They will also be accessorised with period appropriate 'additional recordings' such as remixes, non-album and live tracks, all newly remastered.
And that's not all, Chris has also announced the release of a limited edition album. Entitled One Fine Day, the album was originally recorded in 1980 at Chipping Norton Studios and was produced by Rea himself. Never officially released as a single body of work, this limited run of 1000 on vinyl and CD brings together this collection of songs for the first time. Some of the tracks have never been released before whereas other re-recorded versions have appeared on various albums and as B-sides. Chris even did the art himself a few years back and selected it to be used as a sleeve on this occasion. One Fine Day is exclusively available via Rhino's site (although you have to buy it as a CD+LP bundle).
 
One Fine Day is (at the moment) only available via Rhino's store as a CD+LP bundle
Although a very well respected songwriter with such numbers as his 1978 top 30 debut 'Fool (If You Think It's Over)' becoming bigger hits for the likes of lungsmith Elkie Brooks, Chris' own career finally started happening with the release of 1985's Top 26 smash 'Stainsby Girls', and in 1987 with the radio staple 'Let's Dance' and the number two album Dancing With Strangers.
It was an unexpected turn that shot him into even bigger fame, when certain DJs were coming back from Ibiza in 1988 and claiming that his 'On The Beach' tune had gone down a (quiet) storm with the Balearic beat set, and suggested that his music was best heard while on lots of drugs watching a sunrise. Before you knew it, 'On The Beach' had been tastefully reswizzled and 1988's round-up entitled 'New Light Through Old Windows' reminded people that Chris was actually amazing, spent over a year in the charts as well as bringing the festive classic 'Driving Home For Christmas' into being too.
Cars and general motorway blues were the continuing subject matter of his next two albums, 1989's The Road to Hell and 1991's Auberge – both topping the album charts and creating Rea's peak of success as a bonus. While he would continue to be hugely successful with a few more chart successes, he was increasingly wary of playing the pop game and looking like someone who'd slept in his car among the shinier turns on Top of the Pops.
By the late nineties, he stepped back and followed his own blues muse and has carried on releasing and touring bar a brief spell of illness including a recent stroke in 2016, but no doubt gets a tidy PRS bonus with the annual airplay outings 'Driving Home…' becoming ever more popular after 30 years.
Each of the reissues come with new essays and exclusive artwork and imagery. Chris' online presence will also be getting a reboot with updated videos and the like on YouTube.
Shamrock Diaries, On the Beach, Dancing With Strangers, The Road to Hell, Auberge and One Fine Day are all released on 18 October 2019.
One Fine Day
Vinyl LP
Side One
'Do You Still Dream' – The original recording of the song. Re-recorded for the 1982 'Chris Rea' LP
'Loving You' – The original recording of the song. Re-recorded for the 1982 'Chris Rea' LP
'One Fine Day' – Released as the b-side on 'Soft Top, Hard Shoulder' single in 1993
'One Sweet And Tender Touch' – The original recording of the song later issued on the 1988 single Que Sera. It was re-recorded for the 1982 'Chris Rea' LP
Side Two
'If I Ever Break Free' – A previously unreleased song
'Sierra Sierra' – Originally issued as a B side on 12" version of Let It Loose in 1983
'Members Only' – A previously unreleased song
'Let Me Be The One' – First appeared as a B side on the1981 single 'Loving You'
'One Night With You' – A previously unreleased song
CD
'Do You Still Dream'
'Loving You'
'One Fine Day'
'One Sweet And Tender Touch'
'If I Ever Break Free'
'Sierra Sierra'
'Members Only'
'Let Me Be The One'
'One Night With You'
Shamrock Diaries / Remastered 2CD deluxe
CD 1   Original album
Steel River (2019 Remaster)
Stainsby Girls (2019 Remaster)
Chisel Hill (2019 Remaster)
Josephine (2019 Remaster)
One Golden Rule (2019 Remaster)
All Summer Long (2019 Remaster)
Stone (2019 Remaster)
Shamrock Diaries (2019 Remaster)
Love Turns To Lies (2019 Remaster)
Hired Gun (2019 Remaster)
CD 2  Shamrock Diaries Associated Recordings
Dancing Shoes (2019 Remaster) – from Josephine 7″ single / 12″ single
Stainsby Girls (Sax mix) [2019 Remaster] – from Stainsby Girls 12″ single
Sunrise (2019 Remaster) – from Stainsby Girls EP
And When She Smiles (2019 Remaster) – Stainsby Girls 7″ single
Shamrock Diaries (2019 Remaster) – from New Light Through Old Windows
September Blue (2019 Remaster) – from Stainsby Girls 12″ single
Josephine (2019 Remaster) – from Josephine 12″ single
Everytime It Rains (2019 Remaster) – from Josephine 12″ single
Steel River (2019 Remaster) – from New Light Through Old Windows
Stainsby Girls (2019 Remaster) – from New Light Through Old Windows
Shamrock Diaries (Live at Montreux '86) [2019 Remaster] – Previously unreleased (?)
One Golden Rule (Live at Hammersmith Odeon, May '86) [2019 Remaster] – from The Beach 2×7″ single
Midnight Blue (Live at Hammersmith Odeon, May '86) [2019 Remaster] – from On The Beach 2×7″ single
On The Beach / Remastered 2CD deluxe
CD 1  Original album
On The Beach (2019 Remaster)
Little Blonde Plaits (2019 Remaster)
Giverny (2019 Remaster)
Lucky Day (2019 Remaster)
Just Passing Through (2019 Remaster)
It's All Gone (2019 Remaster)
Hello Friend (2019 Remaster)
Two Roads (2019 Remaster)
Light Of Hope (2019 Remaster)
Auf Immer Und Ewig (2019 Remaster)
CD 2   On The Beach Additional Recordings
Look Out For Me (2019 Remaster) – from It's All Gone EP
Let's Dance (2019 Remaster) – from It's All Gone EP
Hello Friend (Re-record) [2019 Remaster] – from Hello Friend single
On The Beach (Special Remix) [2019 Remaster] – from On The Beach 7″ single
If Anybody Asks You (2019 Remaster) – from On The Beach 7″ & 12″ single
Freeway (2019 Remaster) – from On The Beach (cd)
Bless Them All (2019 Remaster) – from On The Beach (cd) / It's All Gone EP
Crack That Mould (2019 Remaster) – from On The Beach (cd) / It's All Gone EP
On the Beach (Special Extended Remix) [2019 Remaster] – from On The Beach 12″ single
It's All Gone (Live at Montreux, 1986) [2019 Remaster] – from Hello Friend 2×7″ single
Steel River (Live at Montreux) [2019 Remaster] – from Hello Friend 2×7″ single
It's All Gone (From "New Light Through Old Windows") [2019 Remaster] – from It's All Gone EP
Driving Home For Christmas (2019 Remaster) – from Joys Of Christmas cd-single
Dancing With Strangers / Remastered 2CD deluxe
CD 1  Original album
Joys Of Christmas (2019 Remaster)
I Can't Dance To That (2019 Remaster)
Windy Town (2019 Remaster)
Gonna Buy A Hat (2019 Remaster)
Curse Of The Traveller (2019 Remaster)
Let's Dance (2019 Remaster)
Que Sera (2019 Remaster)
Josie's Tune (2019 Remaster)
Loving You Again (2019 Remaster)
That Girl Of Mine (2019 Remaster)
September Blue (2019 Remaster)
CD 2   Dancing With Strangers Associated Recordings
Yes I Do (2019 Remaster) – from Joys Of Christmas cd-single
Que Sera (Single Version) [Re-Recorded '88] [2019 Remaster] – from Que Sera cd-single (UK)
Se Sequi (2019 Remaster) – from Que Sera cd-single
I'm Taking The Day Out (2019 Remaster) – On The Beach (Summer '88) cd-single
I Can Hear Your Heartbeat (Extended Mix) [2019 Remaster] – from I Can Hear Your Heartbeat cd-single
Loving You Again (Live Version) [2019 Remaster] – from I Can Hear Your Heartbeat cd-single
Danielle's Breakfast (2019 Remaster) – from Loving You Again single
On The Beach (Summer '88) [2019 Remaster] – from On The Beach (Summer '88) cd-single
Rudolphs Rotor Arm – Previously unreleased
Smile (2019 Remaster) – from Love's Strange Ways single (July 1983) / Ace Of Hearts 12″ (1984)
I Don't Care Anymore (2019 Remaster) – from Let's Dance single
Que Sera (Down Under Mix) [2019 Remaster] – from Que Sera cd-single (Germany)
Donahue's Broken Wheel (2019 Remaster) – from Dancing with Strangers (cd) / Loving You Again single
Let's Dance (Remix) [2019 Remaster] – Let's Dance cd-single
Josephine (2019 Remaster) – from Let's Dance cd-single
Footsteps In The Snow (2019 Remaster) – from Driving Home For Christmas – The Christmas EP
Driving Home For Christmas (2019 Remaster) – from New Light Through Old Windows
The Road To Hell / Remastered 2CD deluxe
CD 1  Original Album
The Road to Hell, Part I (2019 Remaster)
The Road to Hell, Part II (2019 Remaster)
You Must Be Evil (2019 Remaster)
Texas (2019 Remaster)
Looking For A Rainbow (2019 Remaster)
Your Warm And Tender Love (2019 Remaster)
Daytona (2019 Remaster)
That's What They Always Say (2019 Remaster)
I Just Wanna Be With You (2019 Remaster)
Tell Me There's A Heaven (2019 Remaster)
CD 2   The Road To Hell Associated Recordings
He Should Know Better (2019 Remaster) – from The Road To Hell cd-single
That's What They Always Say (Rainbow mix) [2019 Remaster] – from That's What They Always Say cd-single
1975 (2019 Remaster) – That's What They Always Say cd-single
The Road To Hell The Road to Hell (Parts I & II) [Live at Wembley Arena, March 1990] [2019 Remaster] – from Texas 12″
Working on It (Live at Wembley Arena, March 1990) [2019 Remaster] – from Texas cd-single
Let's Dance (Live at Wembley Arena, March 1990) [2019 Remaster] – from Texas cd-single
Daytona (Live at the NEC, Birmingham, November 1991) [2019 Remaster] – from Nothing To Fear CD1
Working on It (Michael Brauer Extended Mix) [2019 Remaster] – from Working On It cd-single
Josephine (2019 Remaster) – from New Light Through Old Windows
Let's Dance (2019 Remaster) – from New Light Through Old Windows
You Must Be Evil (Live at Stuttgart, 1991) [2019 Remaster] – from God's Great Banana Skin CD2
I Can Hear Your Heartbeat (2019 Remaster) – from New Light Through Old Windows
Working On It (2019 Remaster) – from Working On It cd-single
Auberge / Remastered 2CD deluxe
CD1   Original Album
Auberge (2019 Remaster)
Gone Fishing (2019 Remaster)
You're Not A Number (2019 Remaster)
Heaven (2019 Remaster)
Set Me Free (2019 Remaster)
Red Shoes (2019 Remaster)
Sing A Song Of Love to Me (2019 Remaster)
Every Second Counts (2019 Remaster)
Looking For The summer (2019 Remaster)
And You My Love (2019 Remaster)
The Mention Of Your Name (2019 Remaster)
CD 2  Auberge Associated Recordings
Winter Song (2019 Remaster) – from Winter Song EP
Footprints In The Snow (2019 Remaster) – from Winter Song EP
Looking For Summer (12″ Remix) [2019 Remaster] – from Looking For The Summer cd-single
Teach Me To Dance (2019 Remaster) – from Heaven 12″
True To You (2019 Remaster) – from Winter Song EP
Josephine  (2019 Remaster) – from Fool (If You Think It's Over) – The Definitive Greatest Hits (Germany 2008)
Six Up (B Side) [2019 Remaster] – from Looking For The Summer cd-single
Working On It (Live at NEC Birmingham 1991) [2019 Remaster] – from Nothing To Fear CD2
The Road To Hell (Live at NEC Birmingham 1991) [2019 Remaster] – from Nothing To Fear CD2
Theme From The Pantile Journal (2019 Remaster) – from Heaven single
Footprints In The Snow (Live at Paris, 1991) [2019 Remaster] – from God's Great Banana Skin CD1
On The Beach (Live in Paris 1991) [2019 Remaster] – from Nothing To Fear CD1
Just Passing Through (Live in Paris 1991) [2019 Remaster] – from God's Great Banana Skin CD1
Hudson's Dream (2019 Remaster) – from Auberge 12″
Auberge (Single Version) [2019 Remaster] – from Auberge single