 News
Clannad / In A Lifetime anthology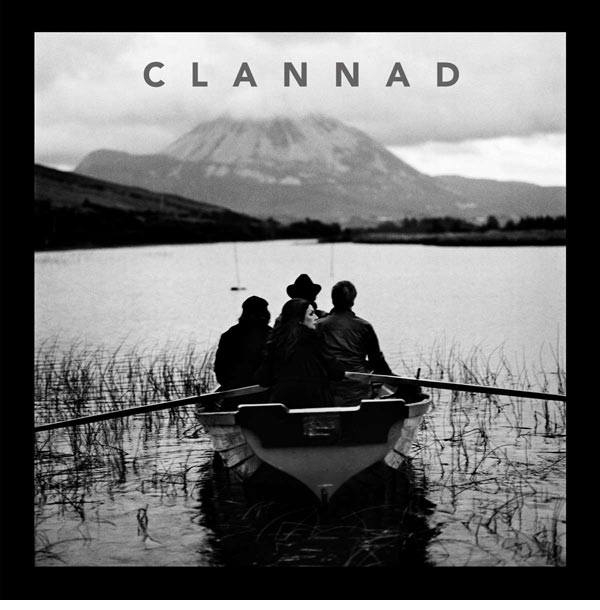 Next month, BMG will release In A Lifetime a new Clannad anthology available across various physical formats.

Compiled in conjunction with Clannad band members, In A Lifetime includes all the hits and two new songs 'A Celtic Dream' and 'Who Knows (Where The Time Goes)' both produced by Trevor Horn.

'In A Lifetime' super deluxe edition box set
This is available as a 2CD set, a 2LP coloured vinyl and a sizeable super deluxe edition box set that features four CDs, three vinyl LPs, a seven-inch record, a book, postcards and poster. The extra vinyl record in this set is a the 1985 album Macalla.
The release of this anthology coincides with Clannad's farewell UK tour which will kicks off in York on 3 March and includes a St Patrick's Day date at London's Palladium.
In A Lifetime will be released on 13 March 2020.
Compare prices and pre-order
Clannad
In A Lifetime - super deluxe box set
Compare prices and pre-order
Clannad
In A Lifetime - 2LP coloured vinyl
Compare prices and pre-order
Clannad
In A Lifetime - 2CD set
In A Lifetime – 4CD+3LP+7″ + Book + postcards + postcard super deluxe
CD 1
1. Thíos Cois Na Trá Domh
2. Siúbhán Ní Dhuibhir
3. An Mhaighdean Mara
4. An tOileán Úr
5. Níl Sé Ina Lá
6. Eleanor Plunkett
7. Coinleach Ghlas An Fhómhair
8. Gaoth Barra Na dTonn
9. Teidhir Abhaile Riú
10. Dúlamán
11. Two Sisters
12. Éirigh Suas, a Stóirín
13. Siúil, a Rúin
14. dTigeas a Damhsa
15. Crúiscín Lán
16. Ar a Ghabháil 'n a 'Chuain Damh
CD 2
1. The Last Rose of Summer
2. Lá Coimhthíoch Fán dTuath (A Strange Day in the Countryside)
3. Crann Úll
4. Na Buachaillí Álainn
5. Mheall sí lena glórthai mé
6. Ni lá na gaoithe lá na scoilb?
7. Mhórag's na horo Gheallaidh
8. Theme from Harry's Game
9. I See Red
10. Newgrange
11. Tower Hill
12. Thíos Fá'n Chósta
13. Robin (The Hooded Man)
14. Herne
15. Together We
16. Lady Marian
17. Strange Land
18. Caislean Oir
19. Closer to Your Heart
20. In a Lifetime (with Bono)
CD 3
1. Almost Seems (Too Late to Turn)
2. Journey's End
3. Second Nature
4. White Fool
5. Something to Believe In
6. Many Roads
7. Atlantic Realm
8. Ocean of Light
9. Voyager
10. A Dream in the Night (The Angel & the Soldier Boy)
11. Hourglass
12. Rí Na Cruinne
13. In Fortune's Hand
14. Poison Glen
15. Why Worry?
16. Na Laethe Bhí
17. Mystery Game
CD 4
1. I Will Find You
2. Sunset Dreams
3. Crói Cróga
4. Seanchas
5. A Bridge (That Carries Us Over)
6. Farewell Love
7. An Gleann
8. Fadó
9. A Mhuirnin Ó
10. The Bridge of Tears
11. Down By the Sally Gardens
12. Vellum
13. Rhapsody na gCrann
14. Brave Enough
15. A Song in Your Heart
16. A Celtic Dream
17. Who Knows (where the time goes)
2LP

Side A
1. An Mhaighdean Mhara
2. Eleanor Plunkett
3. Dúlamán
4. The Last Rose of Summer
5. Crann Úll
Side B
1. Mheall sí lena glórthai mé
2. Theme from Harry's Game
3. Robin (The Hooded Man)
4. In a Lifetime
5. Second Nature
6. Atlantic Realm
Side C
1. A Dream in the Night (The Angel & the Soldier Boy)
2. Hourglass
3. Poison Glen
4. I Will Find You
Side D
1. A Bridge (That Carries Us Over)
2. A Mhuirnin Ó
3. Rhapsody na gCrann
4. A Celtic Dream
5. Who Knows (where the time goes)
Macalla LP
Side A
1. Caislean Oir
2. The Wild Cry
3. Closer to Your Heart
4. In a Lifetime
5. Almost Seems (Too Late to Turn)
Side B
1. Indoor
2. Buachaill Ón Éirne
3. Blackstairs
4. Journey's End
5. Northern Skyline
7'' Single

Side A
Dhéanainn Súgradh
Side B
Eleanor Plunkett
In A Lifetime – 2CD set
CD1
1. Thíos Cois Na Trá Domh
2. An Mhaighdean Mhara
3. Eleanor Plunkett
4. Coinleach Ghlas An Fhómhair
5. Dúlamán
6. Two Sisters
7. dTigeas a Damhsa
8. The Last Rose Of Summer
9. Ar a Ghabháil 'n a 'Chuain Damh
10. Crann Úl
11. Mheall Sí Lena Glórthaí Mé
12. Mhórag's Na Horo Gheallaidh
13. Theme From Harry's Game
14. Newgrange
15. Robin (The Hooded Man)
16. Strange Land
17. Closer To Your Heart
18. In A Lifetime (with Bono)
19. Almost Seems (Too Late To Turn)
20. White Fool
21. Something To Believe In
CD 2
1. Atlantic Realm
2. Voyager
3. A Dream In The Night (The Angel & The Soldier Boy)
4. Hourglass
5. Rí Na Cruinne
6. Poison Glen
7. Na Laethe Bhí
8. I Will Find You (Theme From "The Last Of The Mohicans")
9. Croí Cróga
10. A Bridge (That Carries Us Over)
11. A Mhuirnín Ó
12. The Bridge Of Tears
13. Vellum
14. Brave Enough
15. A Celtic Dream
16. Who Knows (where the time goes)
In A Lifetime 2LP coloured vinyl
Side 1
1. An Mhaighdean Mhara
2. Eleanor Plunkett
3. Dulaman
4. The Last Rose of Summer
5. Crann Úll
Side 2
1. Mheall si lena glorthai me
2. Theme from Harry's Game (2003 – Remaster)
3. Robin (The Hooded Man) [2003 – Remaster]
4. In A Lifetime (2003 – Remaster) – Clannad & Bono
5. Second Nature (2003 Remastered Version)
6. Atlantic Realm
Side 3
1. A Dream in the Night (The Angel & the Soldier Boy)
2. Hourglass
3. Poison Glen (2003 – Remaster)
4. I Will Find You (Theme from "The Last of the Mohicans")
Side 4
1. A Bridge (That Carries Us Over) [2004 – Remaster]
2. A Mhuirnin Ó (2004 – Remaster)
3. Rhapsody na gCrann
4. A Celtic Dream
5. Who Knows (Where The Time Goes)