 News
Classix Nouveaux / The Liberty Recordings 1981-1983
Four-CD set • Expanded versions of four albums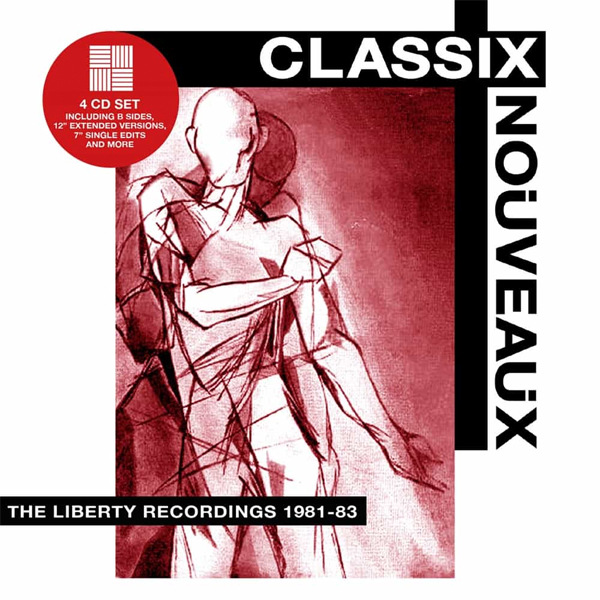 The Liberty Recordings 1981-1983 is a forthcoming four-CD box set compiling the output of British new wave band Classix Nouveau.

This set contains the band's 1981 debut Night People, La vérité from 1982 – featuring the UK hit single 'Is It A Dream' – and the final album Secret, which was produced by Alex Sadkin in 1983 (the year the same producer also worked on Duran Duran's Seven and the Ragged Tiger).
There was actually an international alternative of the Night People debut, simply titled Classix Nouveaux and that also features in this box set (with bonus tracks) which explains why The Liberty Years is a four-CD, four-album set.
In total, this package offers 67 tracks, with 25 of those bonus cuts make up of 12-inch versions, seven-inch mixes, B-sides, instrumentals and more.
A 20-page booklet features a full UK discography and a new interview from frontman Sal Solo.
The Liberty Recordings 1981-1983 will be released on 26 February 2021, via Cherry Red.
Compare prices and pre-order
Classix Nouveaux
The Liberty Recordings 1981-1983 - four CD set
CD 1: CLASSIX NOUVEAUX
1. FOREWARD
2. GUILTY
3. NASTY LITTLE GREEN MEN
4. NO SYMPATHY
5. INSIDE OUTSIDE
6. 623
7. ROBOTS DANCE
8. EVERY HOME
9. TOKYO
10.RUN AWAY
11.THE PROTECTOR OF NIGHT
BONUS TRACKS
12.TEST TUBE BABIES
13.NIGHT PEOPLE
14.ROBOTS DANCE (NEW VERSION)
CD 2: NIGHT PEOPLE
1. FOREWARD
2. GUILTY
3. RUN AWAY
4. NO SYMPATHY, NO VIOLINS
5. INSIDE OUTSIDE
6. 623
7. EVERY HOME SHOULD HAVE ONE
8. TOKYO
9. OR A MOVIE
10. SOLDIER
11. THE PROTECTOR OF NIGHT
BONUS TRACKS
12. INSIDE OUTSIDE (12" VERSION)
13. WE DON'T BITE (COME A LITTLE CLOSER)
14. INSIDE OUTSIDE (7" VERSION)
15. OLD WORLD FOR SALE
CD 3: LA VERITÉ
1. FOREWARD
2. IS IT A DREAM
3. TO BELIEVE
4. BECAUSE YOU'RE YOUNG
5. SIX TO EIGHT
6. LA VERITÉ
7. NEVER AGAIN
8. IT'S ALL OVER
9. 1999
10.I WILL RETURN
11.FINALE
BONUS TRACKS
12.NEVER AGAIN (THE DAYS TIME ERASED) (SHORT VERSION)
13.627
14.NEVER AGAIN (THE DAYS TIME ERASED) (LONG VERSION)
15.IS IT A DREAM (7" VERSION)
16.WHERE TO GO
17.BECAUSE YOU'RE YOUNG (12" VERSION)
18.BECAUSE YOU'RE YOUNG (EDIT)
19.IT'S NOT TOO LATE
20.IS IT A DREAM (EDIT)
21.CHEMIN CHAGRIN
CD 4: SECRET
1. ALL AROUND THE WORLD
2. MANITOU
3. HEART FROM THE START
4. THE FIRE INSIDE
5. FOREVER AND A DAY
6. NEVER NEVER COMES
7. THE UNLOVED
8. WHEN THEY ALL HAVE GONE
9. NO OTHER WAY
BONUS TRACKS
10.THE END… OR THE BEGINNING?
11.THE END… OR THE BEGINNING? (LONG VERSION)
12.THE END… OR THE BEGINNING? (INSTRUMENTAL VERSION)
13.SWITCH (7" VERSION)
14.FOREVER AND A DAY (EXTENDED VERSION)
15.SWITCH (FULL LENGTH VERSION)
16.MANITOU (EXTENDED VERSION)
17.MANITOU (INSTRUMENTAL VERSION)