 News
Curiosity Killed The Cat / Misfits: The Mercury Years 1986-1990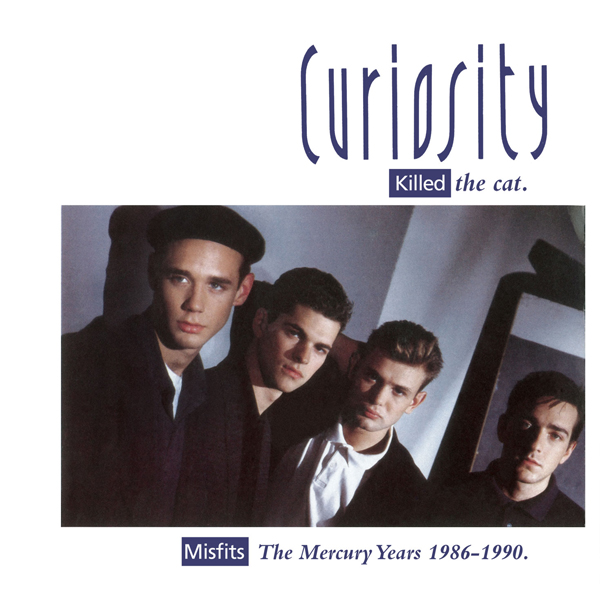 Misfits: The Mercury Years 1986-1990 is a new four-CD box set featuring eighties British pop band Curiosity Killed The Cat. Two and a half years in the making, this set has been compiled by SDE Editor Paul Sinclair and has been put together with the cooperation of the band. It will be released in September.

Curiosity Killed The Cat were fronted by the charismatic Ben Volpeliere-Pierrot and they enjoyed a number one album and a string of hits in the late 1980s, including Down To Earth, Ordinary Day, Name and Number and Misfit. The promo video for the latter was memorably filmed by – and co-starred – Andy Warhol, who took a shine to the band and invited them over to New York in 1986.
This new box set is a comprehensive exploration of the band's classic era with Mercury Records and includes newly expanded versions of both 1987's Keep Your Distance and Getahead (from 1989), with two further CDs of rare/unreleased remixes along with unheard songs and demos.
In total, 20 tracks are issued on CD for the very first time and amongst the 12 previously unheard demos are five songs never officially released. To top things off, this set includes two unheard mixes of the band's biggest hit Down To Earth that were discovered in the archive while putting this set together!
The Mercury Years features newly mastered audio. All the demos were from the original quarter inch tapes, and the audio from the rest of this box set comes from various sources, including more quarter-inch reels, half-inch tapes, Umatics and similar. Most of the tapes were baked and transferred at Abbey Road Studios.
This package includes a 24-page booklet with notes by Record Collector Editor, Paul Lester, featuring a new interview with the band's Mig Drummond.
You won't be disappointed with this project, which has been put together with the same care and attention of previous SDE-curated reissues from the last few years such as the Sam Brown The A&M Years 1988-1990 five-disc box, the two-CD deluxe of It's Immaterial's Life's Hard And Then You Die and Paul Young's Tomb of Memories: The CBS Years 1982-1994 (four CD set).
Curiosity Killed The Cat's Misfits: The Mercury Years 1986-1990 will be released on 21 September 2018 via Caroline International.
Misfits: The Mercury Years 1986-1990
CD 1: Keep Your Distance + bonus tracks
1. Misfit
2. Down To Earth
3. Free
4. Know What You Know
5. Curiosity Killed The Cat
6. Ordinary Day
7.Mile High
8. Red Lights
9. Shallow Memory
10. Misfit (extended mix)
11. Man*
12. Corruption (dub)*
13. Down To Earth (extended mix)
14. Ordinary Day (extraordinary mix)
15. Bullet
16. Free (dub master)*
* Previously unreleased on CD
CD 2: Getahead + bonus tracks
1. Name and Number
2. Do Your Believin'
3. Cascade
4. First Place
5. We Just Gotta Do it (For Us)
6. Go Go Ahead
7. Trees Don't Grown On Money
8. Treat You So Well
9. Who Are You
10. Security Lady
11. Something New, Something Blue
12. Keep On Trying
13. Name and Number (extended mix)*
14. Ball and Chain
15. Name and Number (club sandwich mix)*
16. Misfit (Jazzy Dub Remix '89)
17. Name and Number (a schizo version)*
18. Name and Number (jazzy dub version)*
* Previously unreleased on CD
CD 3: Remixes, Edits & Dubs
1. Down To Earth (7" version)
2. Ordinary Day (ordinary version)*
3. Misfit (extended mix)*
4. Ordinary Day (extended version)*
5. Mile High (mile long mix)
6. Name and Number (version)*
7. Ordinary Day (version)
8. Misfit (dub)*
9. Down To Earth (instrumental)*
10. Ordinary Day (dub mix)*
11. Misfit (morales extended mix)*
12. Free (instrumental)*
13. Misfit (dub mix)*
14. Cascade (dub mix)**
* Previously unreleased on CD
** Previously unreleased
CD 4: Remixes, Demos & Outtakes
1. Free (free style )
2. Name and Number (hanging on person to person)
3. Free (free form)*
4. Misfit (club mix)*
5. Free (solo style)*
6. Misfit (demo)**
7. Wag (Know What You Know) (demo)**
8. Curiosity Killed The Cat (demo)**
9. Ordinary Day (demo)**
10. Mile High (demo)**
11. Red Lights (demo)**
12. Shallow Memory (demo)**
13. Easy (demo)**
14. Now That You've Gone (demo)**
15. Why (demo)**
16. Out Of Curiosity (demo)**
17. Hidden Informer (demo)**
18. Down To Earth (remix)**
19. Down To Earth (instrumental remix)**
** Previously unreleased
* Previously unreleased on CD