 News
Curved Air / The Albums 1970-1973
Remastered albums on CD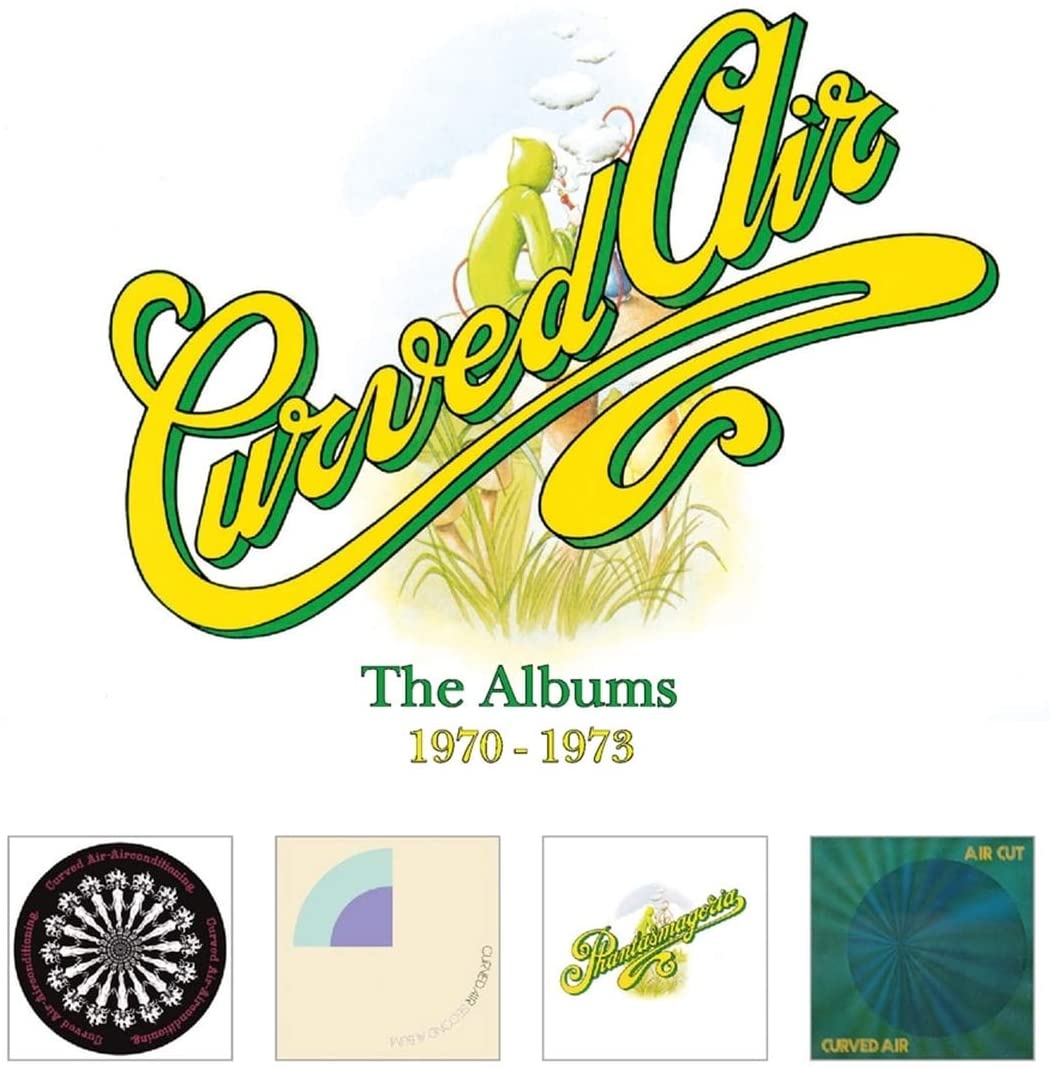 A new Curved Air four-CD box set called The Albums 1970-1973 will be released later this month.

The package features newly remastered (from the original master tapes) versions of the first four long players: Air Conditioning (1970), Second Album (1971), Phantasmagoria (1972) and Air Cut (1973) along with a few choice bonus cuts.
The English progressive rock band – initially, Sonja Kristina (vocals), Darryl Way (violin), Francis Monkman (electric guitar, piano, mellotron, VCS3 synthesiser), Rob Martin (bass) and Florian Pilkington-Miksa (drums) – signed to Warner Bros in 1970 and recorded the four albums included in this box set.
They went on to make two further albums (Midnight Wire (1975) and Airborne (1976)) on Miles Copeland's short-lived BTM Records label. Miles' brother Stewart Copeland played drums on both records (and went on to have a long relationship with the Curved Air's vocalist Sonja Kristina). The Police was his next band!
The Albums 1970-1973 is packaged in a clamshell box and comes with an illustrated booklet. It will be released on 29 January 2021 via Esoteric.
Compare prices and pre-order
Curved Air
The Albums 1970-1973 - 4CD box
CD 1 AIR CONDITIONING
RELEASED IN 1970
1. IT HAPPENED TODAY
2. STRETCH
3. SCREW
4. BLIND MAN
5. VIVALDI
6. HIDE AND SEEK
7. PROPOSITIONS
8. ROB ONE
9. SITUATIONS
10. VIVALDI WITH CANNONS
BONUS TRACKS
11. IT HAPPENED TODAY (SINGLE VERSION)
12. WHAT HAPPENS WHEN YOU BLOW YOURSELF UP
CD 2 SECOND ALBUM
RELEASED IN 1971
1. YOUNG MOTHER
2. BACK STREET LUV
3. JUMBO
4. YOU KNOW
5. PUPPETS
6. EVERDANCE
7. BRIGHT SUMMER'S DAY '68
8. PIECE OF MIND
CD 3 PHANTASMAGORIA
RELEASED IN 1972
1. MARIE ANTOINETTE
2. MELINDA (MORE OR LESS)
3. NOT QUITE THE SAME
4. CHEETAH
5. ULTRA-VIVALDI
6. PHANTASMAGORIA
7. WHOSE SHOULDER ARE YOU LOOKING OVER ANYWAY?
8. OVER AND OVER
9. ONCE A GHOST, ALWAYS A GHOST
BONUS TRACK
10. SARAH'S CONCERN
CD 4 AIR CUT
RELEASED IN 1973
1. THE PURPLE SPEED QUEEN
2. ELFIN BOY
3. METAMORPHOSIS
4. WORLD
5. ARMIN
6. U.H.F.
7. TWO THREE TWO
8. EASY