 News
David Bowie / Glastonbury 2000
Full performance issued for the first time • 2CD+DVD • 3LP vinyl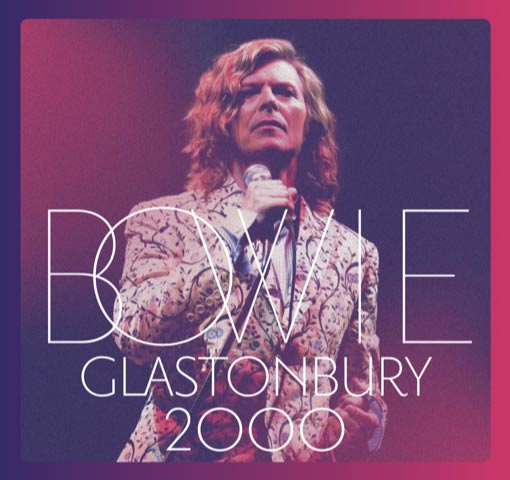 David Bowie's stunning performance at the Glastonbury Festival at the beginning of the new millennium is to be issued on audio and video formats for the first time. Glastonbury 2000 is due at the end of November.

Bowie performed on the Sunday night headline slot on 25 June 2000 at the famous festival and this new release includes the entire 21 song set which was full of 'hits' and, in Bowie's words, "a couple quirks". Even better, only 30 minutes was ever shown on TV, so the 2CD+DVD set is a must, with video of the full performance. The DVD is confirmed at NTSC, region free.

The audio is newly mastered and is also available on 3LP vinyl and as a 2CD set (without the DVD). Also this set features new artwork from Jonathan Barnbrook and notes from Caitlin Moran.

Glastonbury 2000 will be released via Parlophone on 30 November 2018.


Compare prices and pre-order
David Bowie
Glastonbury 2000 - 2CD+DVD
Compare prices and pre-order
David Bowie
Glastonbury 2000 - 3LP vinyl
Compare prices and pre-order
David Bowie
Glastonbury 2000 - 2CD edition
2CD + DVD SET 
CD 1
Introduction (Greensleeves)
Wild Is The Wind
China Girl
Changes
Stay
Life On Mars?
Absolute Beginners
Ashes To Ashes
Rebel Rebel
Little Wonder
Golden Years
CD 2
Fame
All The Young Dudes
The Man Who Sold The World
Station To Station
Starman
Hallo Spaceboy
Under Pressure
Ziggy Stardust
"Heroes"
Let's Dance
I'm Afraid Of Americans
DVD
Introduction (Greensleeves)
Wild Is The Wind
China Girl
Changes
Stay
Life On Mars?
Absolute Beginners
Ashes To Ashes
Rebel Rebel
Little Wonder
Golden Years
Fame
All The Young Dudes
The Man Who Sold The World
Station To Station
Starman
Hallo Spaceboy
Under Pressure
Ziggy Stardust
"Heroes"
Let's Dance
I'm Afraid Of Americans
3 x LP
Side 1
Introduction (Greensleeves)
Wild Is The Wind
China Girl
Changes

Side 2
Stay
Life On Mars?
Absolute Beginners

Side 3
Ashes To Ashes
Rebel Rebel
Little Wonder
Golden Years
Side 4
Fame
All The Young Dudes
The Man Who Sold The World
Station To Station

Side 5
Starman
Hallo Spaceboy
Under Pressure
Ziggy Stardust

Side 6
"Heroes"
Let's Dance
I'm Afraid Of Americans 

2CD
CD 1
Introduction (Greensleeves)
Wild Is The Wind
China Girl
Changes
Stay
Life On Mars?
Absolute Beginners
Ashes To Ashes
Rebel Rebel
Little Wonder
Golden Years
CD 2
Fame
All The Young Dudes
The Man Who Sold The World
Station To Station
Starman
Hallo Spaceboy
Under Pressure
Ziggy Stardust
"Heroes"
Let's Dance
I'm Afraid Of Americans