 News
David Hepworth / Deep 70s: Underrated Cuts From A Misunderstood Decade
Curated various artists set across 4CDs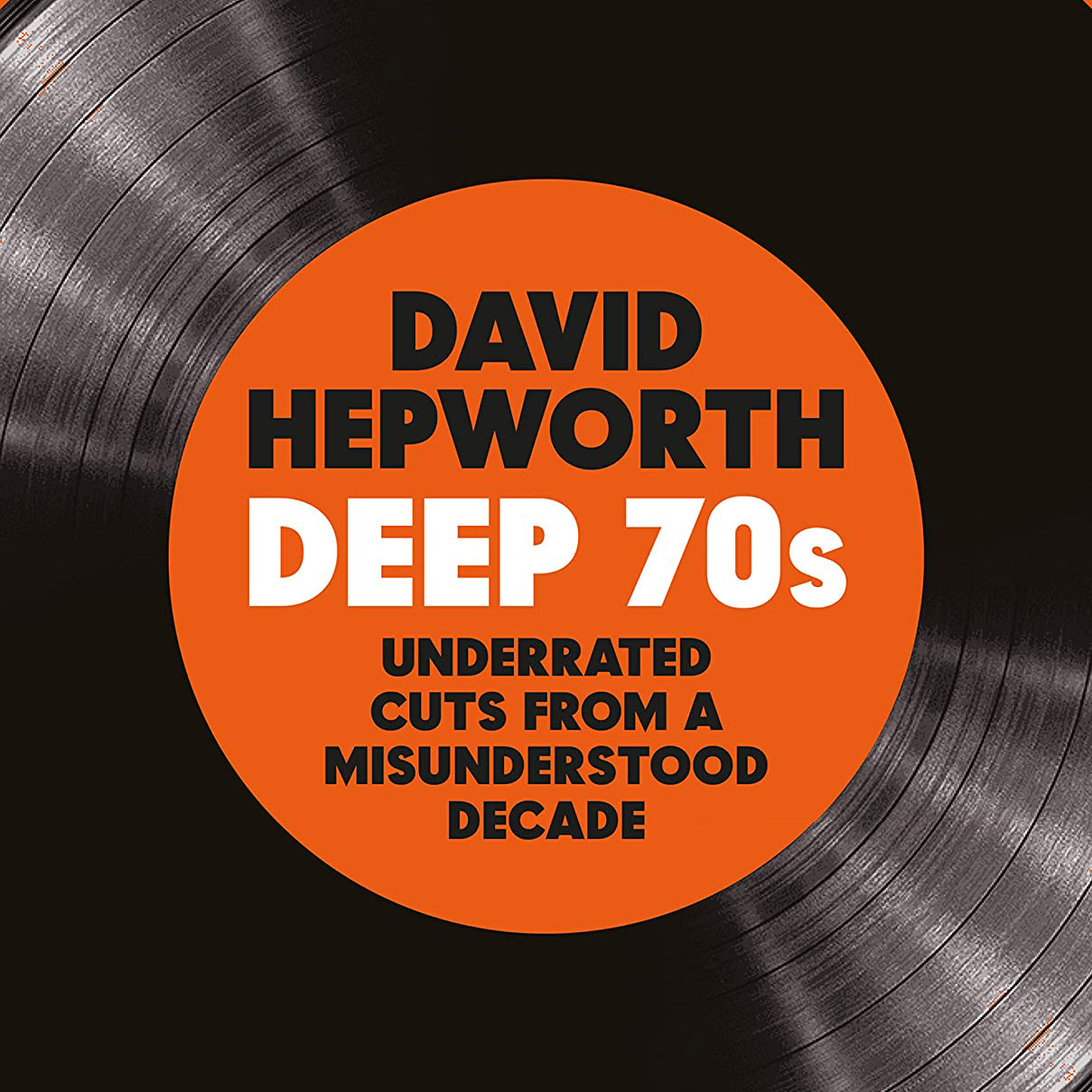 Broadcaster and journalist David Hepworth curates Deep 70s: Underrated Cuts From A Misunderstood Decade, a new 4CD various artists compilation from Demon Music.
Hepworth has probably forgotten more about music than most of us will ever know and has been involved in Goliath publications like Smash Hits, Q, Mojo and The Word. He also presented The Old Grey Whistle Test and was one of the anchors for Live Aid in July 1985. With compadre Mark Ellen, David still co-hosts the Word in Your Ear/Attic podcast.
In more recent years Hepworth has authored some acclaimed books including 1971 –Never a Dull Moment: Rock's Golden Year and Overpaid, Oversexed and Over There: How a Few Skinny Brits with Bad Teeth Rocked America.
So probably no better man to put together this 4CD set. David explains his thoughts on the package here:
"The seventies were a grubby but glorious time for records. Many of those records never sullied a chart. Nor are they served up by the algorithms which rule retro radio today. These four CDs correct that oversight. Young Americans [CD 1] revisits classic rock icons in the fierce morning of their genius. Beer Drinkers and Hell Raisers [CD 2] is unrepentant driving music from the days before the mandatory seat belt. Blue Boar Blues [CD 3] is dedicated to the legions of British groups who lived according to the white line on the M1. Finally, The Monstrous Regiment [CD 4] is a reminder of the female artists of the time, some of whom are just being recognised today. As my comprehensive notes modestly assert, more occurred between 1971 and 1979 than in any period of music before or since. This is not an opinion. This is a fact. This is a box set to prove it."
You can browse the impressive track listing below. The 72-track, four CD set will come packaged in a media book [like the Gary Crowley Lost 80s releases] and as Hepworth mentions, includes a 36-page booklet featuring an introductory essay followed by track-by-track annotation from David Hepworth, accompanied by a picture of the album from which the track is taken.
500 copies of this 4CD set is exclusive to Amazon UK and come with a print signed by David Hepworth. A 2LP clear vinyl edition offers a cut-down 24-track version, which maintains the four different themes. This vinyl edition with a signed print is only available via Rough Trade in the UK.
David Hepworth: Deep 70s: Underrated Cuts From A Misunderstood Decade will be released on 27 May 2022.
Compare prices and pre-order
Various Artists
Deep 70s - 4CD standard edition
Compare prices and pre-order
Various Artists
Deep 70s - 2LP clear vinyl
Compare prices and pre-order
Various Artists
Deep 70s - 4CD signed exclusive limited to 500 units
Tracklisting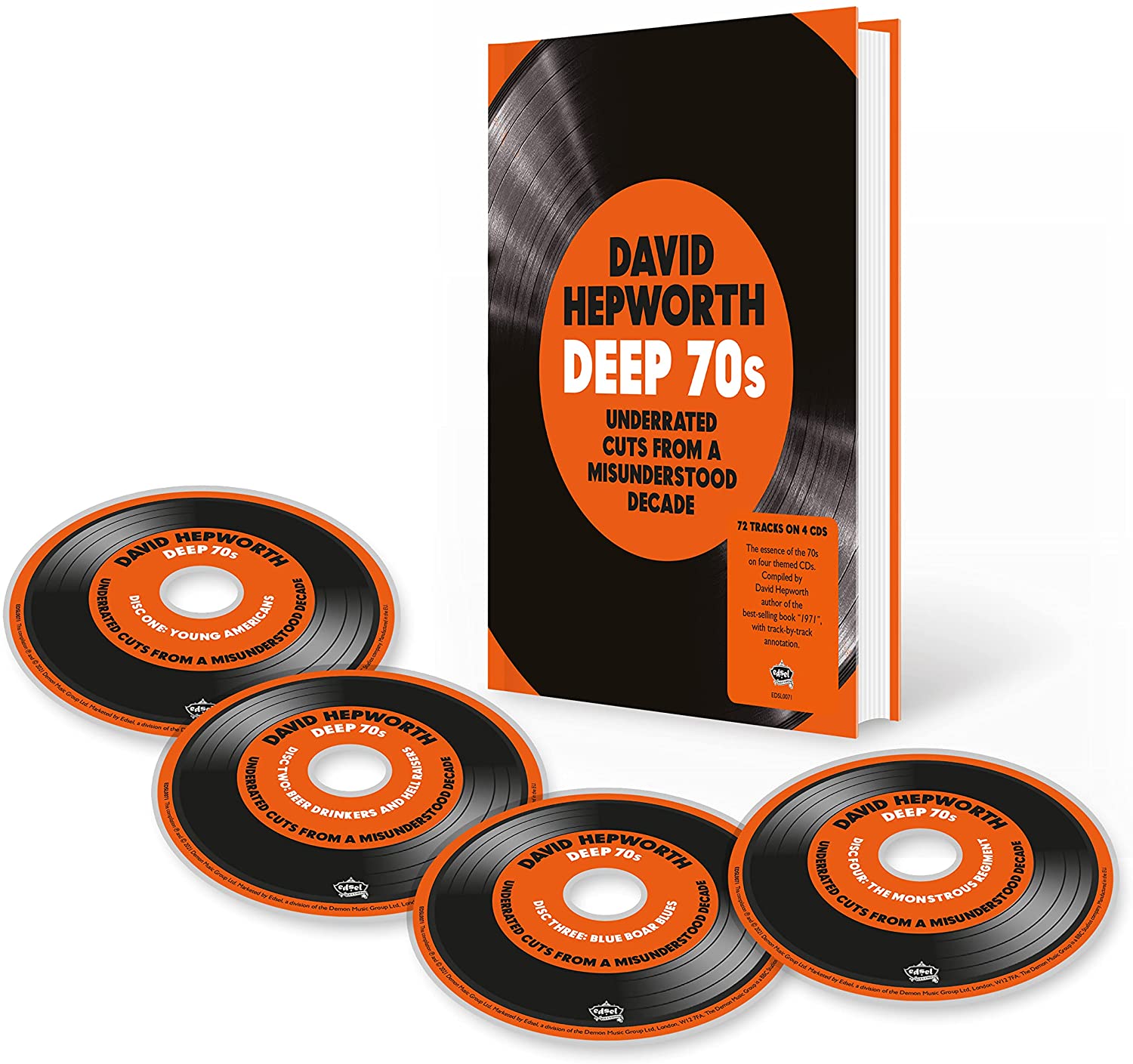 Deep 70s: Underrated Cuts From A Misunderstood Decade Various Artists
/
4CD edition
CD 1: Young Americans

WINCHESTER: Payday
DELANEY AND BONNIE: Only You Know And I Know
SANFORD TOWNSEND BAND: Smoke From A Distant Fire
DARYL HALL AND JOHN OATES: Abandoned Luncheonette
ANDY PRATT: Avenging Annie
MICHAEL FRANKS: The Lady Wants To Know
BOBBY CHARLES: Small Town Talk
HIRTH MARTINEZ: Altogether Alone
GREGG ALLMAN: Please Call Home
JOHN PRINE: The Late John Garfield Blues
THE ALPHA BAND: Interviews
LOUDON WAINWRIGHT III: Be Careful, There's A Baby In The House
BIG STAR: Back Of A Car
CRAZY HORSE: Downtown
TONY JOE WHITE: Saturday Night In Oak Grove, Louisiana
BOZ SCAGGS: Runnin' Blue
LITTLE FEAT: Trouble
AMAZING RHYTHM ACES: Third Rate Romance
DANNY O'KEEFE: Good Time Charlie's Got The Blues
WARREN ZEVON: Desperados Under The Eaves
MICHAEL NESMITH AND THE FIRST NATIONAL BAND: Beyond The Blue Horizon

CD 2: Beer Drinkers and Hell Raisers

FREDDIE KING: Going Down
JOHNNY WINTER AND: Rock And Roll, Hoochie Koo
ZZ TOP: Jesus Just Left Chicago
GEILS BAND: Whammer Jammer
MONTROSE: Rock Candy
GEORGE THOROGOOD AND THE DESTROYERS: Madison Blues
EDDIE AND THE HOT RODS: Get Out Of Denver
CANNED HEAT: Sugar Bee
STATUS QUO: In My Chair
FLAMIN' GROOVIES: Shake Some Action
MOON MARTIN: Cadillac Walk
DON NIX: Going Back To Iuka
TIM BUCKLEY: Move With Me
JERRY WILLIAMS: I've Got Dreams To Remember
ATLANTA RHYTHM SECTION: Dog Days
PAUL BUTTERFIELD'S BETTER DAYS: It All Comes Back

CD 3: Blue Boar Blues

RONNIE LANE AND SLIM CHANCE: Bye And Bye (Gonna See The King)
FAMILY: My Friend The Sun
MURRAY HEAD: Say It Ain't So Joe
BE BOP DELUXE: Maid In Heaven
THE MOTORS: Dancing The Night Away
THE RECORDS: Starry Eyes
PATTO: Singing The Blues On Reds
SHARKS: World Park Junkies
THE JESS RODEN BAND: You Can Leave Your Hat On
TERRY REID: Dean
ROBERT PALMER: How Much Fun
MOTT THE HOOPLE: I Wish I Was Your Mother
FAIRPORT CONVENTION: Polly On The Shore
DAVE EDMUNDS: The Promised Land
CHILLI WILLI AND THE RED HOT PEPPERS: Choo Choo Ch' Boogie
BRINSLEY SCHWARZ: Surrender To The Rhythm
ROY HARPER: When An Old Cricketer Leaves The Crease

CD 4: The Monstrous Regiment

SANDY DENNY: Solo
MARIANNE FAITHFULL: The Ballad Of Lucy Jordan
LINDA RONSTADT: Love Is A Rose
CARLY SIMON: Anticipation
JOAN ARMATRADING: Down To Zero
KATE AND ANNA MCGARRIGLE: Heart Like A Wheel
MARIA MULDAUR: Gringo En Mexico
WENDY WALDMAN: Mad Mad Me
VALERIE SIMPSON: Love Woke Me Up This Morning
ELLEN FOLEY: Night Out
PHOEBE SNOW: Two Fisted Love
LINDA LEWIS: Gladly Give You My Hand
VALERIE CARTER: Face Of Appalachia
THE ROCHES: Hammond Song
BRIDGET ST JOHN: Early Morning Song
JUDEE SILL: The Kiss
RICHARD AND LINDA THOMPSON: Dimming Of The Day / Dargai
Tracklisting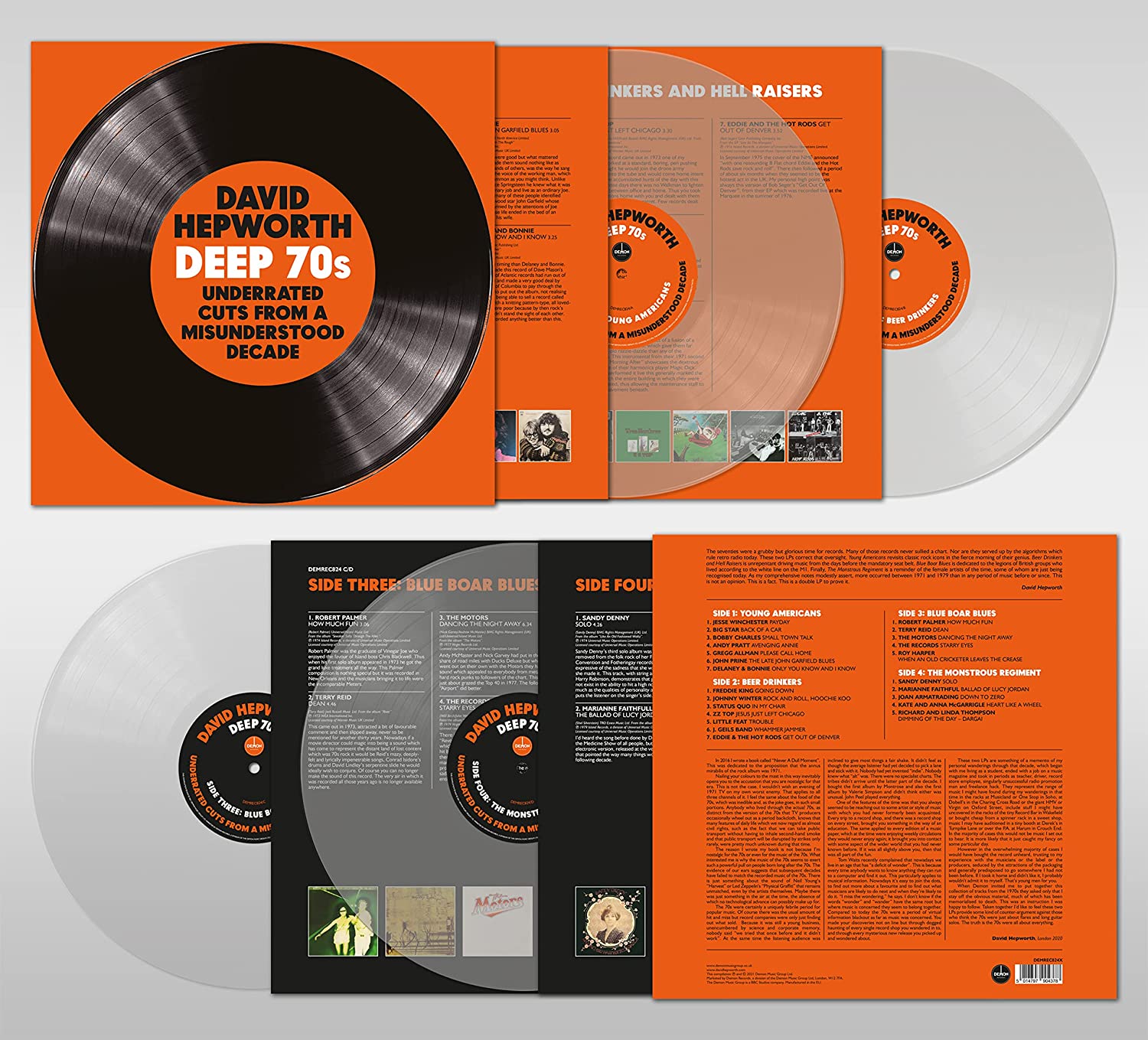 Deep 70s: Various Artists
/
2LP clear vinyl
LP 1

Side 1: Young Americans 

Jesse Winchester: Payday
Big Star: Back Of A Car
Bobby Charles: Small Town Talk
Andy Pratt: Avenging Annie
Gregg Allman: Please Call Home
John Prine: The Late John Garfield Blues
Delaney & Bonnie: Only You Know And I Know

Side 2: Beer Drinkers 

Freddie King: Going Down
Johnny Winter And: Rock and Roll, Hoochie Koo
Status Quo: In My Chair
ZZ Top: Jesus Just Left Chicago
Little Feat: Trouble
J. Geils Band: Whammer Jammer
Eddie & The Hot Rods: Get Out Of Denver

LP 2

Side 3: Blue Boar Blues 

Robert Palmer: How Much Fun
Terry Reid: Dean
The Motors: Dancing The Night Away
The Records: Starry Eyes
Roy Harper: When an Old Cricketer Leaves The Crease 

Side 4: The Monstrous Regiment 

Sandy Denny: Solo
Marianne Faithful: Ballad Of Lucy Jordan
Joan Armatrading: Down To Zero
Kate and Anna McGarrigle: Heart Like A Wheel
Richard and Linda Thompson: Dimming Of The Day / Dargai