 News
Deep Purple / Purple vinyl reissues
Coloured vinyl • New transfers • Download codes included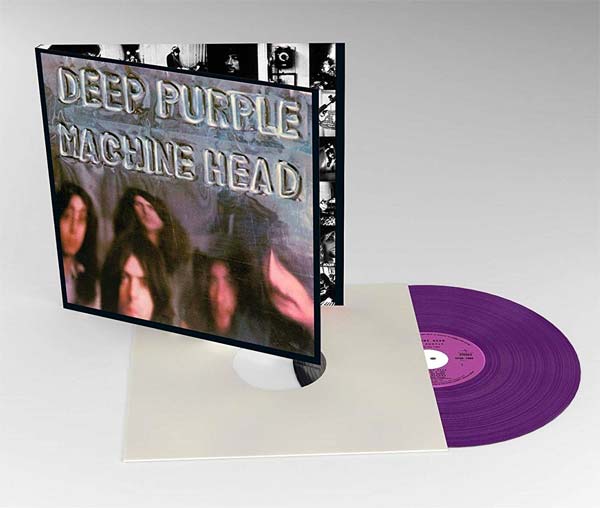 Universal Music are to release coloured vinyl reissues of classic early seventies Deep Purple albums, each mastered from new transfers.

Machine Head (1972), Who Do We Think We Are? (1973), Burn (1974), Stormbringer (1974) and Come Taste the Band (1975) are the studio albums in question, but the memorable live packages – Made in Japan (1972), Made in Europe (1976 – we're still waiting for the expanded reissue!) and Last Concert in Japan (1977) – are also included.

At least these offer more than just a heavyweight 180g coloured vinyl pressing – all the albums have been cut from new digital transfers of the original master tapes at Abbey Road Studios and they come with download codes (albeit they'll more than likely be MP3s).

Artwork has been "faithfully replicated" to match the original pressings "in conjunction with the band". These are touted as 'limited editions' but as no numbers have been given, it's all but meaningless at this point.

All eight vinyl reissues will be released on 7 September 2018.


Compare prices and pre-order
Deep Purple
Machine Head [VINYL]
Compare prices and pre-order
Deep Purple
Made In Japan [VINYL]
Compare prices and pre-order
Deep Purple
Who Do We Think We Are [VINYL]
Compare prices and pre-order
Compare prices and pre-order
Deep Purple
Stormbringer [VINYL]
Compare prices and pre-order
Deep Purple
Come Taste The Band [VINYL]
Compare prices and pre-order
Deep Purple
Last Concert In Japan [VINYL]
Compare prices and pre-order
Deep Purple
Made In Europe [VINYL]
Machine Head
Side One
1 Highway Star

2 Maybe I'm A Leo

3 Pictures of Home

4 Never Before

Side Two
1 Smoke on The Water

2 Lazy

3 Space Truckin'
Who Do We Think We Are?

Side 1
1 Woman from Tokyo

2 Mary Long

3 Super Trouper

4 Smooth Dancer

Side 2
1 Rat Bat Blue

2 Place in Line

3 Our Lady
Made in Japan (2LP)

Side 1
1 Highway Star

2 Child in Time

Side 2
1 Smoke on The Water

 2 The Mule (Drum Solo)

Side 3
1 Strange Kind of Woman

2 Lazy

Side 4
Burn

Side One
1 Burn

2 Might Just Take Your Life

3 Lay Down, Stay Down

4 Sail Away

Side Two
1 You Fool No One

2 What's Goin' On Here

3 Mistreated

4 "A" 200
Stormbringer

Side One
 1 Stormbringer

2 Love Don't Mean A Thing

3 Holy Man

4 Hold On

Side Two
 1 Lady Double Dealer

2 You Can't Do It Right (With the One You Love)

3 High Ball Shooter

4 The Gypsy

5 Soldier of Fortune
Come Taste The Band

Side One
1 Comin' Home

2 Lady Luck

3 Gettin' Tighter

4 Dealer

5 I Need Love

Side Two
1 Drifter

2 Love Child

3 This Time Around / Owed To 'G' (Instrumental)

4 You Keep on Moving
Made in Europe

Side One
1 Burn

2 Mistreated (Interpolating Rock Me Baby)

3 Lady Double Dealer

Side Two
1 You Fool No One

2 Stormbringer
Last Concert in Japan

Side One
 1 Burn

2 Love Child

3 You Keep on Moving

4 Wild Dogs

Side Two
1 Lady Luck

2 Smoke on The Water

3 Soldier of Fortune

4 Woman from Tokyo

5 Highway Star