 News
Def Leppard / The Early Years 79-81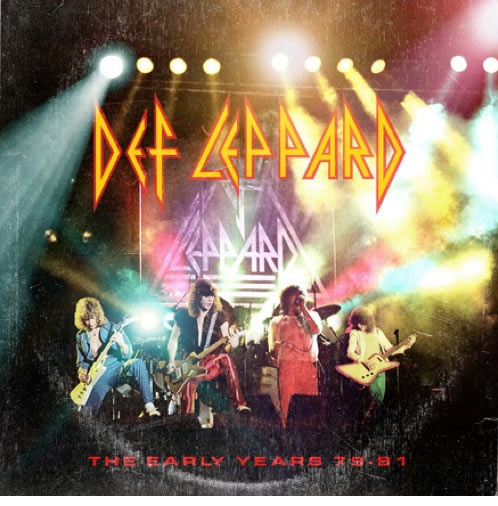 New five-CD box set • Early albums also available separately on vinyl & CD
Universal Music will release The Early Years 79-81 a document of the beginnings of British Rock band Def Leppard who would go on to sell more than 100 million records worldwide.

Executive produced by Joe Elliot, this five-CD box set includes remastered (by Ronan McHugh) versions of the band's first two albums On Through The Night (1980) and High and Dry (1981) as well as a disc of B-sides and rarities, a CD of Radio One sessions and a previously unreleased and newly mixed live show from Oxford in 1980.
The box also includes a booklet featuring the history of the albums written by Paul Elliott (no relation) featuring personal insights from the band on the making and releasing of those early records as well as rare photos and images of memorabilia The remastered albums will also be available separately on CD and vinyl.
The Early Years 79-81 will be released on 20 March 2020. Good price in Amazon France at the moment.
The Early Years 79-81 – 5CD box set
CD 1 – ON THROUGH THE NIGHT – RE-MASTERED
Rock Brigade
Hello America
Sorrow Is A Woman
It Could Be You
Satellite
When the Walls Came Tumbling Down
Wasted
Rocks Off
It Don't Matter
Answer to The Master
Overture
CD 2 – HIGH AND DRY – RE-MASTERED
Let It Go
Another Hit and Run
High N Dry (Saturday Night)
Bringin' On the Heartache
Switch 625
You Got Me Runnin'
Lady Strange
On Through the Night
Mirror Mirror (Look into My Eyes)
No No No
CD 3 –  WHEN THE WALLS CAME TUMBLING DOWN – LIVE IN OXFORD 26/04/1980
When the Walls Came Tumbling Down
It Could Be You
Rock Brigade
Satellite
Medicine Man
Answer to the Master
When the Rain Falls
Sorrow Is a Woman
Good Morning Freedom
Don't Matter to Me
Overture
Lady Strange
GetchaRocks Off
Hello America
Wasted
Ride into The Sun
CD 4 – TOO MANY JITTERBUGS – B-SIDES AND RARITIES
Ride into The Sun – The Def Leppard EP
Getcha Rocks Off – The Def Leppard EP
The Overture – The Def Leppard EP
Wasted -Single
Hello America – Single
Rock Brigade – Unreleased Nick Tauber produced version
Glad I'm Alive – Unreleased Nick Tauber produced version
Good Morning Freedom – Single
Let It Go – Single Edit
Switch 625 – Single Edit
Bringin' On the Heartbreak – Single Edit
Me and My Wine – Original Version
Bringin' On the Heartbreak – Remix
Me and My Wine – Remix
CD 5 – RAW: EARLY BBC RECORDINGS
Andy Peebles Session – 07/06/1979
Glad I'm Alive
Sorrow Is A Woman
Wasted
Answer to The Master
Friday Rock Show Session – 03/10/1979
Satellite
Rock Brigade
Wasted
Good Morning Freedom
Live at the Reading Festival – 24/08/1980
Satellite / When the Walls Came Tumbling Down
Medicine Man
The Overture
Lady Strange
Getcha Rocks Off