 News
Def Leppard's Diamond Star Halos issued on SDE-exclusive blu-ray
#16 in the SDE Surround Series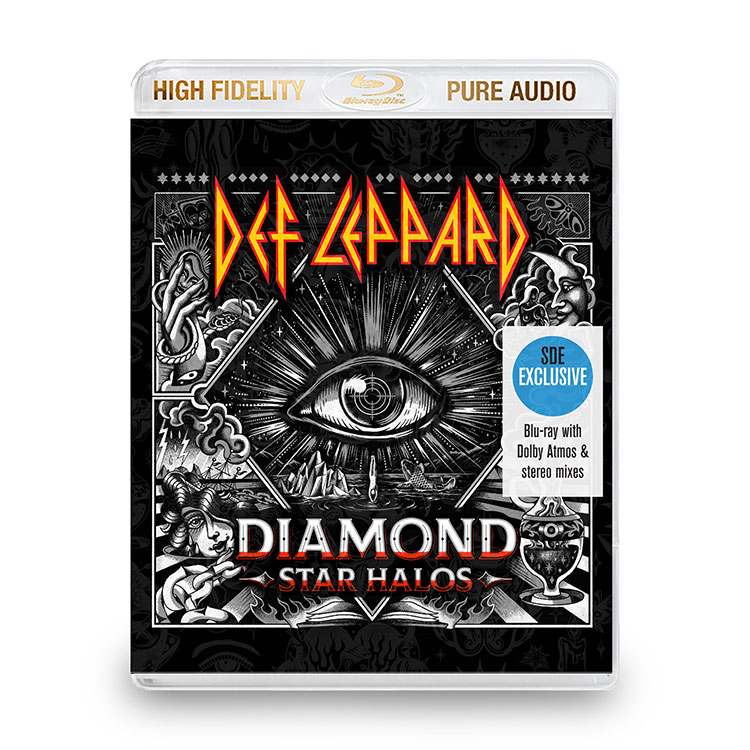 Features a Steven Wilson Dolby Atmos Mix, unheard instrumental version, rare bonus tracks and more • Quick pre-order link
Def Leppard's 2022 studio album Diamond Star Halos will be the next release, on blu-ray audio, in the ongoing SDE Surround Series.
The 15-track long-player includes the singles 'Kick', 'Fire It Up' and 'Take What You Want' and features guest vocals from Alison Krauss on two tracks: 'This Guitar' and 'Lifeless'. The album – the band's 12th – was co-produced by Ronan McHugh and was a critical and commercial success, peaking in the top 10 of both the UK and US album charts.
The new forthcoming SDE-exclusive blu-ray edition will feature a Steven Wilson Dolby Atmos Mix of Diamond Star Halos, which is the first time this spatial audio mix has been available on a physical product. It will also include an exclusive instrumental version, the standard stereo mix and two rare bonus tracks, unreleased physically outside of Japan ('Angels Can't Help You Now – Stripped Version (Covent Garden Mix)' and 'This Guitar – Joe Only Version').
Blu-ray content summary:
Steven Wilson Dolby Atmos Mix of Diamond Star Halos
Exclusive Instrumental Mix (48/24 stereo) of Diamond Star Halos
Original Stereo Mix (48/24) of Diamond Star Halos
Two rare bonus tracks in stereo (48/24), previously unreleased outside of Japan
This Def Leppard blu-ray audio is No 16 in the ongoing SDE Surround Series and will be packaged in the same style as previous releases in the series and ships with a free, collectible SDE Surround Series slipcase with the number '16' on the spine.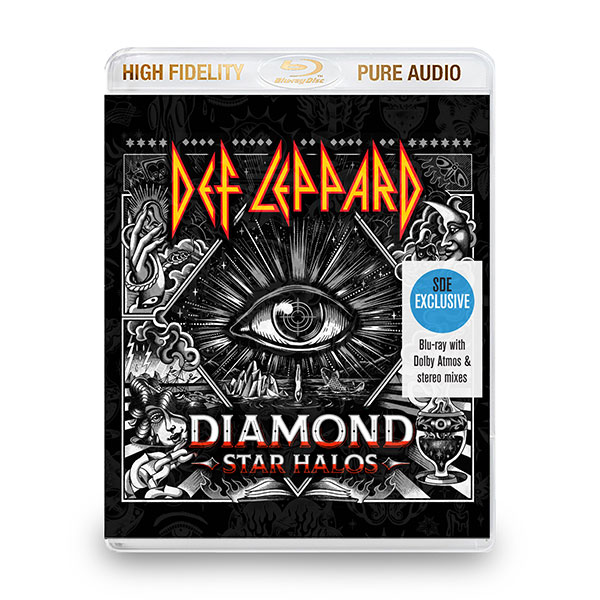 Here's the now traditional reminder as to why this blu-ray comes highly recommended:
It's the only way to enjoy the Dolby Atmos mix of the album via a physical product
You don't need to sign-up to a streaming service such as Tidal or Apple Music to hear the spatial audio mix
The Atmos Mix on the Blu-ray is not compressed due to streaming bandwidth restrictions
You own the product, you are not renting it from a digital service provider
The Blu-ray audio is an excellent format for music and you don't want to see it die off
Supporting SDE with these initiatives is leading to similar collaborations with labels/artists and we are keen to bring your more in the near future!
The SDE-exclusive Blu-ray Audio of Diamond Star Halos is a limited edition item. It will be pressed based on demand and is available to pre-order for 14 days only. Availability after that cannot be guaranteed, so secure your copy today by pre-ordering at the SDE shop, either directly via this link or using the special SDE shop buy button ('add to cart') below.
We ship worldwide and there's no longer any extra charges to the EU (if the value of your order is less than €150). 
This SDE-exclusive blu-ray of Diamond Star Halos will be released on 12 January 2024 via Mercury/UMR.
---
TECHNICAL NOTES: This blu-ray audio requires a blu-ray player. Decoding the Dolby Atmos mix requires a Dolby Atmos-certified soundbar or a Dolby Atmos-compatible AV Receiver/Amp. The Dolby Atmos mix will 'fold down' to 5.1 or stereo if a Dolby Atmos decoder is not detected.
The SDE Surround Series so far is:
#1 Tears For Fears: The Tipping Point
#2 xPropaganda: The Heart Is Strange
#3 Gilbert O'Sullivan: Driven
#4 Shakespears Sister: Hormonally Yours
#5 Brian Eno: FOREVERANDEVERNOMORE
#6 Orbital: Optical Delusion
#6.5 Various Arists: Concert For George
#7 Ten Years After: A Space In Time
#8 Bob Dylan: Time Out Of Mind (2022 Remix)
#9 Tears For Fears: The Hurting
#10 Mike Oldfield: Tubular Bells
#11 Suede
#12 ABC: The Lexicon of Love
#13 Duran Duran: Danse Macabre
#14 Trevor Horn: Echoes – Ancient and Modern
#15 Soft Cell: Non-Stop Erotic Cabaret
Tracklisting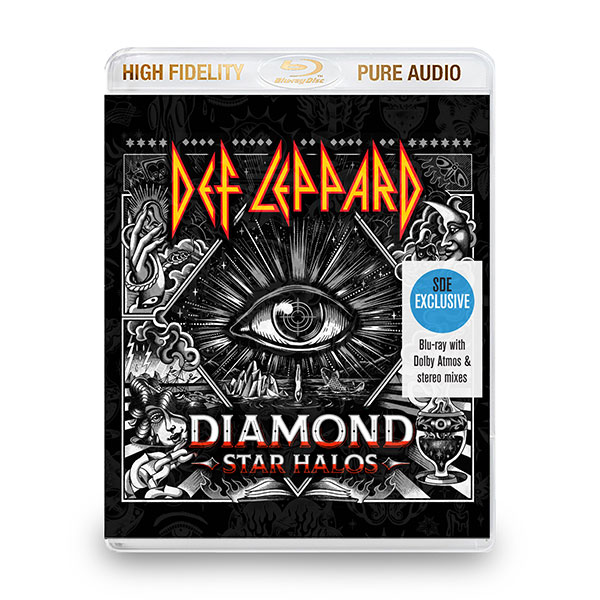 Diamond Star Halos Def Leppard
/
SDE Blu-ray Audio

Diamond Star Halos:| Steven Wilson Dolby Atmos Mix, Instrumental Stereo Mix (48/24) and Stereo Mix (48/24)

Take What You Want  4:14
Kick 3:42
Fire It Up 3:19
This Guitar (featuring Alison Krauss) 3:50
SOS Emergency 3:25
Liquid Dust 4:01
U Rok Mi 3:33
Goodbye for Good This Time 4:27
All We Need 4:46
Open Your Eyes 4:19
Gimme a Kiss 3:12
Angels (Can't Help You Now) 4:57
Lifeless (featuring Alison Krauss) 4:19
Unbreakable 3:46
From Here to Eternity

Rare bonus tracks (stereo 48/24)

 Angels (Can't Help You Now) (Stripped Version) 4.57
This Guitar" (Joe Only Version) 3.50