 News
Dire Straits / Live 1978-1992
8CD and 12LP box sets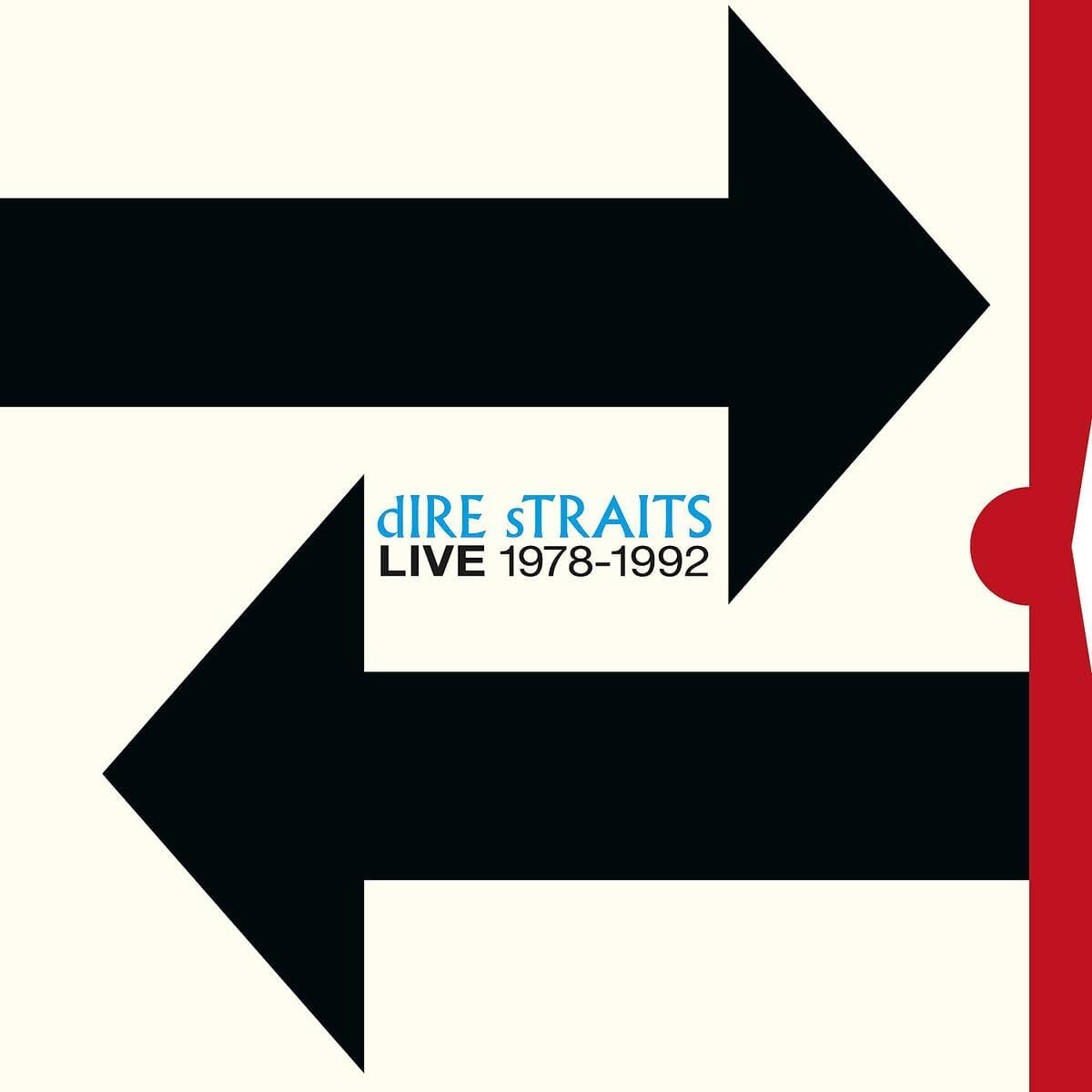 A new CD and vinyl box set called Live 1978-1992 focuses on the live recordings of Dire Straits.
These packages spotlight four main concerts (or live albums): Alchemy (1983), On The Night (1993), the Live at the BBC compilation from 1995 and Live from the Rainbow Theatre, a 1979 gig which is previously unreleased.
Alchemy and On The Night are both newly remastered, with neither having been available on vinyl for ages. Talking of vinyl, in what is a 12LP vinyl box set version of Live 1978-1992, Alchemy is expanded to 3LPs and includes 'Love Over Gold' and the extended versions of 'Telegraph Road', 'Solid Rock' and 'Going Home', with the addition of the full length version of 'Portobello Belle' (an edit of which is on the 1988 Money For Nothing compilation). 'Industrial Disease' and 'Twisting By The Pool' are also new to the CD edition.
On The Night is also expanded (on CD and vinyl) to include tracks performed during the tour which have never been released, taken from multitrack recordings of shows in Nimes, Rotterdam and Paris. The seven extra tracks are: 'Tunnel Of Love, 'Telegraph Road', 'Sultans Of Swing', 'Two Young Lovers', 'When it Comes To You', 'I Think I Love You Too Much' and 'Fade to Black'.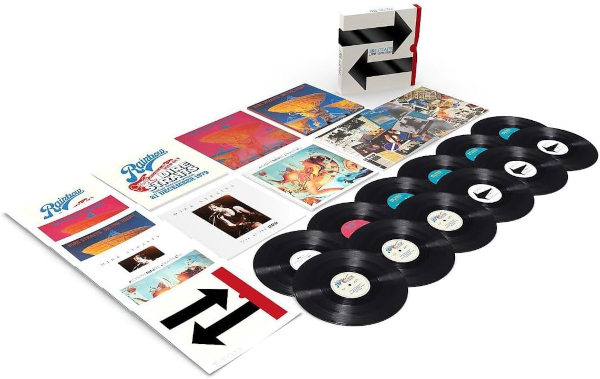 The On The Night 'Encores EP' (which was issued on CD and vinyl back in 1993) is included as an extra disc in both the vinyl and CD box set. Same four tracks as before, although this new box uses the Black Friday 2021 remastering. Despite On The Night and the Encores release being issued in 1993, the performances and recordings were made in 1992, hence the 1978-1992 box set title is accurate!
The Live at the BBC selection features the same eight tracks on the 1995 release, seven of which are from a July 1978 BBC 'In Concert' performance, although Tunnel of Love is taken from a January 1981 Old Grey Whistle Test.
Finally, the Live from the Rainbow Theatre show from 1979 has been newly mixed by Guy Fletcher and features guest performances from Phil Lynott and Tony de Meur on the last four tracks of the set.
The CD box is eight discs, while as stated earlier, the vinyl box is a massive 12LPs, with a price tag that is not going to appeal to the casual fan. Alchemy and On The Night alone take up EIGHT of these records (if you include the Encores EP). However, the CD box will be a tempting companion to the Studio Albums CD box of 2020. Both live box sets come with a booklet featuring a new essay by Paul Sexton, with the alliterative title: 'Making Milestones: The Momentous Road Years Of Dire Straits'.
Live 1978-1992 will be released on 3 November 2023, via UMR/Mercury.
Compare prices and pre-order
Dire Straits
Live 1978-1992 - 8CD box set
Compare prices and pre-order
Dire Straits
Live 1978-1992 - 12LP vinyl box
Tracklisting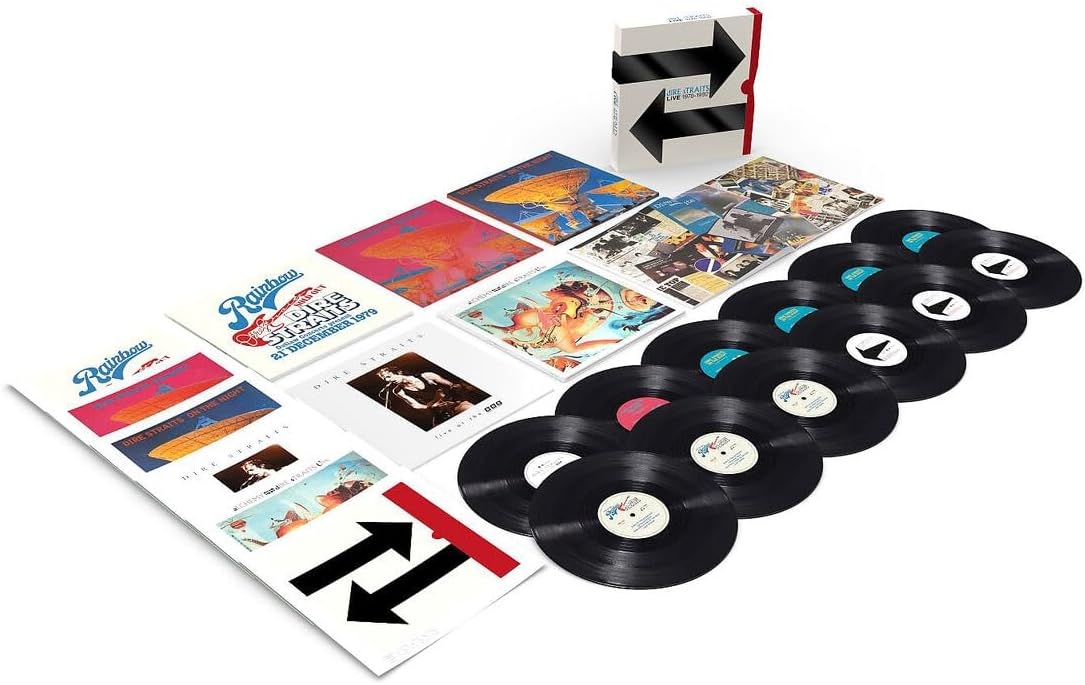 The Live Albums 1978-1992 Dire Straits
/
LP 1: Alchemy

Side A

ONCE UPON A TIME IN THE WEST
INDUSTRIAL DISEASE

Side B

EXPRESSO LOVE
ROMEO AND JULIET
LOVE OVER GOLD

LP 2: Alchemy

Side C

PRIVATE INVESTIGATIONS
SULTANS OF SWING
TWISTING BY THE POOL

Side D

TWO YOUNG LOVERS
PORTOBELLO BELLE

LP 3: Alchemy

Side E

TUNNEL OF LOVE
SOLID ROCK

Side F

TELEGRAPH ROAD
GOING HOME – THEME FROM 'LOCAL HERO'

LP 4: On The Night

Side A

CALLING ELVIS
WALK OF LIFE

Side B

HEAVY FUEL
ROMEO AND JULIET

LP 5: On The Night

Side C

PRIVATE INVESTIGATIONS
SULTANS OF SWING

Side D

FADE TO BLACK
YOUR LATEST TRICK
WHEN IT COMES TO YOU
I THINK I LOVE YOU TOO MUCH

LP 6: On The Night

Side E

YOU AND YOUR FRIEND
ON EVERY STREET
TWO YOUNG LOVERS

Side F

TUNNEL OF LOVE

LP 7: On The Night

Side G

TELEGRAPH ROAD

Side H

MONEY FOR NOTHING
BROTHERS IN ARMS

LP 8: Encores

Side A

YOUR LATEST TRICK
THE BUG

Side B

SOLID ROCK
LOCAL HERO – WILD THEME

LP 9: Live at the BBC

Side A

DOWN TO THE WATERLINE
SIX BLADE KNIFE
WATER OF LOVE
WILD WEST END
SULTANS OF SWING

Side B

LIONS
WHAT'S THE MATTER BABY?
TUNNEL OF LOVE

LP 10: Live at the Rainbow

Side A

DOWN TO THE WATERLINE
SIX BLADE KNIFE
ONCE UPON A TIME IN THE WEST
LADY WRITER

Side B

LIONS
SULTANS OF SWING
LES BOYS
PORTOBELLO BELLE

LP 11: Live at the Rainbow

Side C

NEWS
WHAT'S THE MATTER BABY?
SETTING ME UP
IN THE GALLERY

Side D

SOLID ROCK
SOUTHBOUND AGAIN
WHERE DO YOU THINK YOU'RE GOING?

LP 12: Live at the Rainbow

Side E

WILD WEST END
TWISTING BY THE POOL
GOOD MORNING LITTLE SCHOOLGIRL*

Side F

THAT'S ALRIGHT MAMA*
NADINE*
KEEP ON KNOCKING*

* WITH PHIL LYNOTT AND TONY DE MEUR
Tracklisting
The Live Albums 1978-1992 Dire Straits
/
CD 1: Alchemy

ONCE UPON A TIME IN THE WEST
INDUSTRIAL DISEASE
EXPRESSO LOVE
ROMEO AND JULIET
LOVE OVER GOLD
PRIVATE INVESTIGATIONS
SULTANS OF SWING

CD 2: Alchemy

TWISTING BY THE POOL
TWO YOUNG LOVERS
PORTOBELLO BELLE
TUNNEL OF LOVE
SOLID ROCK
TELEGRAPH ROAD
GOING HOME – THEME FROM 'LOCAL HERO'

CD 3: On The Night

CALLING ELVIS
WALK OF LIFE
HEAVY FUEL
ROMEO AND JULIET
PRIVATE INVESTIGATIONS
SULTANS OF SWING
FADE TO BLACK
YOUR LATEST TRICK
WHEN IT COMES TO YOU
I THINK I LOVE YOU TOO MUCH

CD 4: On The Night

YOU AND YOUR FRIEND
ON EVERY STREET
TWO YOUNG LOVERS
TUNNEL OF LOVE
TELEGRAPH ROAD
MONEY FOR NOTHING
BROTHERS IN ARMS

CD 5: Encores

YOUR LATEST TRICK
THE BUG
SOLID ROCK
LOCAL HERO – WILD THEME

CD 6: Live at the BBC

DOWN TO THE WATERLINE
SIX BLADE KNIFE
WATER OF LOVE
WILD WEST END
SULTANS OF SWING
LIONS
WHAT'S THE MATTER BABY?
TUNNEL OF LOVE

CD 7: Live at the Rainbow

DOWN TO THE WATERLINE
SIX BLADE KNIFE
ONCE UPON A TIME IN THE WEST
LADY WRITER
LIONS
SULTANS OF SWING
LES BOYS
PORTOBELLO BELLE
NEWS
WHAT'S THE MATTER BABY?

CD 8: Live at the Rainbow

SETTING ME UP
IN THE GALLERY
SOLID ROCK
SOUTHBOUND AGAIN
WHERE DO YOU THINK YOU'RE GOING?
WILD WEST END
TWISTING BY THE POOL
GOOD MORNING LITTLE SCHOOLGIRL*
THAT'S ALRIGHT MAMA*
NADINE*
KEEP ON KNOCKING*

* WITH PHIL LYNOTT AND TONY DE MEUR