 News
Domino complete Buzzcocks reissues with the final album and compilation
Remastered • CD and limited deluxe coloured vinyl editions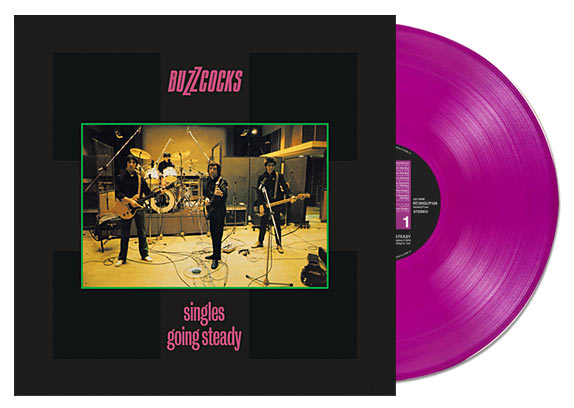 Domino complete their Buzzcocks' reissue campaign with vinyl and CD reissues of 1979's final studio album A Different Kind of Tension and the Singles Going Steady compilation from 1981.

As with the reissues of the first two albums from earlier this year, these have been "restored and re-mastered" from the original quarter-inch tapes and come packaged in the original Malcolm Garrett designed sleeves with eight-page booklets which feature notes by Jon Savage.




The limited 'indies-only' deluxe coloured vinyl sees A Different Kind of Tension pressed on solid yellow vinyl while Singles Going Steady is translucent violet vinyl. The coloured vinyl editions of the previous albums are already out-of-print.

Standard black vinyl and 'indies only' deluxe coloured vinyl and CD are the three formats. Both deluxe vinyl editions are limited and along with the CD editions can be pre-ordered via the SDE shop via this link or the buttons below.

A Different Kind of Tension and Singles Going Steady are released on 14 June 2019 via Domino Records.
<![CDATA[
/**/
]]>
A Different Kind of Tension
01 Paradise
02 Sitting 'round At Home
03 You Say You Don't Love Me
04 You Know You Can't Help It
05 Mad, Mad Judy
06 Raison D'Etre
07 I Don't Know What To Do With My Life
08 Money
09 Hollow Inside
10 A Different Kind Of Tension
11 I Believe
12 Radio Nine
Singles Going Steady
01 Orgasm Addict
02 What Do I Get?
03 I Don't Mind
04 Love You More
05 Ever Fallen in Love (With Someone You Shouldn't've?)
06 Promises
07 Everybody's Happy Nowadays
08 Harmony in My Head
09 Whatever Happened To?
10 Oh Shit!
11 Autonomy
12 Noise Annoys
13 Just Lust
14 Lipstick
15 Why Can't I Touch It?
16 Something's Gone Wrong Again