 News
Duran Duran / As The Lights Go Down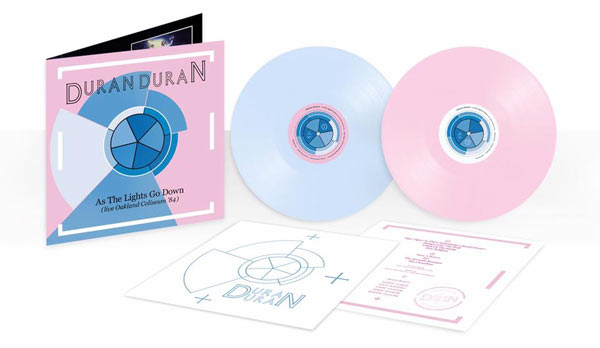 Duran Duran will participate in Record Store Day 2019 with a coloured vinyl live release As The Lights Go Down.

This is a three-sided live album (side four is etched) pressed on pink/blue vinyl and features a recording from the Oakland Coliseum in California from 1984. Duran Duran played three nights at the venue(12, 13, 15 April '84) as part of their massive Sing Blue Silver world tour and given that RSD19 is on 13 April, this becomes a well-timed 35th anniversary release.
Although the concerts were filmed for TV specials they've never been officially released, physically (there was a digital version issued in 2010). The band aren't specific about which shows are used for this album (at least not at the moment); the official word is simply that "tracks from these extraordinary live shows will be officially available in the form of a limited edition double vinyl LP."
Speaking about the release John Taylor said "Our friends at Warner Music came up with this idea and I can tell you we are all quite excited about it! It's a beautiful package and the vinyl mastered version is really the bomb!"
Nick Rhodes added "I rarely look back over my shoulder but listening to the mastered version of this album, it motivated us to recently play the song 'The Seventh Stranger' for the first time since 1984. Things only got stranger because when we rehearsed it sounded the same as when we wrote it and when we last performed it… I think this record captures the spirit of who Duran Duran were then and still reflects who we are now."
Rhodes isn't joking with that statement about not looking back over his shoulder. It is now almost NINE years since Duran Duran reissued any of their albums or put out any kind of archival product at all (save for the odd Record Store Day release). With even the normally reluctant Kate Bush revisiting her back catalogue, Duran Duran need to pull their finger out of the reissue dyke and let expanded deluxe editions flood the market. The band's entire 1990's output (including the unreleased-in-the-UK Medazzaland) is now so neglected that surely there's a case for alerting social services. I've said it before – and the evidence is irrefutable – here is a band who have fallen out of love with releasing records; the process of issuing physical product. All they appear to enjoy doing now is gigging and vaguely 'being in the studio'.
Anyway… back to As The Lights Go Down. The audio for this RSD vinyl set has been newly remastered and the album is presented in a gatefold sleeve featuring the photography of Denis O'Regan (whose recent Bowie Ricochet book, you may be aware of).
As The Lights Go Down will be available from 13 April 2019. It will be available in the UK and the USA and is limited to 5,500 units. Good luck in those queues!
LP1 (Blue)
Side One
1. Tiger Tiger / Is There Something I Should Know? (Live) [2018 Remaster]
2. Hungry Like the Wolf (Live) [2018 Remaster]
3. Union of the Snake (Live) [2018 Remaster]
4. New Religion (Live) [2018 Remaster]
Side Two
1. Save a Prayer (Live) [2018 Remaster]
2. Rio (Live) [2018 Remaster]
3. The Seventh Stranger (Live) [2018 Remaster]
4. The Chauffeur (Live) [2018 Remaster]
LP2 (Pink)
Side One
1. Planet Earth (Live) [2018 Remaster]
2. Careless Memories (Live) [2018 Remaster]
3. Girls on Film (Live) [2018 Remaster]
Side Two
Etched