 News
Dusty Springfield / Dusty In Memphis 50th anniversary half-speed master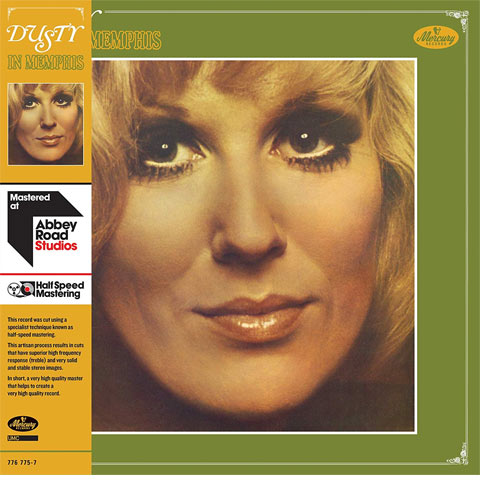 Dusty Springfield's fifth album, Dusty In Memphis, has been remastered and cut at half-speed for the latest in Universal Music's 'Mastered At Abbey Road' half-speed vinyl releases.

Originally issued in 1969, the album was recorded at American Sound studios in Memphis with a crack team of their finest musicians and producers that included Jerry Wexler, Arif Mardin, Tom Dowd, conductor Gene Orloff, backing vocalists The Sweet Inspirations, bassist Tommy Cogbill, and guitarist Reggie Young.
It also was a showcase of some of the greatest songwriters of the era, with numbers written by Gerry Goffin & Carole King, Randy Newman, and Burt Bacharach & Hal David all represented, as well as being the home of the top ten hit 'Son of A Preacher Man'.
Although it pretty much bombed commercially at the time (No.99 in the US, and bypassing the UK album list entirely) it has since become one of the most popular albums in All-Time-Best-Ever polls, hailed as an influence to countless female artists in the last decade or so, and also unwittingly kicked off a habit of British white acts heading to Memphis to make something authentic. George Michael (recording an ultimately rejected version of 'Careless Whisper' with Jerry Wexler), Wet Wet Wet (The Memphis Sessions) and Primal Scream (Give Out But Don't Give Up) are just a handful of the turns who've headed there over the years to make something real.
This 50th anniversary edition of Dusty In Memphis is a 33RPM pressing cut at half-speed at Abbey Road Studios. It includes download card (normally MP3).
Dusty In Memphis is reissued on 20 September 2019
Compare prices and pre-order
Dusty Springfield
Dusty In Memphis - half-speed mastered vinyl
Side One
1 Just A Little Lovin' 2:15
2 So Much Love 3:28
3 Son Of A Preacher Man 2:19
4 I Don't Want To Hear It Anymore 3:06
5 Don't Forget About Me 2:49
6 Breakfast In Bed 2:54
Side Two
1 Just One Smile 2:37
2 The Windmills Of Your Mind 3:48
3 In The Land Of Make Believe 2:28
4 No Easy Way Down 3:08
5 I Can't Make It Alone 3:47