 News
Early NOW Yearbooks repressed on vinyl and deluxe CD
3LP vinyl and 4CD book editions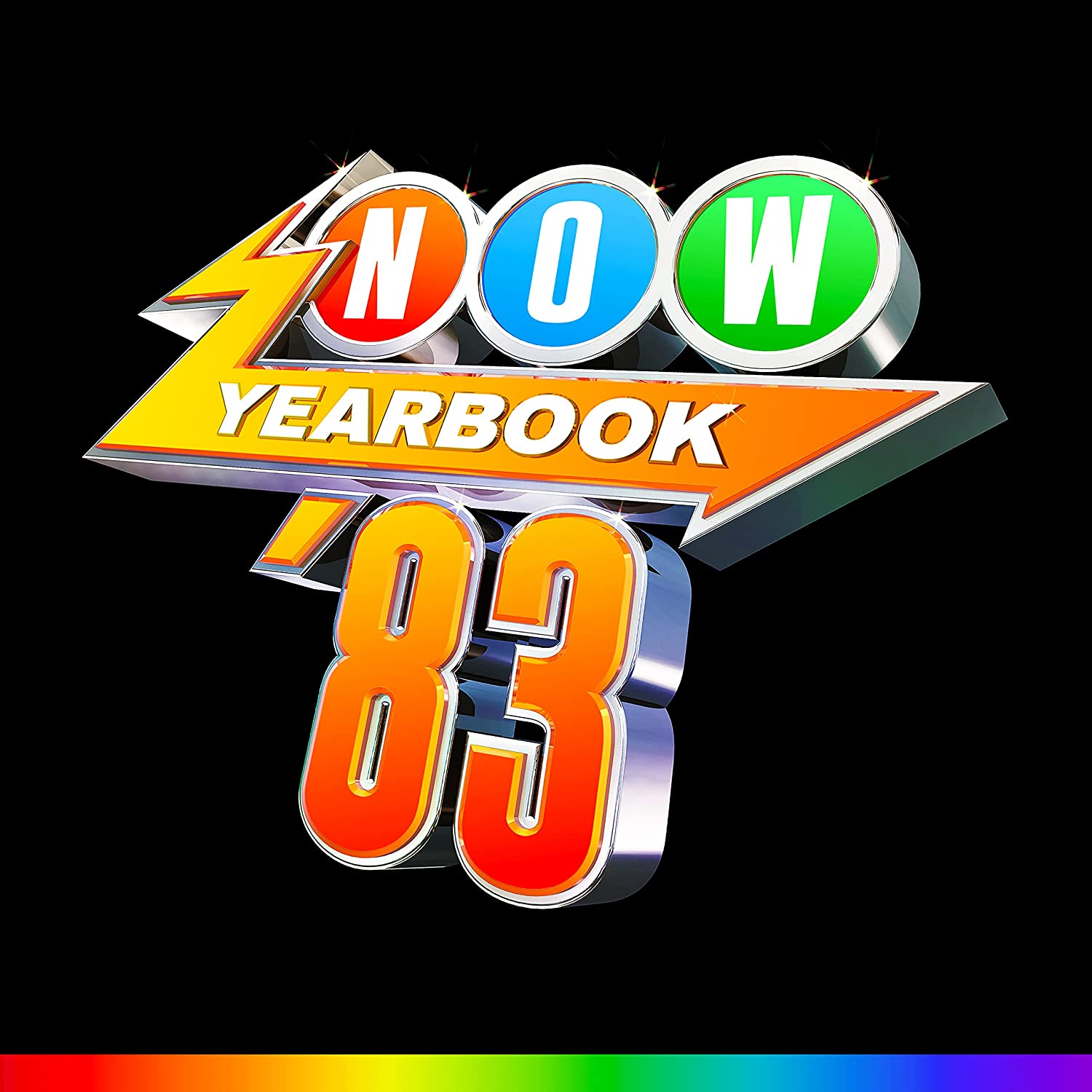 The first two NOW Yearbooks – '83 and '84 – sold out rather quickly back in 2021, especially the limited vinyl and deluxe hardcover book editions. The 3LP red vinyl of '83 has been selling on eBay for as much as £300 in recent months!
If you missed out, the good news is that the vinyl is now available again as a 3LP black vinyl edition and the 4CD set is also back in deluxe hardcover book edition. This is the case for both NOW Yearbook '83 and NOW Yearbook '84.
Full tracklistings for both can be found below and these will both be (re)released on 18 August 2023.
Compare prices and pre-order
Various Artists
NOW Yearbook 83 - 4CD deluxe book edition
Compare prices and pre-order
Various Artists
NOW Yearbook 84 - 4CD deluxe book edition
Compare prices and pre-order
Various Artist
NOW Yearbook 83 - 3LP black vinyl
Compare prices and pre-order
Various Artist
NOW Yearbook 84 - 3LP black vinyl
Tracklisting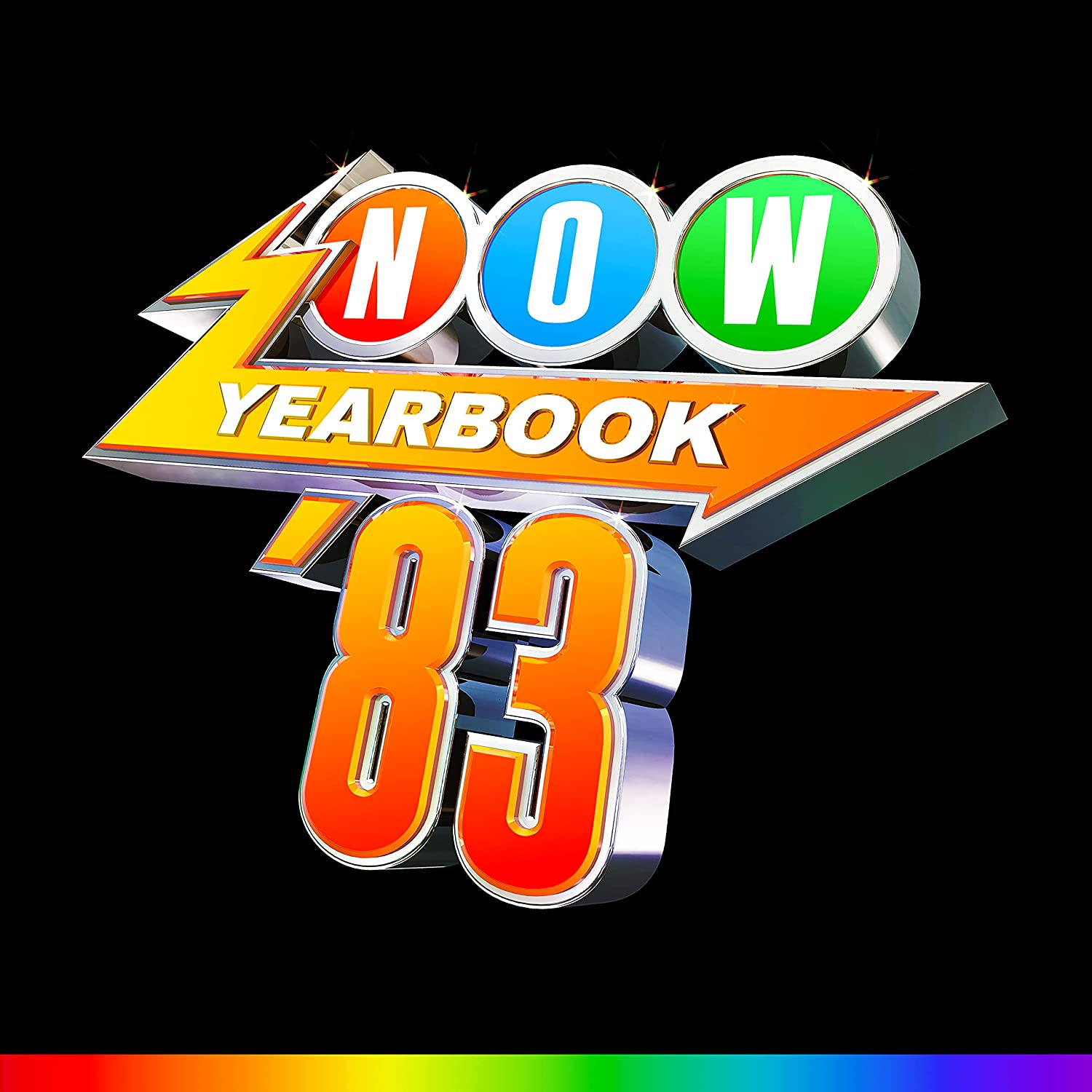 Now Yearbook '83 Various Artists
/
CD 1

Wham! – Club Tropicana
Eurythmics, Annie Lennox, Dave Stewart – Sweet Dreams (Are Made Of This)
Duran Duran – Is There Something I Should Know?
Culture Club – Karma Chameleon
Kajagoogoo – Too Shy
Spandau Ballet – True
Paul Young – Wherever I Lay My Hat (That's My Home)
Dolly Parton & Kenny Rogers – Islands In The Stream
Bonnie Tyler – Total Eclipse Of The Heart
Elton John – I'm Still Standing
Billy Joel – Uptown Girl
Electric Light Orchestra – Rock 'N' Roll Is King
Madness – Wings Of A Dove
The Belle Stars – Sign Of The Times
Bananarama – Cruel Summer
Men At Work – Down Under
Joan Armatrading – Drop The Pilot
Nick Heyward – Whistle Down The Wind
The Style Council – Long Hot Summer
Tracey Ullman – They Don't Know
UB40 – Red Red Wine

CD 2

Irene Cara – Flashdance…What A Feeling
Lionel Richie – All Night Long (All Night)
KC & The Sunshine Band – Give It Up
Tina Turner – Let's Stay Together
Donna Summer – She Works Hard For The Money
Laura Branigan – Gloria
Freeez – I.O.U.
Rock Steady Crew – (Hey You) The Rock Steady Crew
Malcolm McLaren – Double Dutch
Joe Jackson – Steppin' Out
Ryan Paris – Dolce Vita
Forrest – Rock The Boat
Modern Romance – High Life
Shalamar – Dead Giveaway
Luther Vandross – Never Too Much
Billy Griffin – Hold Me Tighter In The Rain
Mary Jane Girls – All Night Long
Dionne Warwick – All The Love In The World
Joe Cocker & Jennifer Warnes – Up Where We Belong – From "An Officer And A Gentleman" Soundtrack
Roberta Flack & Peabo Bryson – Tonight I Celebrate My Love

CD 3

New Order – Blue Monday
Heaven 17 – Temptation
The Human League – (Keep Feeling) Fascination
Howard Jones – New Song
Tears For Fears – Pale Shelter
China Crisis – Christian
U2 – New Year's Day
Simple Minds – Waterfront
The Stranglers – European Female
Echo And The Bunnymen – The Cutter
Public Image Limited – This Is Not A Love Song
Siouxsie And The Banshees – Dear Prudence
The Cure – The Lovecats
Men Without Hats – The Safety Dance
ABC – That Was Then But This Is Now
Fun Boy Three – The Tunnel Of Love
Aztec Camera – Oblivious
(The Mighty) WAH! – The Story Of The Blues (Part 1)
Carmel – Bad Day
Elvis Costello & The Attractions – Pills & Soap

CD 4

The Police – Every Breath You Take
Toto – Africa
Robert Plant – Big Log
Genesis – Mama
Marillion – Garden Party
Mike Oldfield – Moonlight Shadow
Spandau Ballet – Gold
Duran Duran – Union Of The Snake
Adam Ant – Puss 'n Boots
Altered Images – Don't Talk To Me About Love
Marilyn – Calling Your Name
Haysi Fantayzee – Shiny Shiny
Toyah – Rebel Run
The Lotus Eaters – The First Picture Of You
Thompson Twins – Hold Me Now
Paul Young – Love Of The Common People
Culture Club – Victims
The Flying Pickets – Only You
Pretenders – 2000 Miles

Side A

Wham! – Club Tropicana
Eurythmics, Annie Lennox, Dave Stewart – Sweet Dreams (Are Made of This)
Duran Duran – Is There Something I Should Know?
Culture Club – Karma Chameleon
Spandau Ballet – True
Tina Turner – Let's Stay Together
Roberta Flack & Peabo Bryson – Tonight I Celebrate My Love

Side B

New Order – Blue Monday
Heaven 17 – Temptation
The Human League – (Keep Feeling) Fascination
Howard Jones – New Song
Tears For Fears – Pale Shelter
Thompson Twins – Hold Me Now

Side C

The Police – Every Breath You Take
Toto – Africa
Genesis – Mama
Bonnie Tyler – Total Eclipse of the Heart
Joan Armatrading – Drop The Pilot
Men At Work – Down Under
Mike Oldfield – Moonlight Shadow

Side D

U2 – New Year's Day
Simple Minds – Waterfront
Public Image Limited – This Is Not A Love Song
Siouxsie And The Banshees – Dear Prudence
The Cure – The Lovecats
Men without Hats – The Safety Dance
Marilyn – Calling Your Name
Kajagoogoo – Too Shy

Side E

Lionel Richie – All Night Long (All Night)
Luther Vandross – Never Too Much
Donna Summer – She Works Hard For The Money
Laura Branigan – Gloria
Freeez – I.O.U.
Rock Steady Crew – (Hey You) The Rock Steady Crew
Malcolm McLaren – Double Dutch

Side F

Elton John – I'm Still Standing
Billy Joel – Uptown Girl
UB40 – Red Red Wine
Joe Jackson – Steppin' Out
The Stranglers – European Female
The Style Council – Long Hot Summer
Nick Heyward – Whistle Down the Wind
Paul Young – Love Of The Common People
Tracklisting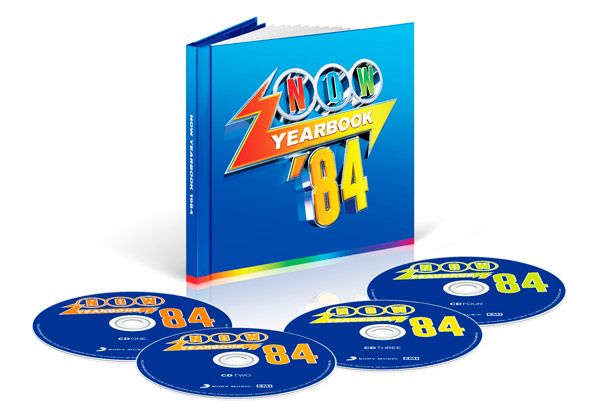 NOW Yearbook '84 Various Artists
/
4CD deluxe
CD 1

George Michael – Careless Whisper
Duran Duran – The Reflex
Frankie Goes To Hollywood – Two Tribes
Nena – 99 Red Balloons
Eurythmics, Annie Lennox & Dave Stewart – Here Comes The Rain Again
Laura Branigan – Self Control
Tina Turner – What's Love Got To Do with It
Lionel Richie – Hello
Sade – Your Love Is King
The Style Council – You're The Best Thing
Alison Moyet – Love Resurrection
Murray Head – One Night In Bangkok
Spandau Ballet – Only When You Leave
Philip Oakey & Giorgio Moroder – Together In Electric Dreams
Limahl – Never Ending Story
Matthew Wilder – Break My Stride
Ray Parker Jr. – Ghostbusters
Billy Ocean – Caribbean Queen (No More Love On The Run)
Rufus And Chaka Khan – Ain't Nobody

CD 2

Wham! – Wake Me Up Before You Go-Go
Kenny Loggins – Footloose (From "Footloose" Soundtrack)
Adam Ant – Apollo 9
Culture Club – The War Song
Bananarama – Robert De Niro's Waiting
Nik Kershaw – The Riddle
Howard Jones – What Is Love?
Thompson Twins – Doctor! Doctor!
Alphaville – Big In Japan (Single Version)
Orchestral Manoeuvres In The Dark – Locomotion
Ultravox – Dancing With Tears In My Eyes
The Human League – The Lebanon
Peter Schilling – Major Tom (Coming Home)
Propaganda – Dr Mabuse
Scritti Politti – Wood Beez (Pray Like Aretha Franklin)
New Order – Thieves Like Us
The Cure – The Caterpillar
Swansway – Soul Train
David Sylvian – Red Guitar
Echo And The Bunnymen – The Killing Moon

CD 3

Chaka Khan – I Feel For You
Grandmaster Flash & Grandmaster Melle-Mel – White Lines (Don't Do It)
Deniece Williams – Let's Hear It For The Boy
Shannon – Let The Music Play
The Pointer Sisters – Jump (For My Love)
The S.O.S Band – Just Be Good To Me
Jocelyn Brown – Somebody Else's Guy
Womack & Womack – Love Wars
Michael Jackson – Farewell My Summer Love
Julia And Company – Breakin' Down (Sugar Samba)
Ollie & Jerry – Breakin'…There's No Stopping Us (From "Breakin'" Soundtrack)
Rockwell – Somebody's Watching Me
Bronski Beat – Smalltown Boy
Dead Or Alive – That's The Way (I Like It)
Evelyn Thomas – High Energy
Hazell Dean – Whatever I Do (Wherever I Go)
Divine – You Think You're A Man
The Weather Girls – It's Raining Men
Miami Sound Machine – Dr. Beat
Shakatak - Down On The Street

CD 4

Frankie Goes To Hollywood – Relax
Duran Duran – The Wild Boys
U2 – Pride (In The Name Of Love)
The Police – King Of Pain
Simple Minds – Up On The Catwalk
ZZ Top – Gimme All Your Lovin'
Billy Idol – Eyes Without A Face
Malcolm McLaren – Madam Butterfly (Un Bel Di Vedremo)
China Crisis – Wishful Thinking
Carmel – More More More
Matt Bianco – Get Out Of Your Lazy Bed
Kim Wilde – The Second Time
Nick Heyward – Warning Sign
Jim Diamond – I Should Have Known Better
Elton John – Sad Songs (Say So Much)
Billy Joel – An Innocent Man
The Cars – Drive
Paul McCartney – Pipes Of Peace
Band Aid – Do They Know It's Christmas? (1984 Version)

Side A

George Michael – Careless Whisper
Duran Duran – The Reflex
Frankie Goes To Hollywood – Two Tribes
Nena – 99 Red Balloons
Eurythmics, Annie Lennox & Dave Stewart – Here Comes The Rain Again
Tina Turner – What's Love Got To Do With It
Lionel Richie – Hello

Side B

Wham! – Wake Me Up Before You Go-Go
Kenny Loggins – Footloose (From "Footloose" Soundtrack)
Ray Parker Jr. – Ghostbusters
Philip Oakey & Giorgio Moroder – Together In Electric Dreams
Limahl – Never Ending Story
Laura Branigan – Self Control
Elton John – Sad Songs (Say So Much)

Side C

Chaka Khan – I Feel For You
Grandmaster Flash & Grandmaster Melle-Mel – White Lines (Don't Do It)
Deniece Williams – Let's Hear It For The Boy
The Pointer Sisters – Jump (For My Love)
Miami Sound Machine – Dr. Beat
Womack & Womack – Love Wars
The S.O.S Band – Just Be Good To Me

Side D

Frankie Goes To Hollywood – Relax
Scritti Politti – Wood Beez (Pray Like Aretha Franklin)
New Order – Thieves Like Us
The Cure – The Caterpillar
David Sylvian – Red Guitar
Echo And The Bunnymen – The Killing Moon
Propaganda – Dr Mabuse

Side E

Duran Duran – The Wild Boys
Spandau Ballet – Only When You Leave
Alison Moyet – Love Resurrection
Matthew Wilder – Break My Stride
Nik Kershaw – The Riddle
Howard Jones – What Is Love?
Malcolm McLaren – Madam Butterfly (Un Bel Di Vedremo)

Side F

U2 – Pride (In The Name Of Love)
The Police – King Of Pain
Simple Minds – Up On The Catwalk
ZZ Top – Gimme All Your Lovin'
Billy Joel – An Innocent Man
The Cars – Drive
Paul McCartney – Pipes Of Peace