 News
Echo & The Bunnymen's 'Evergreen' issued on vinyl for the first time
And as a 2CD deluxe edition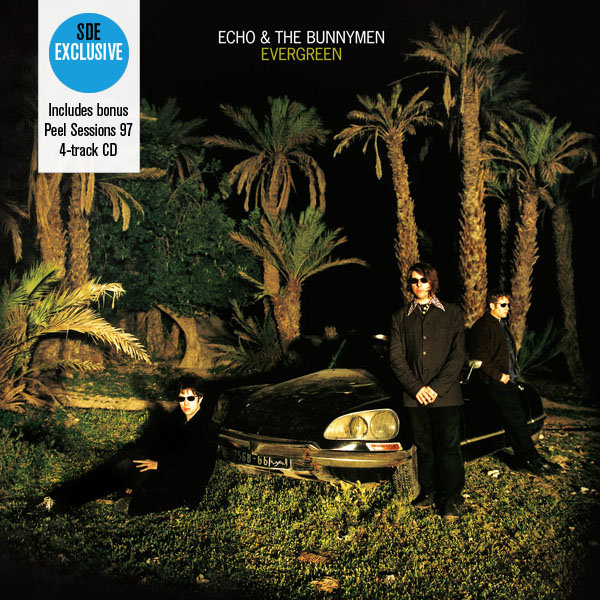 SDE Shop exclusive offers Peel Session CD free with all Evergreen pre-orders
London Records are to reissue Echo & The Bunnymen's triumphant 1997 'comeback' album Evergreen, which was notable for featuring the UK top 10 hit 'Nothing Lasts Forever'.
The album has been remastered and will be issued on vinyl for the very first time. It will also be available as an expanded 2CD deluxe edition with 21 bonus tracks. Exclusive to the SDE shop is a 4-track CD EP called Peel Session 1997. This features four tracks recorded at Maida Vale and broadcast on 16 September 1997, three of which are previously unreleased ('Rescue' was on CD 2 of the of 1997 2CD special edition).
Evergreen marked a critical and commercial renaissance for the band after more than half a decade's hiatus. In January 1997 Will Sergeant, Les Pattinson and Ian McCulloch came back together in a recording studio for the first time in ten years. The band entered Doghouse studios in Henley-on-Thames in Oxfordshire, as fate would have it at the same time as Oasis, leading to 'Nothing Lasts Forever' featuring a 24-year-old Liam Gallagher on backing "yeah, yeah, yeah!"s and tambourine shakes.
The album entered the UK chart at number eight, in July 1997 and while the two further singles may not have repeated the success of the first, they were certainly popular enough and well played on the radio at the time (they were 'I Want To Be There (When You Come)' (#30) and 'Don't Let It Get You Down' (#50)).
This was the era in the UK of releasing two CD singles (CD 1 & CD 2) and so there were plenty of bonus tracks to go around. In fact remarkably, 'Nothing Lasts Forever' had six new studio recordings across the seven-inch vinyl and both CD singles. All six of those tracks are appended to the album on the first disc in the forthcoming 2CD deluxe edition. The second disc consists of live tracks and some radio sessions (mostly acoustic).
Speaking about the album today, Ian McCulloch is modest enough. He says it contains "at least three great songs, which is three more than most bands have in their entire catalogue". He's referring to 'Nothing Lasts Forever', 'Forgiven' and 'Just A Touch Away'.
Evergreen will be reissued on 9 December 2022 (was 18 November), via London Records. The SDE-exclusive Peel Session 1997 CD is limited and numbered and is supplied FREE with any order of the 2CD, vinyl or the bundle.
Order via the SDE shop using this link or the buttons below.
EU SHIPPING NOTES: If you are ordering from the EU please be aware that that goods may be subject to import VAT when they arrive from the UK. The prices the SDE shop charge you do not include VAT
Tracklisting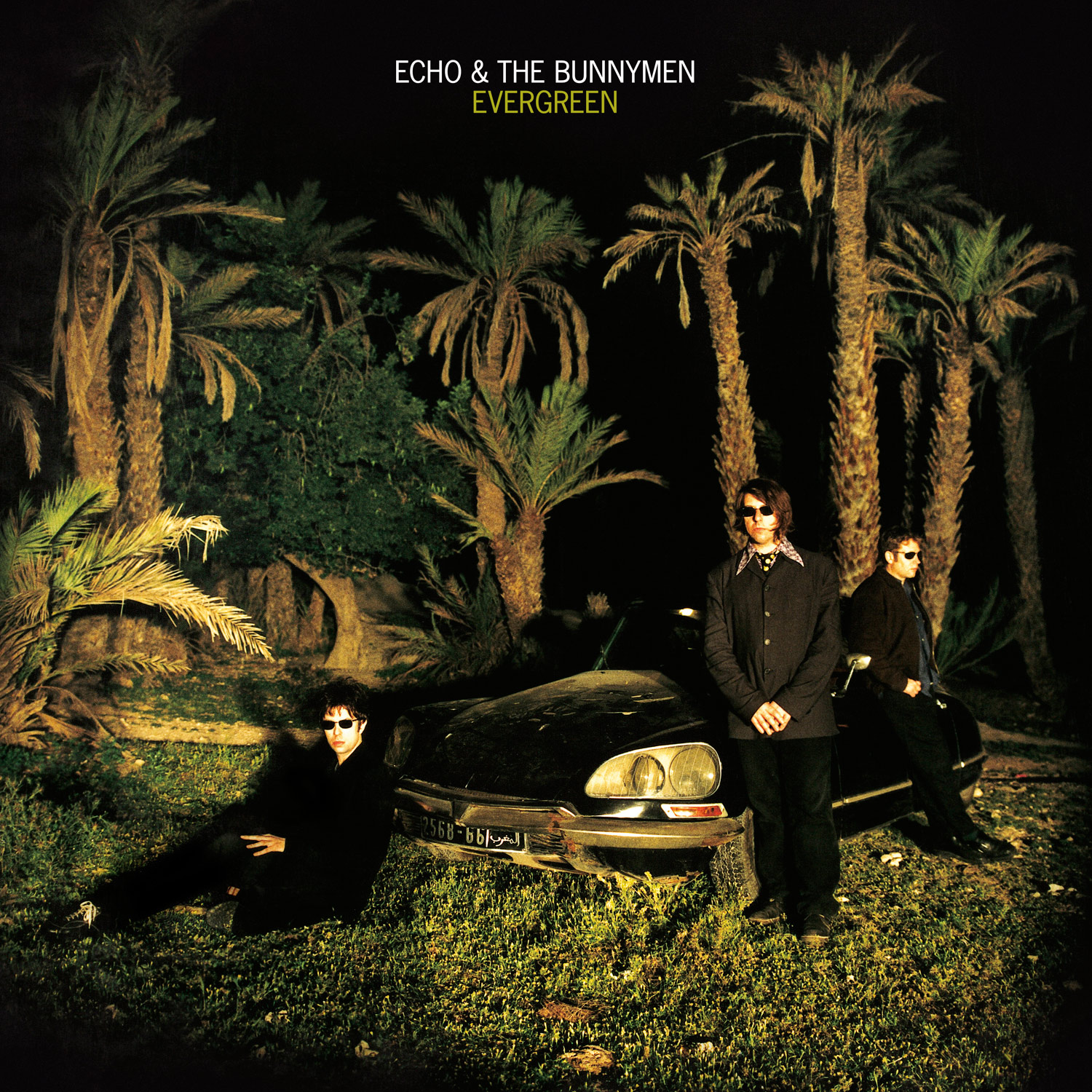 Evergreen Echo & The Bunnymen
/
CD 1

Don't Let It Get You Down
In My Time
I Want To Be There (When You Come)
Evergreen
I'll Fly Tonight
Nothing Lasts Forever
Baseball Bill
Altamont
Just A Touch Away
Empire State Halo
Too Young To Kneel
Forgiven
Watchtower
Polly
Hurracaine
Colour Me In
Antelope
Jonny

CD 2

I Want To Be There (When You Come)  (Live At The Improv Theatre, 1999)

Rescue (Live At The Improv Theatre, 1999)

Lips Like Sugar (Live At The Improv Theatre, 1999)

Bedbugs And Ballyhoo (Live At The Improv Theatre, 1999)

Nothing Lasts Forever (Radio One Jo Whiley Session, 1997)

The Killing Moon (Radio One Jo Whiley Session, 1997)

Baseball Bill (Live At The Kilburn National, 1997)+

Just A Touch Away (Live At The Kilburn National, 1997)+

I'll Fly Tonight (Live At The Kilburn National, 1997)+

Altamont (Live At The Kilburn National, 1997)+

Lips Like Sugar (Whyt Radio Acoustic Version, 1997)

I Want To Be There (When You Come) (Whyt Radio Acoustic Version, 1997)

The Killing Moon (Whyt Radio Acoustic Version, 1997)

Forgiven (GLR Robert Elms Acoustic Session, 1997)

Nothing Lasts Forever (Radio One Live Lounge Session, 1999)

+Previously unreleased

Don't Let It Get You Down +
Villiers Terrace +
Altamont +
Rescue

+Previously unreleased

Side A

Don't Let It Get You Down
In My Time
I Want To Be There (When You Come)
Evergreen
I'll Fly Tonight
Nothing Lasts Forever

Side B

Baseball Bill
Altamont
Just a Touch Away
Empire State Halo
Too Young To Kneel
Forgiven