 News
Embrace vinyl reissues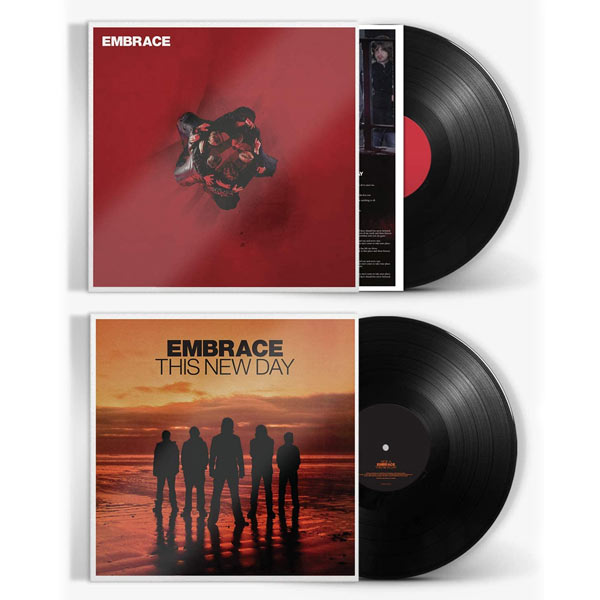 Hit-packed Embrace albums reissued on 180g vinyl
British band Embrace's two albums released on the Independiente label in the 'noughties' – Out of Nothing and This New Day – will be reissued on vinyl  in October.

Out Of Nothing topped the album charts in 2004 and features the singles 'Gravity' (no. 7), 'Ashes' (no. 11) and 'Looking As You Are' (no. 11). Reversing what often happens, Craft Recordings are reissuing the album as a single LP (cut at Metropolis Studio) even though the original was actually at 2LP set. The new edition comes with a download code.
This New Day was released two years later in 2006, and like its predecessor also reached number one in the album charts. It features number two hit 'Nature's Law', the biggest single of the band's career. At this point, Embrace recorded 'World at Your Feet', England's official World Cup song for 2006 and its success  – it was a no. 3 hit – resulted in the song being added to a CD+DVD version of the album that was reissued in the summer of that year – only three months after the original. However, there was never a vinyl version featuring that song, so the 2020 reissue doesn't feature it either! Like Out of Nothing, this is also cut at Metropolis, pressed on 180g vinyl and comes with a download code.
Out of Nothing and This New Day are reissued on 30 October 2020, via Craft Recordings. The very next day (31 October), Embrace will play an exclusive one-time-only online live performance of 'Out Of Nothing' in full. Tickets are available here. To tie in with this an exclusive coloured vinyl version of Out of Nothing is available via the official store (there is no coloured vinyl edition of This New Day).
Compare prices and pre-order
Embrace
This New Day - black vinyl reissue
Compare prices and pre-order
Embrace
Out of Nothing - black vinyl reissue
Out Of Nothing
A1 Ashes 4:20
A2 Gravity 4:39
A3 Someday 5:38
A4 Looking As You Are 4:04
A5 Wish 'Em All Away 3:58
B1 Keeping 4:31
B2 Spell It Out 4:53
B3 A Glorious Day 3:51
B4 Near Life 5:46
B5 Out Of Nothing
This New Day
A1 No Use Crying 3:44
A2 Natures Law 4:09
A3 Target 4:30
A4 Sainted 4:20
A5 I Cannot Come Down 4:15
B1 Celebrate 3:34
B2 Exploding Machines 5:21
B3 Even Smaller Stones 4:31
B4 The End Is Near 4:40
B5 This New Day