 News
Eric Clapton / The Definitive 24 Nights
Massively expanded box set editions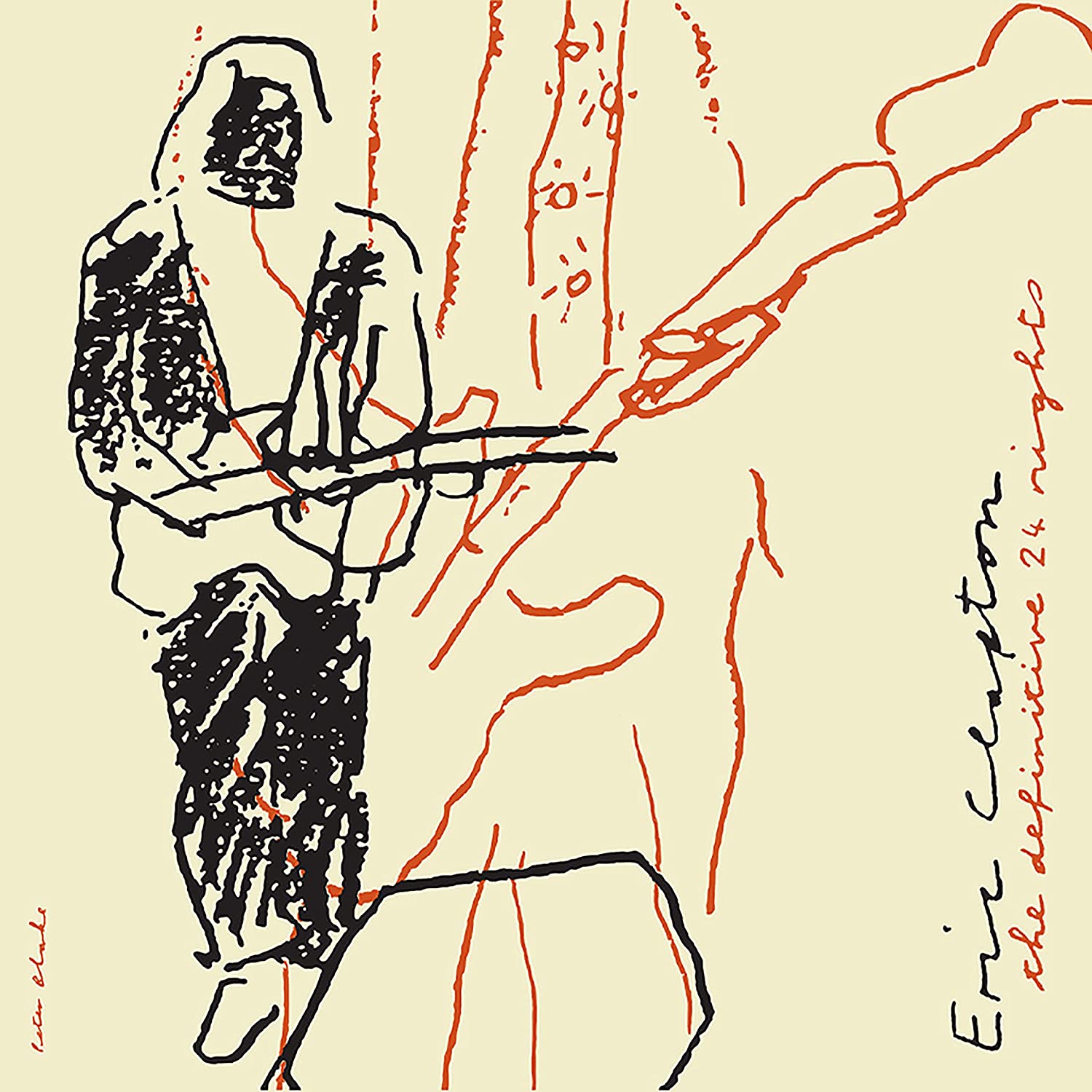 Eric Clapton's 1991 live album 24 Nights will be reissued in June as The Definitive 24 Nights, two massively expanded super deluxe box sets.
Clapton's groundbreaking run of 24 concerts at London's Royal Albert Hall were some of the most ambitious shows of his career. Each night featured him performing a career-spanning set with one of three lineups – a rock band, a blues band, or an orchestra conducted by Michael Kamen.
Clapton surrounded himself with superlative musicians for these concerts. The roster includes the likes of Johnnie Johnson, Jimmie Vaughan, Chuck Leavell, Phil Collins, Robert Cray, Buddy Guy, Albert Collins, Nathan East, Greg Phillinganes, Steve Ferrone, Ray Cooper and Jerry Portnoy.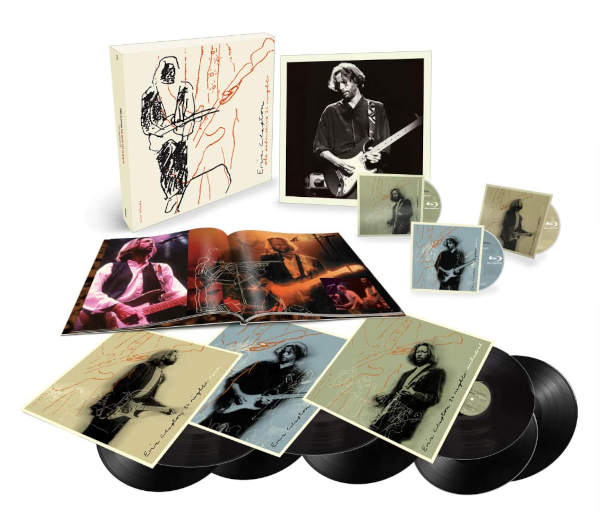 The double album that was released (on vinyl, CD and cassette) covered a fraction of what was filmed and recorded but 34 years later that is about to change with a total of eight physical editions lead by 6CD+ 3blu-ray and 8LP+3blu-ray super deluxe edition box sets!
All audio has been restored, remixed and remastered and the three types of concert have been effectively formatted into three double albums which all fit on two CDs or three vinyl records (the exception is the Blues concert which fits on 2LPs). The two super deluxe edition box sets bring all of these together, which is why the CD version has six CDs and the vinyl edition has eight LPs.
Both box sets include three blu-rays (unavailable anywhere else), details of which are scant but which clearly will be devoted to the three types of show. A limited theatrical presentation called Across 24 Nights is planned for May which features a Dolby Atmos soundtrack, so that suggests the blu-rays included in the box set should also feature a Dolby Atmos soundtrack (not confirmed).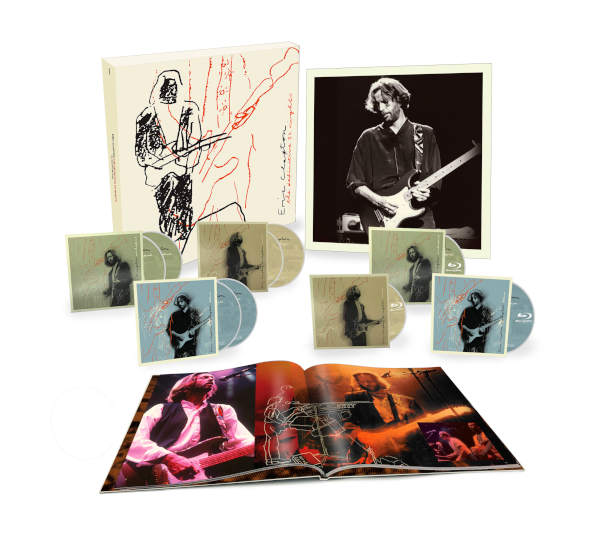 Each box set also includes a hardcover book and an individually numbered lithograph featuring a photograph of Clapton by Carl Studna.
The three concerts (Rock, Blues and Orchestral) are also available individually as 2CD+DVD sets or 3LP (Rock, Orchestral) or 2LP (Blues) vinyl sets.
The Definitive 24 Nights and the individual 24 Nights sets are released on 23 June 2023 via Warner Music.
Compare prices and pre-order
Eric Clapton
Definitive 24 Nights - 6CD + 3xblu-ray box set
Compare prices and pre-order
Eric Clapton
Definitive 24 Nights - 8LP vinyl + 3xblu-ray box set
Compare prices and pre-order
Eric Clapton
24 Nights Rock - 2CD+DVD
Compare prices and pre-order
Eric Clapton
24 Nights Rock - 3LP vinyl
Compare prices and pre-order
Eric Clapton
24 Nights Blues - 2CD+DVD
Compare prices and pre-order
Eric Clapton
24 Nights Blues - 2LP vinyl
Compare prices and pre-order
Eric Clapton
24 Nights Orchestral - 2CD+DVD
Compare prices and pre-order
Eric Clapton
24 Nights Orchestral - 3LP vinyl
Tracklisting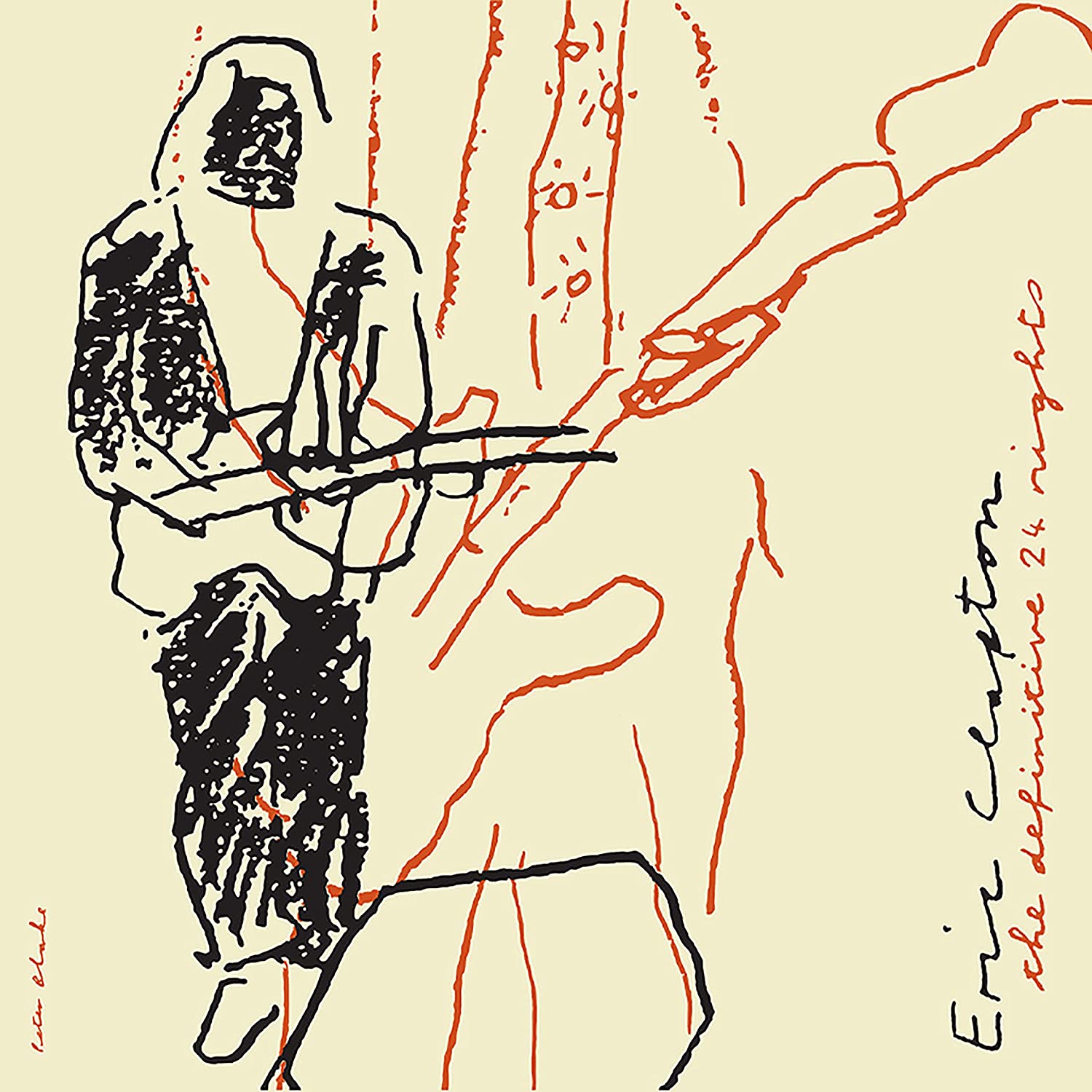 The Definitive 24 Nights Eric Clapton
/
CD 1 & 2/ LPs 1, 2 & 3 Rock Show

Pretending**
Running On Faith**
Breaking Point
I Shot The Sheriff (Feat. Phil Collins on drums)
White Room**
Can't Find My Way Home (Feat. Nathan East on lead vocals)
Bad Love**
Before You Accuse Me
Lay Down Sally
Knockin' On Heaven's Door (Feat. Phil Collins on
drums)
Old Love
No Alibis (This version was released as a B-side
of the single 'Wonderful Tonight')
Tearing Us Apart
Cocaine
Wonderful Tonight**
Layla
Crossroads
Sunshine Of Your Love

** (on 1991 CD release)

CD 3 & 4 / LPs 4 & 5 : Blues Show

Key To The Highway
Worried Life Blues **
Watch Yourself **
Have You Ever Loved A Woman**
Everything's Gonna Be Alright
Something On Your Mind
All Your Love (I Miss Loving)
Johnnie's Boogie
Black Cat Bone
Reconsider Baby
My Time After A While
Sweet Home Chicago
Watch Yourself (Reprise)

** (on 1991 CD release)

CDs 5 & 6 or LPs 6, 7 & 8: Orchestral Show

Crossroads
Bell Bottom Blues **
Lay Down Sally
Holy Mother
I Shot The Sheriff
Hard Times **
Can't Fine My Way Home (Feat. Nathan East on
lead vocals)
Edge Of Darkness**
Old Love
Wonderful Tonight
White Room
Concerto For Electric Guitar (30 min piece, composed by Michael Kamen for Eric. Previously unreleased)
A Remark You Made (A tribute to Jaco Pastorius)
Layla
Sunshine Of Your Love