 News
Falco / Emotional 35th anniversary edition
3CD+DVD set and red vinyl LP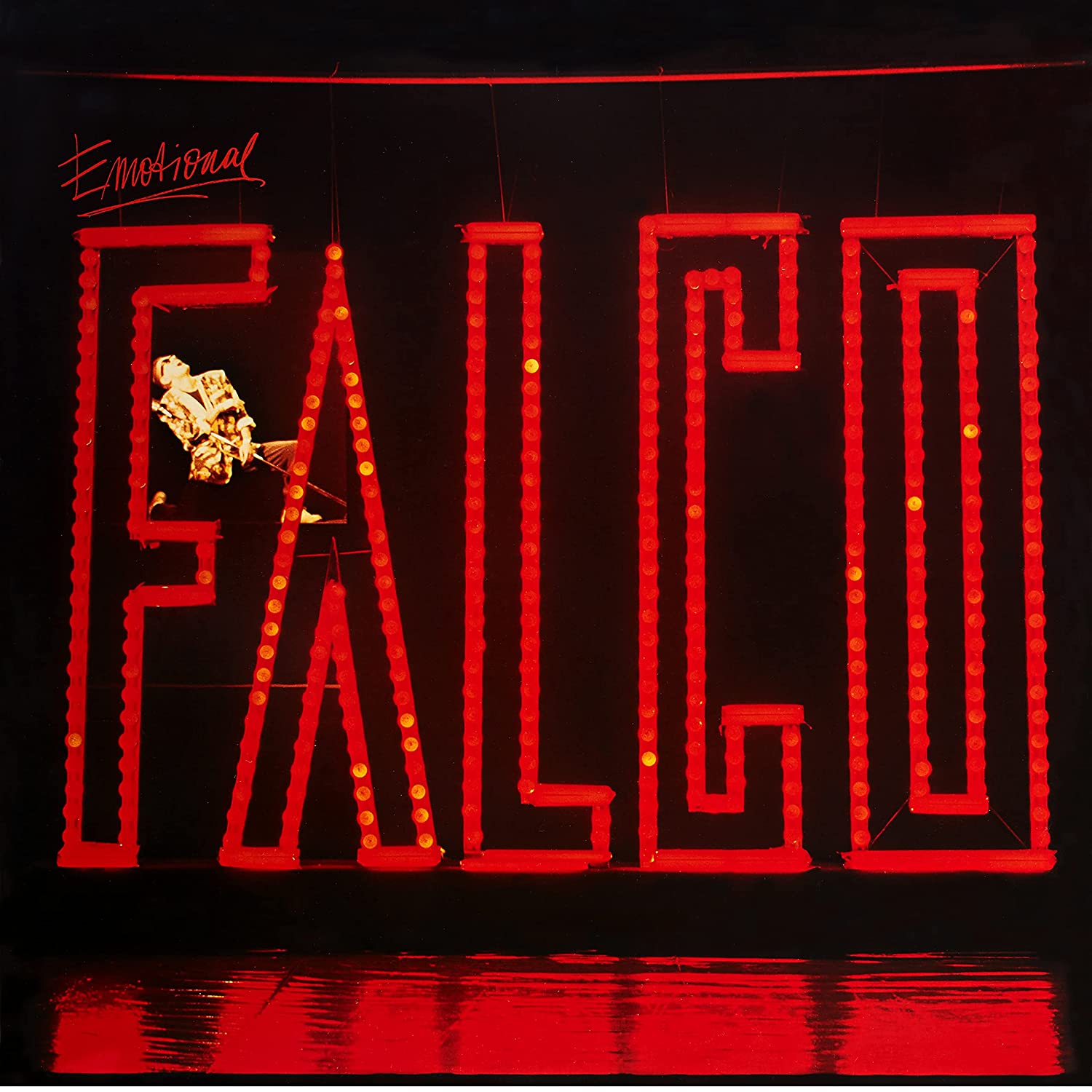 Falco's 1986 album Emotional will be reissued next month as a 3CD+DVD deluxe set and on vinyl.
The album features the singles 'The Sound of Musik' and 'Coming Home (Jeanny Part II, One Year Later)' both of which were successful to various degrees across Europe (the latter topped the German charts) although neither song managed to break into the UK top 40 ('Rock Me Amadeus' and 'Vienna Calling' from 1985's Falco 3 remain the Austrian's only UK hits).
The album couldn't repeat the international success of its predecessor, but was still a top ten hit in Norway, Switzerland as well as Austria and Germany.
The reissue is generous and the 3CD+DVD set offers the album remastered plus two CDs of extended remixes, radio versions and instrumentals. The DVD (which is confirmed as PAL and presumed region 2) features 11 tracks played live on the Emotional tour. These are on DVD for the first time. This comes in a DVD-sized digi-pack and includes The deluxe edition comes with a 20 page booklet in English and German and includes new sleeve notes, unseen pictures and lyrics.
The album is also available on black vinyl although a limited edition 180g red vinyl version is available. UK fans can order both formats from the SDE shop.
Emotional will be reissued on 12 November 2021 (was 29 October).
Compare prices and pre-order
Falco
Emotional red vinyl LP
Compare prices and pre-order
Falco
Emotional 3CD+DVD deluxe
Tracklisting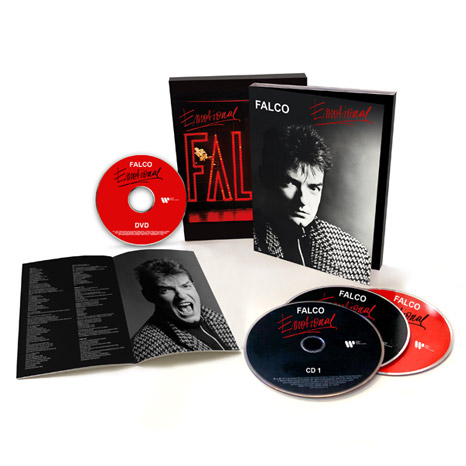 Emotional Falco
/
3CD+DVD deluxe
CD 1: Original Album Remastered

Emotional (2021 Remaster)
Kamikaze Cappa (Dedicated To Robert Cappa Who Died In Indochina 1954) (2021 Remaster)
Crime Time (2021 Remaster)
Cowboyz And Indianz (2021 Remaster)
Coming Home (Jeanny Part 2, One Year After 2021 Remaster)
The Star Of Moon And Sun (2021 Remaster)
Les Nouveaux Riches (2021 Remaster)
The Sound Of Musik (2021 Remaster)
The Kiss Of Kathleen Turner (2021 Remaster)

CD 2: The Extended Versions

The Sound Of Musik (Extended Rock 'N' Soul Version) [2021 Remaster]
The Sound Of Musik (12 "Edit) [2021 Remaster]
Coming Home (Jeanny Part 2, One Year After) (Extended Version) [2021 Remaster]
Emotional (Extended Version) [2021 Remaster]
Emotional (Extended NY Mix) [2021 Remaster]*
Emotional (Extended NY Mix) (English Version) [2021 Remaster]
Emotional (Her Side Of The Story) [2021 Remaster]

*First time on CD

CD 3: The Single & Instrumental Versions

The Sound Of Musik (Rock 'N' Soul Edit) [2021 Remaster]
The Sound Of Musik (Single Edit) [2021 Remaster]
The Sound Of Musik (7 "Edit) 2021 [2021 Remaster]*
The Sound Of Musik (Full Length Instru-Mental Version) [2021 Remaster]**
The Sound Of Musik (Instru-Mental Version) [2021 Remaster]
Coming Home (Jeanny Part 2, One Year After) (Special Edited Radio Version) [2021 Remaster]*
Emotional (NY Mix) [2021 Remaster]*
Emotional (NY Mix) (English Version) [2021 Remaster]*
Emotional (English Version) [2021 Remaster]*
Emotional (Her Side Of The Story 7 "Edit) [2021 Remaster]*
Crime Time (7 "Edit) [2021 Remaster]*

*First time on CD
**Previously unreleased

DVD: Emotional Tour Tour 1986 (Live In Frankfurt/Main – Germany)

The Star Of Moon And Sun
Junge Roemer
Männer des Westens – Any Kind Of Land
The Kiss Of Kathleen Turner
Jeanny
Crime Time
Munich Girls
Emotional
Coming Home (Jeanny PartEin Jahr Danach)
Vienna Calling
Rock Me Amadeus
Tracklisting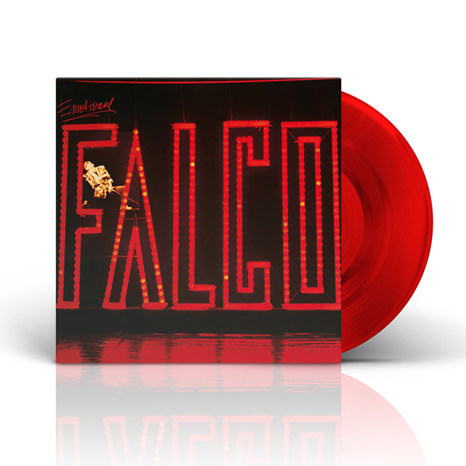 Emotional Falco
/
180g red vinyl LP
Emotional (2021 Remaster)
Kamikaze Cappa (Dedicated To Robert Cappa Who Died In Indochina 1954) (2021 Remaster)
Crime Time (2021 Remaster)
Cowboyz And Indianz (2021 Remaster)
Coming Home (Jeanny Part 2, One Year After 2021 Remaster)
The Star Of Moon And Sun (2021 Remaster)
Les Nouveaux Riches (2021 Remaster)
The Sound Of Musik (2021 Remaster)
The Kiss Of Kathleen Turner (2021 Remaster)