 News
First edition of Pet Shop Boys blu-ray sold out, but standard set on the way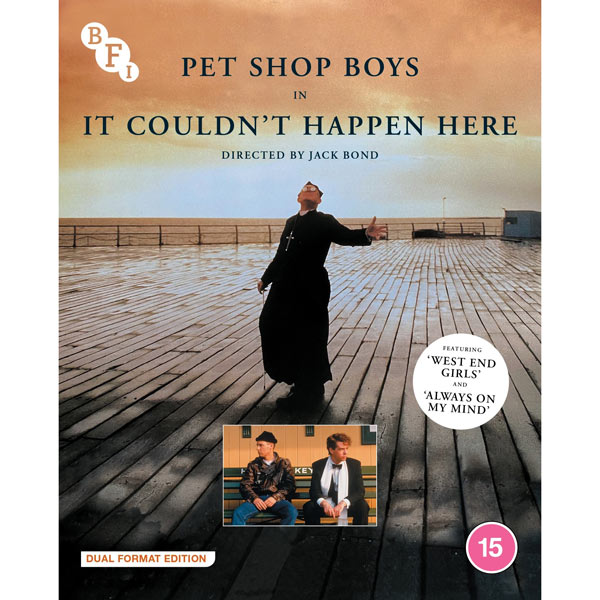 Limited deluxe set now unavailable
A week after release, the limited edition blu-ray+DVD of Jack Bond's 1988 Pet Shop Boys film It Couldn't Happen Here has completely sold out. Thankfully, another version is coming, albeit a 'standard' edition sans deluxe packaging.

The first edition was very well presented and came as a 44-page hardcover interview-filled book with outer slipcase. Blu-ray and DVD discs slotted into inside front and rear covers respectively.
The new edition comes in standard plastic case packaging and still features both blu-ray and DVD, but doesn't include the book. The disc extras (commentary, interviews etc.) are intact.
This retails for a few pounds less than the limited version and will be released on 20 July 2020. The DVD remains region 2, with the blu-ray region B.
Read the SDE review of the film
Compare prices and pre-order
Neil Tennant
It Couldn't Happen Here - standard edition
Extras:
Comprehensive feature commentary by Jack Bond, James Dillon and Simon Archer (2020)
West End Boy: Jack Bond (2020, 27 mins): the director discusses his eclectic career as a filmmaker and his enterprising approach to the making of It Couldn't Happen Here
It Can Happen Here: Arlene Phillips (2020, 26 mins): the renowned choreographer reflects upon a life in dance and the trials and tribulations of working on It Couldn't Happen Here
Always on My Mind (1987, 5 mins): the full-length promotional video for Pet Shop Boys' single, featuring Joss Ackland and footage from the film
Actually: an unfilmed early version of the script for the film, included here in its entirety for the first time anywhere
As it Happened: Image galleries including the complete final version of the script, the director's shot lists, Pet Shop Boys reference lyric sheets and promotional materials for It Couldn't Happen Here
Original theatrical trailer (digitally reconstructed for this release)