 News
Frank Zappa / Orchestral Favorites
Reissued on 3CD & vinyl • Mothermania also reissued on vinyl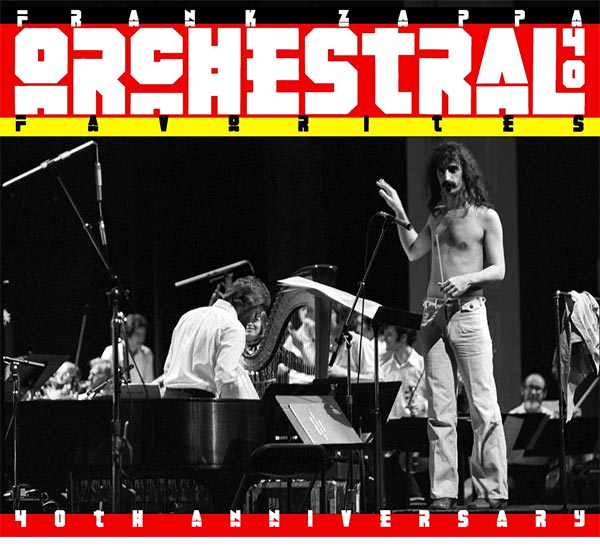 Frank Zappa's 1979 album Orchestral Favorites is re-examined for its 40th anniversary and will be reissued as a double vinyl or expanded 3CD deluxe in August.

The instrumental album was actually recorded at UCLA's Royce Hall in September 1975 and features music performed by the 37-piece Abnuceals Emuukha Electric Symphony Orchestra. It was originally issued by Warners without Zappa's permission and without liner notes, credits and artwork approval.

40 years on, the Zappa Family Trust have found the original tapes (along with the 'tone reel' that allows proper set-up of the master tapes) and created new hi-res transfers that have been remastered by Bob Ludwig. This new remaster features on a new single-disc vinyl version and and expanded 3CD deluxe.

As well as the original album, the triple CD package includes the entire evening performance from 18 September 1975 (the original album was derived from recording sessions in the afternoon) spread across the two additional discs, complete with Zappa's song introductions and stories. These are brand new 2019 mixes by Craig Parker Adams from the original two-inch 24-track masters.

This reissue is produced by Ahmet Zappa and Joe Travers and features a newly created cover and extensive sleeve notes from Joe Travers and former Zappa bandmate Terry Bozzio. The vinyl LP will be pressed at Furnace MFG on 180g 'audiophile grade' black vinyl.

While this album has been reissued a few times (Zappa himself reworked it for CD in '91), we are assured that the archive research in terms of digging out tapes and finding the tone reel has resulted in the best-sounding version to date.

In other news, the Mothermania compilation is also being reissued on vinyl for its 50th anniversary. This has been out-of-print since 1972, has been mastered from the original analog tapes by Bernie Grundman and is being pressed on 180g black vinyl.

Mothermania is out on 19 July, while both versions of Orchestral Favorites are released on 30 August 2019.


Compare prices and pre-order
Frank Zappa
Orchestral Favorites - 3CD deluxe
Compare prices and pre-order
Frank Zappa
Orchestral Favorites - vinyl LP
Compare prices and pre-order
The Mothers Of Invention Frank Zappa
Mothermania - Best of The Mothers vinyl LP
Orchestral Favorites
3CD
CD 1
1. Strictly Genteel
2. Pedro's Dowry
3. Naval Aviation In Art?
4. Duke Of Prunes
5. Bogus Pomp
6. Strictly Genteel (Keyboard OD Version)
CD 2
1. Show Star/Bogus Pomp Explained
2. Bogus Pomp
3. Revised Music For Low-Budge Symphony Orchestra
4. The Story Of Pedro's Dowry
5. Pedro's Dowry
6. The Story Of Rollo
7. Rollo
CD 3
1. Black Napkins Instructions
2. Black Napkins
3. Dog/Meat
4. The Players
5. Naval Aviation In Art?
6. Another Weirdo Number
7. Lumpy Gravy (Extract)/Improvisation
8. Evening At The Hermitage
9. A Special Guest Artist
10. Duke Of Prunes
11. Absolutely Disgusting
12. The Adventures Of Greggery Peccary
13. Strictly Genteel
Orchestral Favorites
vinyl LP
Side A
1. Strictly Genteel
2. Pedro's Dowry
3. Naval Aviation In Art
Side B
1. Duke Of Prunes
2. Bogus Pomp
Mothermania
vinyl LP
1. Brown Shoes Don't Make It
2. Mother People
3. Duke of Prunes
4. Call Any Vegetable
5. The Idiot Bastard Son
6. It Can't Happen Here
7. You're Probably Wondering Why I'm Here
8. Who Are the Brain Police?
9. Plastic People
10. Hungry Freaks, Daddy
11. America Drinks and Goes Home